Soju wanna drink?
Just last year, we've noticed an unbelievable increase and demand for soju, Korea's most popular alcoholic beverage. Because of its sweet and delicate taste, a lot of Filipinos (especially K-drama fans) eventually turned out to be fans of this green bottled-drink.
Also Read: We're Loving This Soju + Melona Recipe!
With that said, we would like to present to you TEN dishes and finger foods that pair well with soju. Which of these have you tried already?
Imagine this: it's a cold winter night, you find yourself snuggly sitting inside a tent with a samgyeopsal grill in front of you and some bottles of soju. Very K-drama, right?
Samgyeopsal or grilled pork belly is an all-time favorite pairing to soju. Simply get your grilled meat, dip it in gochujang sauce, place in a lettuce wrap and pop it in your mouth while it's hot!
Also read: The Ultimate Guide to the Best Korean BBQ Joints in Metro Manila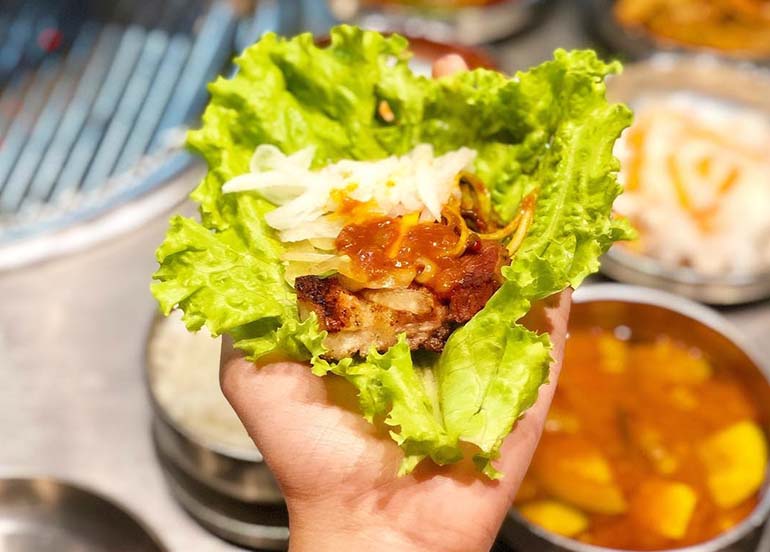 Since we're already on the subject of Korean dishes, this one takes the cake when it comes to pop culture reference — Parasite's Ram-Don dish! Ram-Don is basically the bourgeoisie's pancit canton — a contrast of a poor man's dish and expensive ingredients. Here is Binging with Babish's recipe on how to make your own Ram-Don:
Ingredients:
1 Neoguri pack
1 Chapagetti pack
Sirloin Beef
Procedure:
Sear the sirloin beef in a hot pan.
While the beef is cooking, you may prepare the noodles by cooking both of the noodles, in a separate pan, according to the Neoguri packet instructions.
Once the beef is cooked on both sides and the noodles are cooked as well, set aside the beef.
Strain the noodles but keep 1/3 cup of the broth.
Add the Chapagetti seasoning in the noodles and stir well.
Finally, add the sirloin to the noodles, transfer the dish to a bowl, and enjoy.
Also read: You Can Now Try Parasite's Iconic Ram-Don At This Korean Restaurant!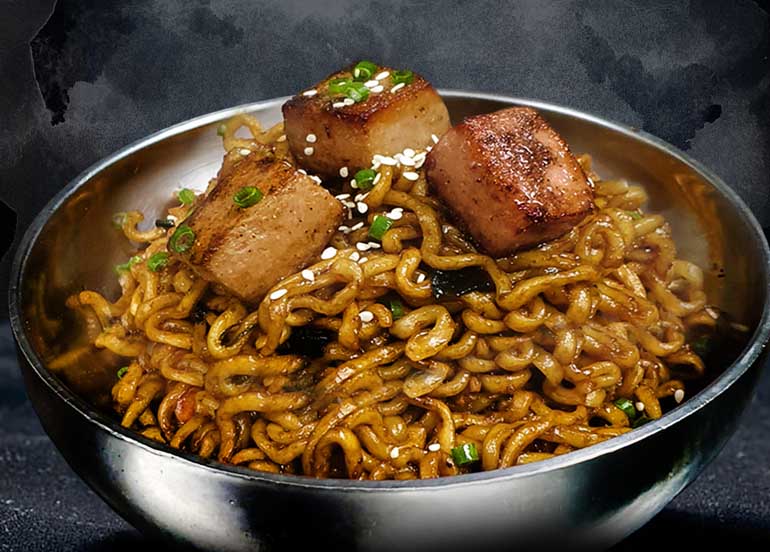 A Filipino fave, isaw or pig/chicken intestines is a good soju partner, especially if you are into barbecued skewers. And you don't have to worry on where to get isaw during these trying times because we've already curated a list of restaurants and food shops for you right here!
Also read: You Can Now Have Your Favourite Street Food Delivered!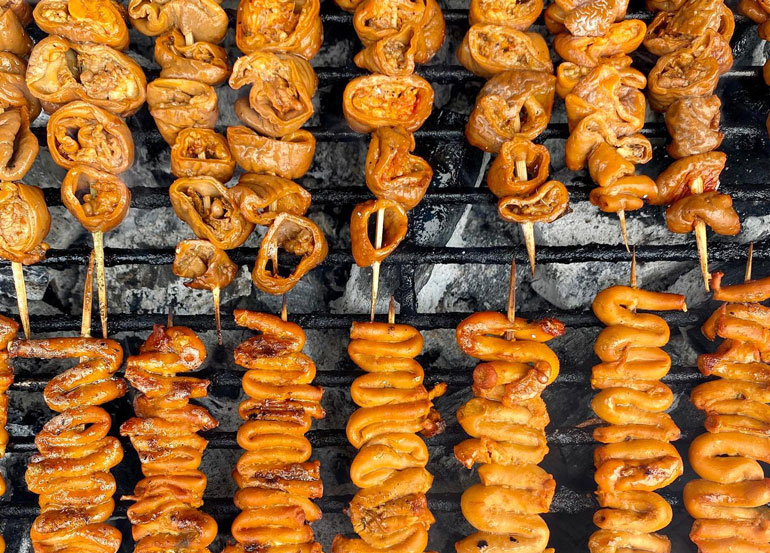 While South Korean YouTuber Mr. BulBul recommends chicharron with beer, we think it tastes better with a shot glass of soju! The chicharron's saltiness simply complements the soju's sweetness. We can't wait to bite into that crispiness!
There are plenty of places where you can get chicharron here in the country, but we highly recommend Chichabae and Kamay Kainan.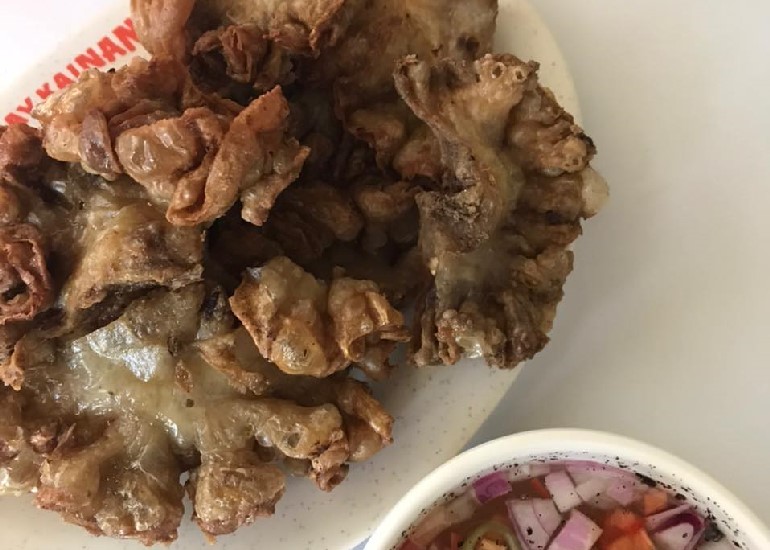 When it comes to crunch and a burst of flavors, nothing comes close to the Kapampangan sisig. For those of you who are not familiar, sisig is a traditional Filipino dish made of chopped pig head and chicken liver, topped with onions and chili peppers and served on a sizzling hot plate. Good thing Pampanga's most celebrated sisig restaurant, Aling Lucing, is now available for delivery!
Read more: Pampanga's Aling Lucing Now Delivers Sisig in Metro Manila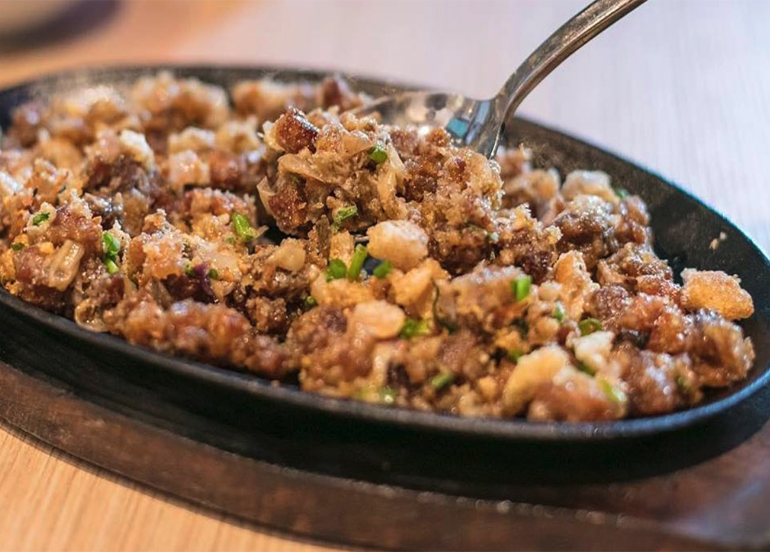 If you're not keen on the samgyeopsal and would like a heavier, more filling pulutan, sushi bake is definitely the way to go! From sushi, samgyeopsal, and shawarma, the bake trend continues to surprise us with unique combinations fresh from the oven.
Read more: Where To Get Sushi Bake To Satisfy Your Cravings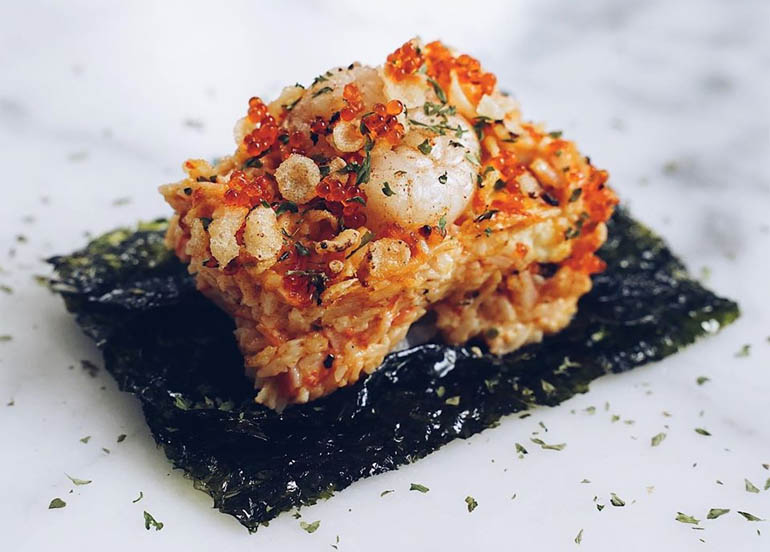 What could be more perfect than a cold night while watching your favorite K-drama? A bottle of soju and a warm bowl of pancit canton, that's what! Go crazy, we've already come up with 45 unique and wacky combinations for your pancit canton + K-drama night.
Read more: 45 Pancit Canton Combinations You Have to Try at Least Once!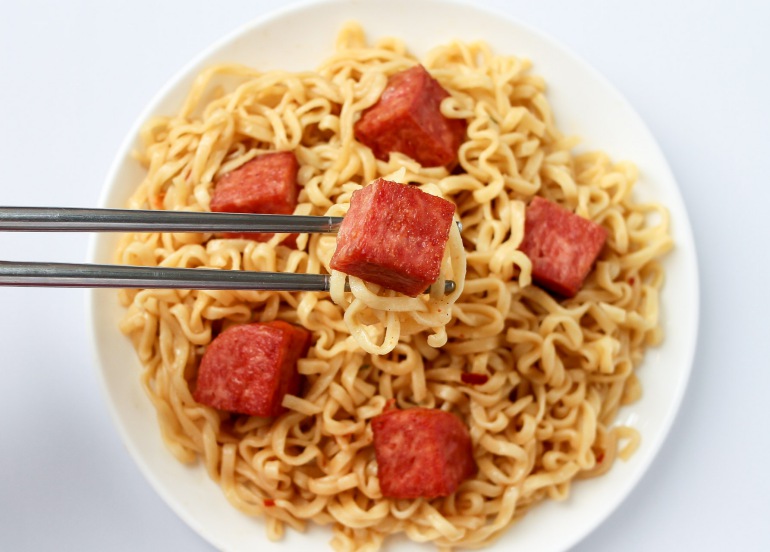 Hot & Spicy Peanuts
If you're on a low budget and you've spent your last peso bills on a bottle of soju, we have a cheap pulutan for you — processed peanuts! Hot & Spicy is a sari-sari store fave and a good and greasy pulutan to go with your soju.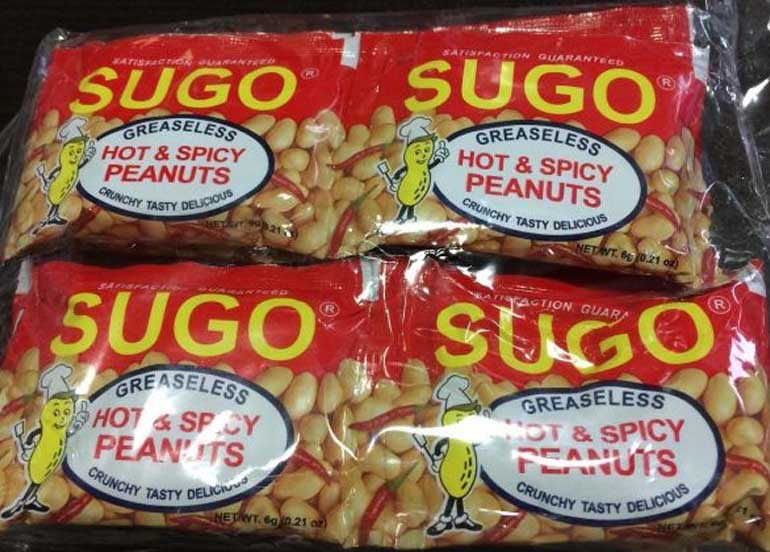 Tteokbokki and soju? Count us in! This Korean dish is full of sweet and spicy flavors, and with a combination of chewy texture, who can resist eating a mouthful?
Read more: 27 Korean Restaurants To Satisfy Your K-Cravings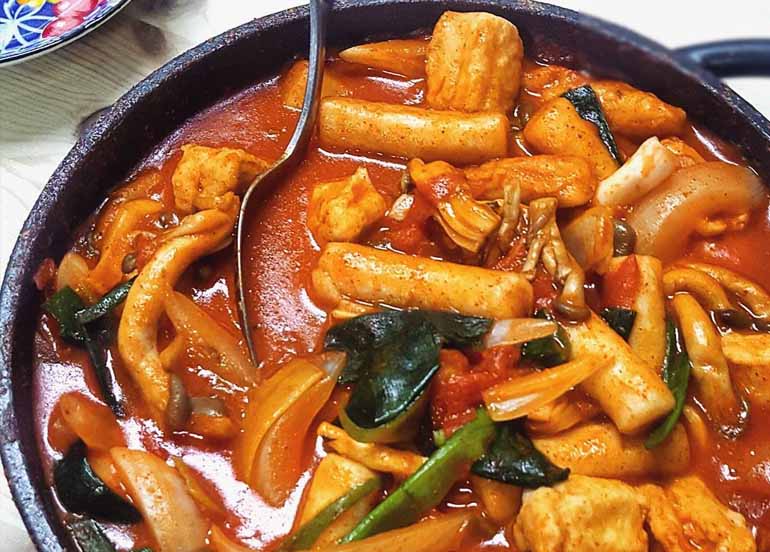 Remember BBQ Olive Chicken from sensational K-dramas Crash Landing On You and My Love From the Star? Well, can you imagine how good their fried chicken would be when paired with a shot of soju?
Good thing we have our very own Korean fried chicken spots here in the Philippines to satisfy our cravings! What's good about Korean fried chicken is their crunchy taste, glazed with either a spicy or sweet sauce and sometimes topped with some sesame seeds. It can be consumed as a snack, a meal, or in this case, a pulutan!
Read more: 12 Korean Chicken Spots To Discover in Metro Manila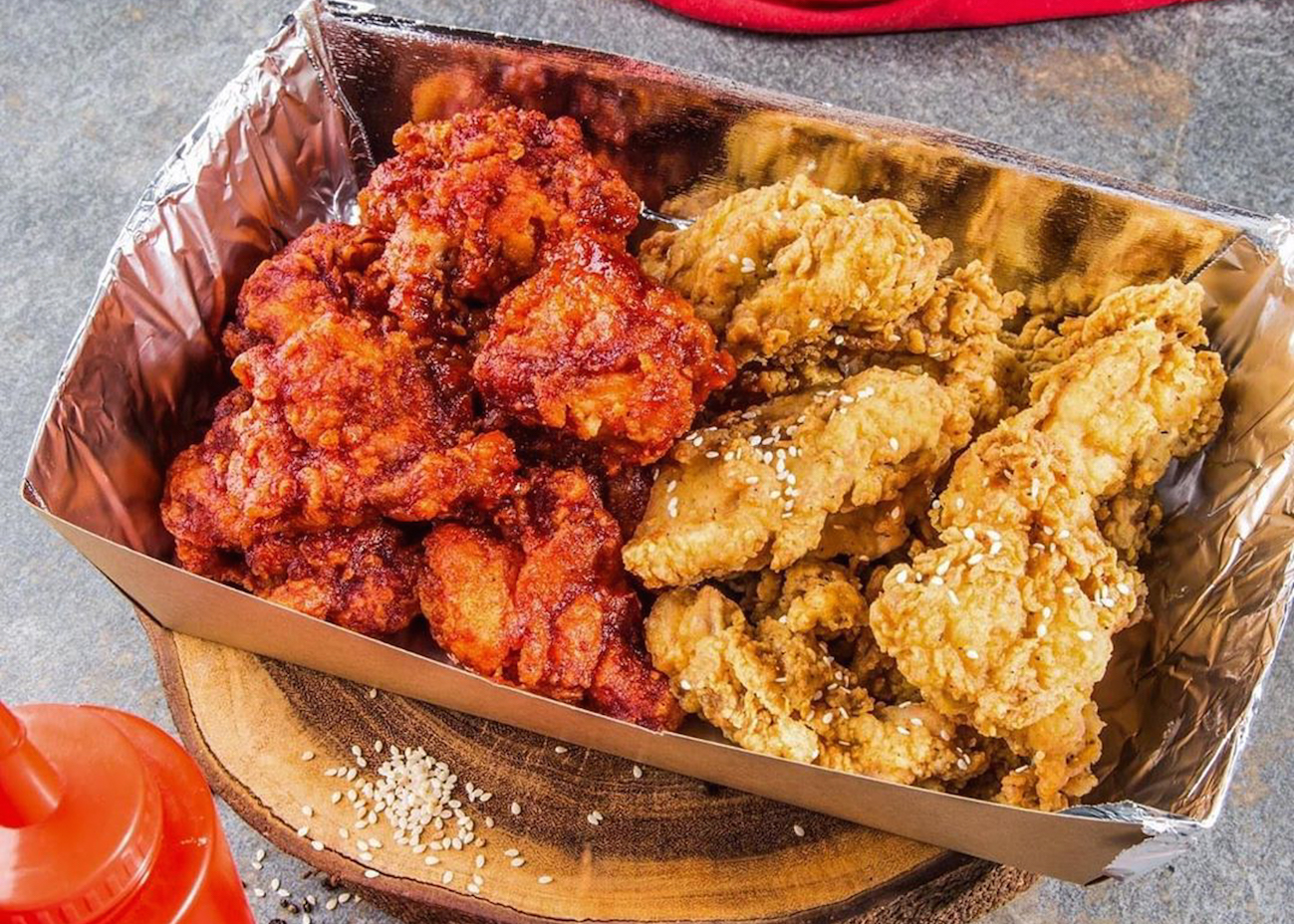 We know you loved using the Booky app for discovering the newest places in your city. Given these extraordinary times, we want to continue being helpful so check out our updated food delivery guide, where to shop for groceries online, and more.
Cover image from Samgyupsalamat's Instagram account