Have you tried all these flavors?
Before shawarma rice bake and baked samgyupsal, the famous sushi bake started it all. It's a whole other thing that's got many of us curious. Think of it as one huge sushi… that's baked… or torched… either way, it has many of us itching to try!
It's served with a side of nori sheets and what you do is, you scoop some and use the nori sheets like how you would with lettuce at a Korean BBQ joint.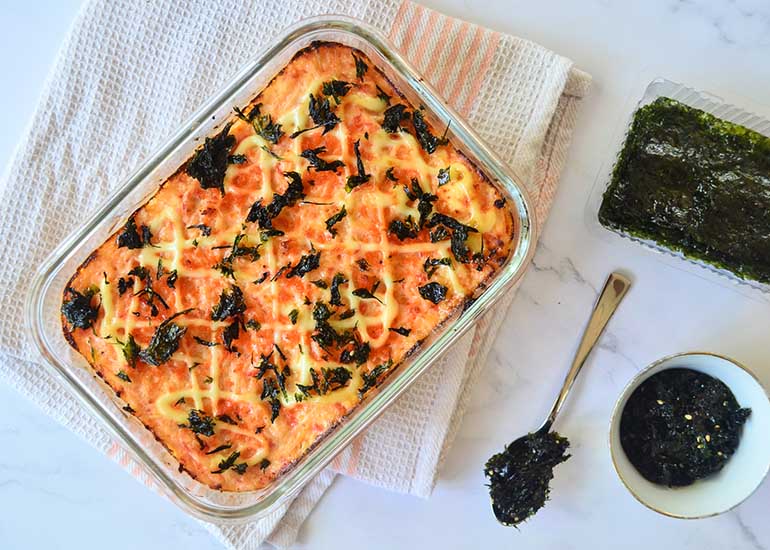 There are many variations of the sushi bake these days, usually it consists of Japanese rice, mayonnaise, fresh salmon, kani strips, and nori but with this list, you'll be sure to see many more. Check them out below!
Kraver's Canteen
Get your fix of a variety of sushi bakes as well as others from a selection of cuisines at no other place than Kraver's Canteen. Some of the unique flavors you can try are Kimchi Spam Bake, Baked Spicy Cream Cheese Tuna, Crazy Maki Sushi Bake, and Baked Kani Salad and Sweet Corn.
Your can order straight from Kraver's Canteen via Booky.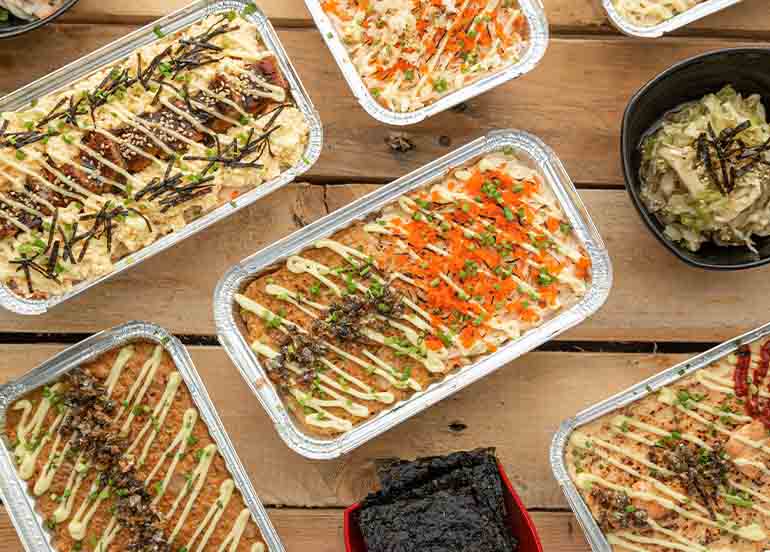 Fun fact: If you order from Kraver's Canteen, you can avail of their Mother's Day Bundles such as their Oishi, Ma! Regular Meal Bundle which includes a 1 Regular SuShi bake, 6 pcs, wings, 1L of Kraver's Insanitea for only ₱929 ₱699 from May 17-31.
View their delivery website
View their Facebook page
View their Instagram account
Oomori, a well-loved sushi spot in QC, has dipped into the Sushi Bake trend with their own take. They have four flavours: California, Salmon Truffle, Salmon Teriyaki, and Wasabi Cheese Melt; they also offer a tray that includes all four! Their sushi bake trays also come with Nori sheets.
You can order via their website here.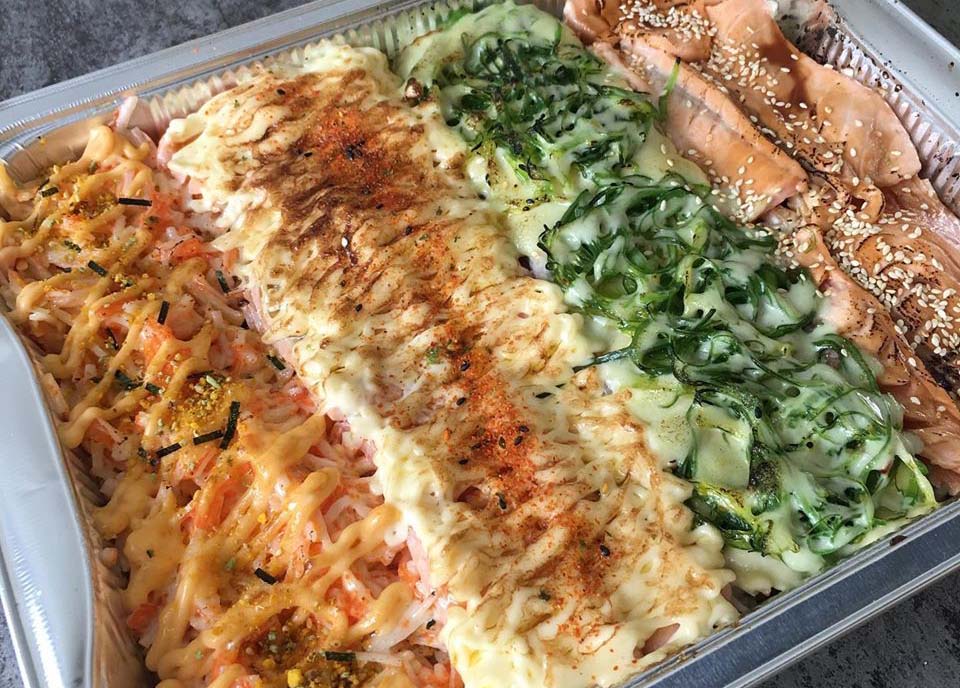 Check out their website
Check out their Facebook page
View their Instagram account
All uni aburi, truffle, and laksa lovers unite! Eleven baker street has three shellfish flavors you can try: Uni Aburi Sushi Bake, Truffle Scallop Aburi Sushi Bake, and Shrimp Laksa Aburi Sushi Bake.
You can order here.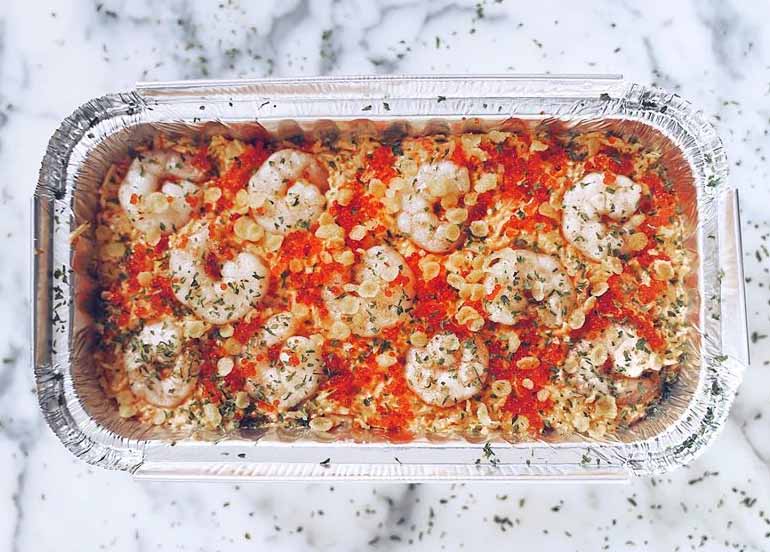 Aburi.mama specialises in salmon sushi bakes with their best-selling Cheesy Baked Salmon Kani Aburi Rice! They come in two sizes, small (good for 2-3) and large (good for 5-7). They also have other flavors including other seafood such as eel, scallop, and salmon.
To order, simply message them on their Instagram here.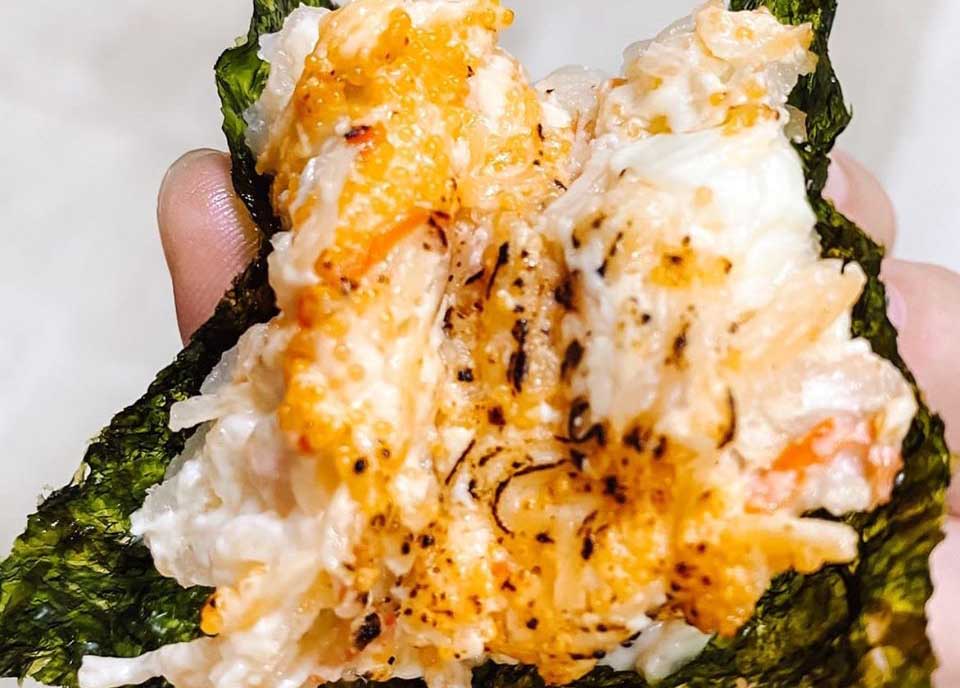 In just one month, Red Mittens PH has sent out over 1,000 trays of their sushi bake! They come in small (2-3 pax), medium (6-8 pax), and large (15-18 pax). And, you can also not only avail of the classic sushi bake from them but also a beef-based flavor for those who prefer meat over seafood.
You can order by messaging them on their Instagram here.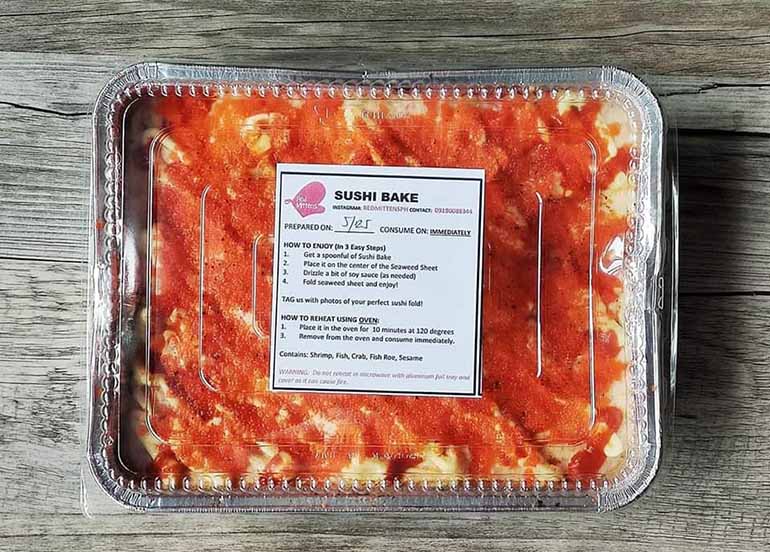 Unlike other food trends lately, we know exactly when and where they came from but with the sushi bake, did you know that it's actually been around for quite some time now? One of the first ones to make these in Manila since 2015 is Mimi Qui Reyes of The Original Baked California Roll.
You can order via their Instagram page here.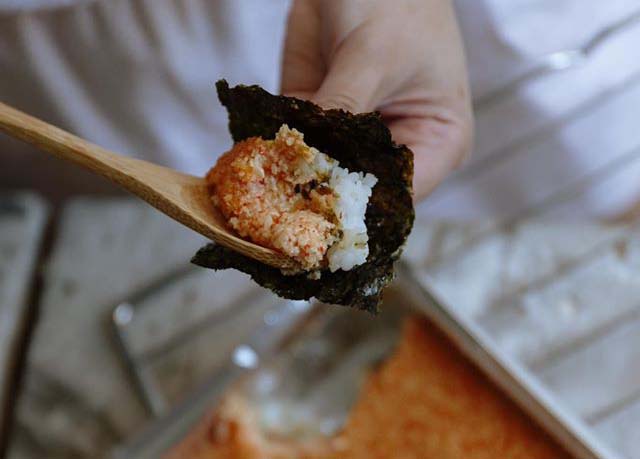 Sushi Bake MNL's specialty is Kani Mango Sushi Bake and they come in two sizes, round tray good for 4-6 people and the rectangular tray that's good for 7-10 people. You can choose from either pure kani or a mix of kani and mango.
You may order by sending them a message on their Instagram here.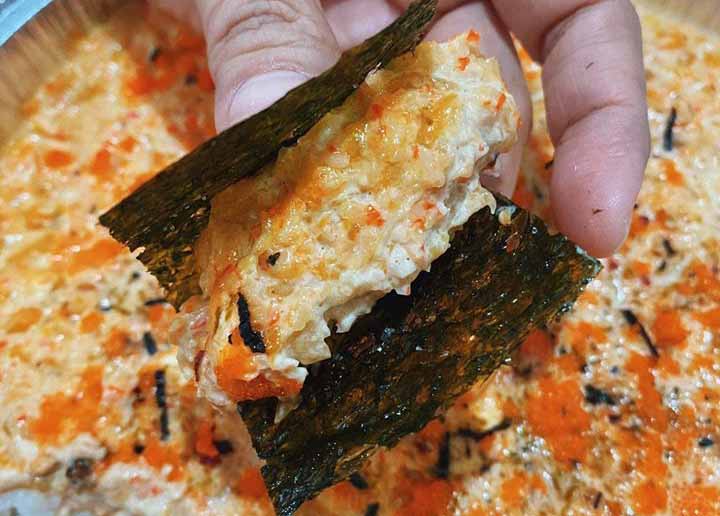 Luto Lab cooks up a number of favourites like Queso de Bola spreads, Poke Trays, and of course the sushi bake with ebi, kani, or salmon! Their trays are good for 3-5 persons.
You can order by messaging them directly on their Instagram.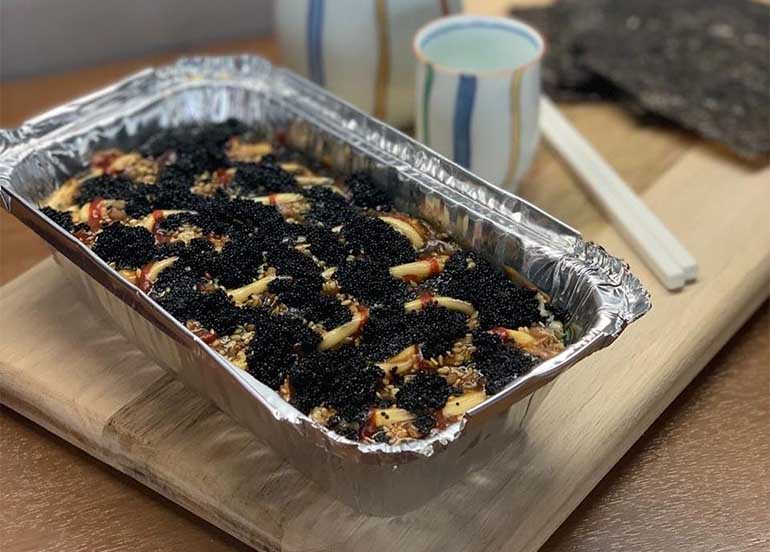 Taste & Tell's specialty is their "dangerously addicting" Kani Aburi Sushi Tray and just recently launched a new variant, their Scallop x Salmon Aburi Sushi Tray (it has crunchy garlic, yum!!) and their Suteki Aburi.
You may place your orders here.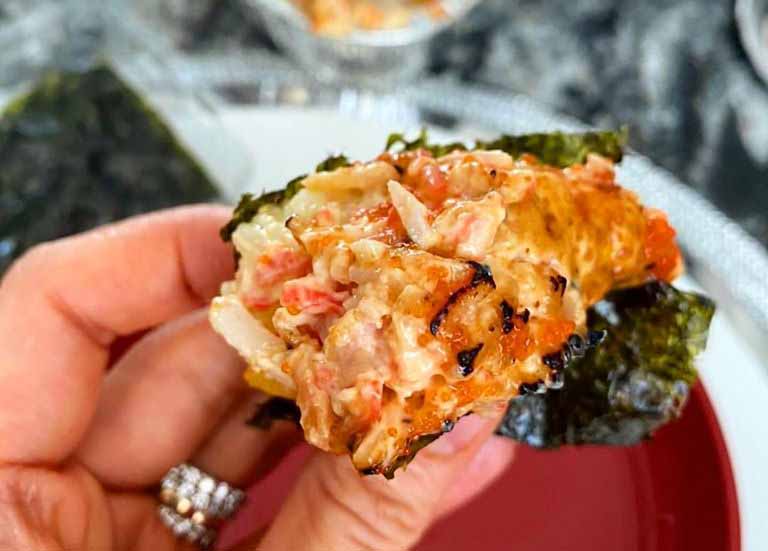 The Kitchen MNL offers two flavours, The Classic California Roll which has all the california roll goodness you love such as mango, kani, roe, and kewpie; The Crunch Salmon Teriyaki Roll which includes special eel sauce, panko, salmon, cream cheese, and more! They come in three sizes, small (good for 2-3 pax), medium (3-5 pax), and large (6-8 pax).
You may order by sending them a message on their Instagram here.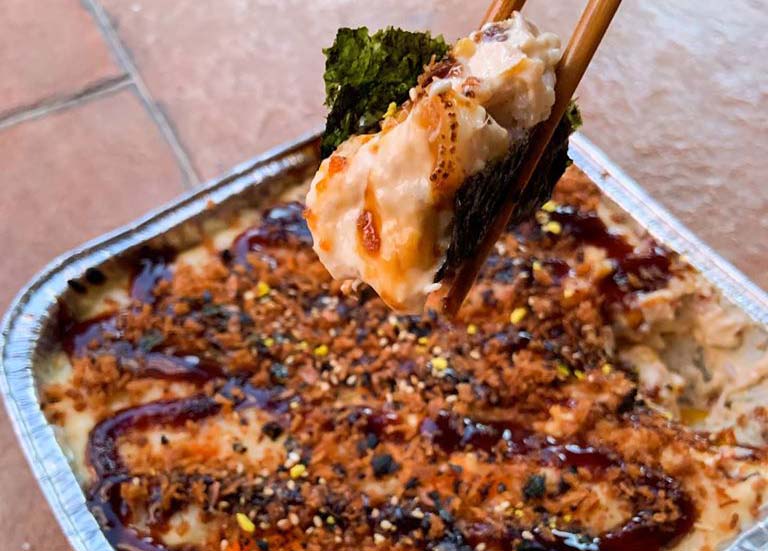 From sushi, samgyeopsal, and shawarma, the bake trend continues to surprise us with unique combinations fresh from the oven. This time, local shop Eleven Baker Street brings us their Shrimp Laksa Aburi Sushi Bake, a fusion of the Asian spicy noodle soup and the iconic Japanese dish.
You may contact them on their Facebook page, Instagram account, or directly place an order here. For now, they only accept orders within Metro Manila with two days processing time after settling the payment.
In case you missed it
Established on 1989, Food Channel Shawarma, one of the pioneer shawarma stands in the Metro, still continues to serve mouth-watering shawarma at an affordable price. And guess what? They've decided to join the rice bake trend!
Presenting, Food Channel's Shawarma Rice Bake – layered with java rice, furikake, sirloin beef, pita strips, cheddar cheese with a side of vegetables that's drizzled with their OG garlic sauce on top! It comes in 4 sizes, small (P250), medium (P450), large (P900) and extra large (P1350).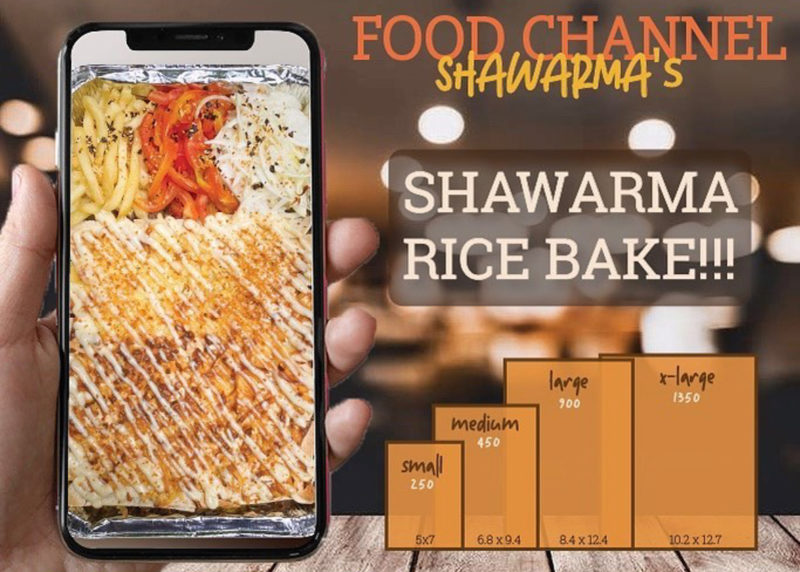 These trays are made to order so make sure to reserve your slots ahead of time at 0917 8903122 or give them a message on their Instagram account.
We know you loved using the Booky app for discovering the newest places in your city. Given these extraordinary times, we want to continue being helpful so check out our updated food delivery guide, where to shop for groceries online, and more.
Cover image from Eleven Baker Street's Facebook page