A must-have Valentine treat!
You've got a reservation for a fancy dinner, the wine ready in the fridge, and a bouquet of flowers… but what else is missing? A box of chocolates, of course! But for an extra romantic day like Valentine's, your selection of chocolates shouldn't be like any other. It should be dreamy, luxurious, and absolutely rich in flavor.
Also Read: Where to Get Customized Cakes For Valentine's Day
So if you're still doing some Valentine's Day shopping, check out our list of shops around the metro where you can get the best chocolate boxes that include treats like chocolate bars, truffles, cake pops, pralines, chocolate-covered strawberries, and more!
Naked Patisserie is famous for stunning cake creations that can glam up any type of occasion, but if you're looking for premium chocolates, consider getting these White Chocolate Oreo Cheesecake Truffles! These perfect bites are coated in pink white chocolate and finished with gold dust, making it extra elegant!
Price: ₱1,250.00 – ₱2,600.00
To order: Contact thir numbers below or message them on Facebook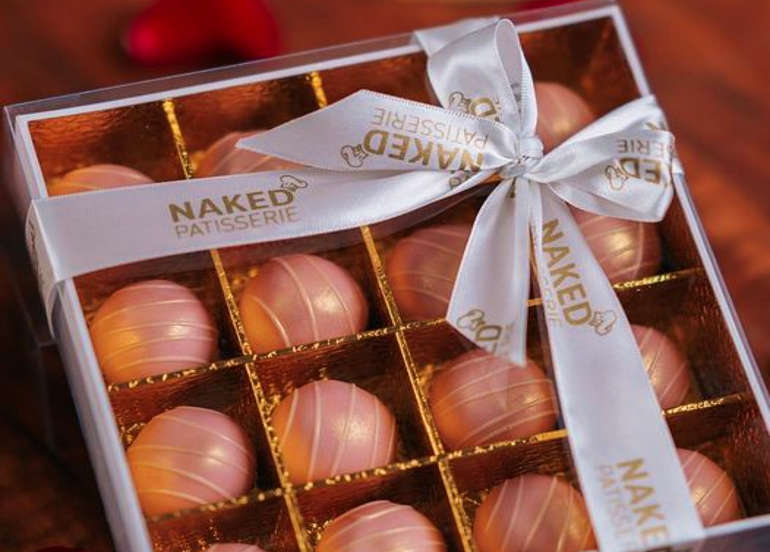 View website
View their Facebook
View their Instagram
The Peninsula Manila Corner of Ayala and Makati Avenues 1226 Makati
+63 945 468 5141 | +63 906 236 5042
These Truffles from Bizu are nothing short of exquisite. They are made by expert chocolatiers who have artistically put together everything we love about chocolate in one bite. The Truffle Heart Bonbons are a balance of salty caramel and rich white chocolate, while the Truffle Pyramids offer more unique flavors like Rose Champagne, Macadamia Honey, and Antoinette.
Prize: Truffle Heart Bonbons – P1065, Truffle Pyramids – P1920
To order: Head to their website to purchase their products.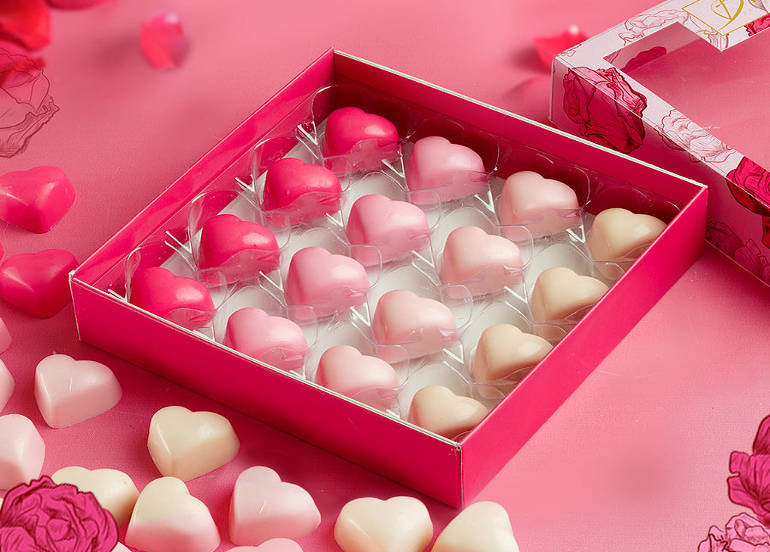 View menu
View branches
View website
View their Facebook
View their Instagram
Chew may be new to the business, but this local dessert shop has been satisfying the palates of their customers with their delicious take on chocolate-covered potato chips and chocolate truffles! Branding themselves as the Pinoy version of Royce Chocolate, their treats are surely a delight to have.
This Valentine's, they're offering the Lovesent Gift Set which comes in 3 kinds and may include Crisps, Nama Chocolate, and a Lovesent card. This gift set can come with a Single's Valentine's Day Card for those independent lads and ladies who wanna spoil their single selves!
Prize: P999-1399
To order: Click their website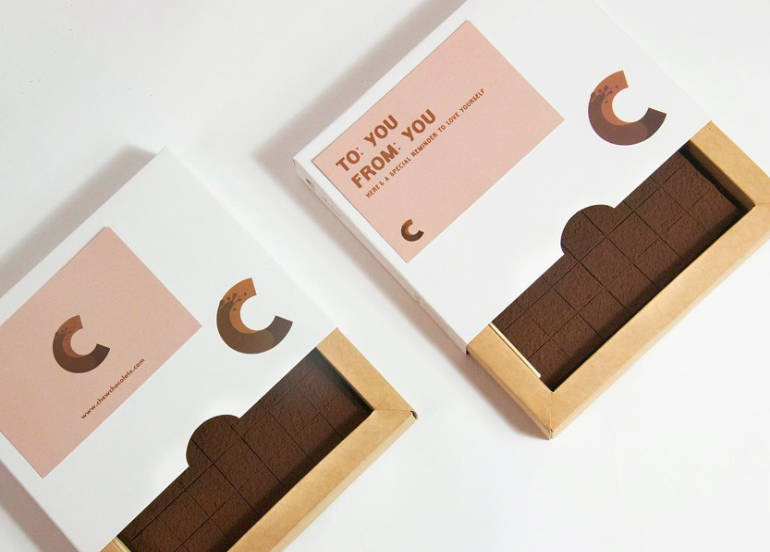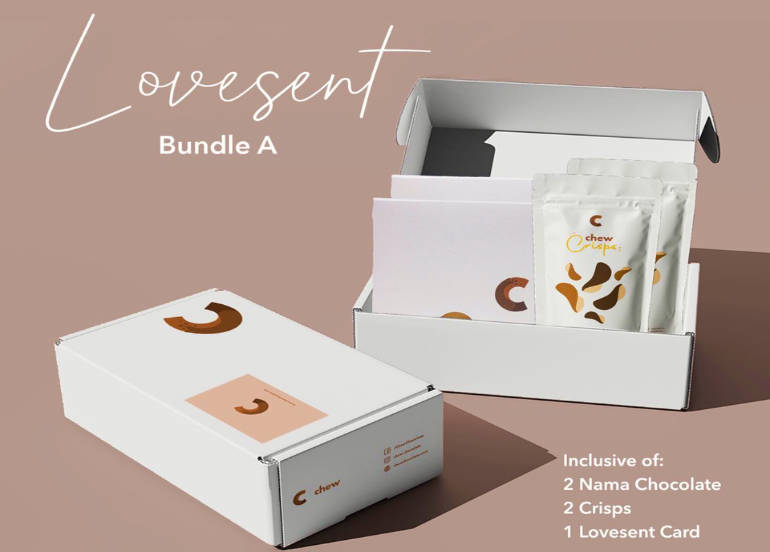 Simple yet seductive, Partager's Classic French Truffle Chocolates will surely hit the sweet spot with every bite. It's made with purely fine chocolate and dusted with cocoa powder. Plus, they also offer chocolate-covered dried fruit such as strawberries, banana thins, green mango, and kiwi!
Prize: Starts at ₱235 for a box of 9. Also available in boxes of 16 and 18.
To order: See their website or send them a message on Facebook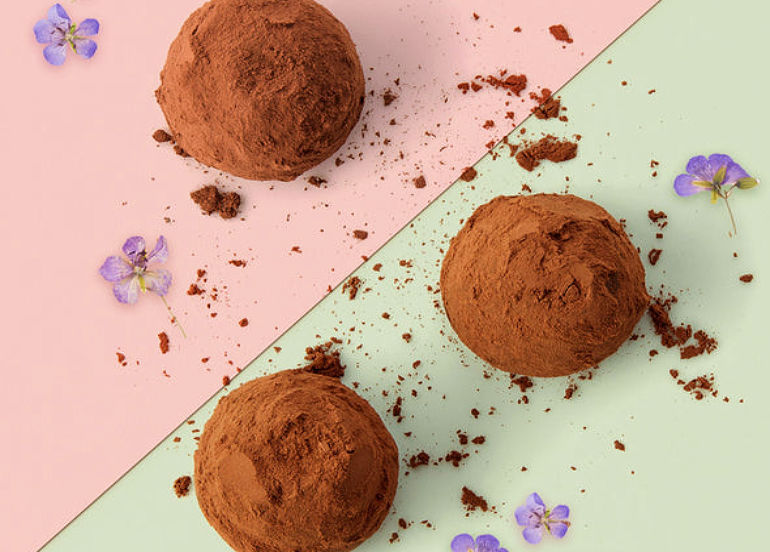 View website
View their Facebook
View their Instagram
San Antonio Village 1203 Makati
Don't be deceived by the affordable price of Ricci Premium's Truffles because their treats certainly taste as good as the expensive kinds! Apart from their classic flavor, they also offer their truffles in Dark, Matcha, Triple White, and the Chocoholique which has the sweetness of Brandy! Not to be missed are their signature flavors including Choco Mint, Cookie Oreo, and their best-selling Tiramisu!
Price: Truffles Classic starts at P180
To order: Please send them a message.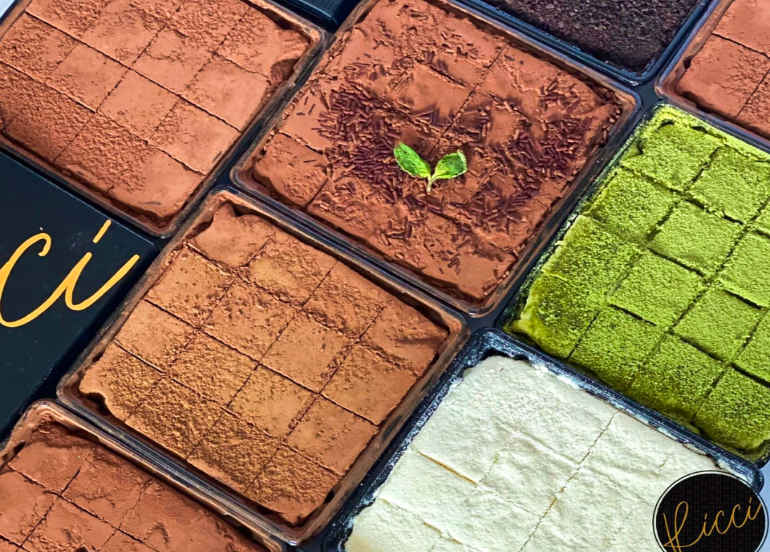 View menu
View their Facebook
View their Instagram
Peñafrancia St. Paco Manila 1007 Manila
0968 641 6649
With great berries come great…treats! Chocoberry MNL specializes in freshly hand-dipped king berries that are coated in a rich, smooth Belgian Chocolate. Expect these berries to be plump and juicy, the perfect balance to that luscious chocolate. Their designs are attractive to the eye, and the best part is, you can even customize them to your liking! Consider getting their breakable chocolate hearts and berry letters, too!
Price: Chocoberries start at P600
To order: Call their number or see their website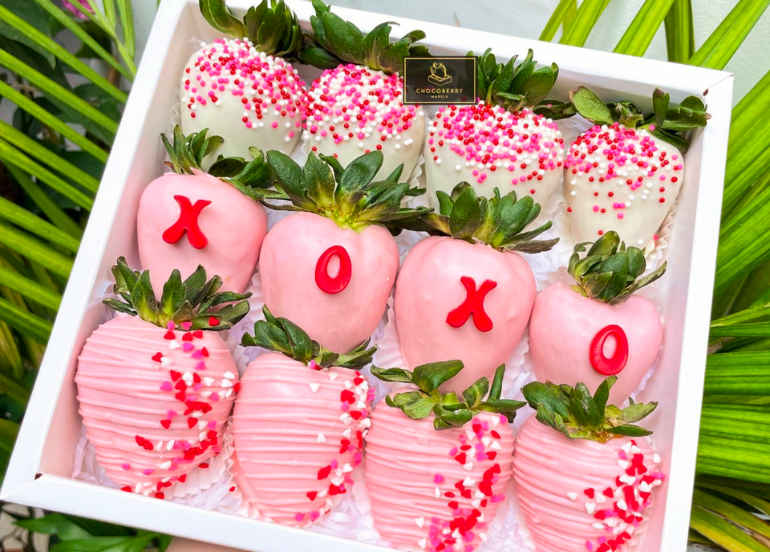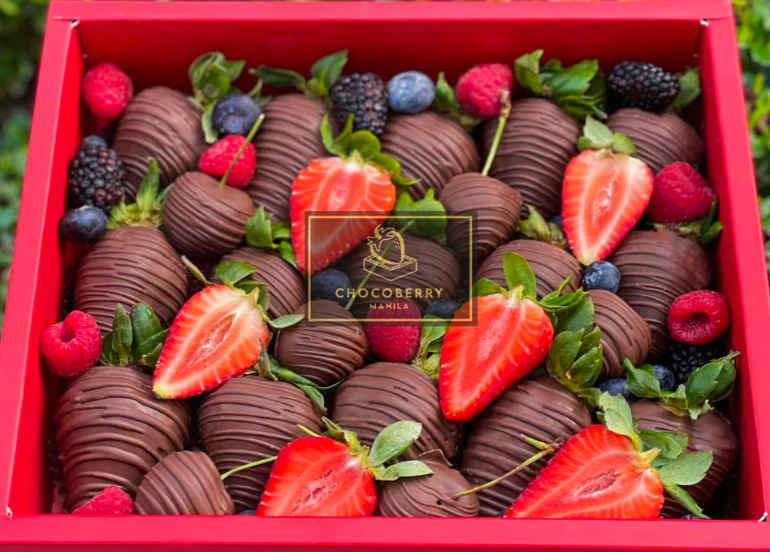 View website
View their Facebook
View their Instagram
Project 3, Quezon City
(02) 7149-1127
These chocolate boxes from RoseBerries will surely make your jaw drop and your mouth water. Who doesn't want a piece of that choco-covered imported strawberry, or that thick cakesicle, not to mention their delicious truffles! Feel free to customize your own box by putting together all the treats you want!
Price: P1215 for a box of 9
To order: Send them a DM on Instagram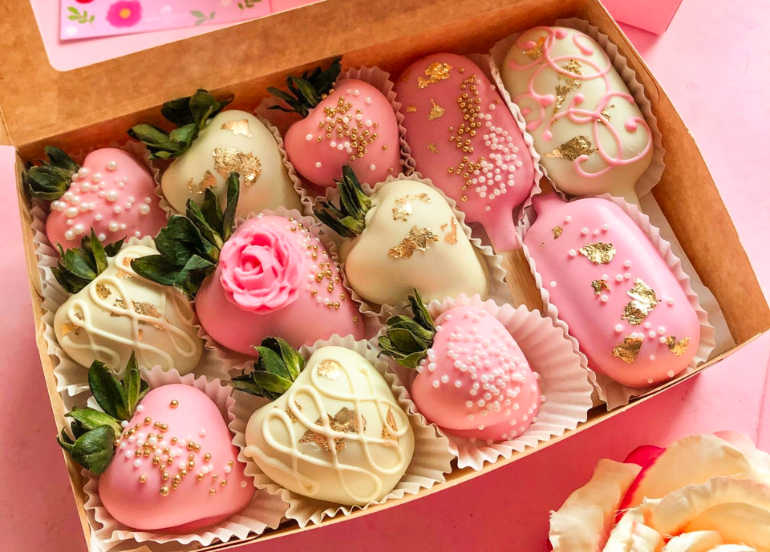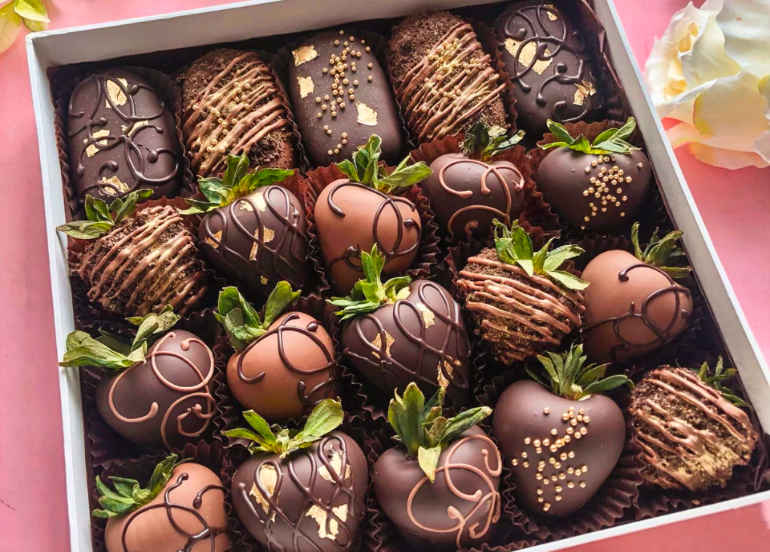 View their Facebook
View their Instagram
Mandaluyong City
Get your sweetheart this limited-edition chocolate box from CMV Txokolat which features their top-selling and seasonal flavors! A box includes 2 assorted chocolate bars, 6 pcs of assorted truffles (flavors include Johnnie Walker Truffles, Vegan Truffles, and Brownie Bombs), 6 Sofia Strawberries, and finally, 12 of their signature Pralines!
Prize: P2,499
To order: Go to their website.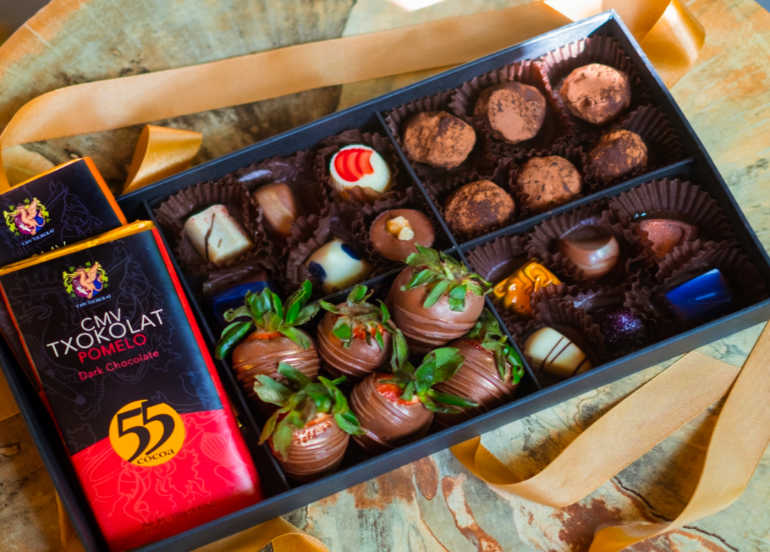 View menu
View website
View their Facebook
View their Instagram
11 Nutmeg Mahogany III 1630 Taguig
Consider Grupo Dolci as one of the masters when it comes to pastries, gelato, cakes, and chocolate. They offer these visually stunning Chocolate Bonbons which include complex chocolate flavors, as well as this Valentine's Gift Box which has 9 unique AURO chocolate bonbons and 9 authentic French macarons!
Price: P2,100
To order: Go to this delivery website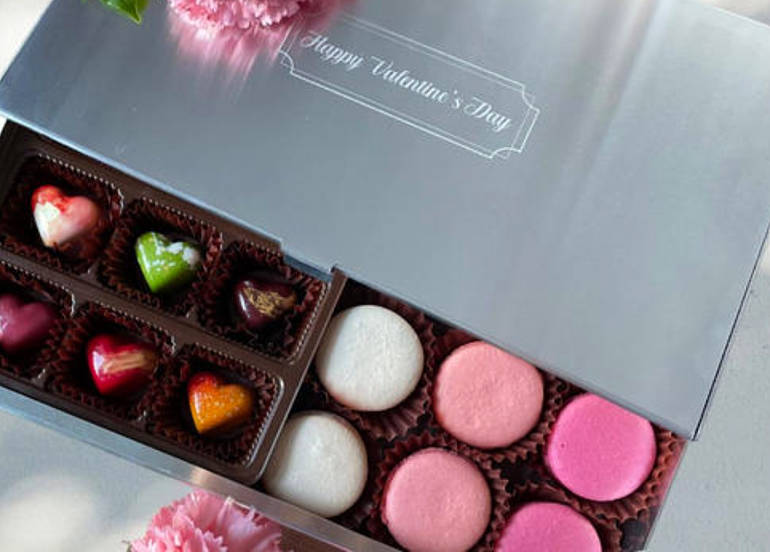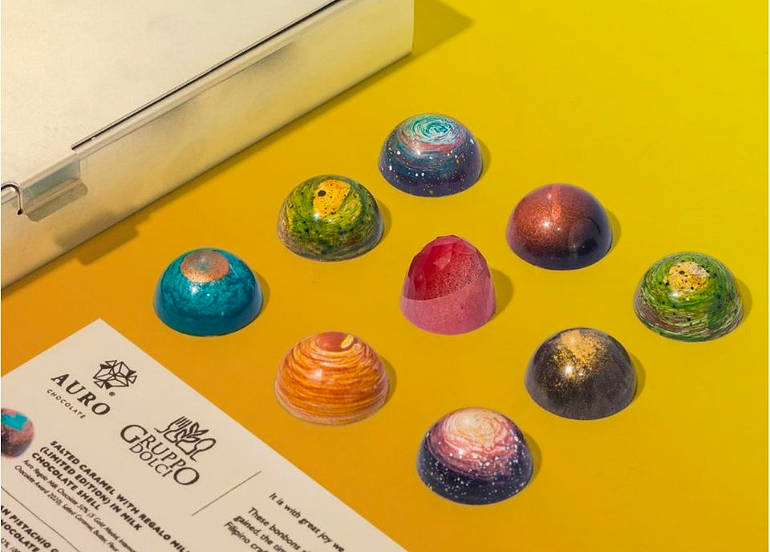 View website
View their Facebook
View their Instagram
Santiago St. Paseo de Magallanes Commercial Center 1232 Makat
09176228217
We know you loved using the Booky app for discovering the newest places in your city. Given these extraordinary times, we want to continue being helpful during the GCQ so check out our updated food delivery guide, restaurants that just reopened, where to shop for groceries online, and more.
Cover photo from RoseBerries Manila