Recipes for you and your musu-bae
Through ups and downs, there's a can of Spam to get you through that lazy day and we've found a handful of recipes that are easy enough to make and can lighten up your day!
Scroll down and brighten up your meal with these creative ways on how to cook Spam, enjoy!
We can also call this caramelised Spam as this recipe coats them in brown sugar and black pepper. This would be yummy with your eggs in the morning or crumbled up and used as a topping for other meals you have in mind.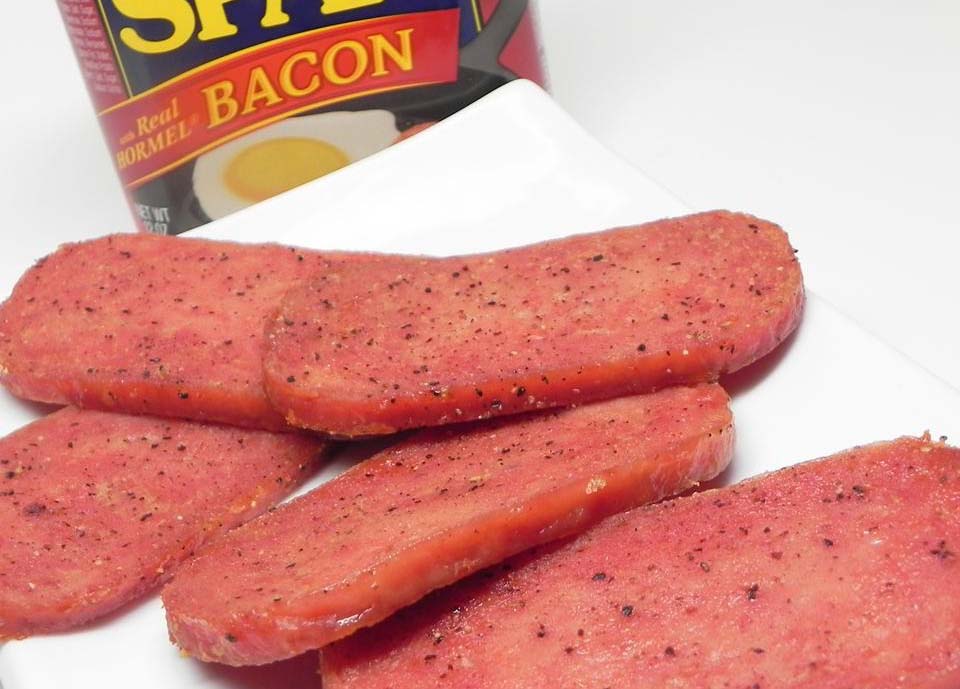 Here's the recipe from AllRecipes,
Ingredients
1/4 cup brown sugar
1 tsp ground black pepper
1 (12 oz) can of fully cooked luncheon meat with bacon (Spam w Bacon flavour but honestly you can use any Spam flavour you have), sliced
Instructions
Preheat the oven to 375°F (190°C)
Mix the dark brown sugar and pepper together in a bowl
Then coat both sides of the luncheon meat slices with the mixture then arrange in a single layer on a non-stick baking sheet
Place in the preheated oven and remember to turn them halfway until golden brown; this'll be about 15 minutes.
We've all heard and tried different variations of fried rice… and Spam fried rice so here's a Hawaiian take that you could try.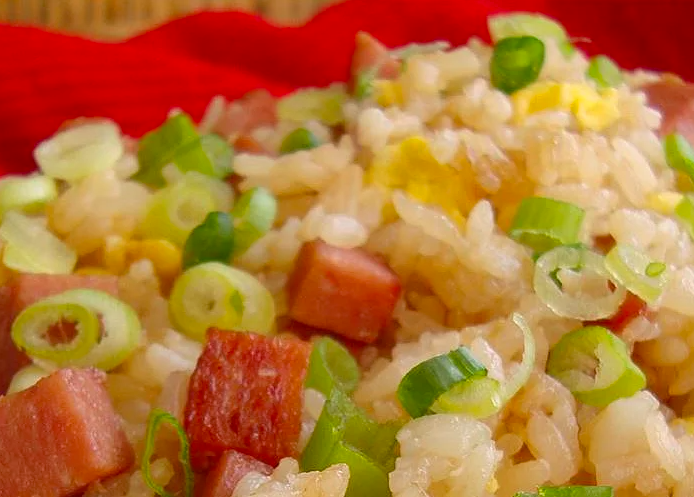 Here's the recipe from AllRecipes,
Ingredients
1 1/2 cups uncooked jasmine rice
3 cups water
2 tsp canola oil
1 (12 oz) can fully cooked Spam, cubed
1/2 cup sliced Chinese sweet pork sausage (lup cheong)
3 eggs, beaten
2 tbsp canola oil
1 (8 oz) can pineapple chunks, drained
1/2 cup chopped green onion
3 tbsp oyster sauce
1/2 tsp garlic powder
Instructions
For this recipe, you'll be bringing the rice to a boil in a saucepan over high heat. Afterwards, reduce the heat to medium-low then cover and simmer until the rice is tender and all liquid has been absorbed, this'll take 20-25 minutes. Allow the rice to cool completely.
Heat 2 teaspoons of oil in a skillet over medium heat and brown the luncheon meat and sausage. Set aside then pour the beaten eggs into the hot skillet. Scramble the eggs and set aside.
Heat 2 tablespoons of oil in a large non-stick skillet over medium heat and stir in the rice. Toss the rice with the hot oil until heated through and beginning to brown, this'll take about 2 minutes. Add in the garlic powder, toss again for 1 more minute then stir in the luncheon meat, sausage, scrambled eggs, pineapple, and oyster sauce. Cook and stir until the oyster sauce completely coats everything, around 2-3 minutes then stir in the green onions and it's now ready to serve!
If you have some ground beef on hand, consider making it into a burger BUT with an addition of salty, tasty Spam.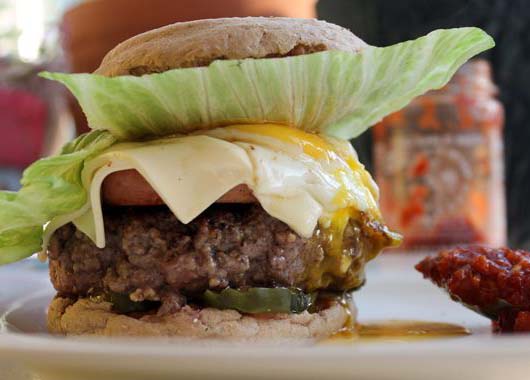 Here's the recipe from Men's Health,
Ingredients
14 oz ground beef
2 ¼-inch thick slices Spam
2 slices American cheese
2 slices white Cheddar
2 iceberg lettuce leaves
2 ¼-inch thick slices beefsteak tomatoes
2 Tbsp minced white onion
4 slices dill pickles
1 Tbsp butter
2 eggs
2 sandwich sized English muffins, split
Salt and pepper, to taste
For the sauce
½ cup chili sauce
½ Tbsp mayonnaise
2 Tbsp grated onion
¼ cup finely minced pickles
1 tsp pickle juice
½ tsp sugar
½ tsp freshly ground black pepper
¾ tsp smoked sea salt
Instructions
Sauce
In a medium bowl, stir together all the ingredients. The mixture will keep in the fridge for up to a week.
Burger, this makes 2 burgers
Heat a large pan over medium heat. Add the Spam slices and sear until well caramelized, 3 to 5 minutes on each side. Set aside.
Preheat a cast iron skillet or grill pan over medium high heat. Shape the ground beef into two patties about 1 inch thick and season both sides with salt and pepper. Transfer the patties to the skillet or pan and sear until the bottom is well caramelize, about 2 minutes.
As the burger sears, add the English muffins to the pan, cut side down, and cook until toasted, about 2 minutes. Remove the English muffins from the pan and set aside.
Flip the burgers, add the butter in the same skillet or pan, and crack in the eggs. Top each burger with a slice of Spam and a slice each of the two cheeses. Cook until the whites of the eggs have set and the cheese is melted, 3 to 5 minutes.
Spread the BRC sauce (recipe below) on both faces of the English muffins. For each burger, add 1 Tbsp of minced onion, 2 pickle slices, 1 lettuce leaf, and 1 tomato slice. Transfer the burgers to the muffins, top with the fried eggs and then close the burgers.
Odd? Yes. Interesting? Yes. Worth a try? Why not?? Most of the ingredients for this are probably in your pantry already, so let's get experimenting!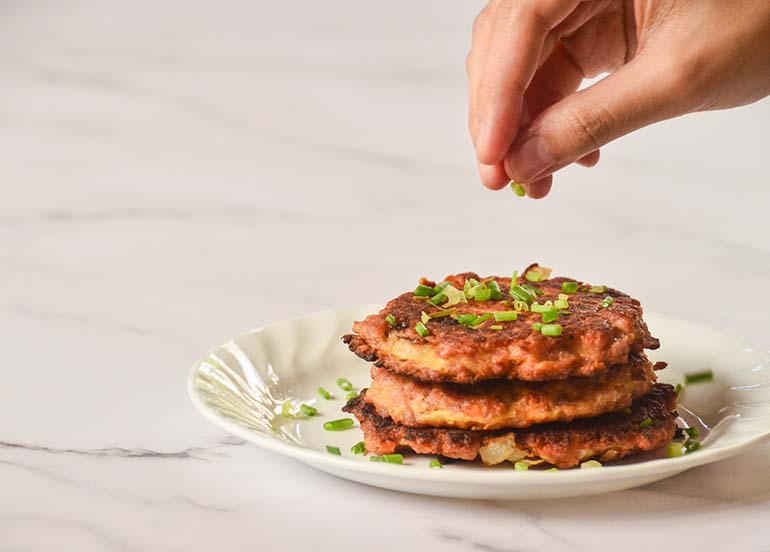 Here's the recipe from Aaron & Claire,
Ingredients
1 can Spam
1/2 onion, chopped
2 eggs
Green onion
Carrots, chopped
Black pepper
1 tsp minced garlic
2 tbsp pancake mix
Instructions
Place spam in a plastic or silicone bag and mash it
Chop the vegetables and place in a bowl then add the mashed spam, garlic, eggs, black pepper, and mix well.
Heat oil in the pan and scoop up the spam mixture and place it on the pan in the form of a pancake then cook until it turns light brown then flip.
Top with spring onions then serve!
You've heard of Ram-Don from the hit film, Parasite, but have you heard of Spam-don?? Unlike the expensive Ram-Don or Jjapaguri, this recipe can be whipped up in no time cause you probably have all the ingredients already in your kitchen.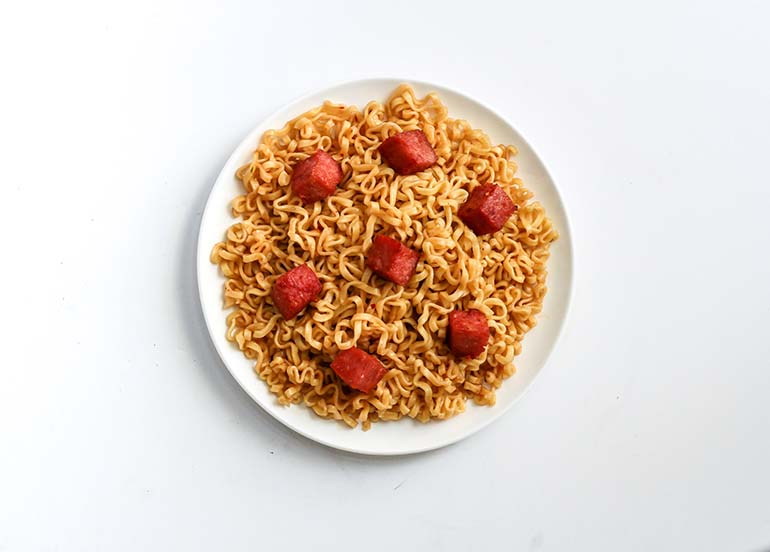 Ingredients
1 can Spam
Instant pancit canton
Cheese, optional
Spring onions, optional
Instructions
Cook the instant pancit canton according to packet's instructions
Chop Spam into large cubes and begin to the heat the oil on the pan then once hot, fry the cubes.
Place the cooked Spam cubes on top of your pancit canton
Add cheese, spring onions, and other toppings that you prefer. Enjoy!
There's no time wherein we were never salivating upon seeing a photo of Spam Musubi, it's so good that we decided to give it a try and cook one up ourselves!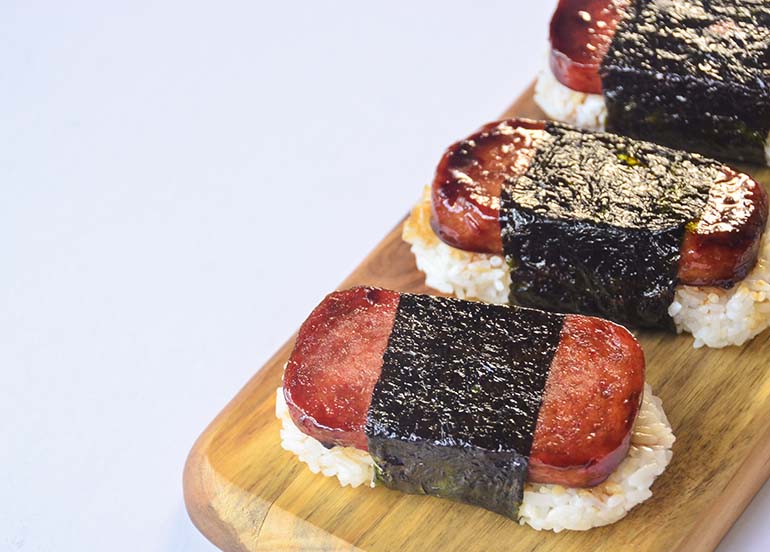 Here's the recipe from Tasty,
Ingredients
1 can Spam, sliced lengthwise
1 tsp sugar
1 tbsp rice vinegar
pinch of salt
1 tbsp oil
1 tbsp water
1 tbsp so sauce
1 tbsp sugar
2 strips nori, 2″ wide
Cooked rice
Instructions
Combine sugar, salt, and vinegar in a small bowl, mix then add cooked rice and mix again.
Slice the spam into your desired thickness and fry. While frying, combine the water, sugar, and soy sauce in a small bowl then pour on top of the spam until the mixture thickens.
Use the empty spam can as a mold! Line the inside with cling film then pack the mold with rice, a slice of spam, rice again then push down.
With the cling film, pull out the Spam Musubi and take your nori sheet and place the Musubi without the cling film in its center.
Fold the sides of the nori to wrap the Musubi and seal the nori with water and you're ready to serve!
More savoury pancakes coming up! Try out this Spam Rice Pancake recipe, you can just add it to anything from pancit canton, dips, eggs, and more!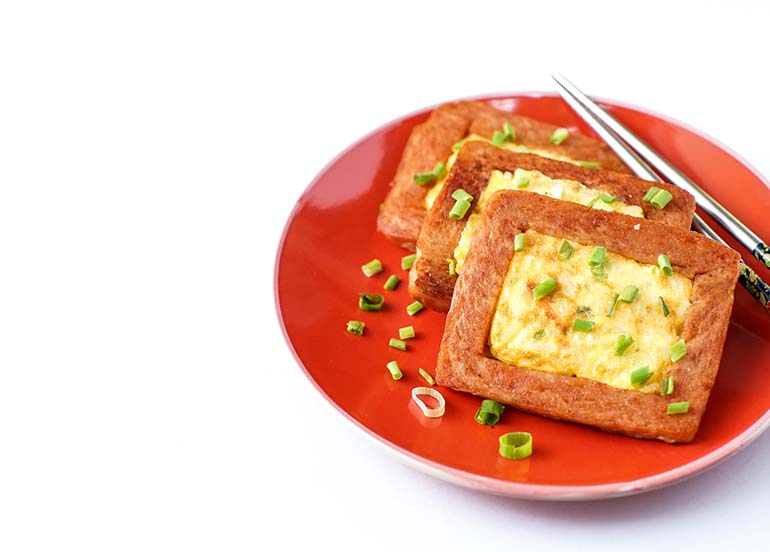 Here's the recipe from Cookat,
Ingredients
2 slices of Spam, 1″ thick
1 scoop of rice
3 eggs
3 tbsp Spam
3 tbsp onion, chopped
2 tsp spring onion
2 tsp corn
2 tsp Jalapeño, optional
Salt
Instructions
Slice spam and cut them in a way that produces a square / rectangle shape in the center
Put 1 portion of rice, jalapeño, onion, spring onion, corn, 3 tbsp Spam, eggs, and salt in a bowl then mix well.
Heat oil in pan and fry the sliced Spam
Pour the rice mixture inside the empty squares of the Spam slices and cook until light brown then flip and cook again.
Serve and enjoy!
Spam can be the perfect snack with this variation! Turn your favourite spam into fries with just a few ingredients.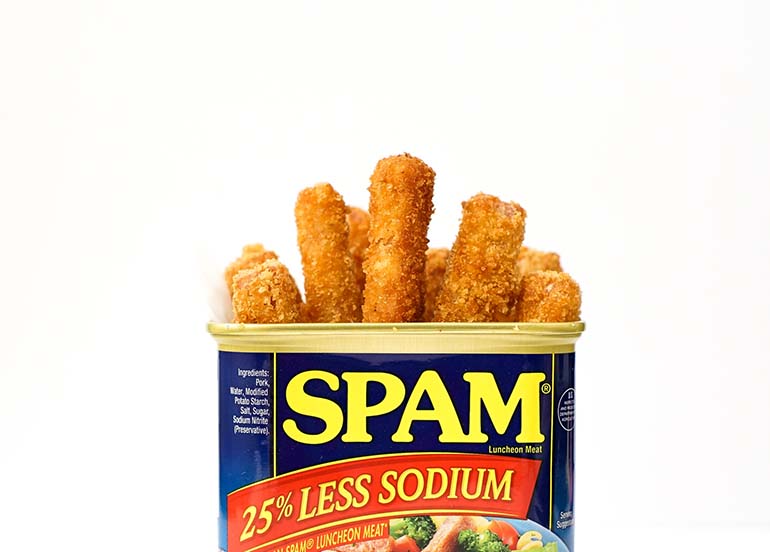 Ingredients
1 can Spam
2 cups Pank breadcrumbs
2 eggs
1 cup flour
Cooking oil
Instructions
Slice the Spam in half, length-wise, then make 2 slices width-wise to make fries.
Whisk the eggs in a bowl then on a separate plate, place the flour and in another, place the panko.
Coat the Spam with flour and dip into the whisked eggs and coat with panko breadcrumbs then repeat until all the Spam fries are coated
Once coated, fry them in hot oil until the panko turns golden and crispy.
Serve and enjoy! You can also serve with the sauce of your choice.
We know you loved using the Booky app for discovering the newest places in your city. Given these extraordinary times, we want to continue being helpful so check out our updated food delivery guide, where to shop for groceries online, and more.