What happens when chocolate bar meets milk tea?
After serving us our favorite milk tea beverages, local milk tea shop Serenitea is now offering something more solid to tickle our palates.
Serenitea, in partnership with Filipino chocolatier Auro Chocolate, is adding tea bars to their menu! The collaboration makes use of Auro's milk and white chocolates locally sourced from Mindanao combined with two of Serenitea's most popular tea flavors matcha and earl grey.
Also Read: Serenitea's New Flavors Are Made For Taho and Taro Lovers
Two flavors are currently up for grabs, namely the Matcha White Chocolate with Pili Nuts tea bar and the Earl Grey Milk Chocolate with Sunflower Seeds. The fromer comes in a soothing green packaging while the latter reflects its sunflower ingredient with its bright yellow wrap.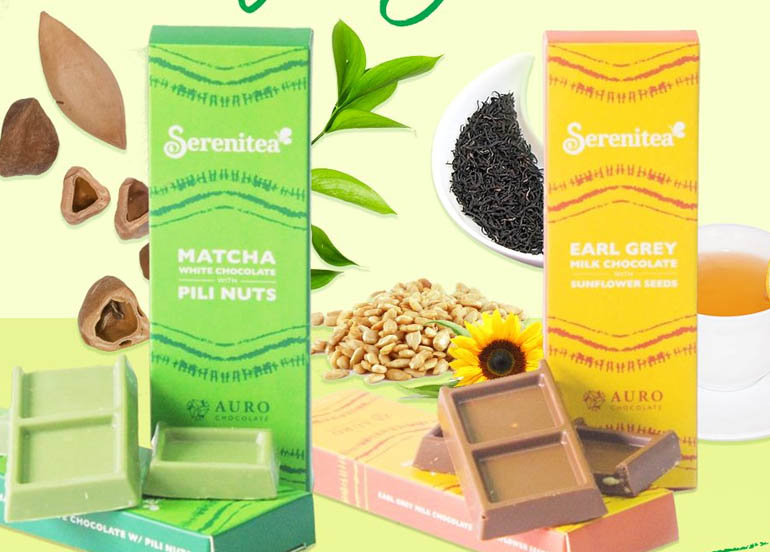 These tea bars will be exclusively available on Serenitea's Shopee and Lazada online pages. They're currently running a promo where you can get both tea bars for only ₱250.
Remember to add these to your cart as Serenitea x Auro's tea bars will only be available from October 16 – December 31, 2020.
In Case You Missed It: You Can Now Make Serenitea's Okinawa Milk Tea at Home!
It comes as no surprise to many that if you're in need of a quick and reliable fix of milk tea, you can get it at Serenitea!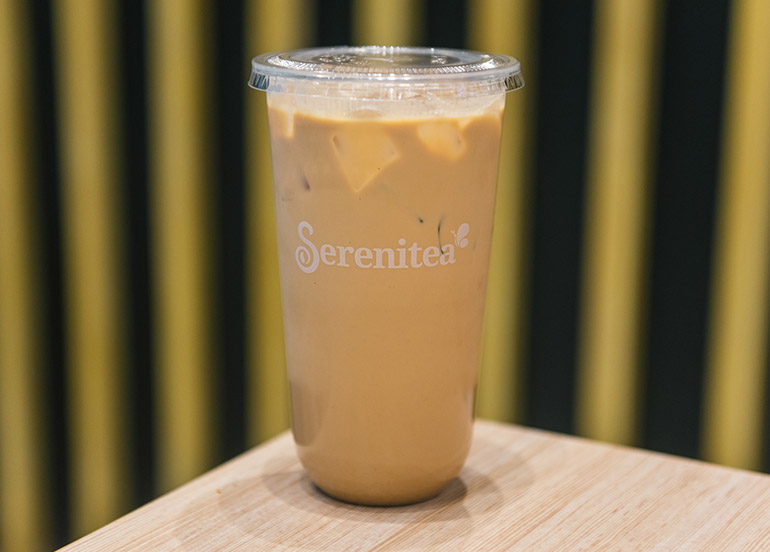 If you think that having one serving of Serenitea's milk tea isn't enough to last you through these trying times, how does have 15 servings at hand sound? Yep, you read that right, thanks to Serenitea, you can have 15 servings of Serenita's best selling Okinawa Milk tea at home with their Okinawa Milk Tea Home Kits.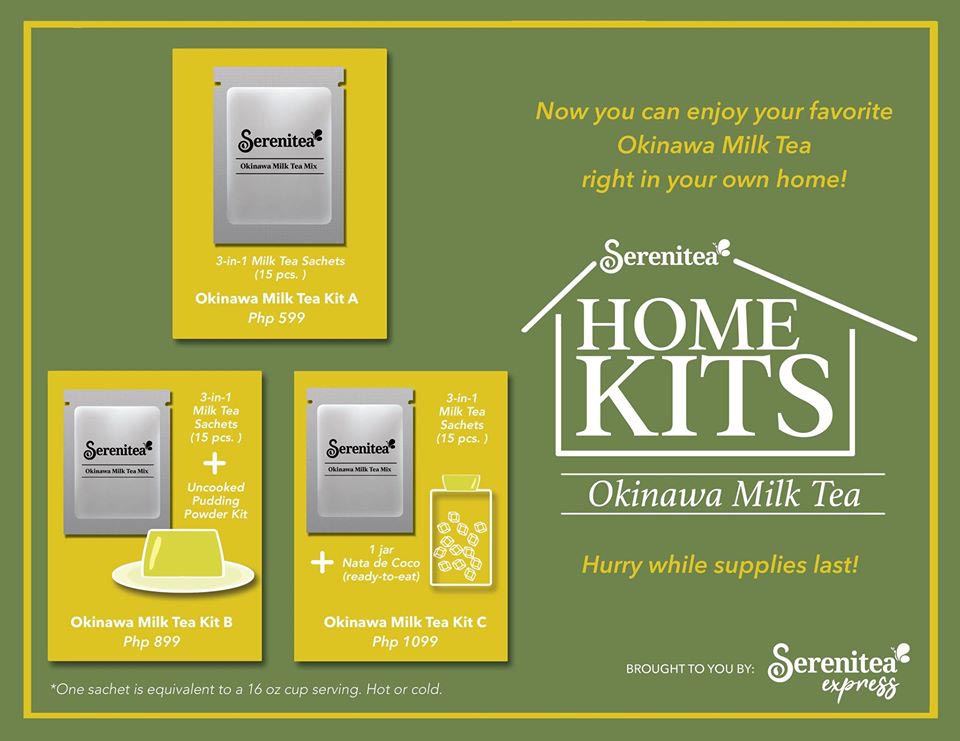 In the photo:
Okinawa Milk Tea Kit A: 3-in-1 Milk Tea Sachets (15 pcs.) for ₱599
Okinawa Milk Tea Kit B: 3-in-1 Milk Tea Sachets (15 pcs.) + Uncooked Pudding Powder Kit for ₱899
Okinawa Milk Tea Kit C: 3-in-1 Milk Tea Sachets (15 pcs.) + 1 jar Nata de Coco (ready-to-eat) for ₱1,099
Here's a preview of the Okinawa Milk Tea Kits: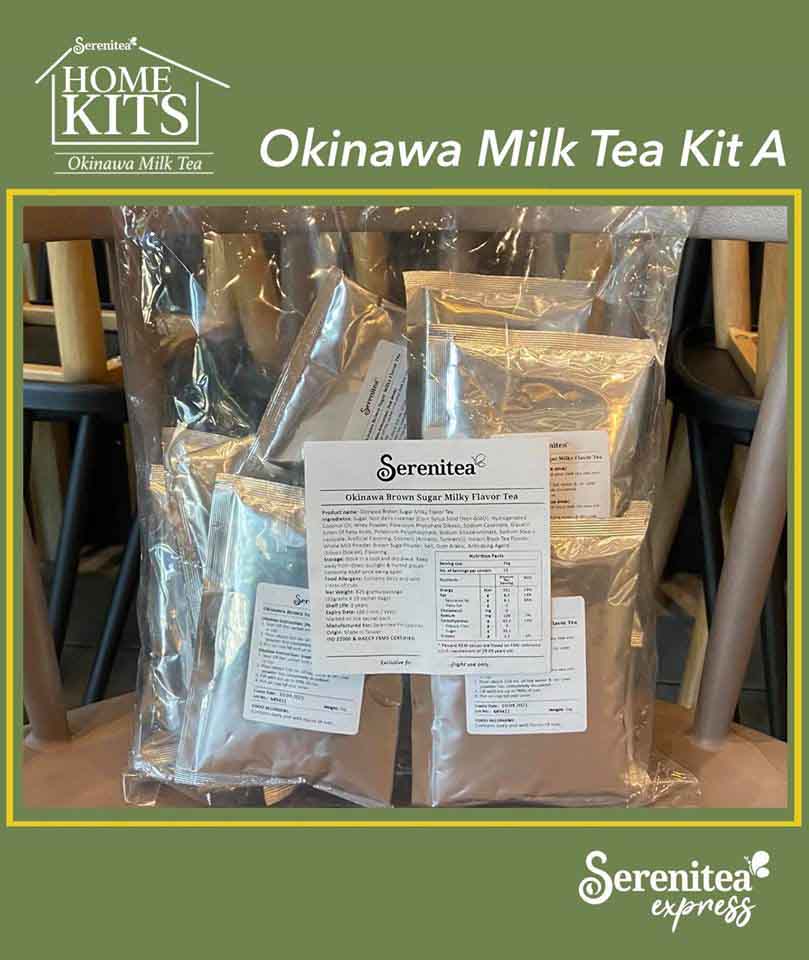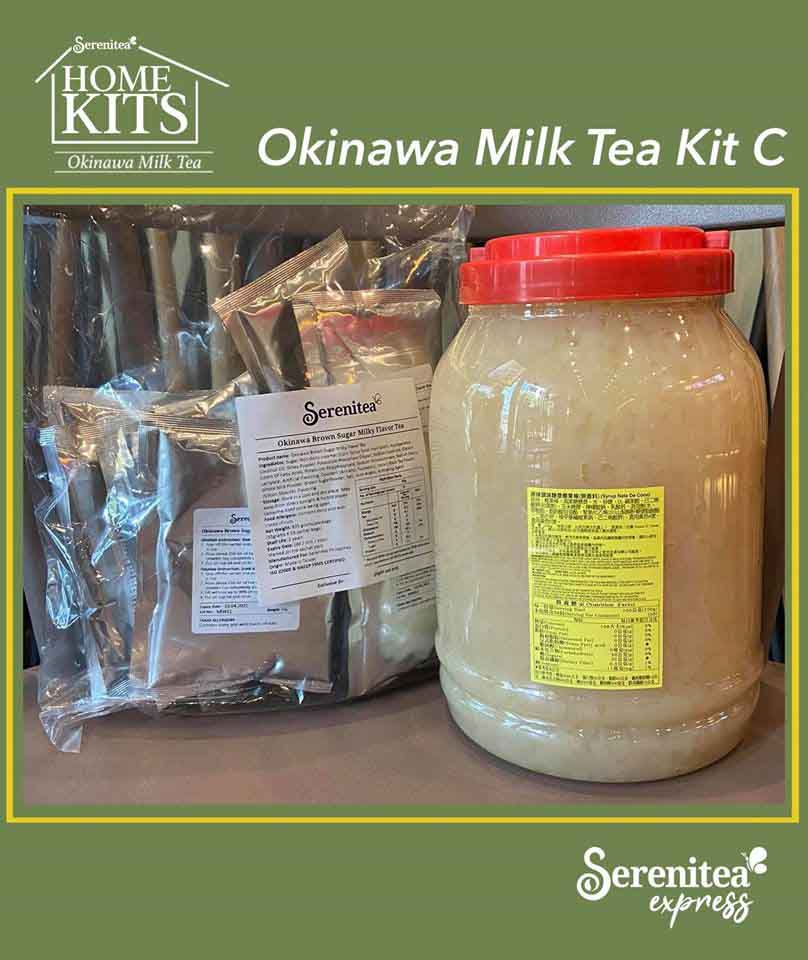 Available until supplies last at their Congressional QC, Exchange Regency Ortigas, Rada Makita, and Butterfly Garden Pasay branches via pabili or pick-up, we suggest that you don't miss out on the opportunity to quench your milk tea thirst and get a kit for yourself ASAP! For inquiries, message their Facebook page or call the participating branches.
View menu
View all branches
View their Facebook page
View their Instagram account
We know you loved using the Booky app for discovering the newest places in your city. Given these extraordinary times, we want to continue being helpful during the ECQ so check out our updated food delivery guide, restaurants that just reopened, where to shop for groceries online, and more.
Cover image from Serenitea's Facebook page