Building your own kitchen? Make sure you have these staples.
A well-stocked kitchen is a marvelous thing. It inspires you to imagine all the possible meals you can create and assures you that you'll always be able to whip up something no matter what.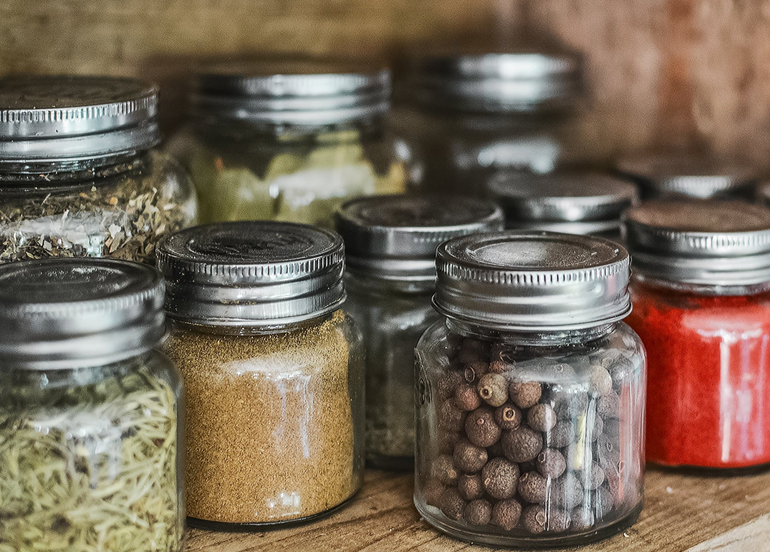 But for those of us who are just beginning to piece together our own kitchens, figuring out all the staples can be daunting. What kind of spices should you have? Do you really need both garlic and garlic powder? What do you do with star anise?
If these questions have ever run through your mind, then you've come to the right place. Here's the ultimate checklist of Filipino pantry must-haves that beginner or seasoned homemakers can use to make sure their kitchen is always ready to produce Pinoy favorites.
Basics
Cooking oil
Butter or margarine
Salt and pepper
Sugar (brown or white)
Eggs
Milk
Produce
Onion
Garlic
Ginger
Potatoes or Kamote
Tomatoes
Calamansi
Carrots
Green onion
Leafy greens — cabbage, kangkong, or pechay
Dry goods, canned goods, and grains
Rice
Dried pasta
Flour
Cornstarch
Chicken and beef broth
Bread
Canned meats of choice
Instant noodles
Evaporated milk
Condensed milk
MSG
Tomato sauce
Sinigang Mix
Condiments
Soy sauce
Vinegar
Fish Sauce
Ketchup
Mayonnaise
Oyster Sauce
Herbs and spices
Rosemary
Thyme
Bay leaves
Basil
Red pepper flakes
Chili powder
Allspice
Cinnamon
Curry powder
Garlic powder
Onion powder
Peppercorn
Turmeric
Sesame seeds
Snacks and drinks
Coffee
Tea
Juice
Biscuits or cookies
Your favorite palaman
Have these items stocked and you've built yourself a solid foundation for many Pinoy meals. Of course, other main ingredients such as meats will be up to your choosing, but these staples will happily support and create a full and delicious meal.
Speaking of full and delicious meals…
What can you cook with these?
Here are some great, classic Pinoy recipes you can test out with your newly stocked pantry.
Sinigang na Baboy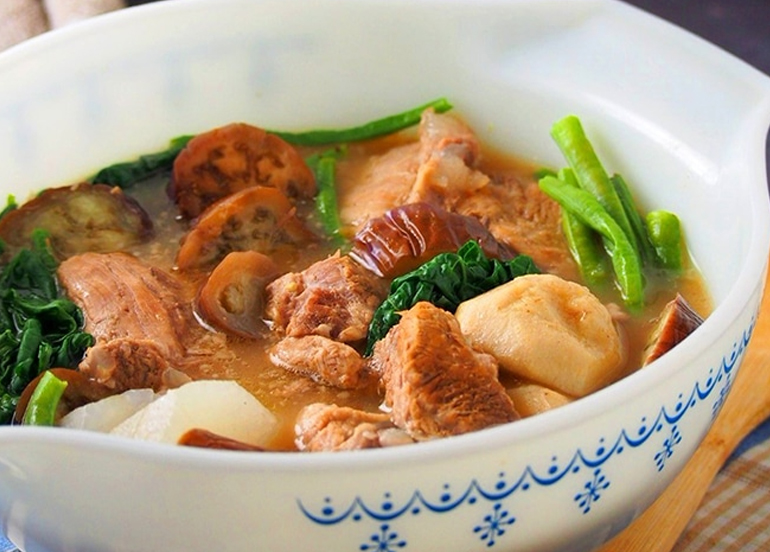 Here's the recipe from Kawaling Pinoy.
Ingredients
2 pounds pork spare ribs, cut into 2-inch pieces
8 cups water
2 large tomatoes, quartered
1 medium onion, peeled and quartered
2 tablespoons fish sauce
6 pieces gabi, (peeled and halved depending on size)
1 6-inch radish (labanos), peeled and sliced to 1/2-inch thick half-rounds
2 finger chilies (siling haba)
1/2 bunch long beans (sitaw), ends trimmed and cut into 3-inch lengths
1 eggplant, ends trimmed and sliced to 1/2-inch thick half-rounds
6 pieces okra, ends trimmed
15 pieces large tamarind or 1 1/2 (1.41 ounces each) packages tamarind base powder
salt and pepper to taste
1 bunch bok choy or pechay, ends trimmed and separated into leaves
Instructions
Rinse pork ribs and drain well.
In a pot over medium heat, combine pork and enough water to cover. Bring to a boil, skimming scum that accumulates on top.
Once broth clears, add tomatoes, onion, and fish sauce. Lower heat and simmer for about 1 to 1 1/2 hours or until meat is tender, adding more water as necessary to maintain about 8 cups.
Add gabi and cook for about 4 to 6 minutes or until tender.
Add chili peppers and radish. Continue to simmer for about 2 to 3 minutes.
Add long beans. Continue to cook for about 2 minutes.
Add eggplant and okra and cook for another 1 to 2 minutes.
If using packaged tamarind base, add to the pot and stir until completely dissolved.
Season with salt and pepper to taste.
Add bok choy and continue to cook for about 1 minute. Serve hot.
Pork Menudo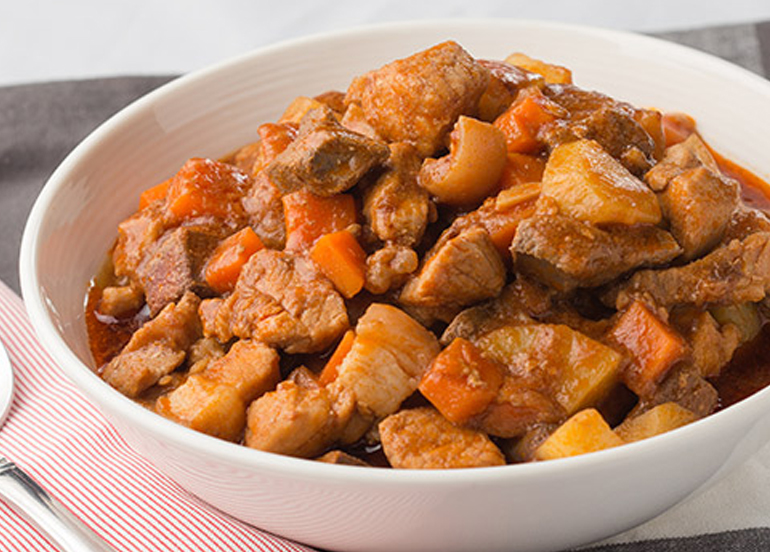 Here's the recipe from Yummy.ph.
Ingredients
2 tablespoons cooking oil
3 cloves garlic, minced
1 onion, chopped
1 kilo pork
1/2 cup soy sauce
1 teaspoon sugar
3/4 cup tomato sauce
1 cup water
2 to 3 pieces dried bay leaf
1/4 kilo pig liver
1 cup potatoes, diced
1 cup carrot, diced
salt, to taste
Instructions
In a saucepan, saute garlic and onion in oil.
Add the pork. Cook for 5 minutes.
Pour in soy sauce, sugar, tomato sauce and water and then add the bay leaves. Simmer for 30 minutes or until the pork is tender.
Add the the liver and cook for 5 minutes.
Add potatoes, carrots, then season with salt, and pepper. Stir and cook for 15 minutes.
Chicken Tinola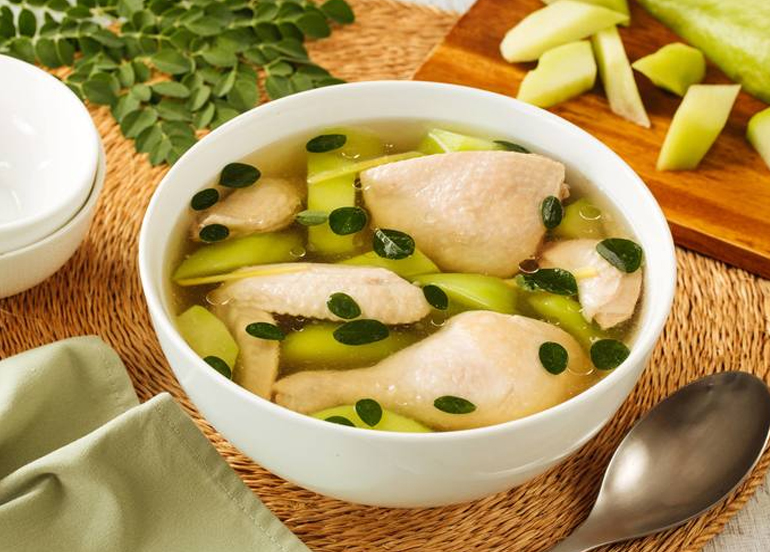 Here's the recipe from Knorr.
Ingredients
1 tbsp cooking oil
1 pc onion, small -sized, chopped
2 cloves garlic, chopped
1 (2 – inch) pc ginger, cut into strips
1/2 kilo chicken, cut into 8 pcs
1 liter water
2 pcs Knorr Chicken Cube
1 pc sayote or 1 pc small -sized green papaya, sliced
2 stalks dahon ng sili
Instructions
Get a casserole or pot and bring it up to medium heat before pouring in the oil. Drop in the onions, garlic and ginger and sauté slowly for about 2 minutes or until you can smell the lovely aroma of the thoroughly cooked vegetables.
It's time to drop in those chicken pieces and stir until it turns white in color
Pour in the water and throw in your Knorr Chicken Broth cubes. Bring this to a simmer until chicken is tender and cooked through.
You can now add your sayote or green papaya and cook until tender.
Dahon ng sili is added at the last stage to ensure leaves (and nutrients) don't dry up. Give this a minute then it is done. Malunggay is also another healthy alternative because it is packed with vitamins and minerals which are good for nursing moms and kids as well.
Enjoy this with patis and calamansi on the side.
Pork Adobo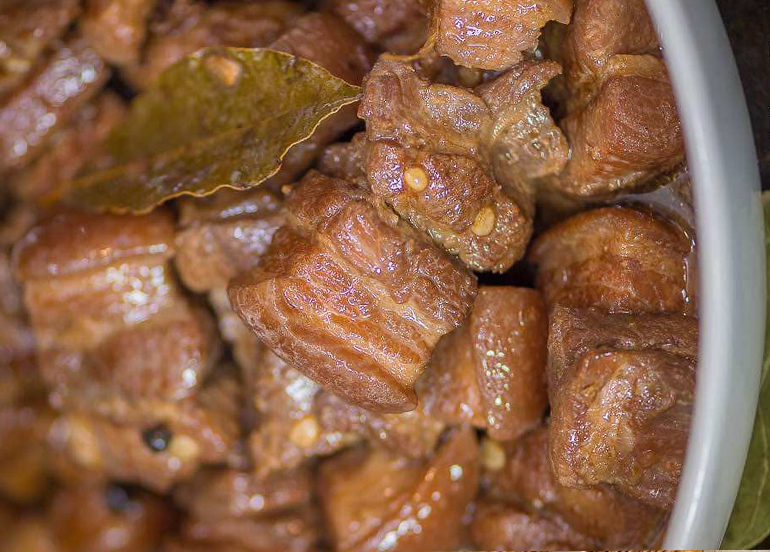 Here's the recipe from Panlasang Pinoy.
Ingredients
2 lbs pork belly
2 tablespoons garlic minced or crushed
5 pieces dried bay leaves
4 tablespoons vinegar
1/2 cup soy sauce
1 tablespoon peppercorn
2 cups water
Salt to taste
Instructions
Combine the pork belly, soy sauce, and garlic then marinade for at least 1 hour
Heat the pot and put-in the marinated pork belly then cook for a few minutes
Pour remaining marinade including garlic.
Add water, whole pepper corn, and dried bay leaves then bring to a boil. Simmer for 40 minutes to 1 hour
Put-in the vinegar and simmer for 12 to 15 minutes
Add salt to taste
Serve hot. Share and enjoy!
We know you loved using the Booky app for discovering the newest places in your city. Given these extraordinary times, we want to continue being helpful so check out our updated food delivery guide, where to shop for groceries online, and more.
Cover image from Pexels