It takes two to mango!
The king of fruits, mangoes are really popular in tropical countries. Not only does it go well in sweet and savory dishes, this fruit has a lot of vitamins and minerals as well – that's why it's loved by many. For the mango lovers out there, here's a list of simple recipes that you can experiment at home!
Mango Sticky Rice
Have a piece of Thailand in your home with this very simple Mango Sticky Rice recipe!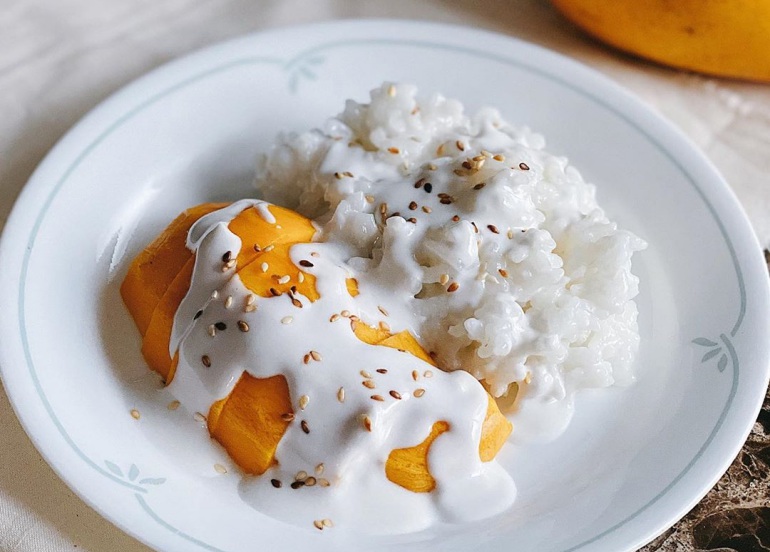 Here's the recipe from Epicurious:
Ingredients:
1 1/2 cups glutinous rice
1 1/3 cups canned unsweetened coconut milk
1/3 cup plus 3 tbsp. sugar
1/4 tsp. salt
1 tbsp. toasted sesame seeds
1 large mango, cut into thin slices
Instructions:
1. In a bowl, wash rice until water is clear. Soak rice in cold water overnight.
2. Drain rice in sieve. Set sieve over saucepan of simmering water and steam rice, covered with a lid, 30-40 mins. Add water, if necessary.
3. Meanwhile, boil 1 cup coconut milk with 1/3 cup sugar and salt in a pan until sugar is dissolved. Remove from heat. Keep mixture warm.
4. Transfer cooked rice to a bowl and stir in 1 cup coconut milk. Let rice stand, covered, 30 mins., or until mixture is absorbed.
5. While rice is standing, slowly boil remaining coconut milk and sugar, for 1 min. Transfer sauce to a bowl and chill.
6. Mold sticky rice on plate, drizzle with sauce, and sprinkle with sesame seeds. Place mango slices on side and serve!
Mango Sago't Gulaman
Nothing beats a cold glass of Mango Sago't Gulaman, a Pinoy cooler that's perfect for the summer heat!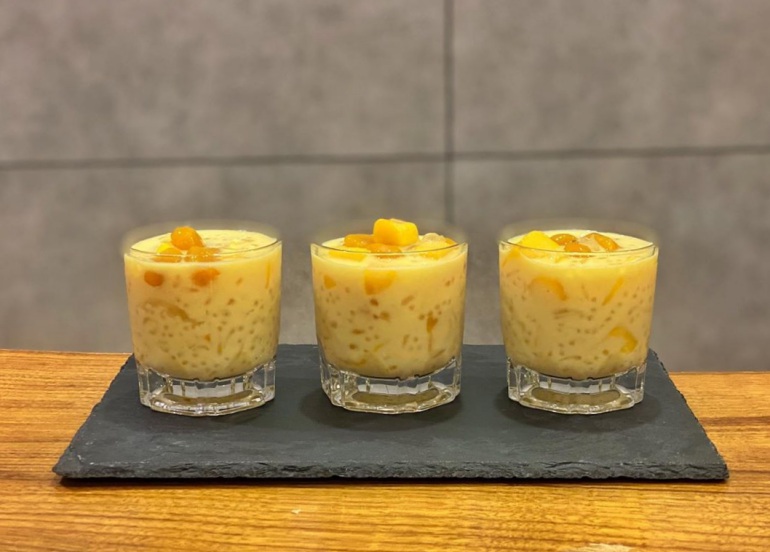 Ingredients:
2 ripe mangoes, sliced
1 can (300 mL) condensed milk
1 pack (250mL) all-purpose cream
1 cup sago, cooked
1 sachet mango gelatin, cooked
2 ripe mangoes, diced
Instructions:
1. Blend sliced mangoes until crushed.
2. Add the condensed milk and all-purpose cream. Turn on the blender until well-combined.
3. Transfer the mixture into a big container.
4. Add the sago, diced gelatin, and diced mangoes. Mix well.
5. Cover and refrigerate for 1-2 hours.
6. Serve in glasses and enjoy!
Mango Crepe
Feeling fancy at home? Why not make this Mango Crepe for dessert! You'll definitely find this fun to make as well.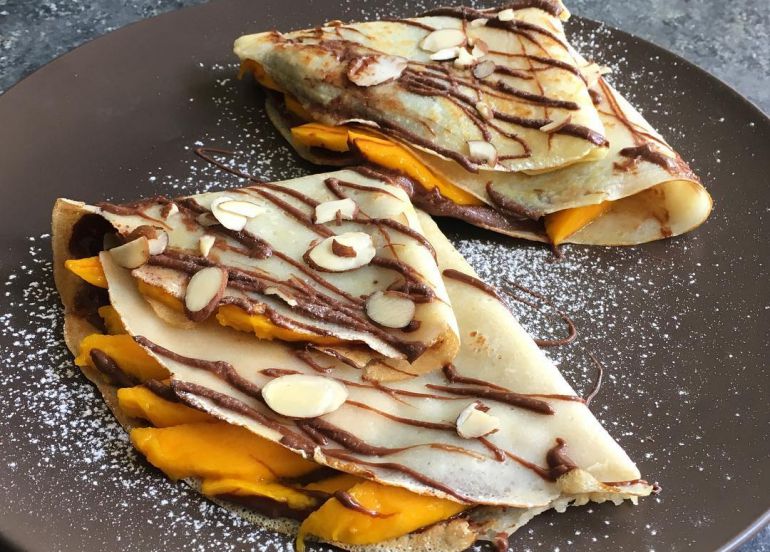 Here's the recipe from Tasty Food Recipes:
Ingredients:
1 cup all-purpose flour
1/4 tsp. salt
1 cup milk
2 eggs
whipped cream
2 tbsp. butter, melted
ripe mangoes, diced
chocolate syrup
Instructions:
1. Preheat pan and grease with butter.
2. In a bowl, combine flour, salt, melted butter, milk, and eggs.
3. Add 1/3 cup of batter in pan. Cook for 2 mins. on each side.
4. Once done, layer the crepe with whipped cream and add mango cubes.
5. Fold and drizzle with chocolate syrup. Serve!
Mango Kulfi
An Indian frozen dessert, Mango Kulfi is a yummy summer treat that only requires a few ingredients that you can easily find at home.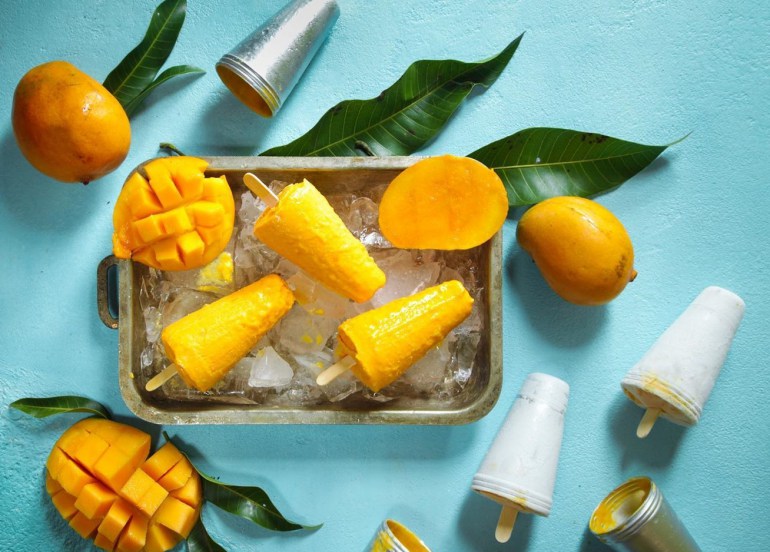 Here's the recipe from Rimli Dey:
Ingredients:
1 ripe mango
1 pack (250 mL) all-purpose cream
3 tbsp. condensed milk
2 tbsp. milk powder
pinch of salt
1/4 tsp. salt
diced mango or nuts, for topping
Instructions:
1. Slice mangoes and place in a blender. Add salt and blend until smooth.
2. Transfer the mango puree in a large bowl.
3. Add fresh cream, condensed milk, and whisk until well incorporated.
4. Mix in milk powder. Pour the mixture into a popsicle mold.
5. Insert popsicle sticks. Set the molds in freezer for 2-4 hrs.
6. Garnish with chopped mangoes or nuts. Serve!
Mango Pudding
Mango Pudding is usually served in Chinese restaurants and you can easily make this at home. You'll only need 5 ingredients!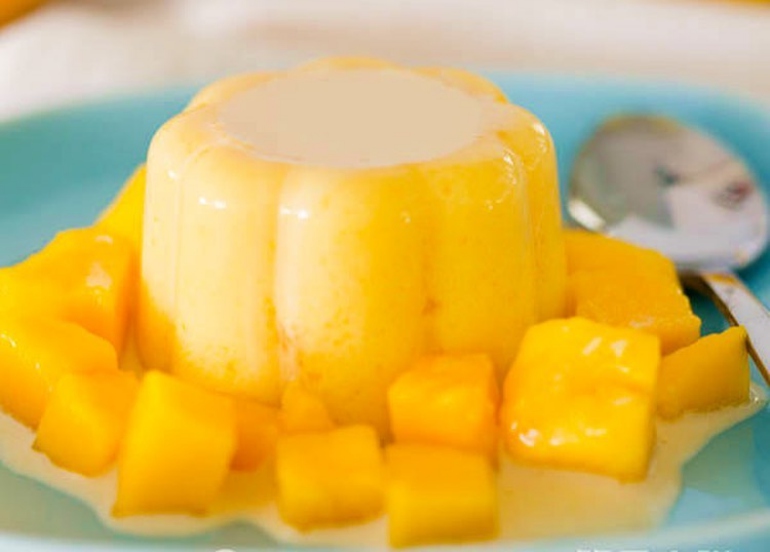 Here's the recipe from Cooking Passion:
Ingredients:
1 cup evaporated milk
1 cup condensed milk
2 ripe mango
1/2 cup water
2 tbsp. gelatin powder
Instructions:
1. Slice mangoes and blend until smooth. Place in a bowl.
2. Add in your evaporated milk and condensed milk. Mix until smooth.
3. In a saucepan, add water then gelatin powder. Wait for 2 mins. or until gelatin has absorbed water.
4. Stir until gelatin is dissolved. Simmer for 1 min. then remove heat.
5. Add gelatin mixture into bowl of mango puree and mix well.
6. Add chunks of mangoes then pour into a greased silicone mold.
7. Chill in refrigerator overnight. Turn over on a plate and serve with mango cubes!
Glazed Mango Bread
We often see banana bread recipes online but what about trying something unique like Mango Bread with a sweet glazed that you can drizzle on top?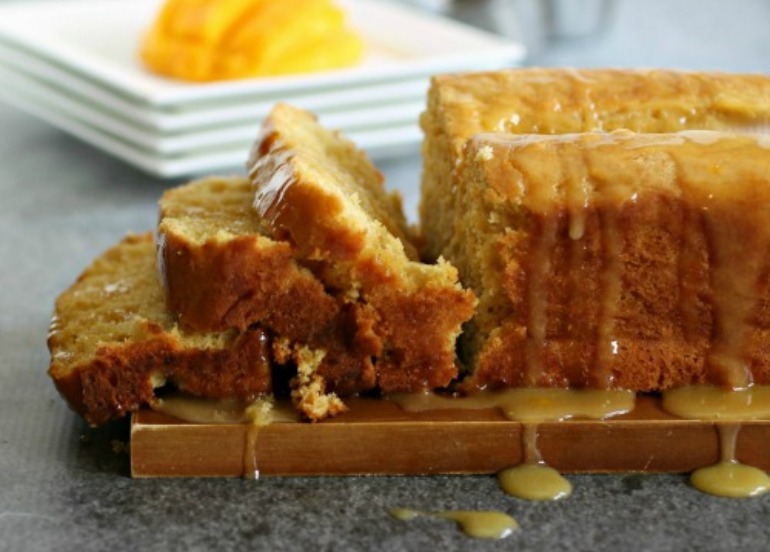 Here's the recipe from Hungry Couple:
Ingredients (for 10 servings):
2 eggs
1 cup sugar
1 stick unsalted butter, at room temperature
1 tsp vanilla
1 mango, pureed, divide
1/2 cup Greek style yogurt
zest od 2 lemons
1 cups all purpose fliur
2 tsp baking powder
1/2 tsp salt
1/4 tsp baking soda
For the mango glazed:
1/2 Cup powdered sugar
1 tbsp milk
1 tbsp mango puree
1 tsp lemon juice
pinch of salt
Instructions:
1. Pre-heat the oven to 350 degrees.
2. Puree the mango in a small food processor and set aside 1 tablespoon for the glaze. Use the rest for the bread batter (it will likely be around 1/2 cup).
3. Using a stand or hand mixer, beat the eggs, sugar and butter until fully combined and lightened in color. Mix in the vanilla, mango puree, yogurt and lemon zest.
4. In a separate bowl, sift together the flour, baking powder, baking soda and salt. Fold the dry ingredients into the wet batter just until combined. Pour into a buttered loaf pan and bake for 45 – 50 minutes or until a cake tester comes out clean.
5. Make the glaze by whisking together the powdered sugar, milk, reserved mango puree, lemon juice and salt until combined and thick. Pour over the cooled bread.
Mango Lemon Bars
Perfectly sweet and perfectly tart, these Mango Lemon Bars are unique and very addicting as well!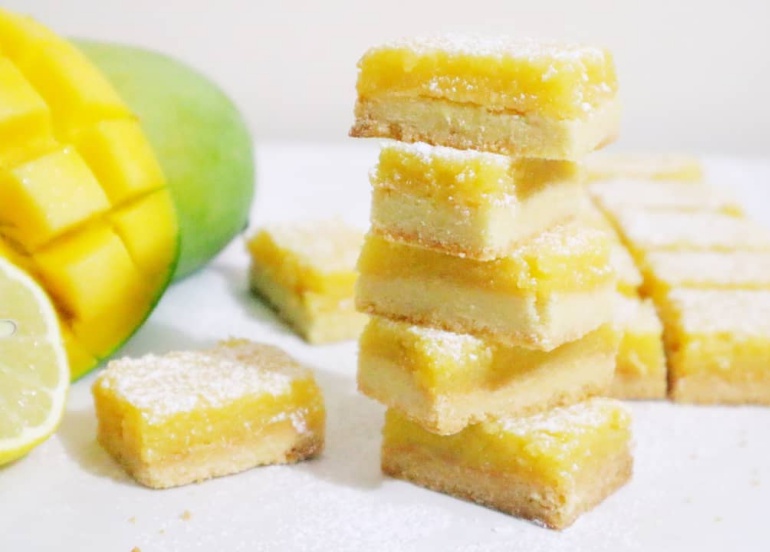 Here's the recipe from Jocelyn Delk Adams:
Ingredients:
For the crust:
1 cup salted butter room temperature
1/2 cup granulated sugar
2 cups all-purpose flour
For the filling:
1/2 cup diced mango
1 tbsp fresh lime juice
1 1/2 cups granulated sugar
1/4 cup all-purpose flour
4 large eggs
1 cup fresh lemon juice
1 tsp pure vanilla extract
Confectioner's sugar for garnish
Instructions:
For the crust:
1. Preheat oven to 350 degrees.
2. In a stand mixer, mix together butter, sugar and flour. Press into the bottom of a parchment lined 9×13 inch pan.
3. Bake for 15 to 20 minutes in the preheated oven, or until firm and golden then remove to prepare filling.
For the filling:
1. Add diced mango and lime juice to heavy duty blender or food processor and puree until completely smooth.
2. In a medium sized bowl, whisk together granulated sugar and flour to combine dry ingredients. Next, whisk in the eggs, lemon juice, ¼ cup of the prepared mango puree, and vanilla extract. Pour over the baked crust.
3. Bake for 25-30 minutes or until no longer liquidy or jiggly. The bars will firm up more as they cool.
4. Once cooled to room temperature, dust with confectioner's sugar, cut and serve.
Mango Float
Also known as crema de mangga, Mango Float is a lovely dessert with layers of crushed graham crackers, cream and sweet mangoes! This is truly a Pinoy favorite.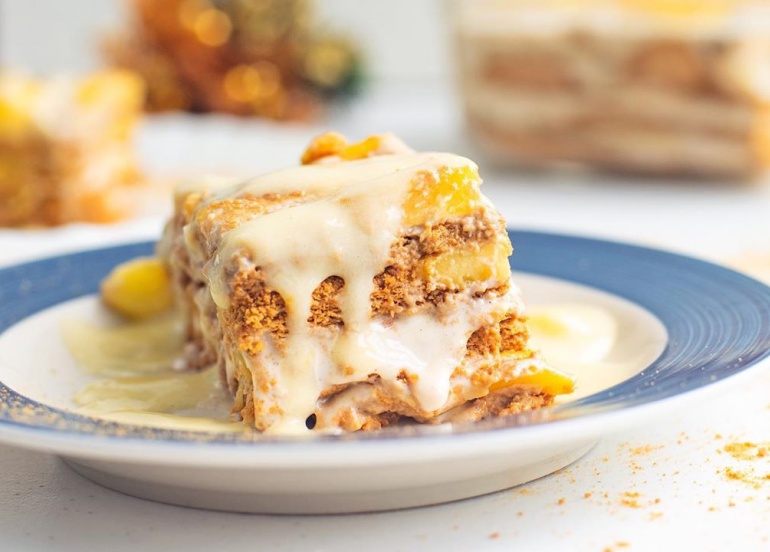 Here's the recipe from Simply Bakings:
Ingredients:
2 1/2 cups Nestle cream
1 teaspoon vanilla
1 cup condensed milk
200 grams of honey graham crackers
1 cup crushed graham crackers
1 kilo (1 3/4 Cups) mango sliced into flat thin strips
Instructions:
1. Peel the mangoes, slice in half and then slice the cut halves lengthwise into thin strips. Set aside.
2. In a bowl, add heavy whipping cream, condensed milk and using an electric mixer, beat until light and fluffy. Add vanilla extract and mix until well combined.
3. In a rectangular container, place graham cracker on a preferable size of the container that it will fit the whole area, cut some to fit in the container. Then sprinkle with crushed graham cracker to fill in the gaps.
4. Pour around 1/4 batter mixture or more and cover the whole graham cracker top. Then put on mango strips 14-20 mango stips on either position.
5. Sprinkle crushed graham on top and repeat.
6. On the top portion, add the last remaining batter mixture and mango strips. Sprinkle it with little crushed graham.
7. Chill for 2 hours before serving.
Mango Lassi
Originated in the Indian subcontinent, Lassi is a blend of yogurt, milk and fruits. For something sweet, try adding mango pulp!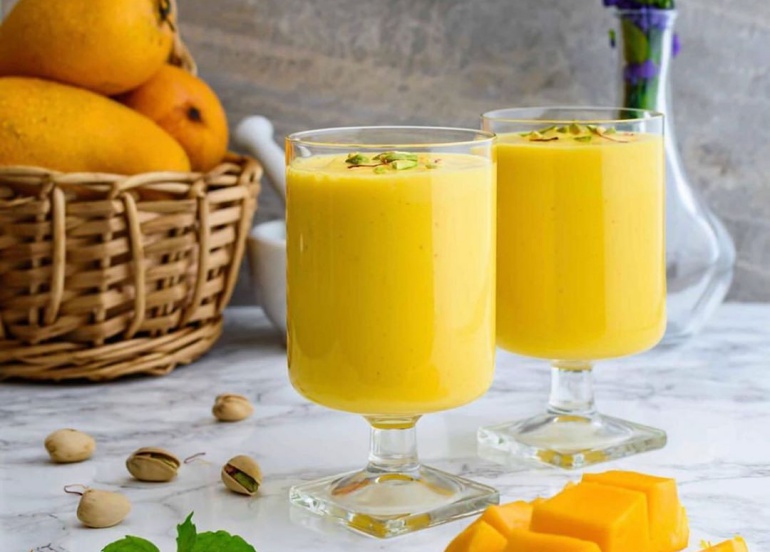 Here's the recipe from My Cooking Journey:
Ingredients:
2 cups mango pulp
2 cups yogurt
1/4 cup sugar
Ice cubes
1/2 cup milk
Instructions:
1. Measure the mango pulp in a blender jar and add the sugar and the yogurt.
2. Blend until smooth and frothy. Add ice or milk if preferred.
3. Serve cold!
We know you loved using the Booky app for discovering the newest places in your city. Given these extraordinary times, we want to continue being helpful so check out our updated food delivery guide, where to shop for groceries online, and more.