Your sweet tooth will thank you for this!
The end of the year is fast approaching which means it's high time to go big with anything and everything that you will treat yourself to! So, when it comes to donuts, don't settle for the same old type and instead, gift yourself a box of these stuffed, filled, and loaded donuts from all over the metro!
Also Read: Where to Buy Your Favorite Pinoy Pasalubong Within Metro Manila
We're talking donuts with heaps of delicious filling, overflowing amount of goodness, and ultimately packed with sweet flavors that will certainly put a smile to your face and to your loved ones! Check out where to get these loaded donuts in Manila!
Bungalow Cafe is the home of Titas and Titos of Manila who love a hearty brunch with a side of decadent pastries and delicious cocktails. They offer a wide array of mouth-watering baked goods, but their show-stopper is definitely their filled doughnuts that vary in flavor every week!
Flavors to try: strawberries & cream, chocolate espresso, ube flan, fruit tart
Available for: Dine-in, take-out, and pre-order via their website.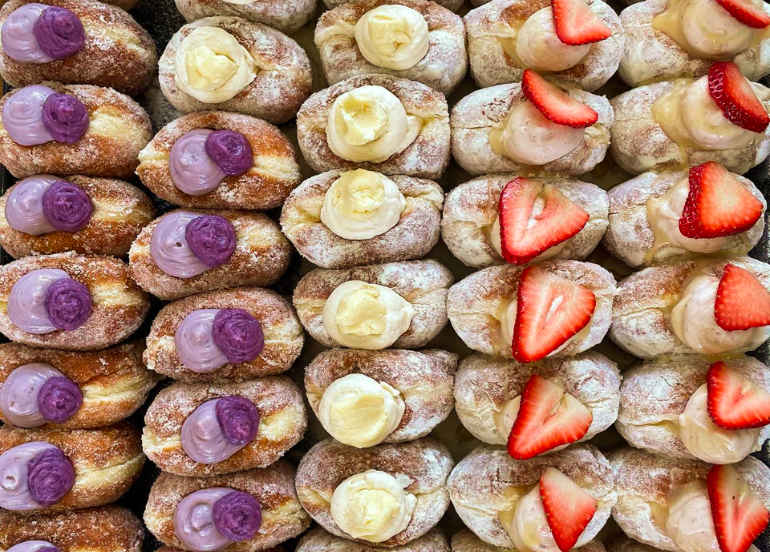 View menu
View website
View their Facebook
View their Instagram
Molito Lifestyle Center Alabang 1781 Muntinlupa City
It's almost impossible not to drool at the sight of AUSome Goodies' Donut Pockets that are generously loaded with fresh fruits, delicious filling, and mind-blowing flavors! Their most recent flavor is the Reese's Peanut Butter and Pecan Donuts and it's definitely a must-try!
Flavors to try: Strawberry and Cream, Dalgona, Caramel Cream with Cashews
Available for: Pre-order with 2 days lead time.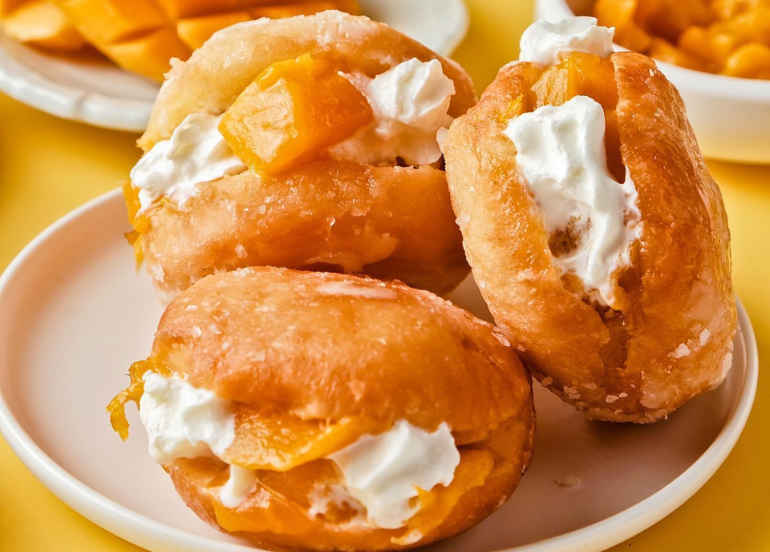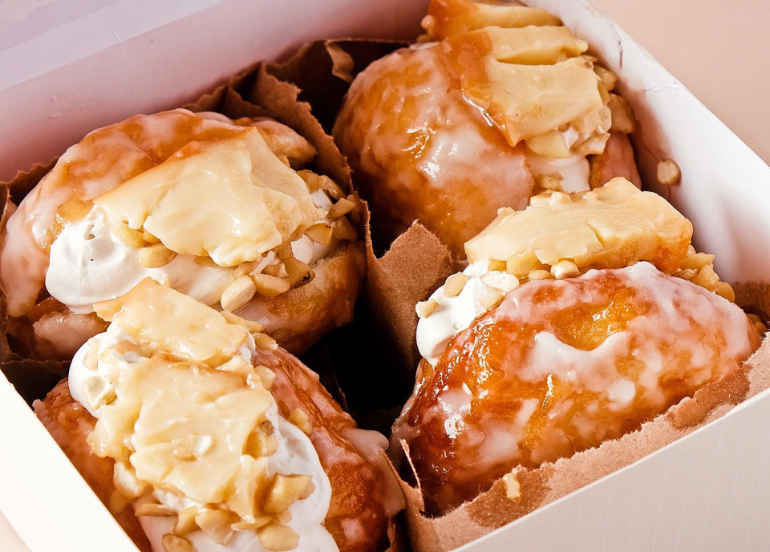 View menu
View their Facebook
View their Instagram
2175 F. Balagtas Pandacan Manila 1011 Pandacan
Floura Desserts offers indulgent donut creations that will make you devour the whole box in a blink of an eye! On their menu is their best-selling Milk Cream donuts that are filled with scrumptious whipped cream, but if you're searching for something richer, their Cream Cheese-filled donuts are the way to go!
Flavors to try: Strawberry Milk Cream, Blueberry Cheese Cream, Lotus Biscoff Cheese Cream
Available for: Pick-up and delivery. Send them a message to order.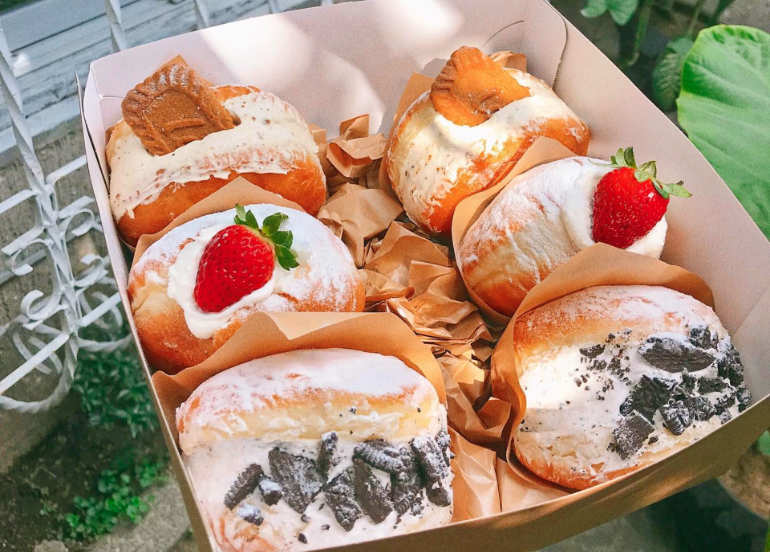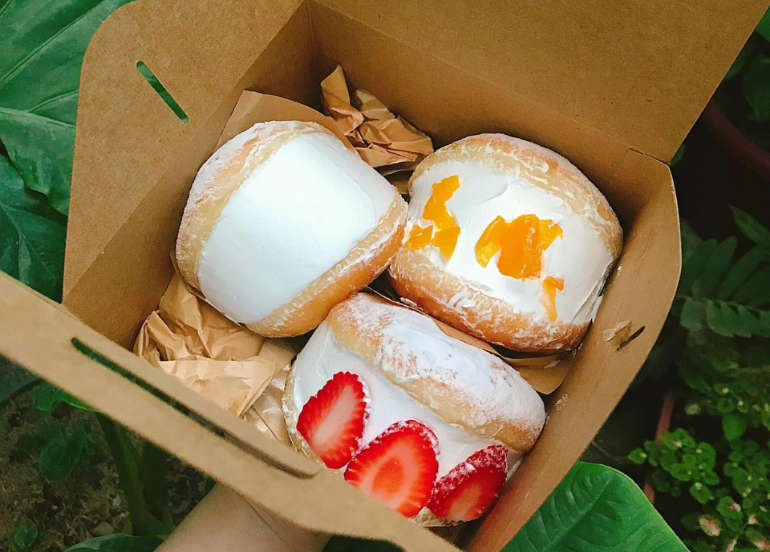 View menu
View their Facebook
View their Instagram
Anonas, Project 3, Quezon City
Sink your teeth into Jammed Donuts' addictive creations that are stuffed with fresh, juicy fruits, yummy fruit jam, and cream cheese in between soft sugar donuts! We highly recommend getting a whole box to yourself and another one to share!
Flavors to try: Mango Jammed Donuts, Strawberry Jammed Donuts
Available for: Delivery. Send them a message or fill out their order form.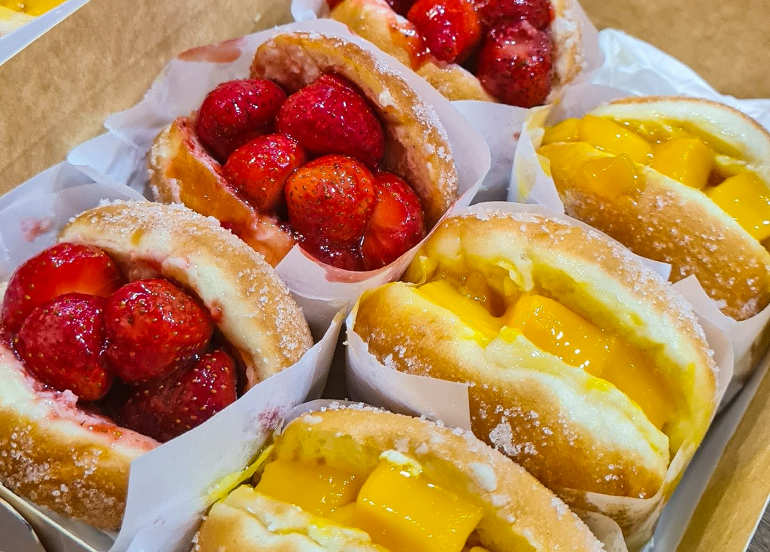 View their Facebook
View their Instagram
Don Antonio, Quezon City
Pufft's Loaded Doughnuts will make your jaw drop with exciting varieties like Strawberry Nini which has layers of vanilla custard cream, whipped cream, and fresh strawberries in jelly; and the Happy Douglas with bananas cooked in a rum sauce and butter combination, all of which are enveloped in rich vanilla custard and cream!
Pro tip: They also have a variety of filled doughnuts that are as tempting as the loaded doughnuts!
Available for: Delivery every Wednesdays, Fridays, Saturdays, and Sundays.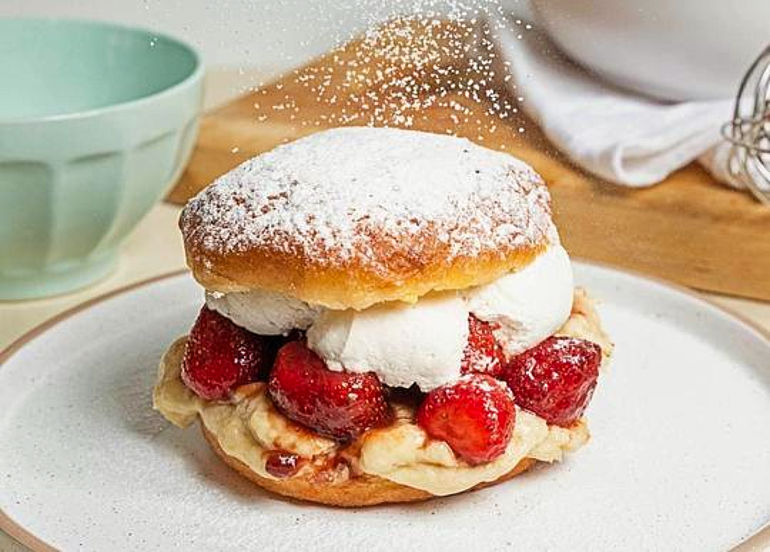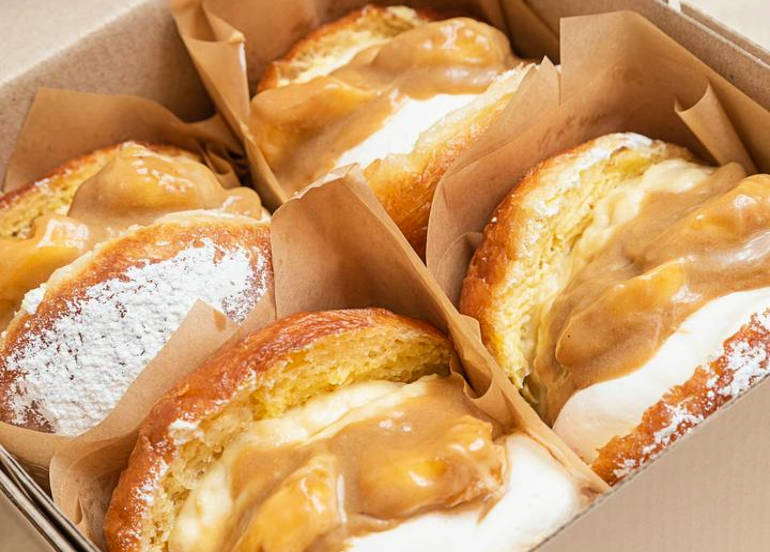 View menu
View website
View their Facebook
View their Instagram
You've heard of Strawberry stuffed donuts and Mango filled donuts, but have you ever tasted Milk Tea donuts with real Bobba inside? Now you can thanks to this shop in Taguig that makes soft and fluffy doughnuts with indulgent flavors, and of course, their signature Bobbas!
Flavors to try: Classic Milktea Bobba, Leche Flan Bobba Donuts, White-choco Oreo Bobba Donuts
Available for: Delivery. Send them a message to order.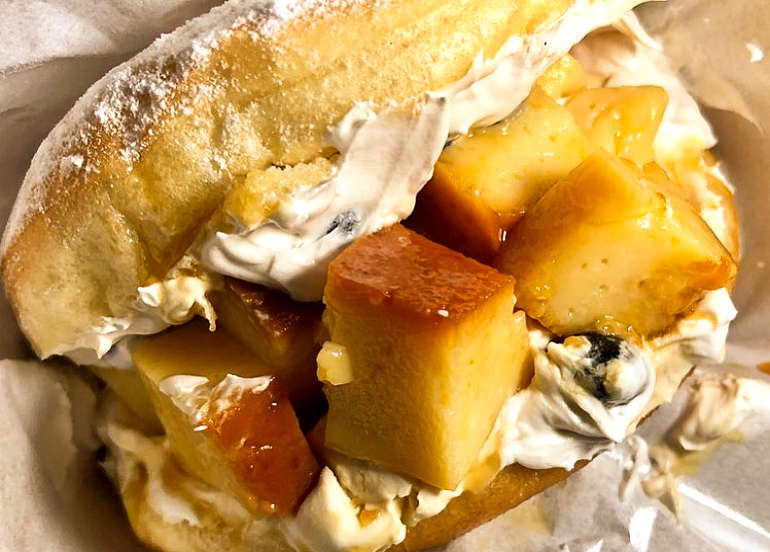 View menu
View their Facebook
View their Instagram
Bagumbayan, Taguig
There are just too many things on BUNappetite's menu that we want to get our hands on, but at the top of our list is definitely their donut pockets that come in classic and premium flavors! Each donut is wonderfully soft and filled to the brim with indulgent filling!
Flavors to try: Triple Cheese, Ube Cheese, Plain Yakult, Strawberry cheesecake
Available for:Pre-order. Fill out their order form here.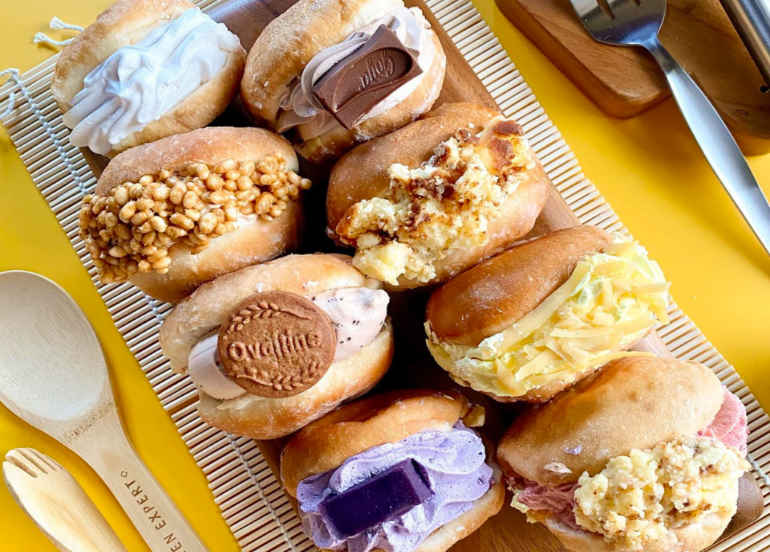 View their Facebook
View their Instagram
2238 Juan Luna St. Gagalangin, Tondo Manila
0995 723 2168
We know you loved using the Booky app for discovering the newest places in your city. Given these extraordinary times, we want to continue being helpful during the ECQ so check out our updated food delivery guide,  restaurants that just reopened, where to shop for groceries online, and more.
Cover photo from AUsome Goodies by Matteo Facebook