For when you've already spent too much money on delivery.
Picture this, you watching your favorite series while munching on your favorite late-night snack. Glorious, isn't it?
We've been channeling our inner Gorden Ramsey or (pick your favorite Bon Appetit chef) in this predicament we're in, and that's been leveling up our own meals at home. And one of our biggest cravings is our go-to chicken wing flavors!
Luckily, unlike other more complex dishes, re-creating your favorite flavor isn't that tedious after all. Try these 5 chicken wings sauces that you can try at home!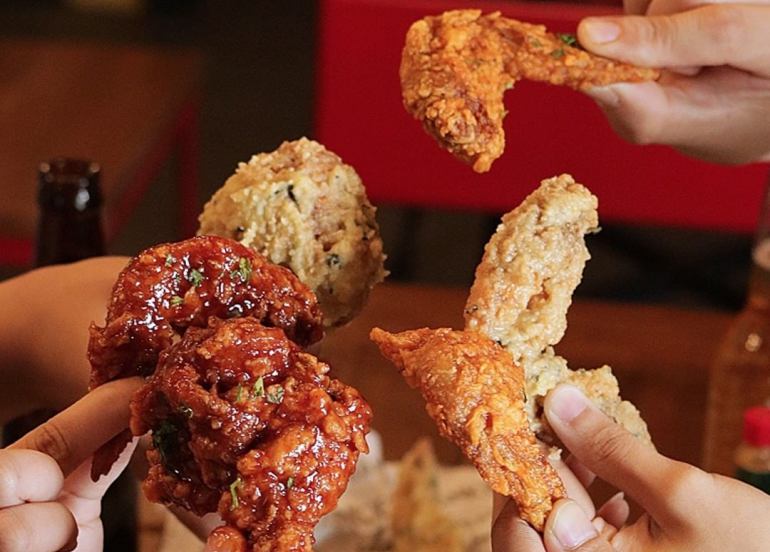 Classic Buffalo Wings
The classic! As the namesake, this flavor will forever stand the test of time.
Recipe from delish (https://www.delish.com)
Ingredients:2 lb. chicken wings
2 tbsp. Vegetable oil
1 tsp. garlic powder
Kosher salt
Freshly ground black pepper
1/4 c. hot sauce
2 tbsp. honey
4 tbsp. butter
Ranch dressing, for serving
Carrot sticks, for serving
Celery sticks, for serving
Instructions:
Preheat oven to 400° and place a wire rack over a baking sheet. In a large bowl, toss chicken wings with oil and season with garlic powder, salt, and pepper. Transfer to prepared baking sheet.
Bake until chicken is golden and skin is crispy, 50 to 60 minutes, flipping the wings halfway through.
In a small saucepan, whisk together hot sauce and honey. Bring to simmer then stir in butter. Cook until butter is melted and slightly reduced, about 2 minutes. Heat broiler on low. Transfer baked wings to a bowl and toss with buffalo sauce until completely coated. Return wings to rack and broil—watching carefully!—until sauce caramelizes, 3 minutes. Serve with ranch dressing and vegetables.
Insider tip: Feeling adventurous? Double-in on that hot sauce!
Garlic Parmesan
Of course, the best-seller. Who wouldn't want to try his own hand at this crowd-favorite?Recipe from delish (https://www.delish.com)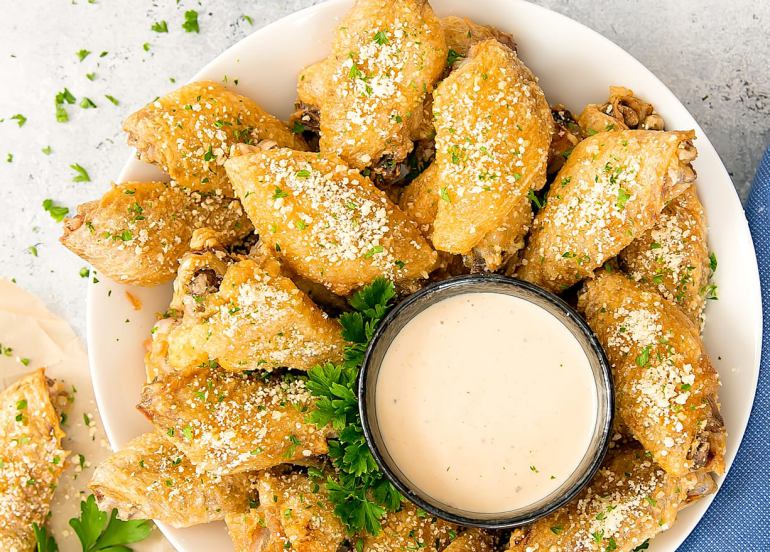 Ingredients:
2 lb. bone-in chicken wings
1/4 c. vegetable oil
Kosher salt
Freshly ground black pepper
1 stick melted butter
4 cloves garlic, minced
2 tbsp. freshly chopped parsley
3/4 c. freshly grated Parmesan, plus more for serving
1 tsp. red pepper flakes
Caesar dressing, for dipping
Instructions:
Preheat oven to 400° and line a large rimmed baking sheet with a metal rack. Toss wings with oil and season with salt and pepper.
Transfer wings to prepared metal rack and bake until golden and crispy, about 50 minutes.
Make sauce: In a large bowl, stir together melted butter, garlic, parsley, Parmesan, and red pepper flakes. Add wings and toss until completely coated.4.   Sprinkle with Parmesan and serve with Caesar dressing.
Honey Mustard
This blend only proves that mustard doesn't only go well on hotdogs!Recipe from Tasty (https://tasty.co)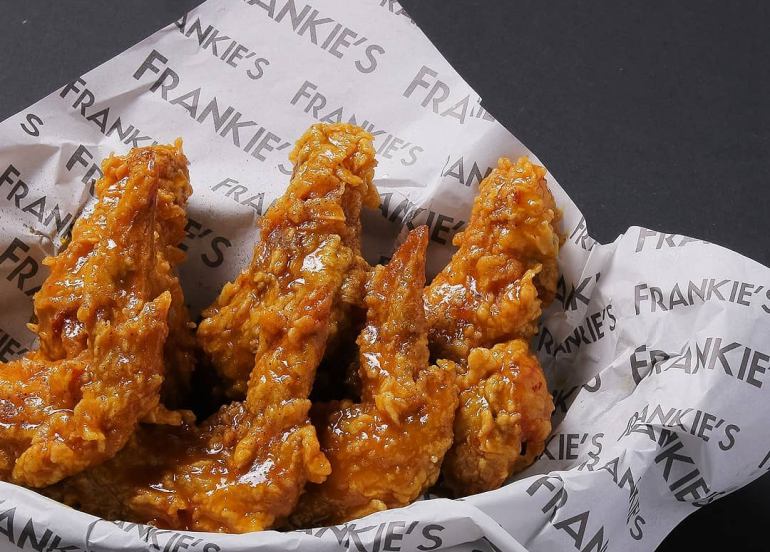 Ingredients:
¼ cup honey (85 g)
¼ cup dijon mustard (60 g)
½ teaspoon salt
½ teaspoon pepper
1 lb chicken wings (455 g)
2 teaspoons baking powder
1 teaspoon salt
Instructions:
Preheat oven to 400˚F (200˚C).
Remove excess moisture from chicken wings with a paper towel.
In a large bowl, stir in baking powder and salt until chicken is thoroughly coated.
Bake on a baking rack for 1 hour, or until golden brown and crispy, flipping every 20 minutes. For best results, place baking rack on a baking sheet covered with parchment paper or foil to catch drippings.
In a skillet, combine honey mustard sauce ingredients on medium heat and stir in chicken wings until fully coated.
Serve with your favorite side dish or dipping sauce.
Enjoy!
Salted Egg
A more modern twist, who knew salted egg will ever taste this good?Recipe from pepper.( https://www.pepper.ph)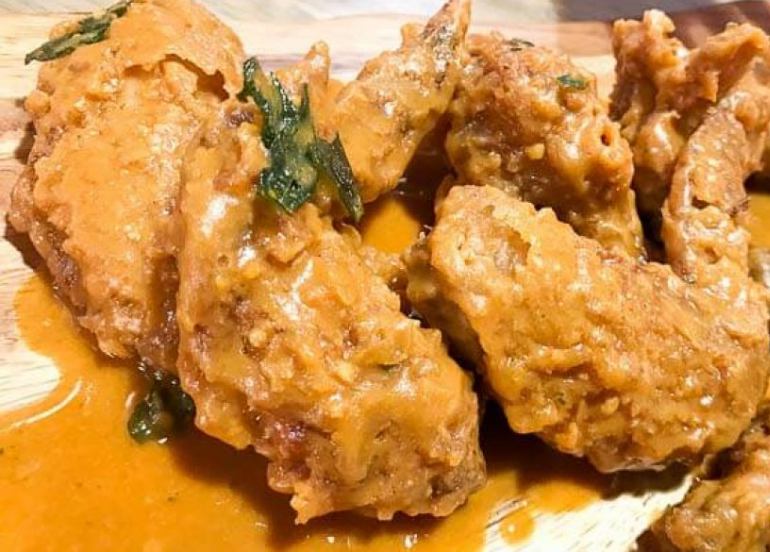 Ingredients:
6 chicken wings (drum attached)
½ cup cornstarch
½ cup salted egg powder
½ tbsp. chili powder
1 tsp. cayenne pepper
3 tbsp. dried kaffir lime leaves
2 red chilies, thinly sliced
Instructions:
In a large bowl, whisk the cornstarch, baking powder, and salt until combined.
Add in the chicken wings and toss until evenly coated.
Set aside for 10 minutes.
In a food processor, add the salted egg powder, chili powder, cayenne pepper, and lime leaves.
Blitz until lime leaves are in small pieces and ingredients are well combined.
Add red chili and toss in powder.
Heat oil in a large skillet until the temperature comes up to 375F.
Fry the coated chicken wings, tapping off the excess breading before dropping in the oil.
Fry the wings for 8-12 minutes or until golden brown and cooked through.
Remove the wings from the oil and set on a baking sheet with a rack or paper towels to dry.
After all the chicken is fried and resting, turn off the heat.
Add 2 tbsp. of hot oil to the salted egg mixture and stir together.
Add the crispy chicken wings to the mixture and toss until coated evenly.
Korean Chicken Wings
Last but not the least, for the cult following of K-drama all over the country. Needless to say, this goes best while binging the current talk of the town, Crash Landing On You.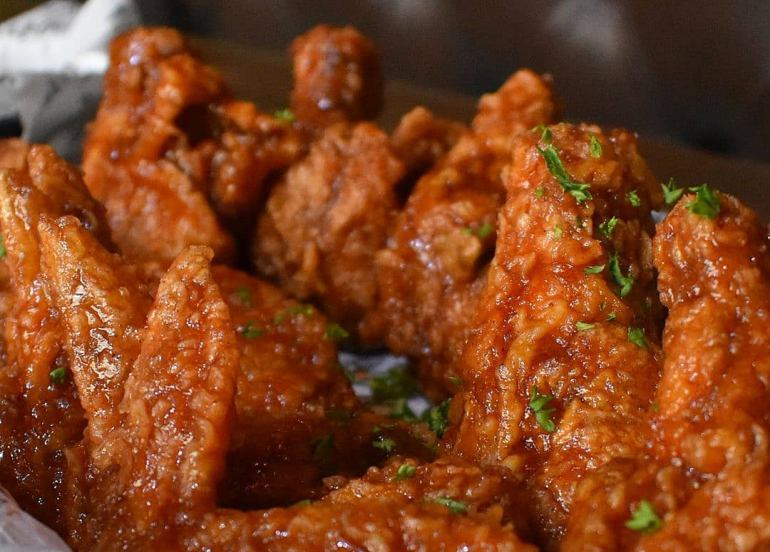 Recipe from delish (https://www.delish.com)
Ingredients:
1 1/2 lb. chicken wingettes and drumettes, patted dry
1/2 c. flour
1/2 c. cornstarch
Kosher salt
Freshly ground pepper
Vegetable oil
1/4 c. ketchup
1/4 c. sriracha
2 tbsp. honey
1 tsp. lemon juice
Toasted sesame seeds, for garnishing
Instructions:
Whisk together flour and cornstarch in a medium bowl. Season mixture with salt and pepper. Dredge each chicken piece in the flour-cornstarch mixture until evenly coated.
Pour about 1 1/2" vegetable oil into a large, deep skillet or shallow pot. Heat over medium heat until the oil reaches about 350 degrees F, or until the oil is shimmering. (If a splash of water sizzles when you flick it into the pan, it's ready.)
Working in batches, add 3-4 chicken pieces to the hot oil using tongs. Do not crowd the pan, or the oil will cool! Cook until golden brown on one side, about 3-4 minutes, then flip and cook until the second side is golden and the chicken is cooked through, 3-4 more minutes. Place the fried chicken on a cooling rack lined with paper towels. Repeat the remaining chicken.
In a medium bowl, whisk together ketchup, sriracha, honey and lemon juice until smooth. Toss cooked wings in the sauce. Garnish with toasted sesame seeds. Serve warm or at room temperature.
Now that we're all set, the only thing left for you to do is hit that play button. Enjoy!
By Jules Tan and Wilo Villame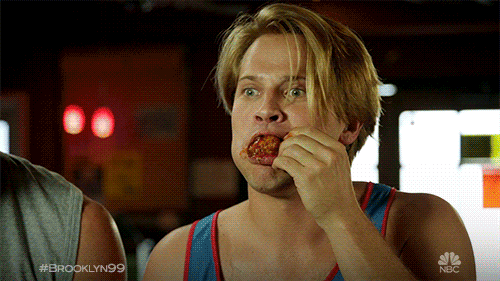 We know you loved using the Booky app for discovering the newest places in your city. Given these extraordinary times, we want to continue being helpful so check out our updated food delivery guide, where to shop for groceries online, and more.