We promise that these are filling!
There's still a misconception that vegetarian food isn't as flavourful as what we, meat-eaters, are used to but I'm here to tell you that it's exactly that– a misconception!
If you're looking to try cooking up some meat-free dishes then you've landed on the right page! Here are a handful of recipes that you can experiment on and who knows, you'll probably find a favourite, be an expert at it and make it part of you baon for when it's time to get back to the office (or school, whichever stage you're at). Enjoy and happy cooking!
You don't need meat to get a protein-rich meal! This buddha bowl recipe is packed with lots of flavour and has a variety of colours that makes this dish extra photogenic.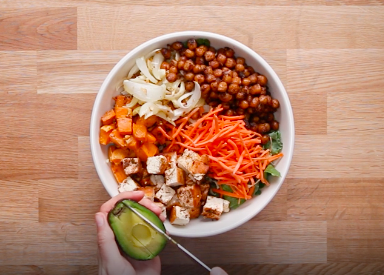 Here's the recipe from Tasty,
Ingredients
8 oz (or 225 g) firm tofu, drained
1 sweet potato, peeled and cubed
1 onion, sliced
2 cloves garlic, minced
1 tbsp peanut or vegetable oil
1 cup (200 g) chickpeas, drained
1/2 tsp salt, plus more to taste
1/2 tsp pepper, plus more to taste
1 tsp chili powder
1 1/2 cups(255 g) quinoa, cooked
1 cup (40 g) leafy greens (e.g., mesclun, baby kale, spinach)
1/4 cup (25 g) shredded carrots
1 avocado, diced
1 lemon, juiced
for the marinade
2 tbsp vegetable oil
1/2 tsp sesame oil
1 tsp hot sauce
2 tsp dried thyme
1 tsp paprika
1/2 tsp salt
Instructions
Start with the marinade. Grab a small bowl and combine all the ingredients for the marinade then set aside.
Place your tofu in a container and add the marinade along with it and marinate for at least 30 minutes, you could also marinate overnight.
Preheat your oven to 400°F (200°C)
Begin laying the sweet potato, onion, and garlic on a baking sheet and drizzle with oil, season as well with salt and pepper then bake for 20-25 minutes.
In a medium bowl, add the chickpeas, salt, pepper, chili powder, and garlic powder to a bowl and stir to combine.
Transfer chickpeas to a skillet, cook over medium heat for about 10 minutes then set this aside.
Fry the tofu in the same pan you used for the chickpeas for around 10 minutes on each side.
Slice the tofu to your preference.
Combine the quinoa, greens, sweet potatoes, onions, chickpeas, carrots, tofu, and avocado in a medium to large bowl and top it all off with lemon juice.
Yup, Mac & Cheese isn't reserved for non-vegans! There's an equally delicious alternative to this comfort food classic! This is a bit complicated so be sure to be patient while following the steps.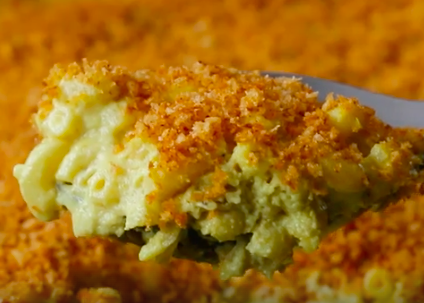 Here's the recipe from Tasty,
Ingredients
1 cup (130 g) raw cashews
warm water, for soaking cashews
1 head garlic
5 tbsp olive oil, divided
3 cups (720 ml) cold water
1 1/4 cups (60 g) panko breadcrumbs
1/2 tsp kosher salt, divided
2 tbsp vegan butter
3 cloves garlic, minced
3 tbsp all-purpose flour
3 tbsp nutritional yeast
2 tsp apple cider vinegar
1/4 tsp ground turmeric
3/4 tsp freshly ground black pepper
3 cups (600 g) elbow pasta
Instructions
Add the cashews to a medium bowl and pour in the water by 1 inch then soak the cashews for about 3-4 hours until they're softened and plump then drain.
While the cashews are soaking, start to make the roasted garlic. Let's preheat the oven to 400°F (200°C)
Cut off the top by 1/2 inch of the head of garlic and drizzle the exposed cloves with 1 tbsp olive oil. Place back the top of the garlic and wrap all of this tightly in foil. Roast for 35-40 minutes until you notice the cloves are easily pierced with a fork. Unwrap the garlic and let it cool completely. Once it's cooled, squeeze all the cloves out from their skins.
Add the soaked cashews, roasted garlic cloves, and cold water to a high-powered blender. Blend all of this on high speed until completely smooth for about 30-60 seconds (you can also use a food processor), set aside.
Heat 2 tbsp of olive oil in a 12-inch (30 g) cast iron skillet over medium-high heat. When the oil starts to shimmer, add the panko, paprika, and 1 tsp of salt. Stir with a spatula to coat the bread crumbs in oil. Toast, stirring frequently for about 3-5 minutes, until the bread crumbs are lightly golden brown. Transfer these bread crumbs to a bowl then set aside. Wipe out the skillet to prepare for the next step.
In that same skillet that's now wiped out, melt together the vegan butter and remaining 2 tbsp of olive oil. Add in the minced garlic sauté for 2-3 minutes until fragrant and not browned. Whisk in the flour while making sure there are no clumps then cook the roux for 3-4 minutes, whisking continuously until the flour is golden and fragrant.
Add the blended cashew mixture to the skillet and whisk well to combine with the roux. Add the nutritional yeast, apple cider vinegar, turmeric, pepper, and the remaining 2 tsp of salt. Reduce the heat to medium-low and simmer the sauce for 2-3 minutes until it's slightly thickened. To test it's thickness, it should be thick enough to coat the back of a spoon and pool when drizzled but not too thick that it's gloppy. If the cheese sauce is too thick, you can add more water with 2 tbsp at at time, until you reach your desired consistency.
Add in the elbow noodles to the sauce and toss until well coated.
Sprinkle the toasted bread crumbs and top of the pasta in an even layer.
Bake for 15-20 minutes until the sauce is bubbling around the edges of the skillet and the bread crumbs are deep golden brown.
Garnish with fresh minced parsley then serve.
If you're like me who loves the movie and equally craves for Remy's ratatouille, here's a recipe to try that could satisfy those cravings!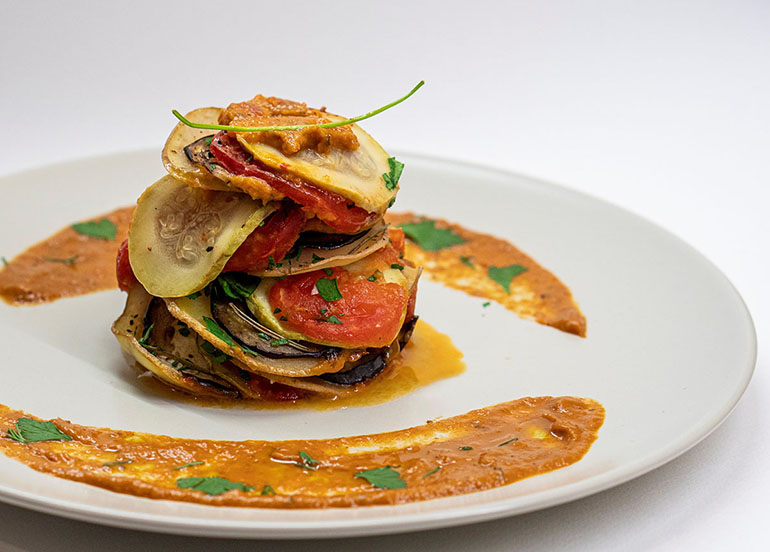 Here's a recipe from CookingLight,
Ingredients
2 (15 oz) cans unsalted diced tomatoes, divided
2 (15 oz) cans unsalted chickpeas, rinsed and drained
1 1/2 tbsp extra-virgin olive oil, divided
1 tbsp minced garlic
1 tsp kosher salt, divided
1 cup chopped red onion
1 cup chopped red bell pepper
1 large zucchini, cut into 1 in. pieces (about 8 oz)
1 large yellow squash, cut into 1-in, pieces (about 8 oz)
1 small eggplant, peeled and cut into 1-in pieces (about 5 oz)
1 tbsp red wine vinegar
1/2 tsp smoked paprika
1/2 tsp black pepper
2 tbsp fresh basil leaves, optional
Instructions
Drain the can of tomatoes in a colander over a bowl, reserving 1/2 cup of the liquid. Drain the remaining can of tomatoes and discard all the liquid. Combine the tomatoes, reserved 1/2 cup liquid, and chickpeas in a bowl.
Heat 1 tbsp of oil in a large skillet over medium-high heat, add in the garlic, 1/2 tsp salt, onion, red bell pepper, zucchini, yellow squash, and eggplant. Sauté these for 7-8 minutes or until it becomes slightly tender. Stir in the tomato mixture and remaining 1/2 tsp salt, cover then cook for 5 minutes.
Uncover the pan, stir in vinegar, paprika, and black pepper. Cook for 5 minutes or until the vegetable mixture is slightly thickened. Divide vegetable mixture among 4 shallow bowls; drizzle servings evenly with remaining 1 1/2 tsp oil then sprinkle with basil leaves if desired.
This can be the perfect recipe to complement the coming rainy days! Roasting your vegetables before cooking them brings out more flavour which is why we absolutely love this recipe from the BBC.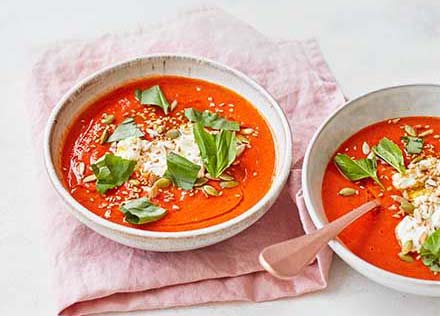 Here's the recipe from BBC Good Food,
Ingredients
400 g tomatoes, halved
1 red onion, quartered
2 Romano peppers, roughly chopped
2 tbsp good quality olive oil
2 garlic cloves, bashed in their skins
few thyme sprigs
1 tbsp red wine vineger
2 tbsp ricotta
few basil leaves
1 tbsp mixed seeds, toasted
bread, to serve
Instructions
Heat your oven to 200°C and put the tomatoes, onion, and peppers in a roasting tin then toss with the oil and season. Nestle in the garlic and thyme sprigs and roast for 25-30 minutes until all the vegetables have softened and silghtly caramelised. Squeeze the garlic cloves out of their skins into the tin, strip the leaves off the thyme and discard the stalks and garlic skins. Mix the vinegar into the tin then blend everything either in a blender or better yet, an immersion blender, adding enough water to loosen to your preferred consistency.
Reheat the soup if necessary, taste for seasoning then spoon into two bowls and top each with a spoonful of ricotta, a few basil leaves, the seeds and drizzle of oil. Serve with bread for dunking.
You read right– you CAN make pizza crust out of cauliflower! Honestly, cauliflower is the best… you can make hashbrowns with them, fried rice, and now pizza crust!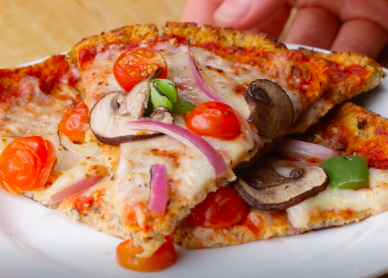 Here's the recipe from Tasty,
Ingredients
1 head cauliflower
1/2 cup (50 g) shredded mozzarella cheese
1/2 tsp dried oregano
1/2 tsp dried basil
1/2 tsp salt
1/2 tsp garlic powder
1 egg
Instructions
Preheat oven to 500°F or 260°C
Remove leaves and stem of the cauliflower
Transfer pieces to a food processor and rice the cauliflower by pulsing it. If you don't have a food processor, you can also shred the cauliflower with a box grater.
Once riced, transfer to a large bowl and microwave for 4 minutes. Let it cool down for a few minutes before handling
Transfer cooked cauliflower to a clean towel and wring out as much liquid possible.
Place wrung cauliflower in a bowl and combine with mozzarella, oregano, basil, salt, garlic powder, and an egg. Mix well.
Line a baking sheet with parchment paper.
Place cauliflower mixture in the middle then spread out the mixture to form a circle out of the cauliflower mixture, pushing along the edge to raise a "crust".
Bake this for 15 minutes or until the crust has become golden brown in the center and on the edges.
Top with your favourite pizza sauce and toppings, being careful not to overload the pizza.
Bake for another 5-7 minutes or until the cheese has fully melted.
Here's a low-fat and low-calorie meal that you can whip up in 15 minutes!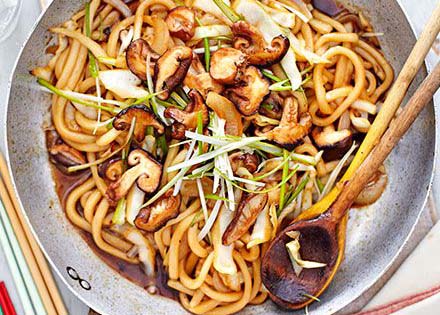 Here's the recipe from BBC Good Food,
Ingredients
250 g dried udon noodles / 400 g if frozen or fresh
2 tbsp sesame oil
1 onion, thickly sliced
1/4 head white cabbage, roughly sliced
10 shiitake mushrooms
4 spring onions, finely sliced
For the sauce
4 tbsp mirin
2 tbsp soy sauce
2 tbsp caster sugar
1 tbsp Worcestershire sauce or vegetarian alternative
Instructions
Add 250 ml cold water and the udon noodles in a sauce pan and bring to a boil. If you're using frozen or fresh noodles, cook this for 2 minutes or until al dente, the dried ones take longer for about 5-6 minutes. Drain and leave in the colander.
Heat 1 tbsp of the oil, add the onion and cabbage and sauté for 5 minutes until softened. Add the mushrooms and some spring onions and sauté for 1 more minute. Pour in the remaining sesame oil and add the noodles. If using cold noodles, let them heat through before adding to the ingredients for the sauce otherwise, dip in straight away and keep stir-frying until sticky and piping hot. Sprinkle with remaining spring onions.
For the few (just kidding!) who absolutely love kale, ever thought of using it for pesto? Try out this recipe then use it for a variety of dishes like pasta, pizza, an addition to your grilled cheese, and more!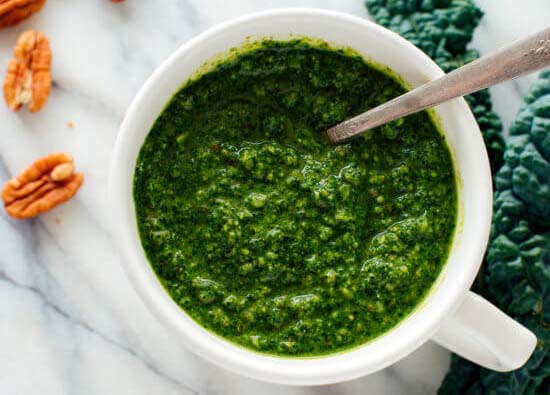 Here's the recipe from Cookie and Kate,
Ingredients
3 cups packed kale, thick ribs removed
1/2 cup raw pecans
1 to 2 tbsp lemon juice, to taste
1 medium to large clove garlic
1/2 tsp fine sea salt
1/2 cup extra-virgin olive oil
1/2 cup grated Parmesan cheese
Instructions
In a food processor, combine the kale, pecans, lemon juice, garlic, and salt; blend all this until the kale and pecans have broken down into small pieces.
While running the machine, drizzle in the oil. Process until the pesto reaches your desired consistency, stopping to scrape down the sides as necessary. Add in the cheese and process briefly to combine.
Taste and add more lemon juice for zing (up to 1 tbsp) or salt for overall flavor and to cut the bitterness from the kale (up to 1/4 tsp), use as desired.
Leftover pesto keeps well in the refrigerator, covered, for up to 10 days. You can also freeze it for up to 6 months. 
No need to order take-out as you can make your own yummy quesadillas at home; you can easily make this in 10 minutes making it perfect for merienda.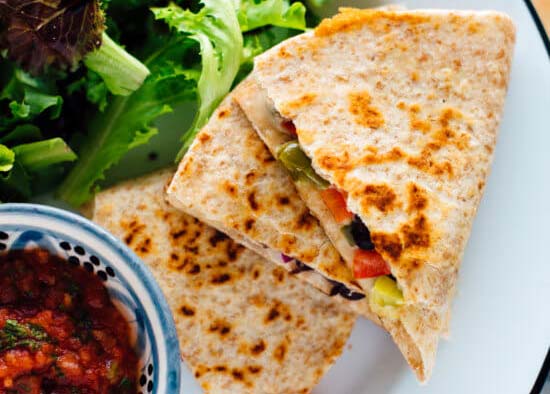 Here's the recipe from Cookie and Kate,
Ingredients
per quesadilla
1 whole grain flour tortilla (about 8″ diameter)
1/2 cup freshly grated cheddar cheese
1/4 cup cooked black beans or pinto beans, rinsed and drained
1 tbsp chopped red bell pepper or jarred roasted bell pepper or a few thinly sliced cherry tomatoes
1 tbsp chopped red or green onion
1 tbsp chopped pickled jalapeño, if desired
1 tsp avocado oil or melted butter or extra-virgin olive oil, for brushing
Salsa or pico de galle or gaucamole, sour cream, hot sauce, chopped cilantro, for serving
Instructions
Heat a medium skillet over medium heat, warm your tortilla for about 30 seconds and flipping halfway. Flip once more then sprinkle one-half of the tortilla with about half of the cheese. Cover the cheese evenly with the remaining fillings: beans, bell pepper, onion, and jalapeño.
Sprinkle remaining cheese over the fillings and fold over the empty side of the tortilla to enclose the fillings. Quickly brush the top of the quesadilla with a light coating of oil then carefully flip it with a spatula.
Let the quesadilla cook until golden and crispy on the bottom, about 1 to 2 minutes and reducing heat if necessary to prevent burning your tortilla. Brush the top with a light coating of oil then flip it and cook until the second side is golden and crispy.
Immediately remove the skillet from the heat and transfer the quesadilla to a cutting board. Let it cool for a minute to give cheese time to set then slice it into 3 pieces and serve with any of the garnishes you choose.
You can ditch the bottled pasta sauce and make your own (and healthier) version!
Here's the recipe from A Couple Cooks,
Ingredients
28 oz can of crushed fire roasted tomatoes, if you can't find any just substitute with other high quality canned tomatoes but note you may have to cook the sauce a little longer to remove bitterness.
2 tbsp olive oil
1 tbsp balsamic vinegar
2 tsp garlic powder
1 tsp dried oregano
1 tsp kosher salt
8 fresh basil leaves, plus additional for garnish
2 cups baby spinach or chopped spinach, tightly packed
8 oz spaghetti
Parmesan cheese or goat cheese crumbles, for serving
Instructions
Bring a large pot of salted water to a boil then start to boil the pasta until al dente.
In a large saucepan, place the crushed tomatoes, olive oil, balsamic vinegar, garlic powder, oregano, kosher salt, whole basil leaves, and spinach. Bring to a simmer then cover and simmer for 15 minutes.
Pour marinara sauce over the pasta and garnish with chopped basil. If you like, you can serve with Parmesan cheese or goat cheese crumbles but don't worry as it's just as delicious without it.
We're obsessed with Gnocchi combined with tomato soup to give that feeling of a warm comforting hug in every bite. Try it for yourself with this recipe.
Here's the recipe from A Couple Cooks,
Ingredients
1 large yellow onion, 1 1/2 cup diced
4 cloves garlic
1/2 cup basil leaves, chopped plus additional for garnish
2 tbsp olive oil
1 pinch red pepper flakes
1/4 cup white whine vinegar
28 oz can diced tomatoes
1 quart vegetable broth
1 tsp kosher salt
1/4 tsp freshly ground black pepper
1 16 oz package of gnocchi
Parmesan cheese, for garnish but if vegan, can choose not to use or substitute with vegan cheese.
Instructions
Chop the onion, mince the garlic, and chop basil leaves.
In a medium pot, heat the olive oil over medium heat and add the onion and sauté for 4-5 minutes until translucent. Add in the garlic and red pepper flakes and sauté for 1 minute until fragrant then add in the white wine vinegar and sauté until evaporated.
Add basil, canned tomatoes with the liquid, broth, kosher salt, and black pepper. Bring all this to a boil then reduce heat and simmer for 15 minutes. When it's done, remove from heat and use an immersion blender to puree the soup until creamy, to make it creamier, add 1/2 cup Greek yogurt during blending stage.
Return to a simmer over medium heat then add the gnocchi and cook for 3-4 minutes until they float, stirring occasionally so they don't stick together.
Serve in bowls and allow them to cool for a few minutes until warm enough to comfortably eat. Serve with chopped basil and parmesan cheese. Enjoy!
We know you loved using the Booky app for discovering the newest places in your city. Given these extraordinary times, we want to continue being helpful so check out our updated food delivery guide, where to shop for groceries online, and more.