UBE-kers, these are for you.
We Filipinos know that ever since, ube and cheese as a combination is a definite bop. But recently, thanks to the ube cheese pandesal, the combination of ube cheese is making its way under the spotlight and is appearing in many delicious forms not limited to pandesal.
Craving for ube halaya or need it for the following recipes? Check out this article: You Can Now Order Your Good Shepherd Baguio Favorites Online to find out where you can get your fix of ube jam. 
Craving for some ube and cheese desserts/snacks? Make some at home with these recipes for snacks/desserts featuring the iconic ube-cheese combination.
Ube Cream Cheese Hotcakes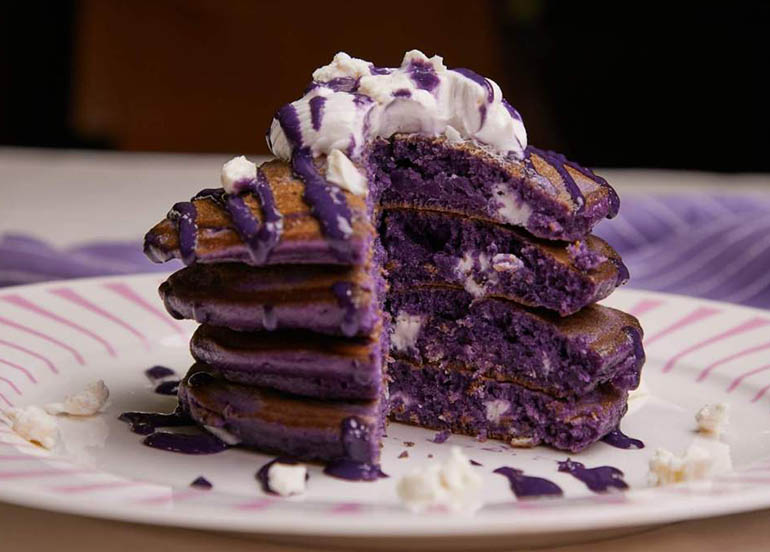 Here's a recipe from The Maya Kitchen:
Ingredients:
1 pack of hotcake mix (200g)
2 eggs
1/2 cup water
2 tbsp. oil
2 tbsp. ube flavoring and coloring
2 tbsp. ube halaya
cream cheese (as needed)
Procedure:
In a bowl, add beaten eggs, water, oil, flavoring, and ube halaya.
Continue mixing using a wire whisk until the mixture is smooth and without lumps
Add the hotcake mix and stir until it's slightly lumply. Remember: Do not overmix.
In a preheated flat skillet or lightly greased pan, pour 1/4 cup of hotcake batter.
Add some pieces of cream cheese on top of the batter and cover the cream cheese with some batter.
Cook until the batter bubbles and the edges are cooked. Then, it's time to flip to cook the other side.
Repeat until the batter is all used.
Enjoy with whipped cream, syrup, and additional cream cheese.
Love the ube and cream cheese combination? Check out this recipe for Ube Cheesecake Cookies!
Ube Cheesy Puto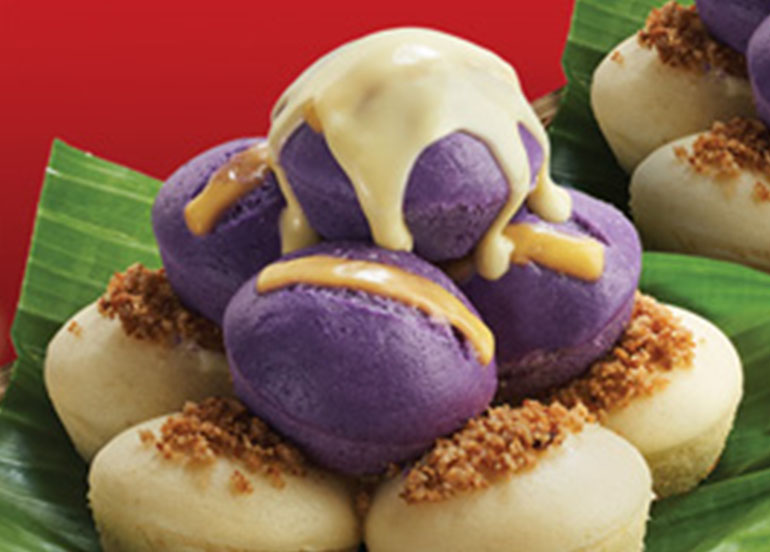 Here's a recipe from Alaska Red Kitchen:
Ingredients:
1 pack of condensada (560 g)
3/4 cup evaporada
3/4 cup water
3 pcs. large eggs
3 tbsp. melted butter/margarine
3 cups all-purpose flour
3 tbsp. baking powder
3 tbsp. ube flavoring
2 cups grated cheese
Procedure:
Combine flour and baking powder in a bowl.
In a separate and bigger bowl, mix the eggs, water, melted butter, ube flavoring, evaporada, and 1/2 of the condensada.
Then add the dry ingredients to the wet ingredients.
Gently mix the mixture with a whisk or wooden spoon until its smooth and free of lumps.
Pour the batter into puto molds greased with butter and top with grated cheese.
Steam for around 10 minutes over medium heat or until the puto springs back when lightly pressed.
Allow it to cool before removing the puto from the mold.
You may top the puto with additional condenada before enjoying.
Looking for an upgrade? Check out this Ube Cheese Puto Flan Recipe. 
No-Bake Ube Cheesecake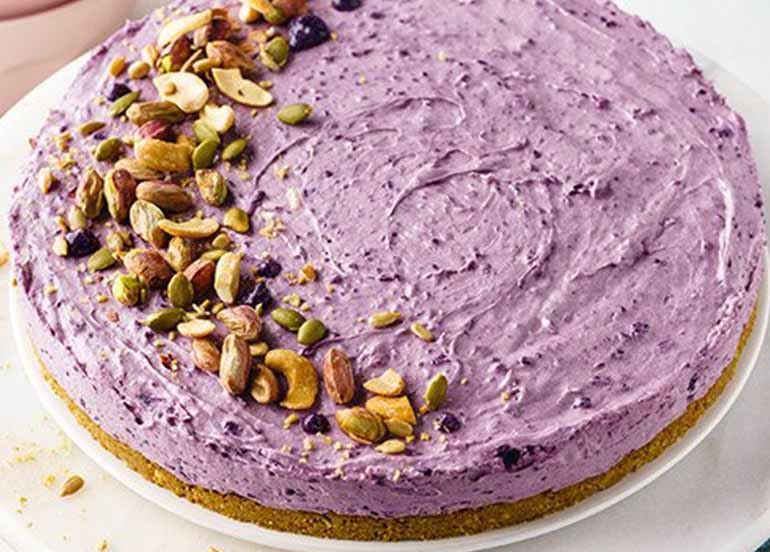 Here's a recipe from Yummy.ph:
Ingredients:
1 cup mixed nuts (shelled pistachions, cashews, pumpkin, and sunflower seed nuts) and more for garnish
1 cup graham cracker crumbs
1/2 cup + 2 tbsp sugar
1/8 tbsp. salt
1/3 cup melted butter
2 bars softened cream cheese (225 g per bar)
1/2 cup all-purpose cream
1 tbsp vanilla extract
1 jar (340 g) of tube halaya, more for garnish
Procedure:
For the crust:
In a blender, finely blend the nuts and seeds only until they're finely chopped, scraping the sides every so often. Note: Be careful not to make butter.
Once they're finely chopped, transfer it to a bowl and add graham cracker crumbs, 2 tbsp. sugar, and a pinch of salt.
Then pour in the melted butter and mix until it retains its shape when you squeeze it in your hand.
Get the mix and press it evenly onto the bottom of a 9-inch springform pan and chill until you're ready to use it.
For the cheesecake:
In a mixer bowl with a beater attachment, beat cream cheese and 1/2 cup sugar until the mixture becomes light and fluffy.
Then add the cream cheese, vanilla extract and beat until the ingredients are mixed well.
Add in batches the ube to the cream cheese mixture. You may only add the spoonful of ube when, while you're beating on low, the mixture is well mixed.
Pour the mixture onto the crust when you've added all of the ube halaya.
Smoothen the top with an offset spatula and tap the pan on the counter to release air bubbles.
Chill in the refrigerator for 4 hours or until the cheesecake is firm.
When serving, don't forget to remove the cake from the springform pan. You may decorate with additional nuts, seeds, and ube before serving cold and enjoying.
Fudgy Ube Cheese Bars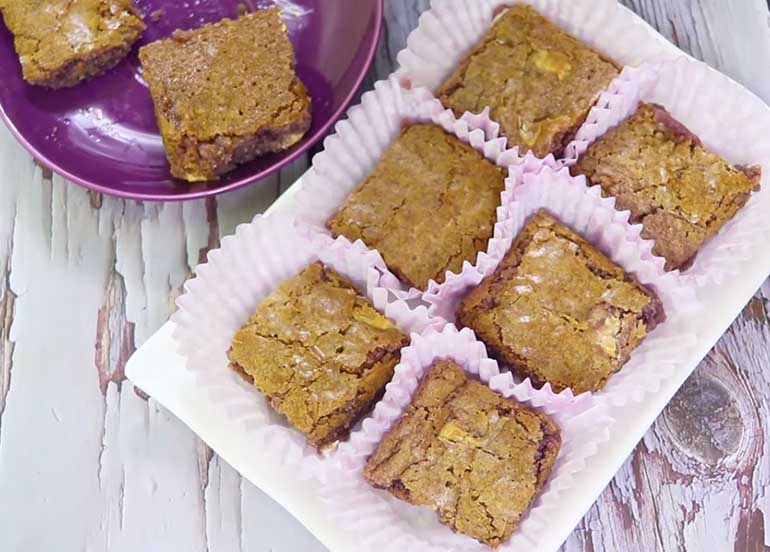 Here's a recipe from mrs apron:
Ingredients:
1 cup APF or All Purpose Flour
1 cup ube powder
1/4 cup condensed milk
150g white chocolate, chopped into small bits
1/2 cup coconut oil
1/4 cup ube halaya
1/8 cup maple syrup
1/2 cup butter
3/4 cup white sugar
1 cup brown sugar
2 large eggs
1/2 tsp baking powder
1/4 tsp salt
cheese, cut in cubes
Procedure:
In a bowl add butter and break it by mixing. Then add white sugar, brown sugar, and mix.
Once well mixed, add maple syrup, condensed milk, coconut oil, ube halaya, ube powder, eggs, salt, and baking powder then mix well.
Afterwards, add sifted all-purpose flour in the mixture and mix well once more. Finally, add the chopped white chocolate in the mix.
Transfer the mixture in an 8 x 8 pan lined with parchment.
Spread the mixture evenly and top with the cheese cubes.
Bake the bars for 25-30 minutes in a 350°F/175°C.
Once cooked, bring out of the oven, cut into squares, allow it to cool, and transfer to a plate before enjoying.
And of course, we musn't forget the one that started it all!
Ube Cheese Pandesal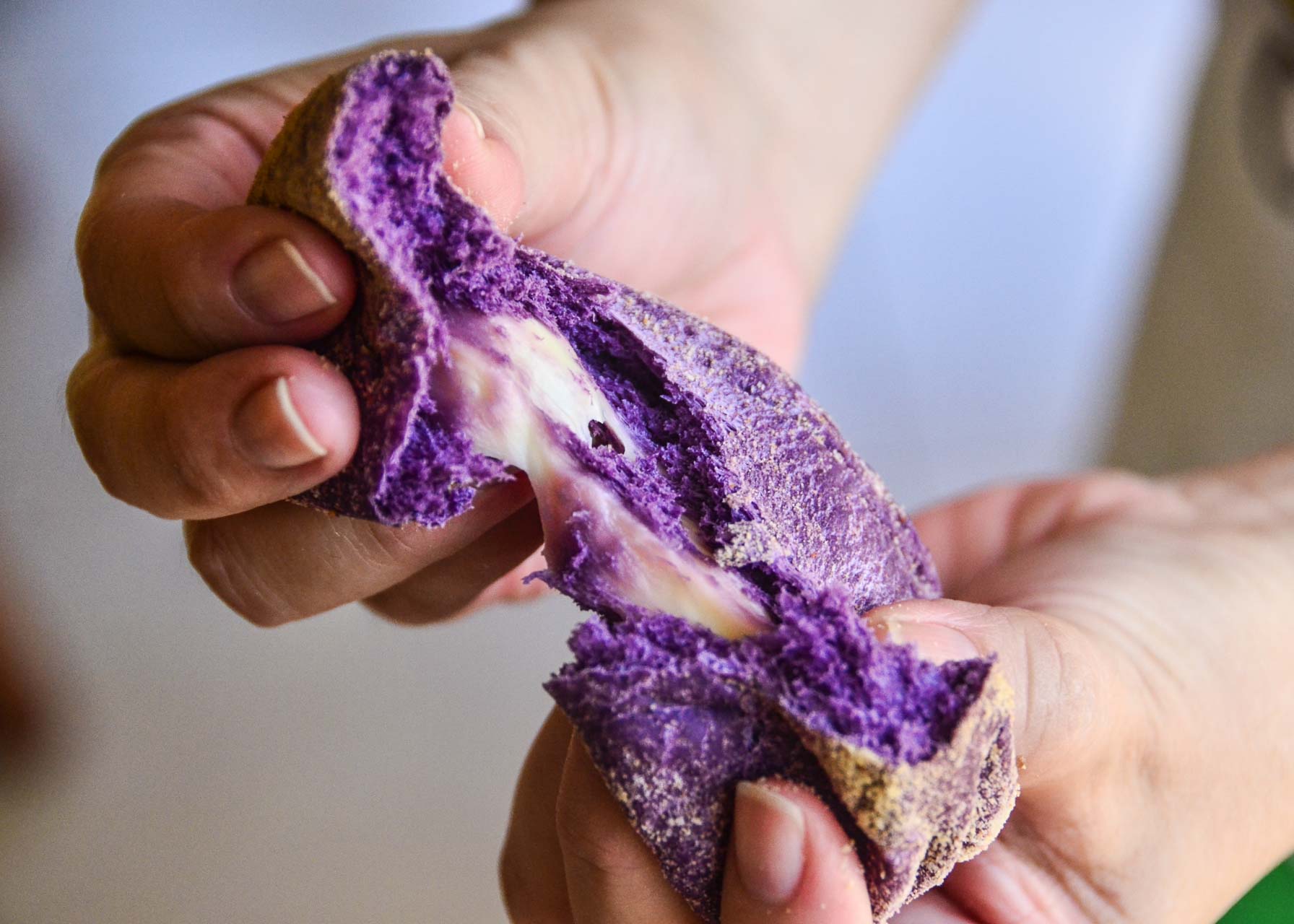 Here's a recipe from Pepper.ph:
Ingredients:
4 cups bread flour
2 tsp. salt
1/4 cup sugar
2 tsp. instant yeast
1/2 cup powdered milk
1 cup water
2 tsp. ube extract
1/2 cup butter
1 cup white cheese, cut into cubes
2 cups fine breadcrumbs
Procedure:
For the dough:
Combine the flour, salt, sugar, yeast, and powdered milk with a dough hook in your mixer.
Mix all the dry ingredients at low speed setting first until they're combine well.
Then, add water and ube extract still at low speed. After adding, increase speed to medium setting and mix for 3-5 minutes or until it has a dough-like consistency.
Add butter by the tablespoon and continue mixing for around 15 minutes or until the mixture is smooth and elastic.
Take the mixture and cover it in plastic wrap. Leave it to rise for about an hour or until you've noticed it double in size.
Making and baking the pandesals:
Spread flour over a flat and clean surface. Remove the plastic wrap, turn the dough, and cut it into 12 equal parts.
Roll each piece into a ball and once you're done, cover the balls with plastic wrap.
Take the balls out one by one when adding the cheese.
To add the cheese, flatted each ball into a circle and place a chunk of white cheese at the center.
Gather the edges of the dough and seal the cheese you placed in the middle.
Roll the dough back into a ball and coat with breadcrumbs. Repeat until all pieces have cheese.
Transfer all the rolls to a 9 x 9 inch square pan lined with parchment paper.
Allow the dough to rise again for around 30-40 minutes or until they've doubled in size.
Preheat the oven to 350°F.
Bake the rolls in the oven and bake for about 25-30 minutes until golden brown.
Let the rolls rest for a while and enjoy.
Looking for more recipes for you to try? Simply type RECIPE in the Booky Guide to see the different things you can make at home from soju cocktails to famous restaurant dishes like Max's Sizzling Tofu.