This holiday season, treat yourself to a JUMBO cup of Serenitea!
The season of giving has definitely arrived at Serenitea as they offer bigger milk tea sizes and more of the milk tea goodness with their Jumbo Cups! From December 16 to 18, you can avail of the free upsize from Large to Jumbo milk tea cup!
Also Check out: Where to Get Fruit Cakes in Time for Christmas Season
Serenitea's Jumbo Cup is equivalent to 1 liter of their delicious milk tea, which means you can get 1 liter of your favorite flavors! To check out the flavors on Serenitea's Jumbo Cup List for 2021, click here!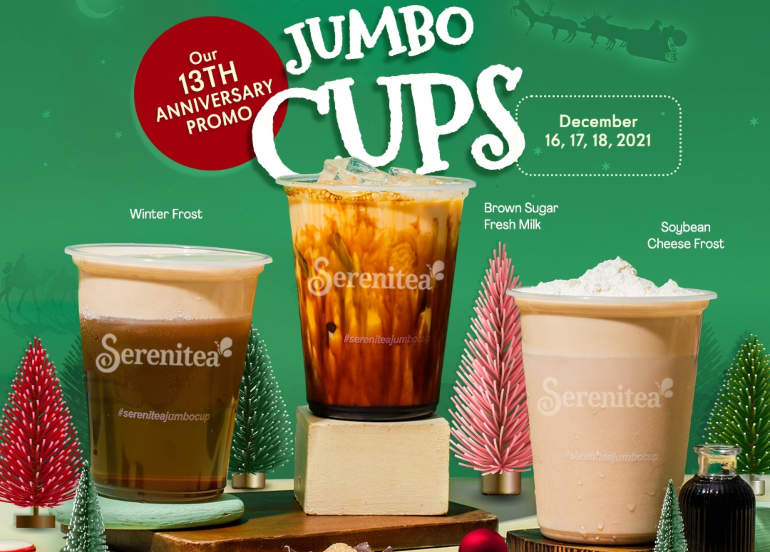 Are you suddenly craving for some milk tea? Go ahead and grab yourself a Jumbo Cup when you dine-in, take-out, or delivery through GrabFood, PICK.A.ROO or Booky!
Don't Miss: Serenitea's Merry Merry Milo Holiday Drinks!
What's a sweeter surprise this Yuletide than a nostalgic flavor combined with familiar flavors made by none other than one of our favorite milk tea brands in the Metro? Available from November 3, 2021 until January 31, 2022, you can now enjoy Serenitea's Merry Merry Milo Holiday Drinks!
Choose from their four flavors: Choco Strawberry Slush, Choco Coffee Blush, Choco Brulee Milk Tea, and Choco Coconut Slush.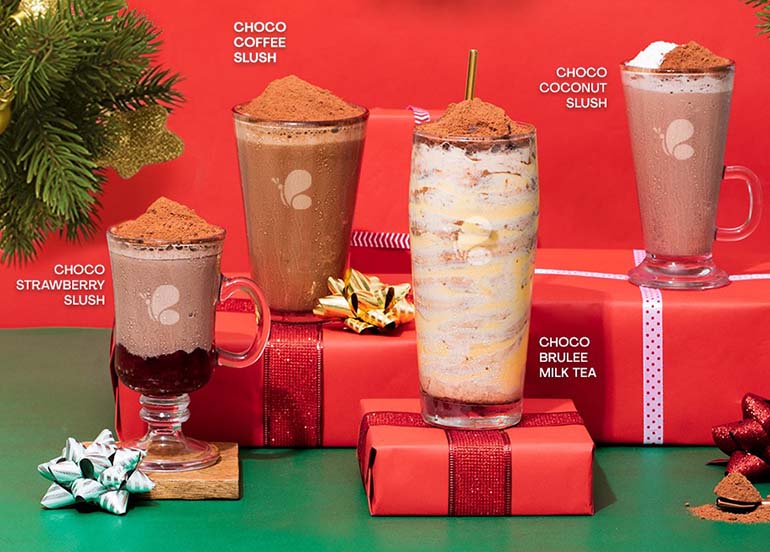 In Case You Missed It . . .
If you've always been a huge fan of Serenitea's myriad of snacks from chicken chops to their peppercorn but can't decide between one or the other when ordering, you'll be happy to know that Serenitea's got a solution to your ordering hesitations; that is their new Jumbo Snack Bucket!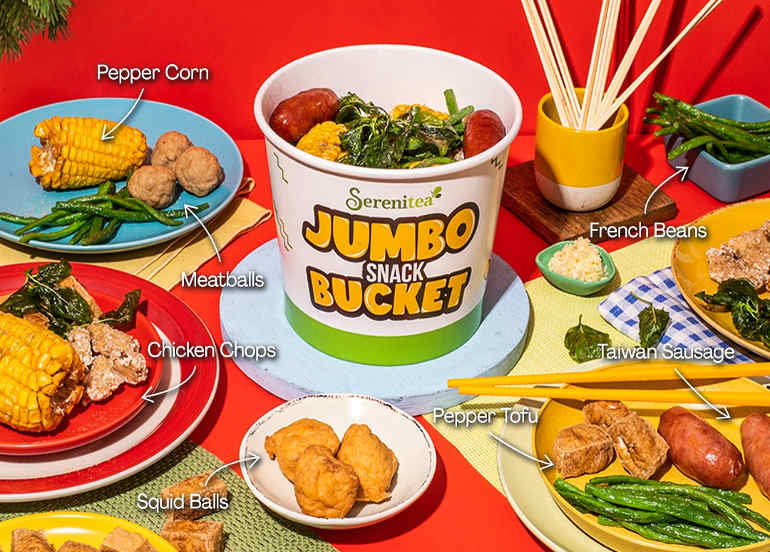 Complete with their best-selling snacks, namely their Italian Sausage, French Beans, Squid Balls, Meat Balls, Pepper Tofu, Pepper Corn, and Chicken Chops, their Jumbo Snack Bucket is a dream come true for Serenitea snackers out there.
Get your hands on one now by either dropping by one of their stores or ordering directly from the brand via the button below.
View menu
View their delivery website (powered by Booky)
View their Facebook page
View their Instagram account
View their branches
We know you loved using the Booky app for discovering the newest places in your city. Given these extraordinary times, we want to continue being helpful during the GCQ so check out our updated food delivery guide, restaurants that just reopened, and where to shop for groceries online, and more.