Vubble pods, vubble, vubble, vubble pods…
We've seen quite a change ever since the pandemic hit, thus creating a "new normal" for everyone. Industries such as the F&B are among the few that had to come up with new innovations that aren't just fun and exciting, but as well as, safe for everyone to enjoy. Alfresco dining is one of the many things that has become popular nowadays, but have you ever tried eating inside a bubble pod?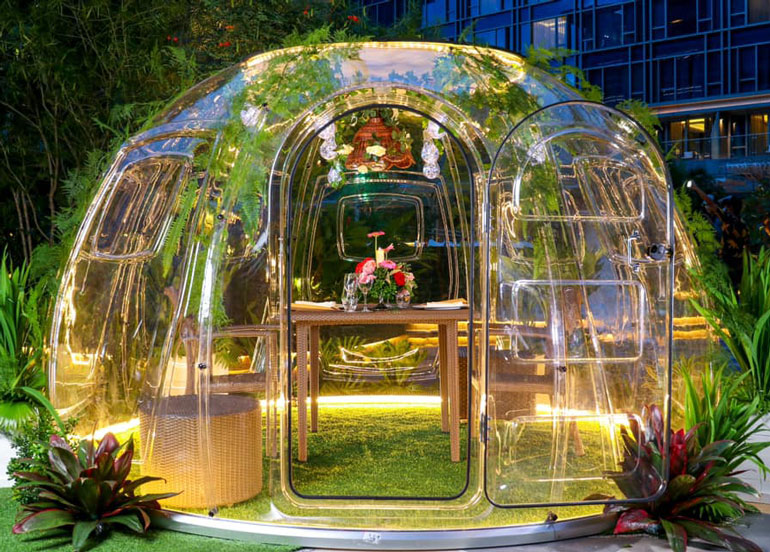 Clearly thinking outside the box – or pod, ahem, the famous hotel chain, Resorts World Manila, has made it much more interesting by introducing bubble pods into their alfresco dining. These transparent bubbles officially called Vubble Pods are the chain's way of making sure that their guests have a fun but safe dining experience.
You don't have to worry as these pods are equipped with a portable air-conditioner, and are well-ventilated with an opening at the top and windows for safe and comfortable airflow. They're also following international standards so you can be certain that they are safe and sanitized properly.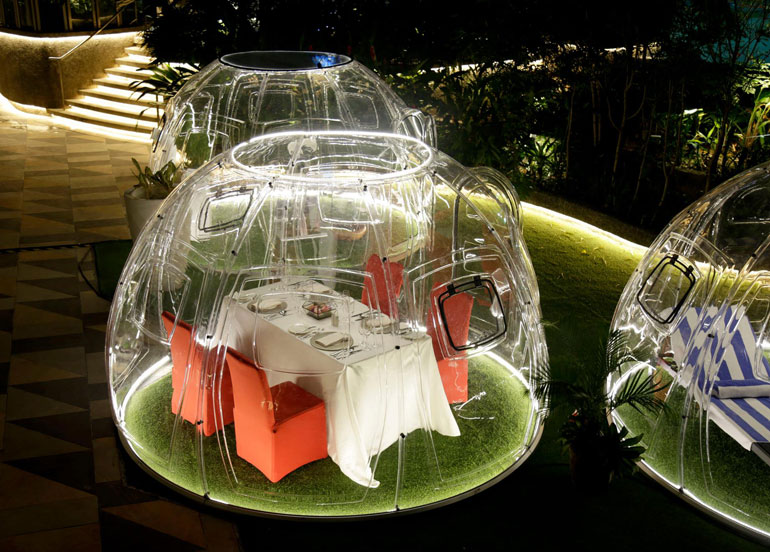 Currently, 6 pods are available at both The Sheraton Manila Hotel and Hilton Hotel Manila. Depending on which hotel you booked, the menu and pricing can vary. Both hotel guests and walk-in clients can avail of these Vubble pods by booking a reservation at Sheraton Manila through 0917-859-7458, or Hilton Manila through 0917-839-7664.
Since Valentine's Day is coming up soon, we think these Vubble pods are a great and safe dining experiences you can have with your SO. But it can also be a great experience spent with 3 of your friends either way.
We know you loved using the Booky app for discovering the newest places in your city. Given these extraordinary times, we want to continue being helpful during the GCQ so check out our updated food delivery guide, restaurants that just reopened, and where to shop for groceries online, and more.
Cover image from Sheraton Manila Hotel's Facebook page.