Samgyupsahalaman.
We have all grown to love samgyeopsal — grilling thin slices of pork and beef, dipping them in gochujang sauce, and then finally wrapping them inside a fresh and crispy lettuce leaf.
However, going on a samgyeopsal sesh on a weekly basis might not really be a good idea (especially for our friends who've been watching their cholesterol count).
Also Read: Your Guide to Korean Food Delivery Available Now
The Sexy Kitchen by Chef B is very much aware of our intense samgyeopsal cravings, which is why they have created a healthier alternative — plant-based samgyeopsal!
After plant-based burgers, plant-based samgyeopsal might be the next big healthy thing with its guilt-free meat and classic Korean side dishes.
The Sexy Kitchen's set includes three plant-based meats: their very own beyond meat, beyond sausage, and marinated soy-meat! Pair it with a plethora of fresh side dishes: green leaves, braised tofu, potato, and kangkong, sweet potato, cucumber salad, onion salad, sauteed bean sprout, eggplant salad, japchae, rice, and fruits.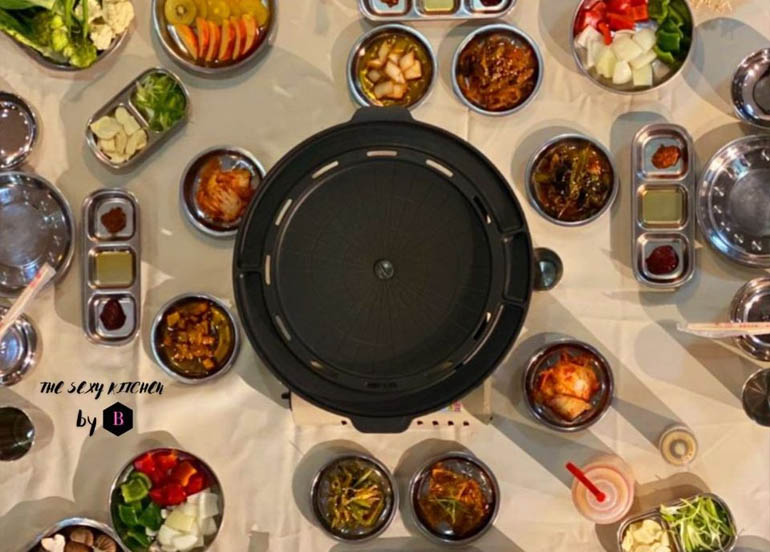 You can also get all their six sauces samjang, gochujang, vegan cheese, vegan mayo, egg tofu, and mychili all for the price of ₱450 per person.
"We make healthy food delicious, and delicious food healthy," said Chef B. She promises only clean food with only the best ingredients sourced from around the Metro.
They are open for dine in daily from 9:00 a.m. to 7:00 p.m. at 210 Skyway Twin Towers 351 Henry Javier St., Brgy. Oranbo, Pasig City.
We know you loved using the Booky app for discovering the newest places in your city. Given these extraordinary times, we want to continue being helpful during the ECQ so check out our updated food delivery guide, restaurants that just reopened, where to shop for groceries online, and more.
Cover Image from The Sexy Kitchen's Facebook page