This is nut your ordinary list.
Peanut butter is a classic and a staple and will forever be here to stay. But did you know that there's so much more to butter and spreads than just plain old peanut butter? Allow us to introduce you to nut and seed butter.
What once was the only nut butter known to most people now has expanded to a plethora of others like almond and cashew butter. Here, we list down places where you can get the best nut butter spreads in the Metro. Give these nut butters a space in your pantry and you might just discover a new favorite.
Also Read: Your Guide to Dairy-Free Milk Delivery Now
You'll fall in love at first bite with Miss Mela's Peanut Butter. Miss Mela Habijan, actress, the first-ever Miss Trans Global, and the brains behind these glorious kinds of peanut butter, ensures that every jar is made out of love—from mixing, grinding, jarring, and down to labeling. She currently offers four variants: creamy original, chunky, choco nut, and cookie crunch.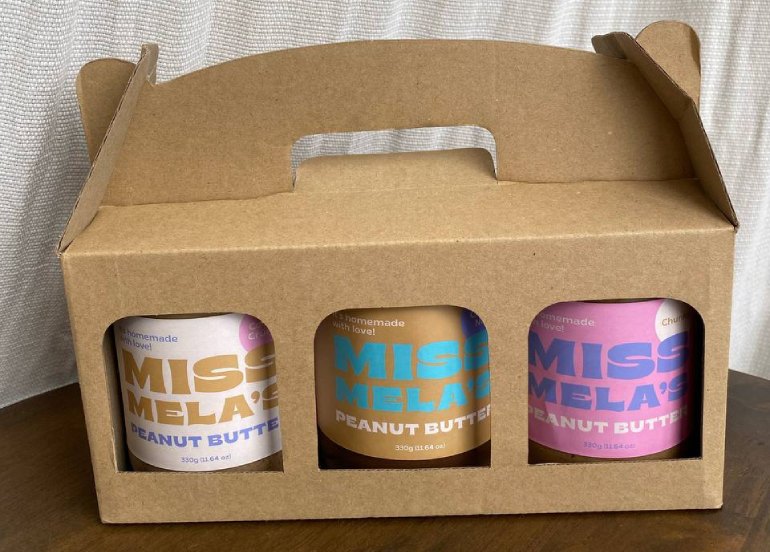 Made By Maxine is a nut butter company that aims to continuously create all-natural nut butter that is not just good for you but also doesn't compromise on taste. They currently have five different nut butter you can choose from Roasted Cashew Butter, Crunchy Cacao Cashew Butter, Extra Dark Cacao Almond Butter, Roasted Almond Butter, and Roasted Cashew Butter with Chia Seeds.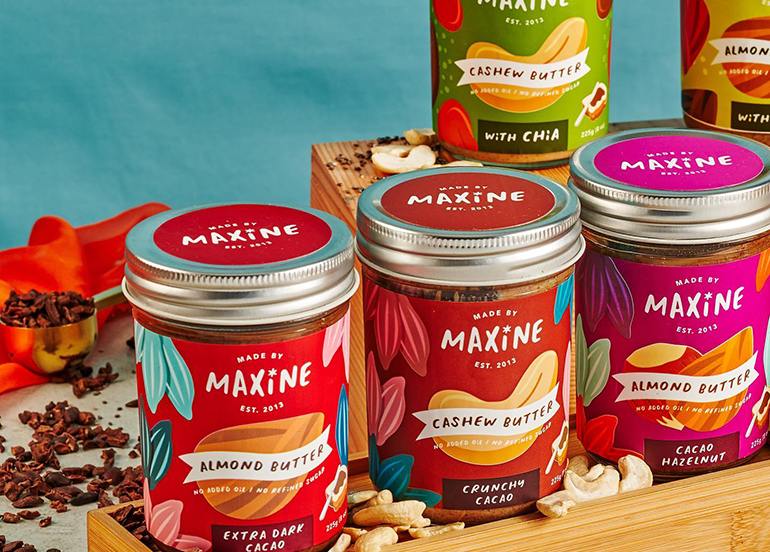 View their Facebook page
View their Instagram account
(0968) 855 1487
Go back to basics with Nut Butter Basics. Their nut butter are bottled fresh daily and are guaranteed to be keto, paleo, and vegan-friendly. They're also made with no refined sugar and preservatives and come in five different variants: Classic Peanut Butter, Almond Butter, Cashew Cinnamon, Hazelnut Almond Cacao, and Almond Cacao Nibs.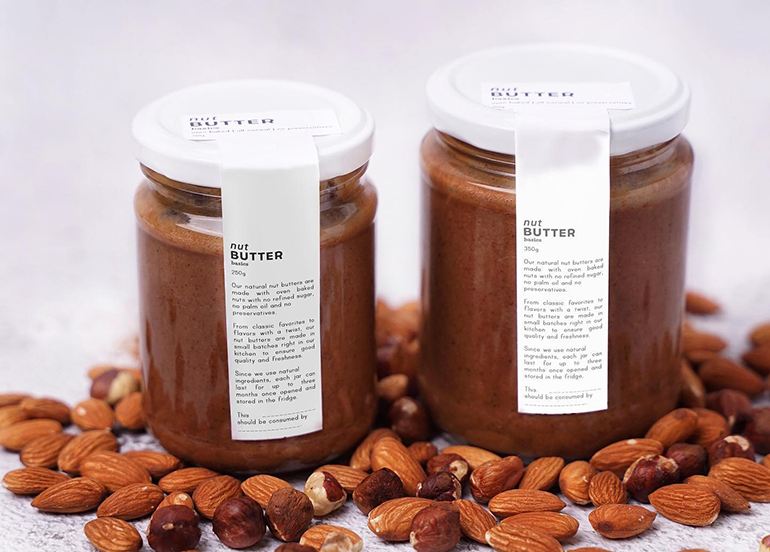 View their Facebook page
View their Instagram account
(0917) 878 1020
Nutty Naturals believes that any good nut butter should be made with no added refined sugar and preservatives which is why their homemade vegan nut butter spreads are all made with all-natural ingredients. They offer unsalted or salted and lightly sweetened or unsweetened cashew and almond butter spreads and give you the option to take your nut butter spreads to the next level with add-ons such as chia seeds, raisins, pumpkin seeds, sunflower seeds, or even sesame seeds.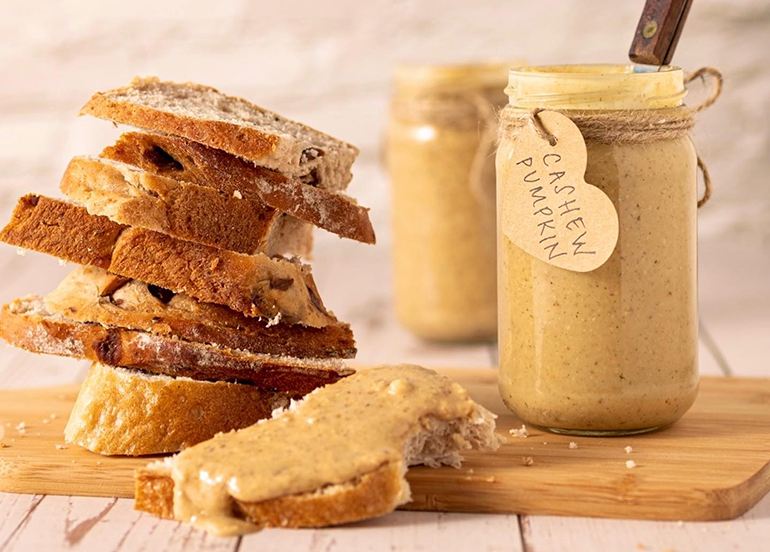 View their website
View their Facebook page
View their Instagram account
For healthy and all-natural pantry items, 7Grains is one of the leading local brands in the Philippines. They aim to provide convenient and sustainable food swaps or substitutes for your everyday cooking essentials. One of these items includes their Good Peanut Butter which is low glycemic, made with freshly roasted peanuts, and sweetened with coconut sap sugar.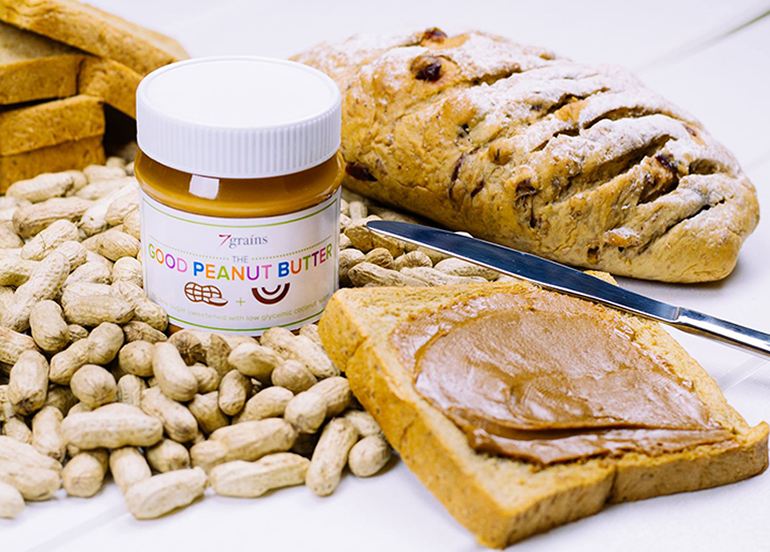 View their website
View their Facebook page
View their Instagram account
(0917) 811 7080
Roses's Kitchen is a local brand that promotes healthy living through proper nutrition. They produce all-natural nut butter made of whole ingredients that are, as much as possible, locally sourced. Their nut butter are vegan-friendly and free of preservatives, added oil, and refined sugar and come in a variety of flavors which you can get a taste of with their sampler set. Must-try: Midnight Cacao Peanut Butter.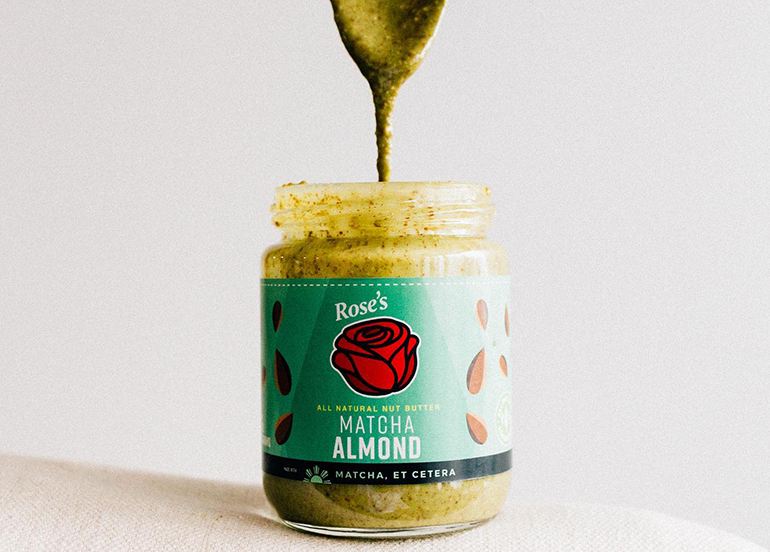 MLKD is all about creating fresh, dairy-free, cruelty-free, and vegan-friendly products with no fillers or preservatives. Though they specialize in dairy-free milk, they also carry nut butter such as a healthier alternative to Nutella made from hazelnut and cacao as well as their bestselling Granola Cookie Butter.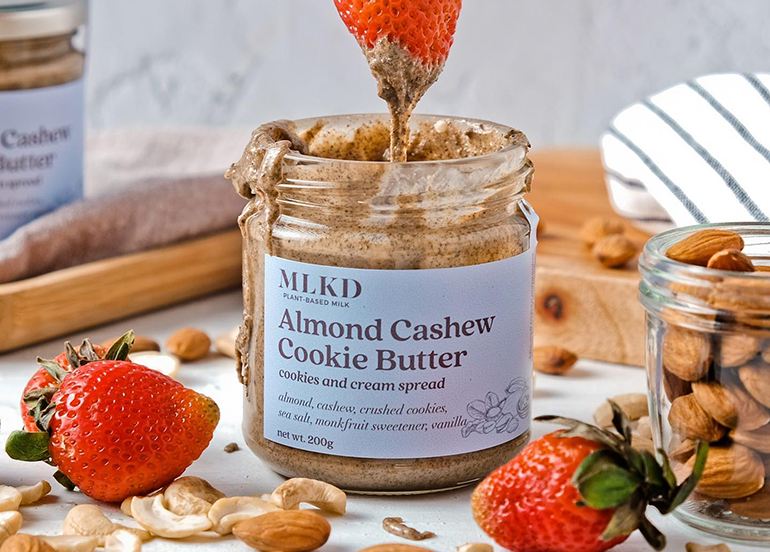 View their website
View their Facebook page
View their Instagram account
Madd Abt was initially conceptualized as a fashion brand but quickly became a source of premium-flavored nut butter. The nut butters they offer are homemade in small batches to ensure premium freshness and quality. They are made with gut-friendly ingredients that are all-natural, vegan, and gluten-free, with no added oils. The premium-flavored nut butter comes in five different variants: Salted Caramel Almond Butter, Maple Cinnamon Almond, Toasted Coconut Cashew, Cacao Hazelnut Butter Crunch, and Power Seed & Mixed Nut.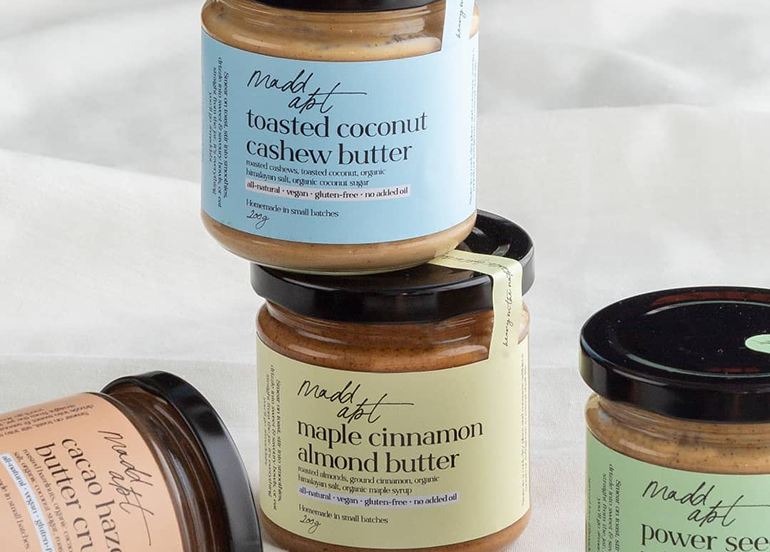 Just Butter is the place where can get (yep, you guessed it) just nut butter in their most wholesome form. Choose from almond or cashew butter, roasted or unroasted, sweetened or unsweetened.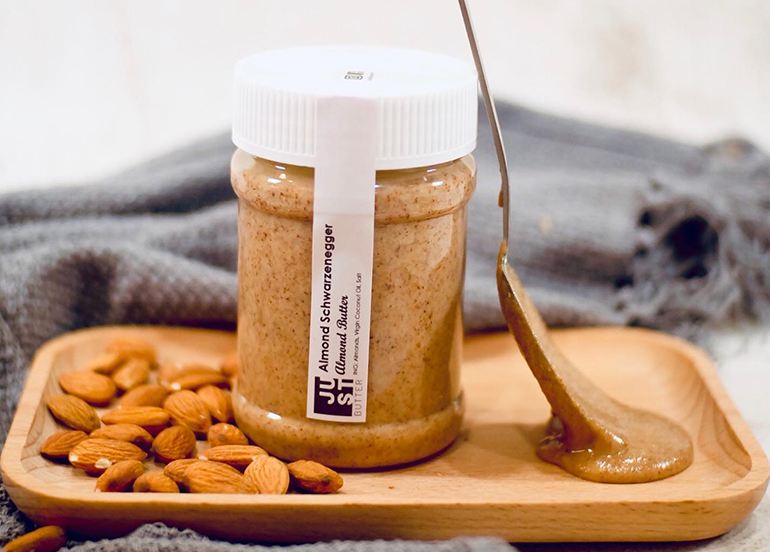 View their Facebook page
View their Instagram account
(0932) 875 3325
We know you loved using the Booky app for discovering the newest places in your city. Given these extraordinary times, we want to continue being helpful so check out our updated food delivery guide, where to shop for groceries online, and more.