No oven? No problem!
If you've been itching to make your very own cheesecake but you're neither confident with using an oven or have no plans on acquiring one any time soon then you've come to the right article!
We've found a bunch of recipes that you can follow to get that perfect dessert to satisfy your sweet tooth. Check them out below!
Looking for a simple cheesecake recipe? Here's one that we found that's easy enough to do when you're new to making cheesecakes.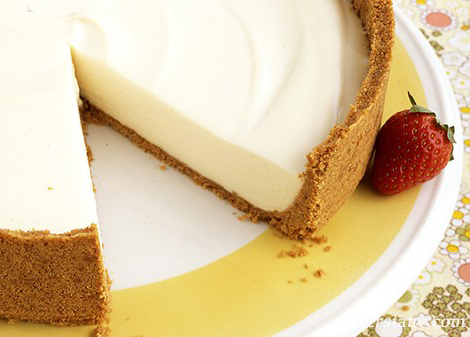 Here's the recipe from MarthaStewart.com,
Ingredients
2 packages (20 sheets) graham crackers
11 tbsp (1 and 3/8 sticks) unsalted butter, melted
2 tbsp sugar
2 8-oz packages cream cheese at room temperature
1 14-oz can (1 and 1/4 cups) sweetened condensed milk
1/4 cup fresh lemon juice
1 tsp vanilla extract
Directions
Put graham crackers in a large resealable plastic bag, and crush them with a rolling pin until very fine crumbs form.

Pour crumbs into a medium bowl; stir in sugar. Add butter, and stir until well combined.

Press the crumb mixture into a 9-inch springform pan, spreading it 1 1/2 to 2 inches up the side; press flat. Chill crust in freezer at least 10 minutes.
Meanwhile, make the filling: Using an electric mixer set at medium-high speed, beat the cream cheese in a large bowl until smooth. Beat in the condensed milk a little at a time, scraping the sides of the bowl, as necessary. Beat in the lemon juice and vanilla.
Pour the filling into the crust; smooth the top with a rubber spatula. Cover with plastic wrap, and refrigerate until firm, 2 1/2 to 3 hours.
Unclasp sides of pan, and remove cheesecake.
For this recipe, you can substitute fresh strawberries with frozen ones; you just have to take note that if you use frozen strawberries, they will have more liquid so just add a bit more corn starch to avoid runny sauce.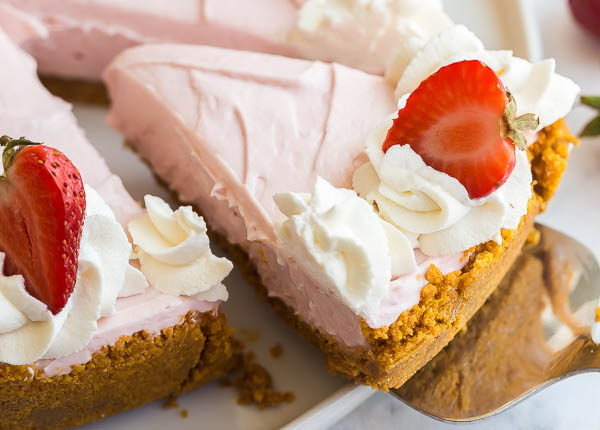 Here's the recipe from The Recipe Rebel,
Ingredients
For the crust
2 1/2 (375 g) cups graham cracker crumbs
1/2 cup melted butter
For the filling
1 lb ( 454 g) fresh strawberries
1 3/4 cup granulated sugar, divided
3 tbsp corn starch
3 packages (750 g or 24 oz) cream cheese
whipped cream, for garnish
fresh strawberries, for garnish
Instructions
Line a 9″ Springform pan with parchment paper (optional — it helps remove the cheesecake once it's chilled).

Combine graham cracker crumbs and butter then press firmly into the bottom and 1″ up the sides of the Springform pan. Set aside.

Wash and chop strawberries. Puree until smooth using a food processor or blender, then strain through a fine mesh strainer.

Whisk together strawberry puree, 3/4 cup sugar and corn starch until smooth. Place in medium saucepan and cook over medium heat until very thick. Set aside to cool slightly.

In a large bowl, beat cream cheese with an electric mixer on high speed until smooth.

Add 1 cup sugar and beat until smooth and fluffy. Add strawberry sauce and beat on medium-high speed until smooth and fluffy

Spread cheesecake filling into prepared crust and refrigerate at least 6-8 hours or overnight until thoroughly chilled and set.

Garnish with whipped cream and chopped strawberries as desired.
Here's a cheesecake recipe that has a mouthwatering combination of chocolate, salted caramel, and pecans. For this, make sure to use full fat cream cheese as it has less water content to help the cake hold up better than with the low fat variety.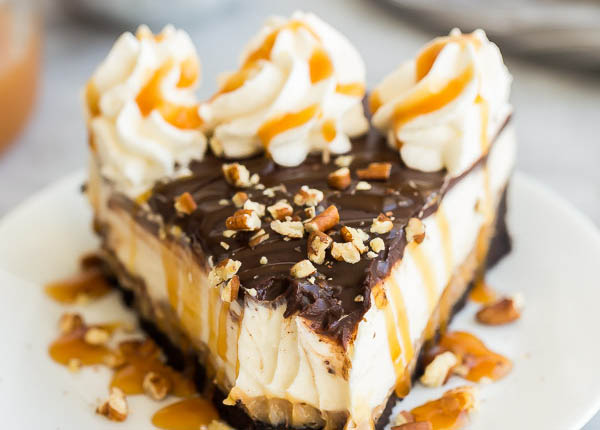 Here's the recipe from The Recipe Rebel,
Ingredients
For the crust
2 1/2 cups chocolate cookie crumbs like Oreo or similar
1/2 cup butter melted
For the caramel
30 wrapped chewy caramel candies (I use Kraft), 250g
1 cup heavy cream
1/8-1/4 teaspoon salt (depending on how salty you like your caramel)
1 cup chopped pecans
For the cheesecake
24 oz cream cheese or 3 packages or 750 g, at room temperature
1 1/2 cups powdered icing sugar
1 tsp vanilla
1/2 cup heavy whipping cream
For the ganache
1/3 cup or 50 g chopped dark chocolate or chips
1/3 cup milk or cream
caramel sauce, whipped cream, and pecans, all for garnish and optional
Instructions
Line a 9″ Springform pan with parchment paper, pinching it in between the bottom and the outer ring. This isn't necessary but will allow for easy removal.
For the crust
1. Combine cookie crumbs and butter. Press into the bottom of the prepared pan evenly.
Caramel
2. In a medium pan, combine caramels and cream. Cook over medium heat, stirring frequently, until completely smooth and melted.
3. Stir in pecans and pour into crust. Refrigerate for 30-60 minutes until firm/dry to the touch.
For the cheesecake
1. With an electric mixer, beat cream cheese until smooth. Add powdered sugar and vanilla and beat until smooth and combined.
2. Add cream, and beat on low until incorporated, then high until thickened and fluffy (should nearly hold stiff peaks when you pull the beaters out of the bowl)
3. Spread over cooled caramel in pan. Refrigerate for 1-2 hours or until nearly set.
For the ganache,
1. Combine chocolate and cream in a small pan. Cook over low heat, stirring constantly, until melted and smooth.
2. Spread over cheesecake layer evenly.
3. Refrigerate a minimum of 6 hours, or overnight for best results. Serve with garnishes as desired.
You don't make a cheesecake list without matcha! Here's a simple enough recipe for matcha lovers to try at home.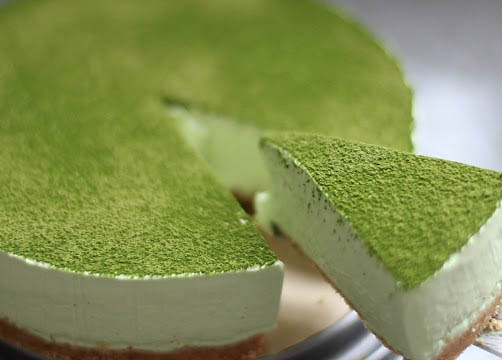 Here's ther ecipe from iSaamuel,
Ingredients
756g. digestive cookies
40g. butter, melted
8g. green tea powder
70ml. hot water
70ml. cold water
9g. gelatin powder
1 cup cream cheese
250ml. heavy whipping cream
Instructions

1. Place cookies in a bag then grab your rolling pin to crush. Afterwards, pour the crushed cookies into bowl and add in the butter, you could also place it in a food processor and pulse.
2. Pour this wet-sand consistency into a cake pan then press the crumbs into the bottom and sides of the pan. Chill in the fridge.
3. Meanwhile, whisk matcha powder and hot water in a bowl until dissolved. Set aside.
4. In a ramekin, pour gelatin powder in cold water then set aside until it's set.
5. In a separate bowl, combine cream cheese and sugar. Once creamy, whisk in the green tea mixture until you reach a smooth consistency.
6. Now whisk the whipping cream until you achieve soft peaks, careful not to over whisk!
7. Once the gelatin is set, place the ramekin in hot water until dissolved. Whisk into matcha mix.
8. Gently fold in the cream into the mixture then pour on top of cookie base and shake to even out.
9. Refrigerate overnight. Dust with matcha powder, serve, and enjoy!
A classic childhood flavour incorporated into our favourite dessert, cookies and cream definitely goes well in the form of cheesecake.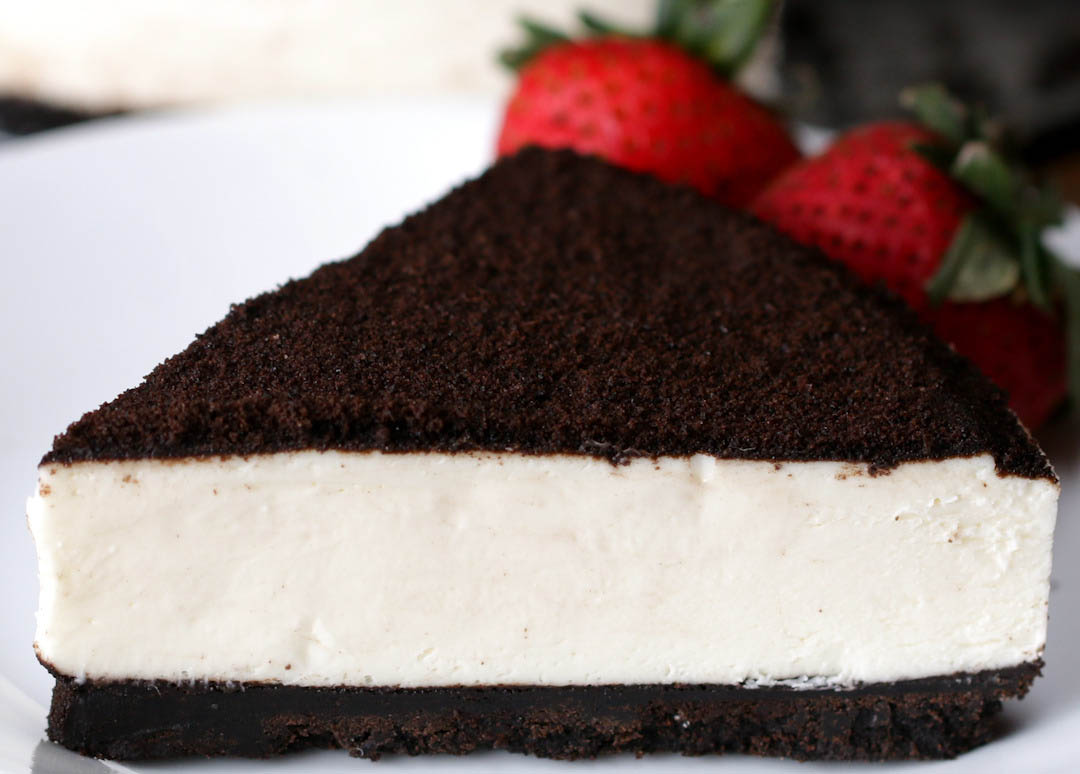 Here's the recipe from Tasty,
Ingredients
36 chocolate sandwich cookies
5 tablespoons butter, melted
3 cups cream cheese(800 g)
⅓ cup sugar(65 g)
1 tablespoon vanilla extract
1 cup milk(240 mL), warm
1 tablespoon gelatin
Instructions
Separate the cream from the cookies into 2 different bowls.
Place the cookies into a plastic bag and crush them into fine crumbs with a rolling pin. Set aside ½ cup (50g) of the crumbs for later.
Pour the cookie crumbs into a bowl and combine with the melted butter, mixing until the texture is like slightly wet sand.
Press the cookie crumbs in an even layer into the bottom of a 9-inch (23 cm) springform pan. Set aside.
In a medium pot over low heat, mix together the cream cheese, sugar, the cream from the cookies, and vanilla extract, stirring until there are no lumps.
In a measuring cup, mix the milk with the gelatin until dissolved.
Pour the milk into the cream cheese mixture, stirring constantly until the mixture starts to bubble slightly. Remove from heat.
Pour the mixture over the cookie crust in the springform pan. Using a spatula or a spoon, smooth the top.
Sift the saved cookie crumbs on top of the cheesecake in an even layer, then refrigerate for at least 4 hours.
Unclasp the ring of the springform pan, slice, then serve!
No oven? No problem… no gelatin? Not a problem at all!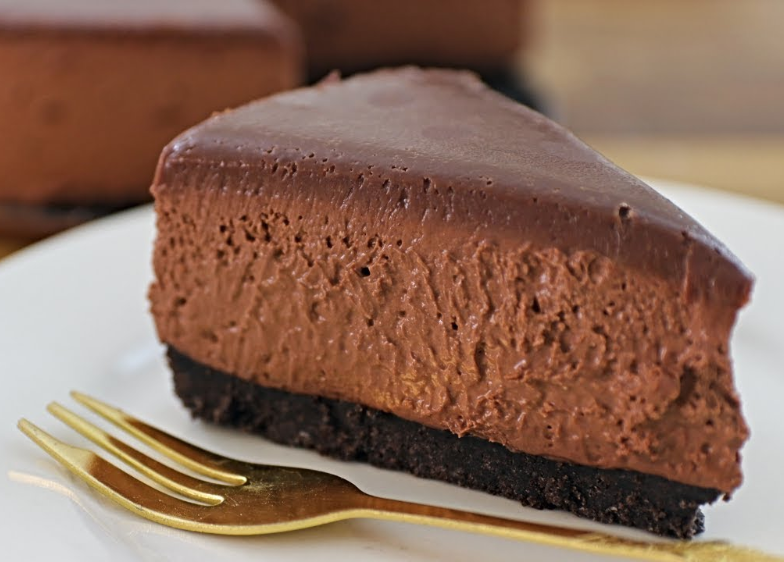 Here's the recipe from The Cooking Foodie,
Ingredients
For the crust
200g (7oz) Oreo cookies
1/4 cup (60g) butter, melted
For the filling
2 cups (450g) Full fat Cream cheese, room temperature
9oz (250g) Dark chocolate
1 cup (240ml) Heavy cream
2/3 cup (83g) Powdered sugar
1 teaspoon Vanilla extract
For the ganache
140g (5oz) milk chocolate
1/2 cup (120ml) Heavy cream
Instructions
To make the crust: In a food processor or a Ziploc bag, crush Oreo cookies into fine crumbs. Add melted butter and pulse until combined. Press into bottom of 8-inch (20cm) springform pan. Refrigerate while making the filling.
Chop the chocolate, melt in the microwave in 30 second pulses or over a double boiler.
In a large bowl beat cream cheese, powdered sugar and vanilla extract until smooth, add melted chocolate beat until combined and smooth.
In a separate bowl whip heavy cream to medium peaks. Gradually fold into the cheesecake mixture.
Pour the filling into the pan. Place in the freezer while making the topping.
Chop the chocolate, place in a large bowl. In a saucepan bring the heavy cream to a simmer. Pour over the chocolate. Let sit for 1-2 minutes. Stir until smooth. Pour over the cheesecake.
Refrigerate for at least 6 hours.
This recipe will yield a light and mousse-like texture cheesecake that has that hard to resist flavour of Nutella.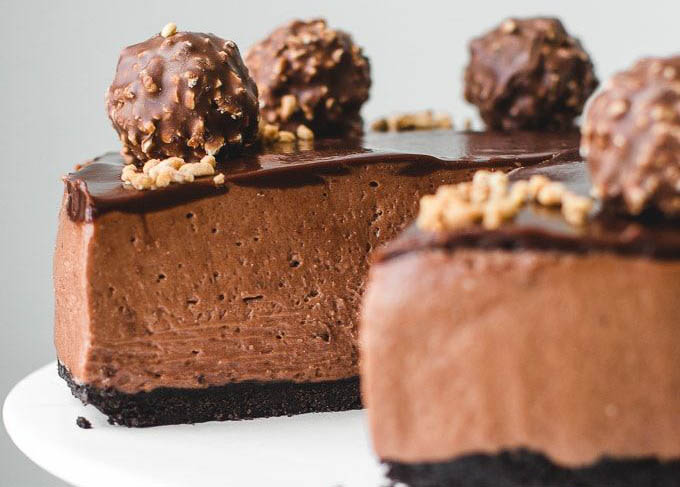 Here's the recipe from Pretty. Simple. Sweet,
Ingredients
For the crust
20 Oreo cookies (with their filling)
5 tablespoons (70 g) unsalted butter, melted
For the cake
1 tablespoon unflavored powdered gelatin , optional
1/4 cup (60 ml) water (omit if you don't use gelatin)
2 and 1/4 cups (500 g) cream cheese , at room temperature
3/4 cup (85 g) powdered sugar
2 tablespoons (12 g) cocoa powder
1 cup (320 g) Nutella
1 cup (240 ml) heavy cream
For the Nutella ganache
1/2 cup (160 g) Nutella
1/4 cup (60 ml) heavy cream
Instructions
Make the crust: Pulse Oreos (the whole cookie, with the filling) in a food processor until finely ground. In a medium bowl, mix crumbs and melted butter until fully combined and crumbs are moistened. Press the mixture onto the bottom of a 9-inch or 8-inch springform pan using your fingers or the bottom of a cup to form a crust layer.
Make the filling: For the gelatin mixture, combine gelatin and water in a small bowl. Let stand for 10 minutes to soften. After 10 minutes, microwave gelatin for a few seconds, just until melted and syrupy (avoid heating it any more as that will ruin it).
Using an electric mixer fitted with the whisk or paddle attachment, combine cream cheese, powdered sugar and cocoa powder until smooth, then beat in Nutella. Add gelatin and whisk mixture until combined. Set aside.
Using an electric mixer fitted with the whisk attachment, whisk heavy cream until soft peaks form (they should hold their shape but have a soft texture). Using a spatula, gently fold half of the whipped cream into the cream cheese mixture, then fold in the other half. Pour filling into the pan and smooth the top. Cover pan with plastic wrap and place in the fridge for 2 hours before glazing with ganache.
Make the ganache: Place Nutella and heavy cream in a medium bowl. Heat in the microwave until melted. Whisk until smooth. Let cool slightly before pouring over cheesecake.
Cool cake completely before serving, at least 4 hours. Decorate cake with Ferrero Rocher or chopped hazelnuts , if desired. Serve cold.
Cheesecake will keep in the fridge for 5 days. It can also be frozen, wrapped tight, for 2 months. To thaw, place overnight in the fridge.
Our favourite childhood drink gets a flavourful spin with this take!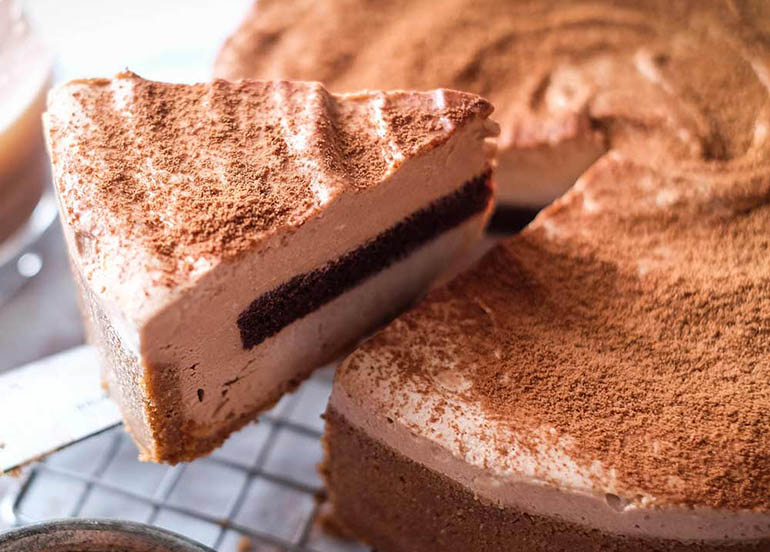 Here's the recipe from Cat and the Fiddle,
Instructions
100 g graham crackers
500 g cream cheese
250 g whipping cream
100 g sugar
4 g gelatin
4 g vanilla extract
200 g milo powder
5 g butter, melted
Instructions
Combine crushed graham crackers and butter in a bowl.
Using a hand mixer, combine cream cheese, sugar, 100g. milo powder, and vanilla extract until smooth.
In a ramekin, pour gelatin powder in cold water. Let it set.
Meanwhile, whip the cream until you have soft peaks. Fold into cream cheese and mix until smooth.
Once the gelatin is set, place the ramekin in hot water until dissolved. Add into cream cheese mix and beat evenly.
Pour into chilled crust and chill overnight.
Once ready, top with the remaining 100g. of milo powder. Serve!
This recipe isn't exactly a cheesecake but has a very similar texture. It's known to be from South Africa and is called "Cremora" because this is the brand of creamer that's usually used for this cake.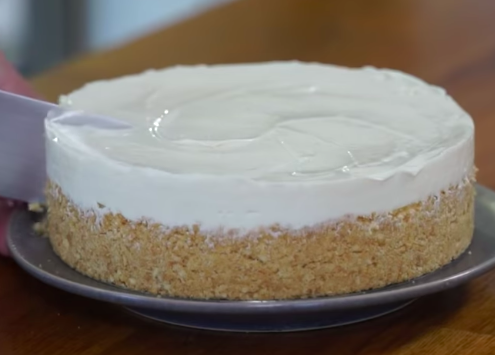 Here's the recipe from emmymadeinjapan,
Ingredients
2 cups coffee creamer
1/2 cup cold water
1/2 cup lemon juice
1 can condensed milk
1 package of graham crackers
4 tbsp butter, melted
Instructions
Place all of your graham crackers in a bag and use a rolling pin to crush them. Pour this crushed result into a bowl and add in the butter then mix well.
Pour mixture into a cake pan and press the crumbs onto the bottom and sides of the pan then chill in the refrigerator.
Meanwhile, pour coffee creamer in a bowl and stir in the cold water and condensed milk.
Slowly add in the lemon juice and mix until thick and creamy.
Pour into crust and chill for 1 hour.
Serve and enjoy!
We know you loved using the Booky app for discovering the newest places in your city. Given these extraordinary times, we want to continue being helpful so check out our updated food delivery guide, where to shop for groceries online, and more.