Here's why Nikkei Robata should be your next must-eat destination!
The Filipino palate is no stranger to Japanese food–we live for our occasional fix of tempura, ramen, and sushi. But as food lovers, we can't help but search for new flavors and new textures to tickle our appetites! And when we're talking about innovation in Japanese cuisine–that's where Nikkei comes in.
Also Read: Top 10 Most Loved Restaurants in BGC for June 2022
Nikkei, a proudly homegrown restaurant, highlights the best of Japanese-Peruvian cuisine. The concept behind Nikkei is inspired by the history of Japanese people, who, by resettling in Peru, have created dishes that exhibit culture ad creativity. This fusion of Japanese traditional cooking techniques and Peruvian native ingredients is what gave birth to Nikkei.
Also Read: Coffee for All Types of Budget, for All Types of Coffee Lovers
Now, with Nikkei's most recent concept–Nikkei Robata–a new, gastronomical adventure awaits. In Nikkei Robata, the grill takes center stage and it will surely bring on the heat.
The Nikkei Robata Experience
Nikkei Robata recalls the fishermen of Hokkaido, who often grilled the day's catch in a communal fireplace by the sea. There, memorable meals and moments were made, an expectation that Nikkei Robata not only hopes to replicate but exceed.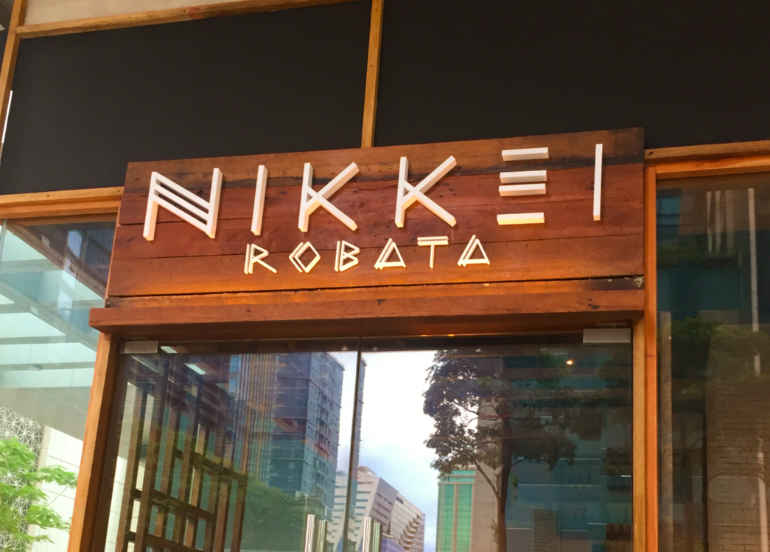 We had a chance to chat with Monica Modomo, the PR & Communications Manager of Nikkei Group, who shared with us what it truly means to have the Nikkei experience.
"Food is not the priority," she tells us."You're paying for the whole dining experience."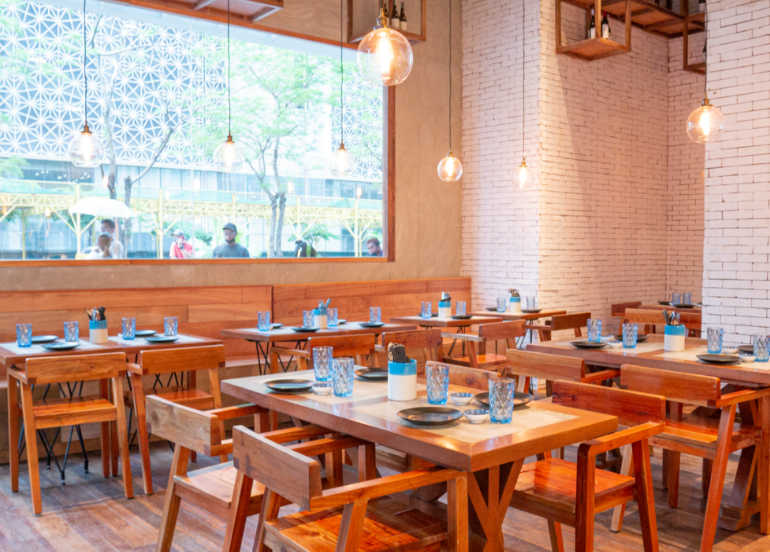 True to what she said, there is much to be appreciated about the high ceilings, the warm lighting, and the rustic feel of the wood and brick interiors. Outside, a colorful mural accompanies the al-fresco tables, presenting a story of Okinawans' travel to Peru. Laidback music is played in the background, complementing the calm yet convivial atmosphere of the whole restaurant.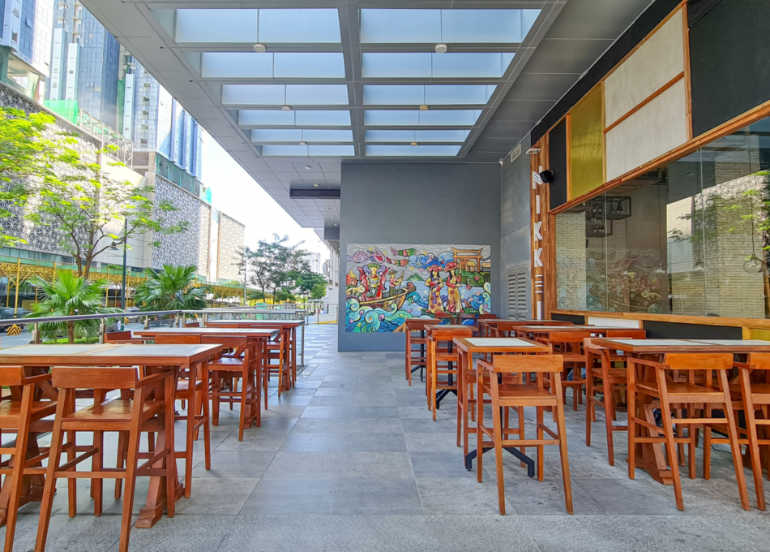 According to Monica, the brand prefers not to define itself as fine-dining, so as to be more welcoming to everyone who wants to try Nikkei's food. However, you can be sure that the quality of their service is up to par.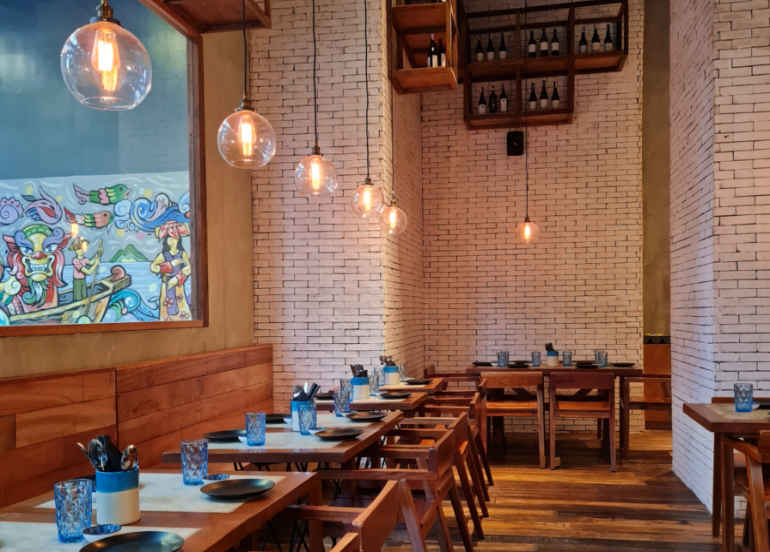 Each plate is meticulously thought out and prepared, with every ingredient coming from premium, organic sources. You're definitely in for amazingly good food. That being said, let's get to the dishes, shall we?
Japanese Grilling Takes The Spotlight
What sets Nikkei Robata apart from its sister restaurants is the robatayaki, a style of grilling that originated in Hokkaidao. By adopting this technique of cooking, using their custom-made robatayaki grill, meats and seafood gain a deeper layer of flavor and texture.
The first dish that we tried from the Robata Grill section was the Yakitori Platter, which included grilled chicken skewers, tamago, and quail eggs. The chicken skewers were incredibly succulent, with its slightly-charred skin giving a smoky touch to the meat.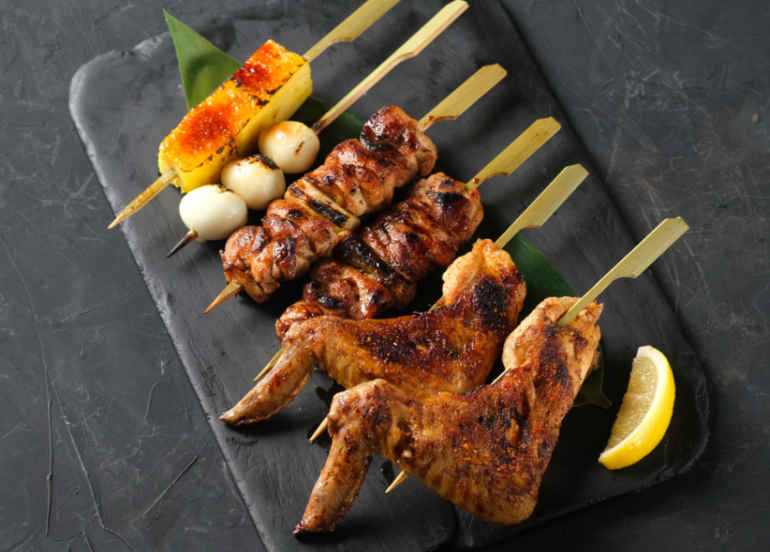 Next dish from the Robata Grill is the Hamachi Kama, featuring a generous portion of hamachi collar grilled to perfection, served with tare sauce and a vibrant cilantro salad on the side.
The hamachi collar was sensational–the meat was almost butter-like as it melted in your mouth–you could clearly taste its freshness in every bite. But the real deal was the perfect char on the crisp fish skin that made you want to dig in for more.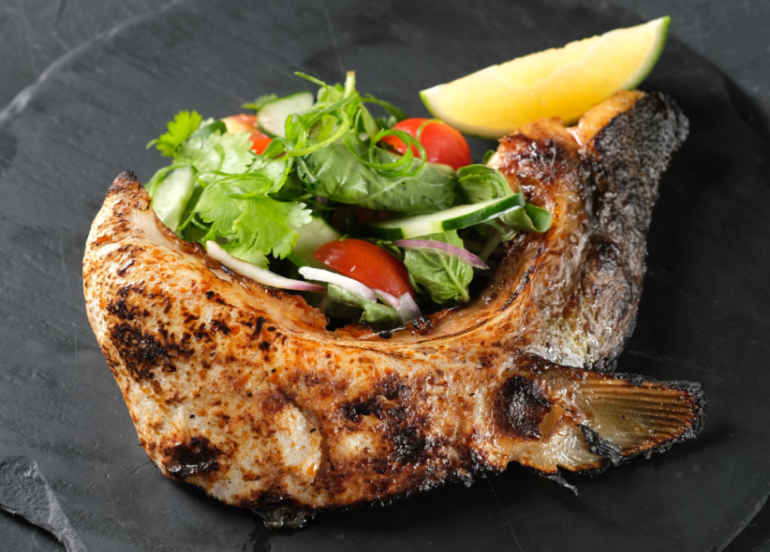 Not to miss is the Robata Steak served with truffled mashed potato and chalaquita.
Each portion of steak is a flavor bomb in your mouth. It was juicy, tender, smoky, and well-seasoned; the perfect complement to the smoothness and creaminess of the mashed potatoes.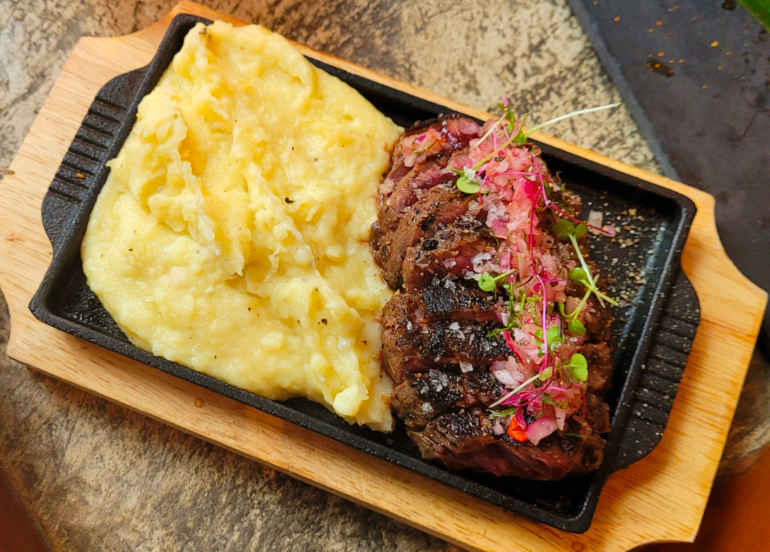 Nikkei's Specials
Apart from the Robata Grill specials, Nikkei's other signature dishes were also on the menu. From their sushi rolls selection, you have to get the Soft Shell Crab and the Spicy Tuna Roll.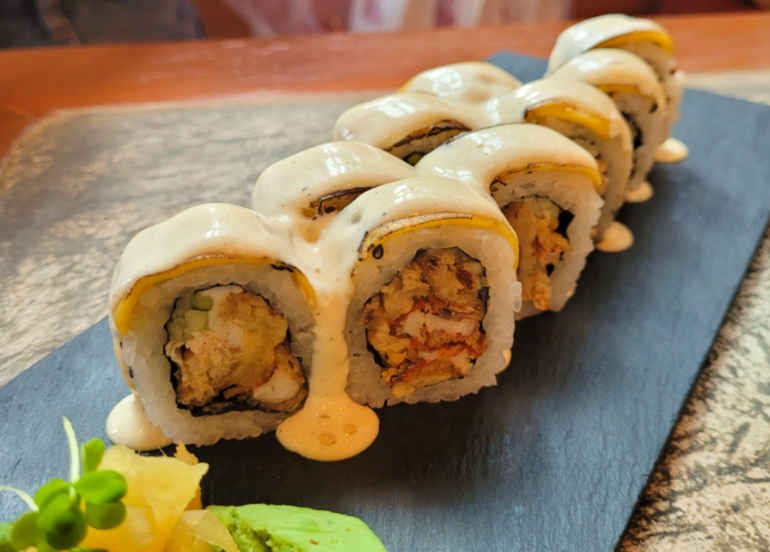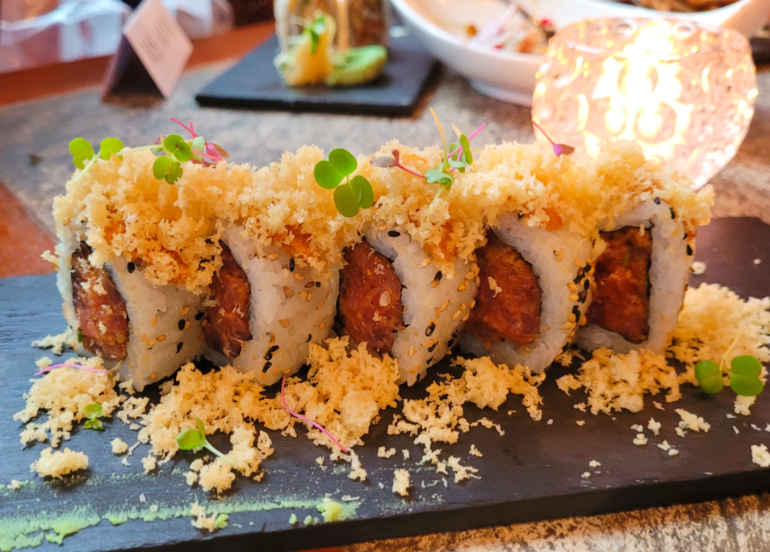 An absolute must-try is also their famous Ceviche–fresh and vibrant.
The dish features tuna tossed in a bright tamarind leche de tigre sauce; garnished with red chili, red onions, and cilantro; then topped with crisp calamari and glazed sweet potato.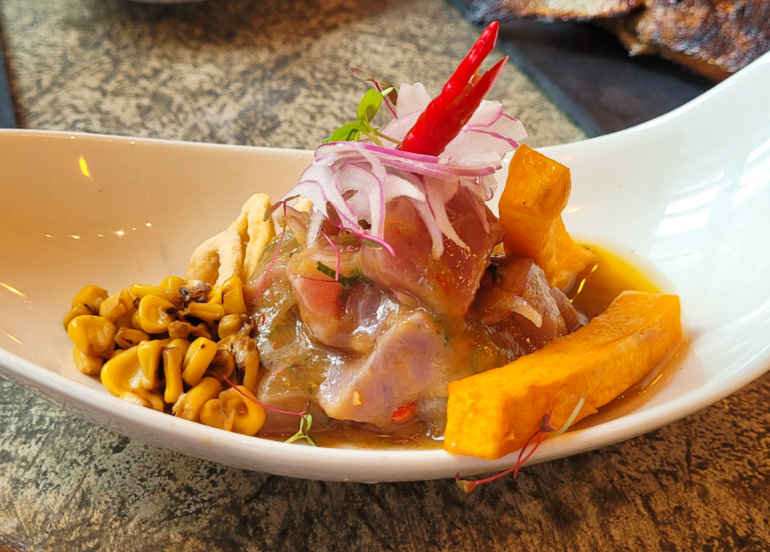 Equally delicious was the Scallops with Uni Sauce. The uni sauce that draped over the seared scallops and sushi rice is a burst of umami flavor, bringing the whole dish together.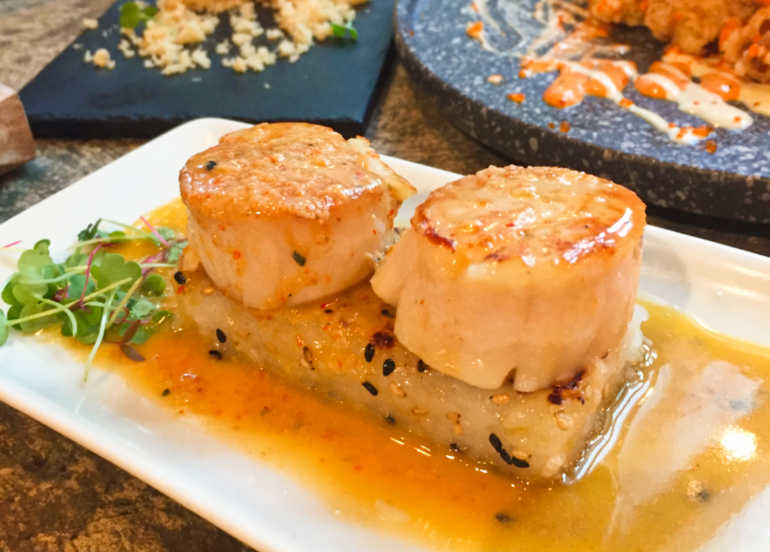 Pleasing to the eyes and even more to the mouth is this Chipirones Fritos.
A mountain of crispy, fried baby squid drizzled with miso mayo, rocoto mayo, tobiko, and togarashi. An addicting dish, for sure, perfect to go with Nikkei's cocktails (yes, they serve booze!).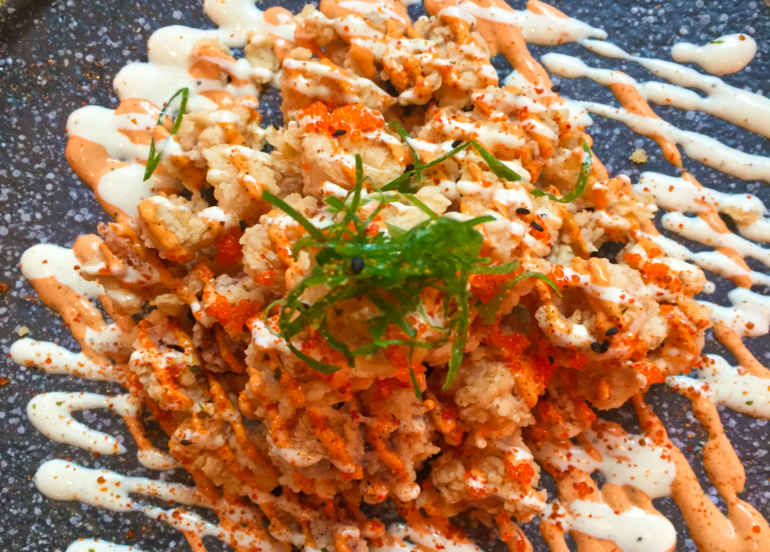 Last but not the least is one of Nikkei's Mains, the Grilled Salmon Belly with Mushroom Risotto.
The salmon belly meat is tender and its exterior slightly charred. It pairs wonderfull with the creamy risotto which includes shiitake, shimeji, and enoki mushrooms; mixed with asparagus, hauncaina sauce, and parmesan chese.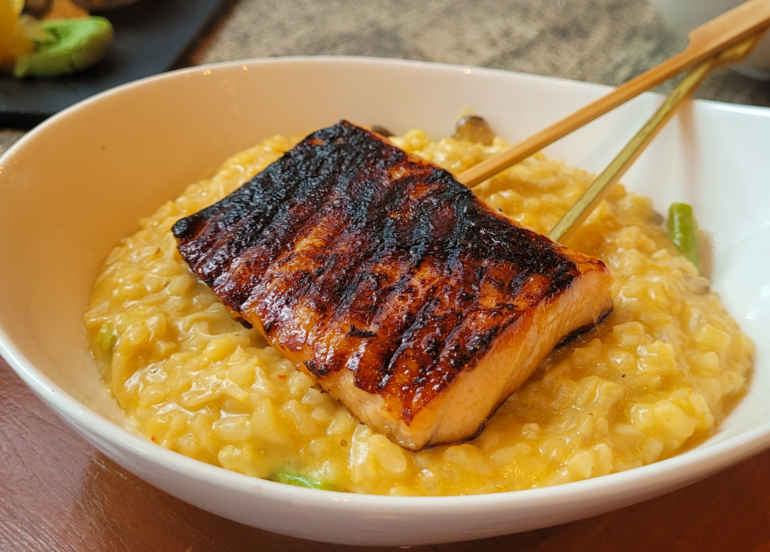 Nikkei Robata is Your Next Must-Eat Destination
More dishes await you here at Nikke Robata! To view their full menu, check out this link.
Find them at this location: G/F Uptown Ritz 36th St. corner 8th Avenue, Uptown Ritz, Uptown Bonifacio, Taguig. The are open Sunday to Thursday, 11 am to 10 pm; and Friday to Saturday, 11 am to 11 pm.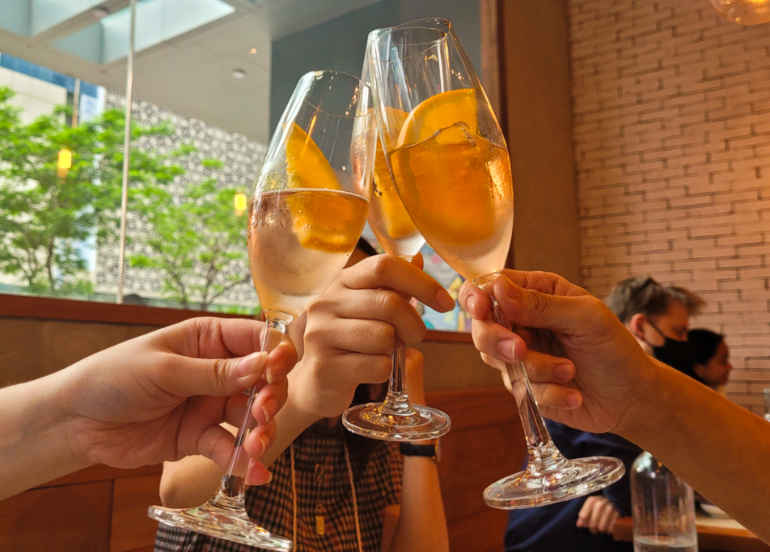 Reservations are available
View their website
View their Facebook page
View their Instagram account
G/F Uptown Ritz 36th St. corner 8th Avenue, Uptown Ritz, Uptown Bonifacio, Taguig
0975 087 0428 or 0945 593 7143
We know you loved using the Booky app for discovering the newest places in your city. Given these extraordinary times, we want to continue being helpful so check out our updated food delivery guide, where to shop for groceries online, and more.
Cover image from Nikkei