Have you tried one of these babies? They taste Meiji-cal.
Milk tea lovers, hear us out! We just spotted the next big thing in the boba scene – it's the Meiji Apollo Strawberry Chocolate milk tea flavor!
It uses these small Mt. Fuji-shaped chocolates that's half strawberry and half chocolate as its main ingredient. This classic Japanese treat is finally available in drink form!
Here's where you can get your strawberry chocolate milk tea fix.
Check Out: Your Guide to Milk Tea Shops Available for Delivery
This milk tea shop assures its customers that it uses only the original Meiji Apollo candies and nothing else — not powder or any other ingredient. Each cup is carefully handcrafted by their baristas so you can be sure you're getting what you paid for.
For as low as ₱100 on their small size, you can sip the refreshing goodness from their limited-edition cups. A medium-sized cup costs ₱120 while a large-sized cup costs ₱150.
Send them a message on their Facebook page or Instagram account to place an order. They do in-house delivery or via third-party couriers like LalaFood, LalaMove, Mr. Speedy, and Grab Express.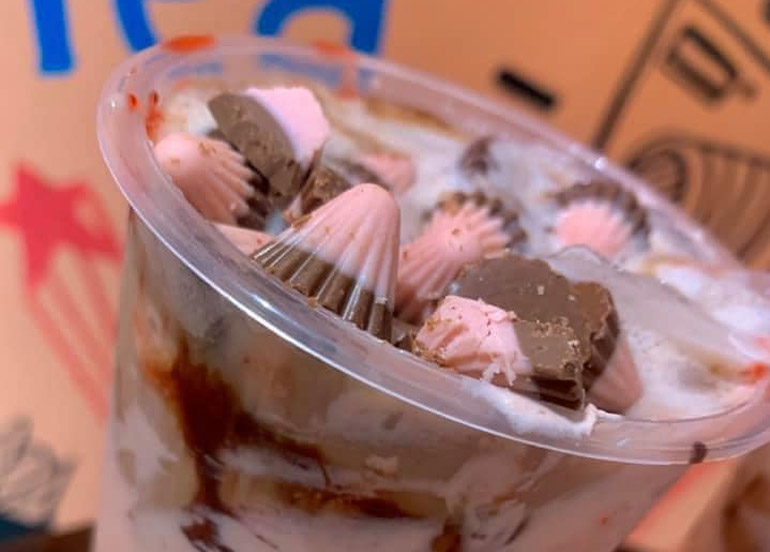 Previously featured on local television for their avocado drinks, The CRAVE Bar is making waves again with their newest flavor. You can get their version of strawberry chocolate drink in frappe (₱120) or milk tea (₱100) variant.
They are available on Grab Food and Food Panda, but you may also place an order by calling or texting the branch that's most convenient for you.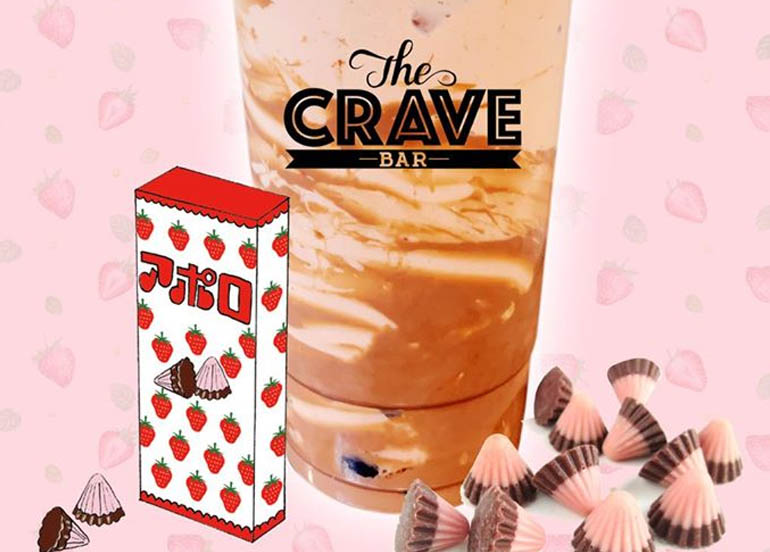 Aside from their Meiji strawberry chocolate flavor, this milk tea house also offers a drink version of our favorite sweets like Snow Rabbit milk tea, Hershey's milk tea, Safari milk tea, Chocnut milk tea and even a Nerds Candy milk tea flavor.
They're currently running a buy one, take one promo on their Meiji Apollo milk tea for only ₱210.
To order, hit them up on their Facebook page. Labestra offers pickup and delivery services for your milk tea needs.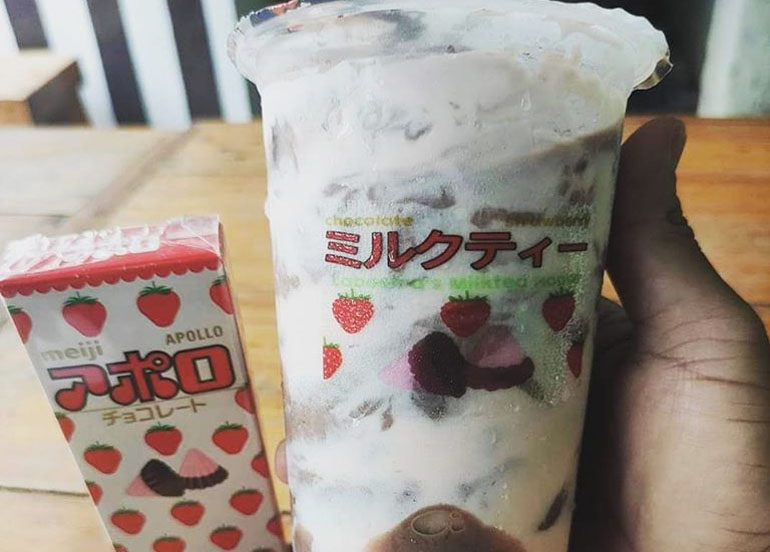 As requested by their loyal customers, Forestea just added this yummy concoction to their milk tea menu.
They are open daily from 9 a.m to 6 p.m. and are available for pick-up, takeout, and delivery. You may contact them on their mobile number (0950) 987-3200 or send them a message on their Facebook page.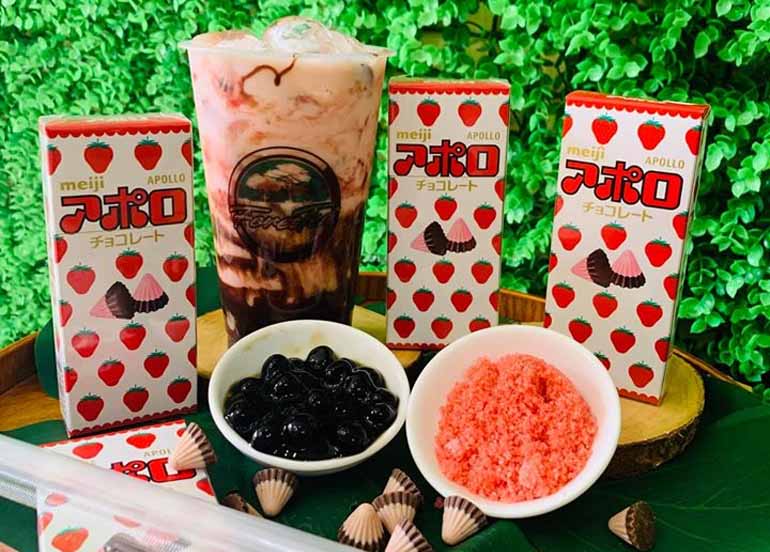 View their Facebook page
View their Instagram account
Farconville Phase 1 Brgy. San Francisco Calihan San Pablo City
(04) 9566-7082; (0950) 987-3200
This humble milk tea place located at the heart of San Mateo, Rizal offers the Meiji Apollo milk tea in large (₱110) and 1 liter (₱130) sizes. Go crazy with that berry-choco goodness!
They deliver around nearby areas from 1 p.m. to 7 p.m. while their store hours are from 10 a.m. to 7:30 p.m. You can even avail of their free delivery service if you purchased a minimum of ₱300 worth of food or beverage.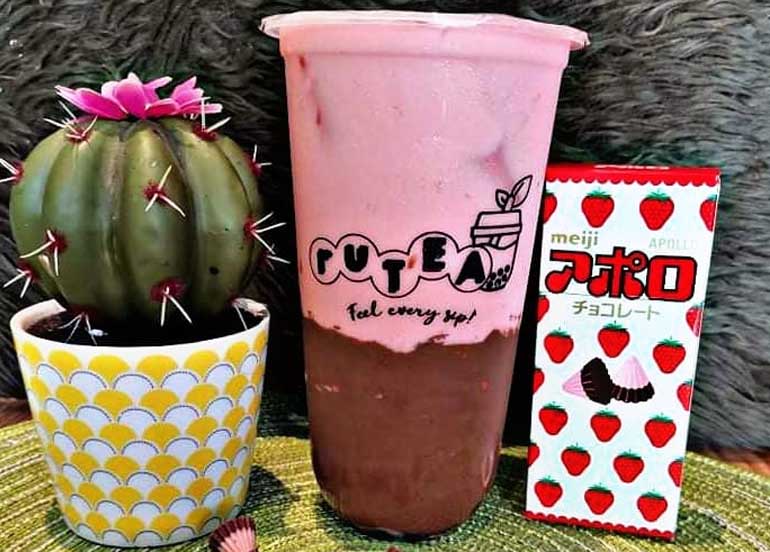 View their Facebook page
Gen. Luna St. Dulongbayan II San Mateo, Rizal
(0905) 968-4048
A Little Princess's Miss Minchin may have been a cruel and bitter character in the cartoons, but this milk tea shop with her namesake promises only sweet and tasty experiences for its customers. They blended the strawberry chocolate candies with premium strawberry fruits as the base of the drink.
Ms. Minchin's version is priced at ₱109 for a Sarah-sized (medium) cup.
Their products are ready for takeout, pickup, or delivery via GrabExpress, LalaMove, Angkas Padala, or Mr. Speedy. Drop them a message on their Facebook page or call or text them at (0967) 823-8500. Ms. Minchin's Tea House is open from Monday to Sunday from 12p.m. to 5 p.m.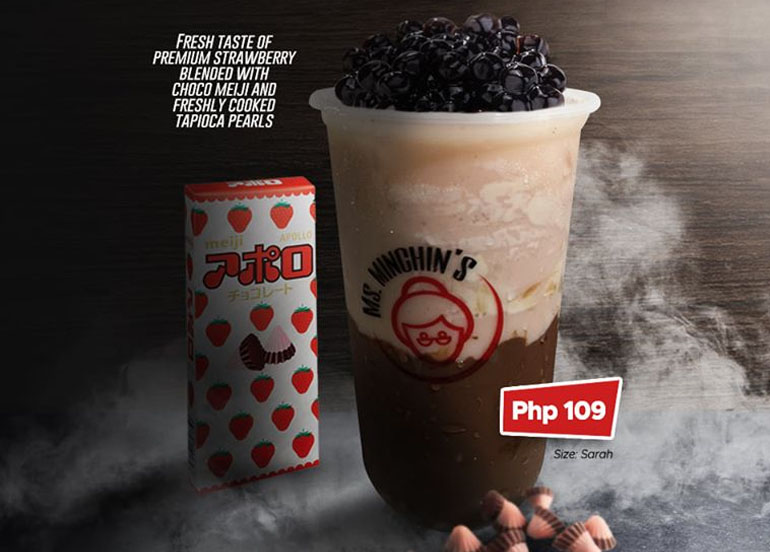 View their Facebook page
97 Kabesang Pino St. Pariancillo Villa, Valenzuela City
(0967) 823-8500

Despite their fishy (and pun-ny) shop name, you can count on Tea Laugh Yah to deliver rich drinks that's easy on the budget. They announced that the hyped Meiji Apollo Strawberry Chocolate milk tea flavor will be available on their shop this coming Thursday, August 20.
You may send them a message on their Facebook page to order. They are open for delivery and pick-up.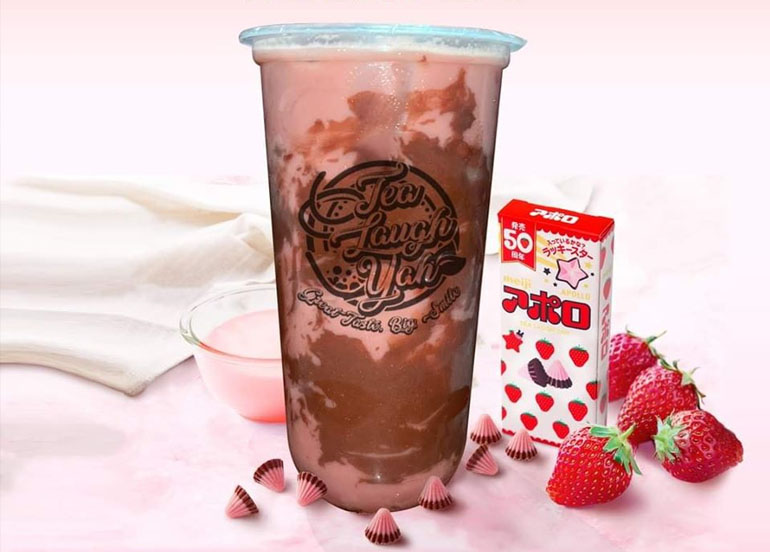 We know you loved using the Booky app for discovering the newest places in your city. Given these extraordinary times, we want to continue being helpful so check out our updated food delivery guide, where to shop for groceries online, and more.
Cover image from Forestea Milktea's Facebook page