Have a refreshing drink under the sun!
People may say that the milk tea hype has died down; however, with new branches popping out within and even beyond the metro, who can say for certain? If you're craving milk tea and you're by the shores in Boracay, you don't need to go to the metro for a cup. Instead, head to Macao Imperial tea's newest branch!
Also featured: Your Guide to Shops Available for Milk Tea Delivery
Opened last August 19, Macao Imperial tea's newest branch opened at Station 1, Boracay (Beside Astoria) where both locals and tourists can enjoy their popular drinks such as Cheesecake and Pearl Milk Tea, Black Pearl Milk tea, Cheesecake Oreo, and more as well as coffee and pastries to boot!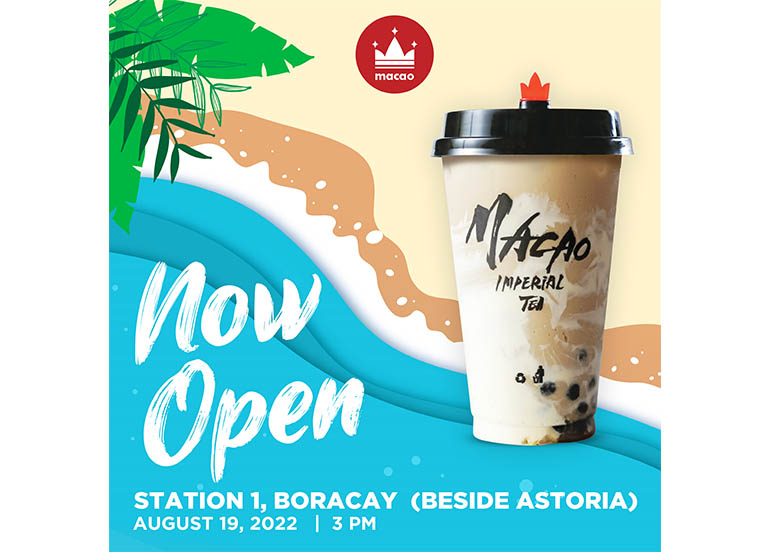 Note: They are open from 8 AM to 9 PM, Mondays to Thursdays and 8 AM to 10 PM from Friday to Sunday. You can even have a selfie with their Macao Imperial Tea-themed paraws.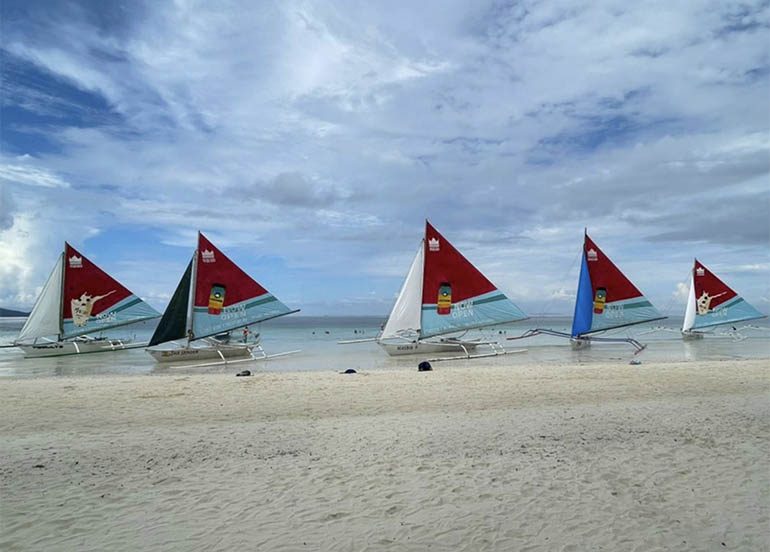 Just because you're on a vacation doesn't mean that your cravings should also take a break. So, when you fancy some milk tea, head to Macao's newest branch for a cup or two!
Want to know more about Macao Imperial Tea?
Keep reading!
Hailing from the 'Vegas of China', Macao Imperial is one of the fastest-growing cafe chains with over 200 branches in Macau, Vietnam, China, the United States, and now – the Philippines. They're best known for their cutest drinks placed in their own tumbler bottles.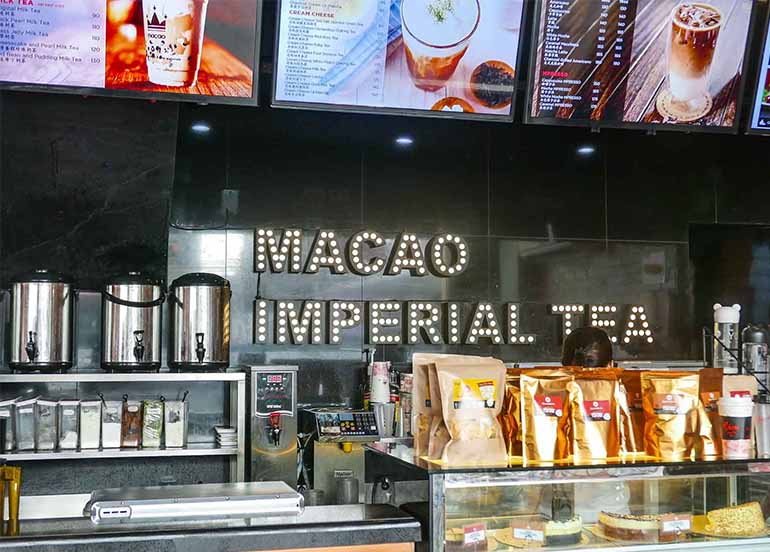 Now, if you're new to Macao Imperial Tea and you just want a cup of milk tea, coffee, or a non-caffeinated drink but you don't know what to order, allow us to give you a hand. Check down below for a quick guide on what you can order from the Macao Imperial Tea Menu.
Tea Series
Tea in its pure unadulterated form, Macao Imperial Tea's tea drinks are refreshing, tart, and light – perfect for those who have an inclination to fruit teas and tea in general.
Flavors: Brewed Lemon Iced Red Tea, Kumquat Lemon Tea, Cranberry Tea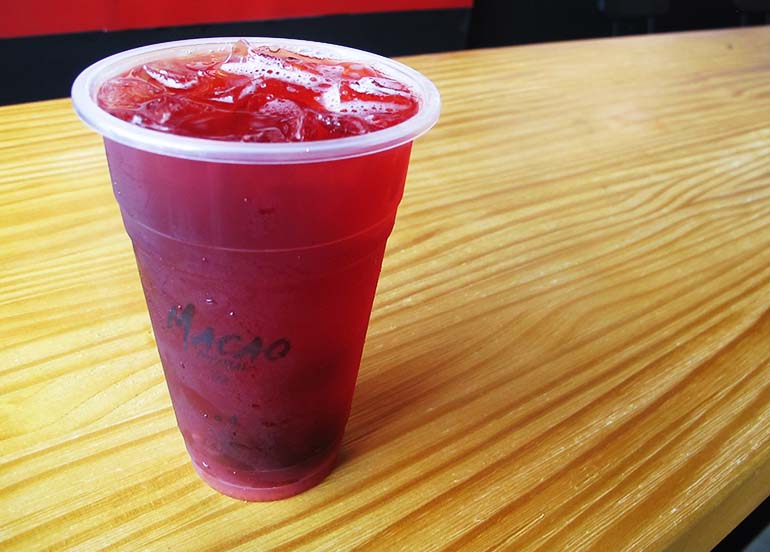 Milk Tea Series
Macao Imperial Tea is known for, first and foremost, their milk tea! Albeit having variations of their milk tea which are more popular, they also serve up the classics for those who are new to milk tea or those who prefer the original.
Flavors: Original Milk Tea, Black Pearl Milk Tea, Grass Jelly Milk Tea, and Red Bean and Pudding Milk Tea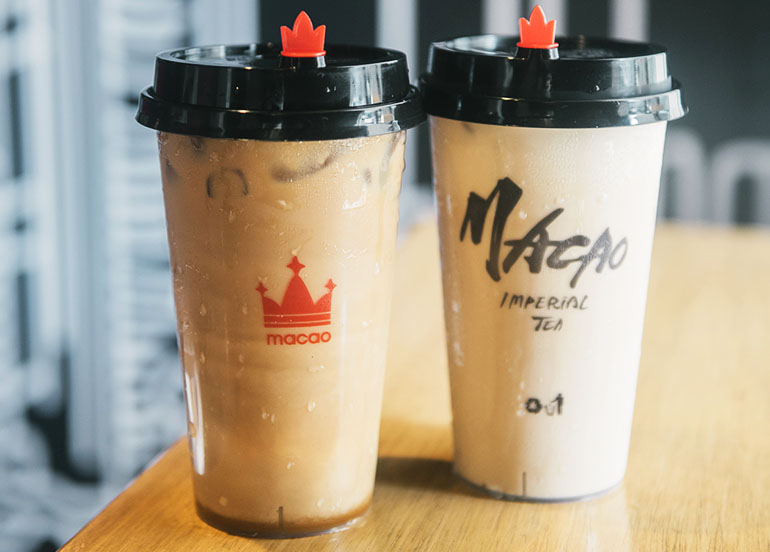 Cream Cheese Series
One of the many upgraded versions of their milk tea, Macao Imperial's cream cheese series is iconic because of its tangy and salty cream cheese topping. Whether you prefer tea with milk or without, they have drinks that may just tickle your fancy.
Flavors (Tea + Cream Cheese): Cream Cheese Sea Salt Jasmine Green Tea, Cream Cheese Osmanthus Oolong Tea, Cream Cheese Red Rose Tea, Cream Cheese Four Seasons Tea, Creme Cheese White Peach Oolong Tea
Other flavors: Cream Cheese Milk Tea, Cream Cheese Cocoa, Cream Cheese Orea Milk Tea, and Cream Cheese Uji Matcha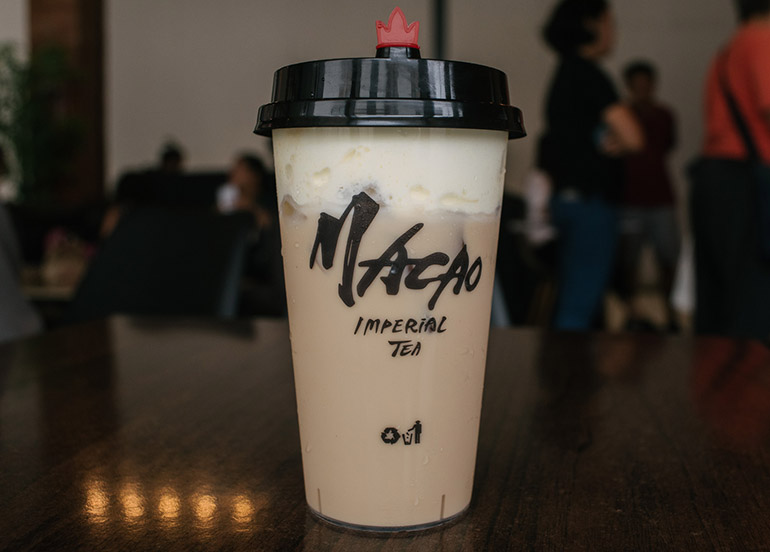 Chestnut Cream Series
If you prefer your topping sweeter and lighter than cream cheese, then we suggest that you order the Chestnut Cream Series of Macao Imperial Tea.
Flavors: Chestnut Cream Jasmine Green Tea, Chestnut Cream Osmanthus Oolong Tea, Chestnut Cream Tea, Chestnut Cream Cocoa, and Chestnut Cream Uji Matcha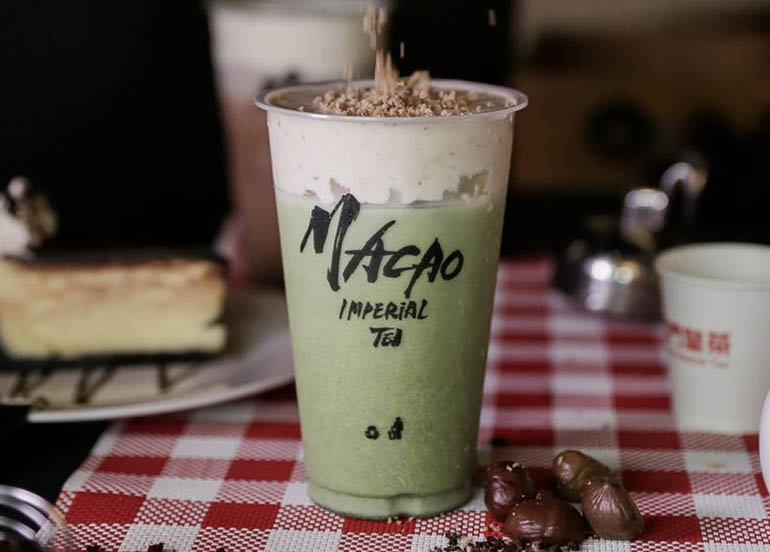 Cheesecake Series
Compared to the Cream Cheese Series where the cream cheese is placed on top, Macao Imperial's Cheesecake series swipes the cream cheese on the sides on the cup so you can enjoy the topping and the drink simultaneously.
Flavors: Cheesecake and Pearl Milk, Cheesecake Panda, Cheesecake Purple Taro, Cheesecake Oreo, Cheesecake Matcha, Cheesecake Cocoa, and Cheesecake Taro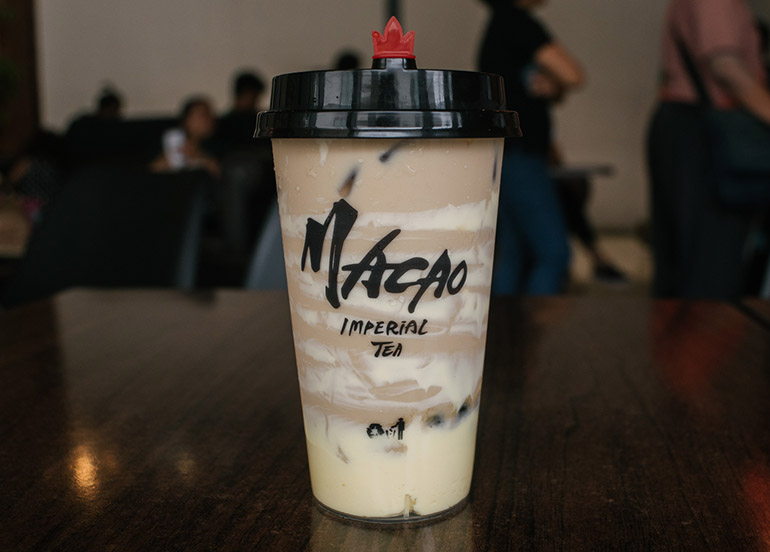 Special Drinks
Wondering what exactly makes these drinks special? Why not try them out? One thing's for sure however, they're nothing like the drinks you find anywhere else on their menu.
Drinks: For You, For Me, Kitten Milk Tea, Osmanthus Oolong Tea, Hot Matcha, Black Syrup with Tapioca Pearls, and Ginger Milk Tea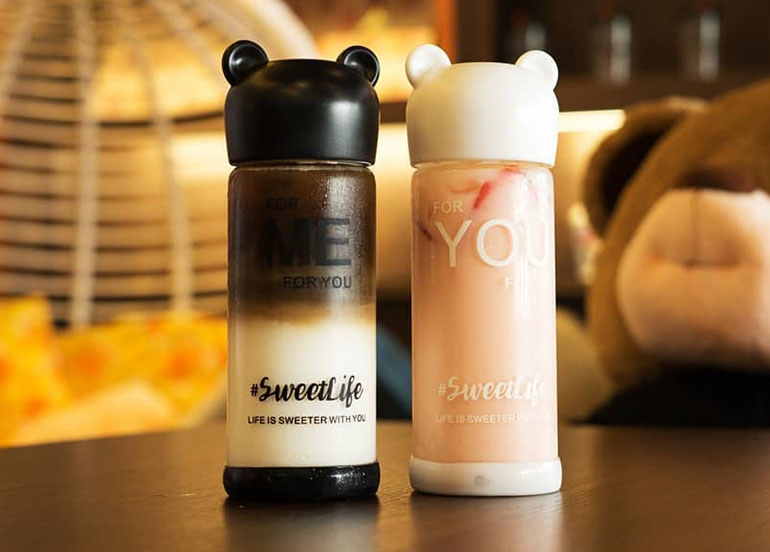 Special mention! Matcha and Red Bean fans there's a series from Macao Imperial Tea which you have to try called the "Red Bean Series" which has two drinks: Red Bean and Pudding Matcha and Red Bean and Matcha Milk Shake. 
Coffee Series/MPresso
Calling all coffee lovers, you don't have to go to another store to get your coffee fix 'cause Macao Imperial's got a series for you too.
Flavors: Cappuccino, Mocha, White Mocha, Caramel Macchiato, Latte, Americano, and Caramel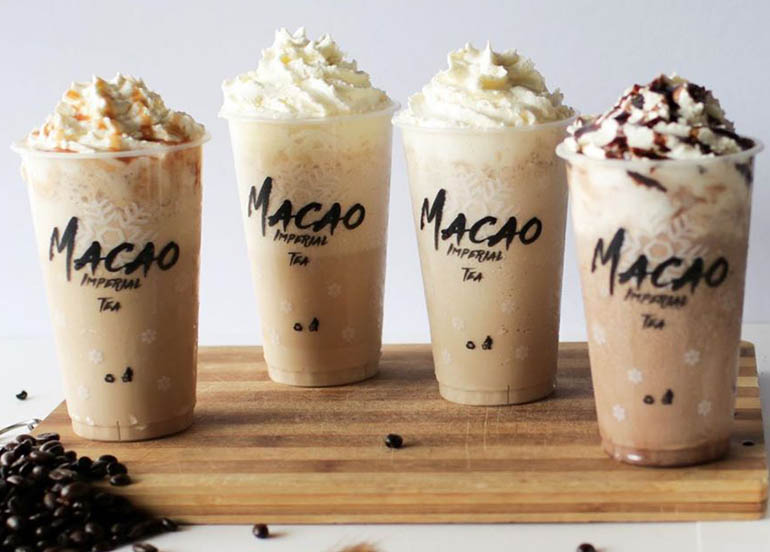 Yakult Series
Can't get enough of Yakult? If so, you'll definitely love their Yakult series which features drinks infused with none other than Yakult.
Flavors: Yakult Green Tea, Mango Yakult, and Lemon Yakult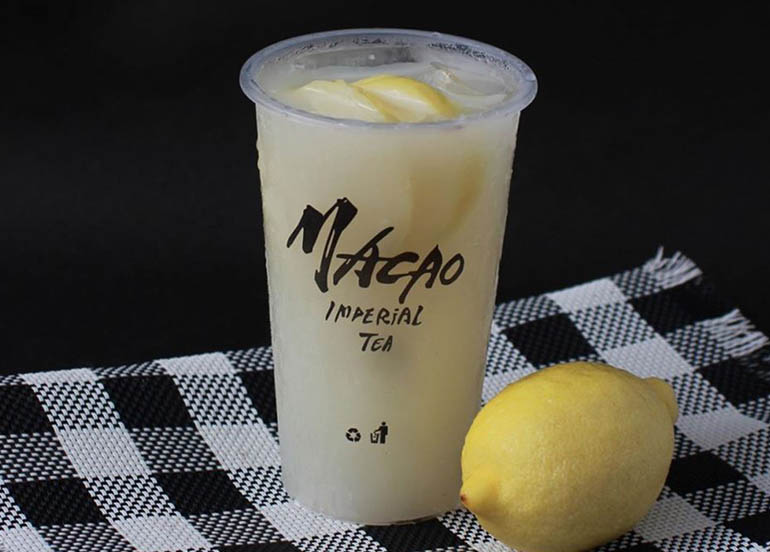 Soda Series
There's nothing more refreshing than a cold flavored soda on a hot summer day. It's a good thing that Macao Imperial also offers a number of flavored sodas you can enjoy during those kinds of days.
Flavors: Blue Caracao Soda, Cherry Blossom Soda, Green Apple Soda, Midsummer Soda, Lemon Fizz Soda, and Over the Rainbow Soda.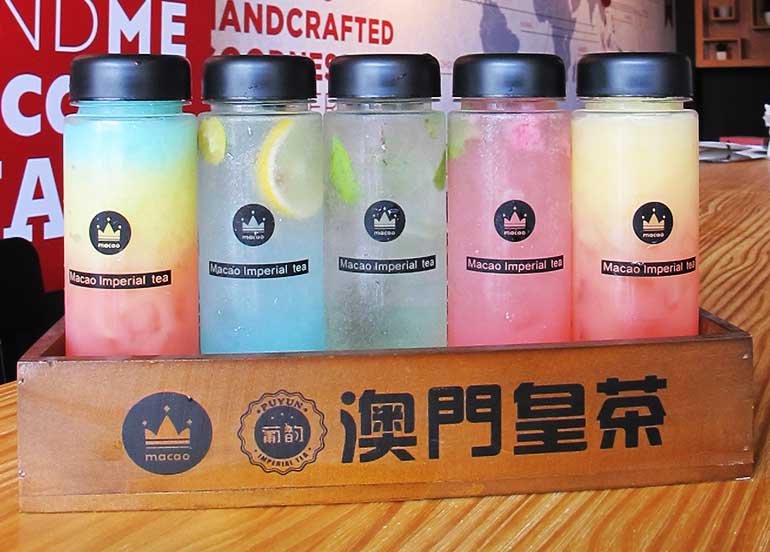 For more information, you may check out their menu, their social media accounts, and their branches.
View menu
View their delivery website (powered by Booky)
View their Facebook page
View their Instagram account
View their branches
We know you loved using the Booky app for discovering the newest places in your city. Given these extraordinary times, we want to continue being helpful so check out our updated food delivery guide, where to shop for groceries online, and more.