'Atchara' is to pickle as 'Adobo' is to marinate.
When we say atchara, we think of Filipino barbeques, Lechon, and even silogs. They're just the perfect side dish that balances and complements classic Filipino dishes and sometimes even doubles as a palate cleanser. It provides a fresh, crispy, sweet, and tangy bite to your meals without being too overpowering and taking the spotlight off the main star of the show.
Related: Everything You Need to Know About Fermenting Food and Drinks at Home
Though atchara is commonly associated with unripe papaya, the word 'atchara' directly translates to pickle. In other words, atchara can consist of a variety of vegetables and fruits and is not just exclusive to unripe papaya. The basic component of atchara is unripe or green papaya but the addition of carrots, bell peppers, garlic, ginger, and/or raisins, etc. will entirely depend on what you're looking for. And to prove just how easy it is to make your own atchara, we put together a quick and simple guide to get you started on your pickling journey.
1. Choosing and Prepping Your Veggies
The best thing about atchara is that you can pickle just about anything. Once you've figured out the ingredients you want to use for your atchara, ideally, your veggies should be julienned, sliced into matchsticks, or even grated. The thinner the vegetables, the faster the pickling process.
2. Prep Your Pickling Liquid or Brine
Mix together your pickling solution and bring it to a boil. The pickling liquid often consists of vinegar, water, sugar, and salt. The ratio is dependent on your taste preference. Some opt for a sweeter atchara while others go for a sweet and salty profile.
3. Fill Your Sanitized Jars
It's important that you use a sanitized vessel to store your atchara. Stuff the jar with your veggies of choice and carefully pour the liquid into the jars until it covers the vegetables.
4. Cool and Refrigerate
Allow the pickled vegetables and the jar to cool without the lid before sealing and storing in the fridge. Let it pickle for at least two days before consuming.
Atchara Recipe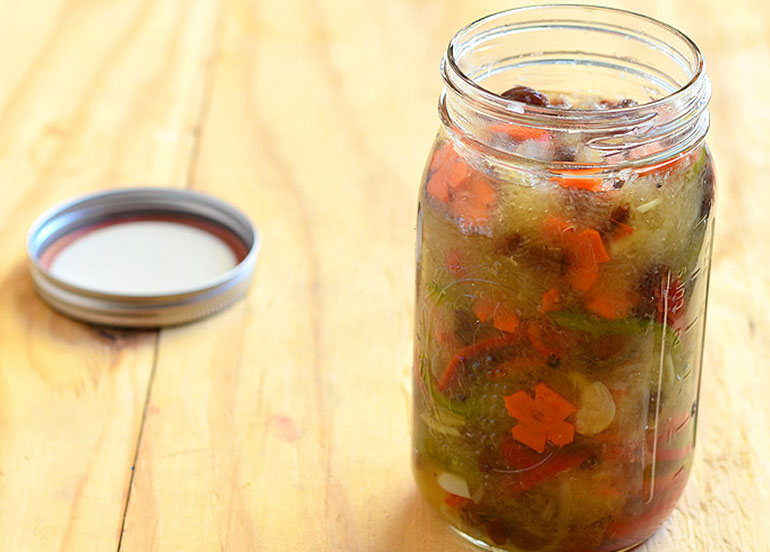 Recipe by Kawaling Pinoy.
Ingredients
1 large unripe green papaya, peeled, seeded, and shredded
2 tablespoon and 1 teaspoon of salt
1 and 1/2 cup of white vinegar
1 cup of sugar
1 thumb-sized ginger, peeled and julienned
1 small onion, peeled and sliced thinly
3 to 4 cloves garlic, peeled and crushed
1 tablespoon of peppercorns
1/2 small red bell pepper, seeded and julienned
1/2 small green pepper, seeded and julienned
1 large carrot, peeled and shredded
1/4 cup of raisins
For the full procedure, visit Kawaling Pinoy.
We know you loved using the Booky app for discovering the newest places in your city. Given these extraordinary times, we want to continue being helpful so check out our updated food delivery guide, where to shop for groceries online, and more.