Eat in the middle of shopping or shop in the middle of eating.
Located in Burgos Circle, Eesome brings good food and great finds under one roof: the first floor is where you'll find their cafe, bar, and restaurant, while the second floor houses their retail space and ice cream shop. Browsing through shoes while enjoying an in-house swirled cup of ice cream is a highly recommended experience
Tip: Try to find where their VIP section is. 
Even if you don't consider yourself a sneakerhead, their restaurant is worth the visit. And, moving from restaurant to retail are two different aesthetics, with the spiral staircase creating a transition between the two.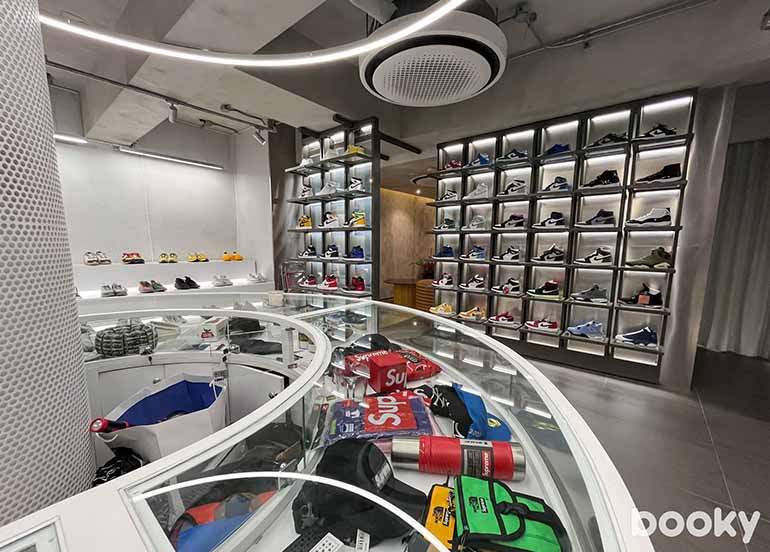 As for the restaurant, feast your eyes on its beautiful interiors: smooth curves and the sleek combination of concrete and tiles welcome you as you step into their revolving door.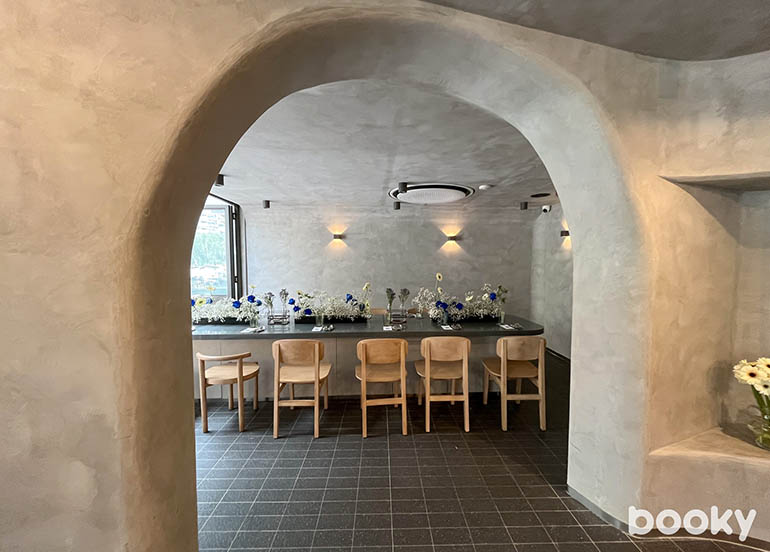 Their table in front of the bar is reminiscent of garlic sliced right in the middle; an appreciated quirky detail.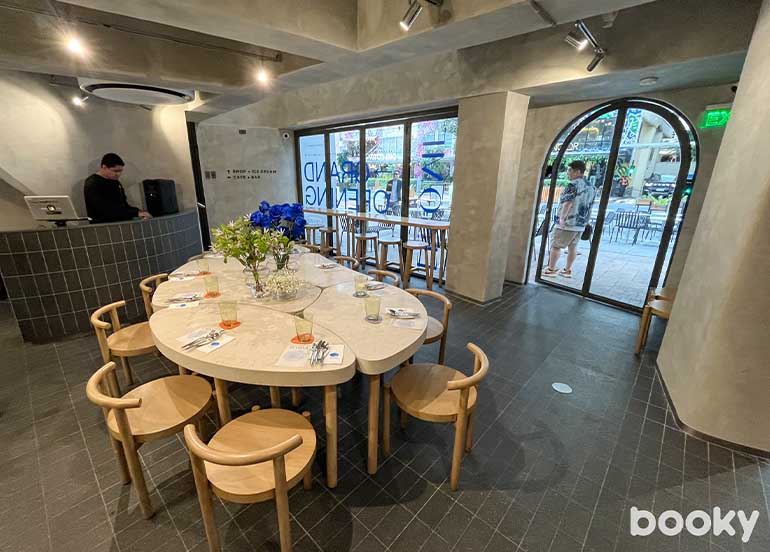 Then you can have your fill with their dishes and drinks.
Pulpo Ceviche
It's a launch special of perfectly cooked octopus, and cilantro in citrus vinaigrette, cocooned in pani puri that gives a pleasant contrast of chew and crunch with a light kick from the green chili.
Note: This dish isn't on their regular menu.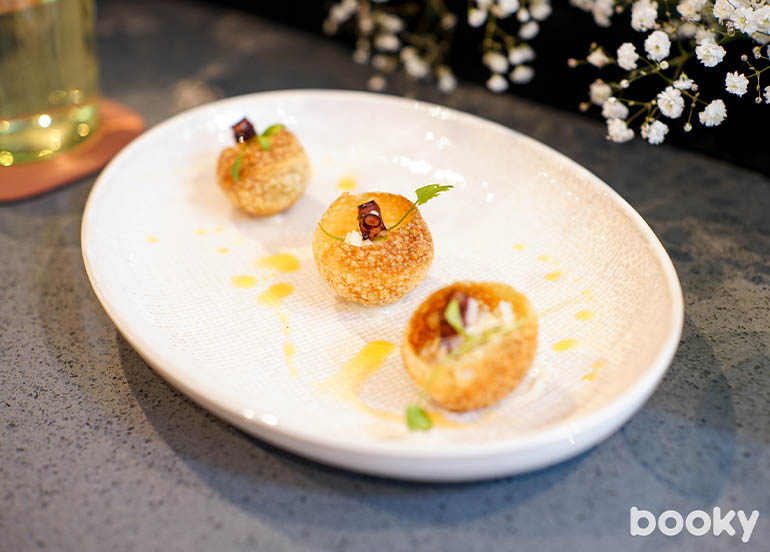 Arugula Shrimp Salad
It's made of cherry tomatoes, asparagus, and snow peas drizzled in a truffle vinaigrette and was smokey yet refreshing.
Tip: The staff recommended enjoying it with their G&J: a concoction of gin, orange, agave, and aperol.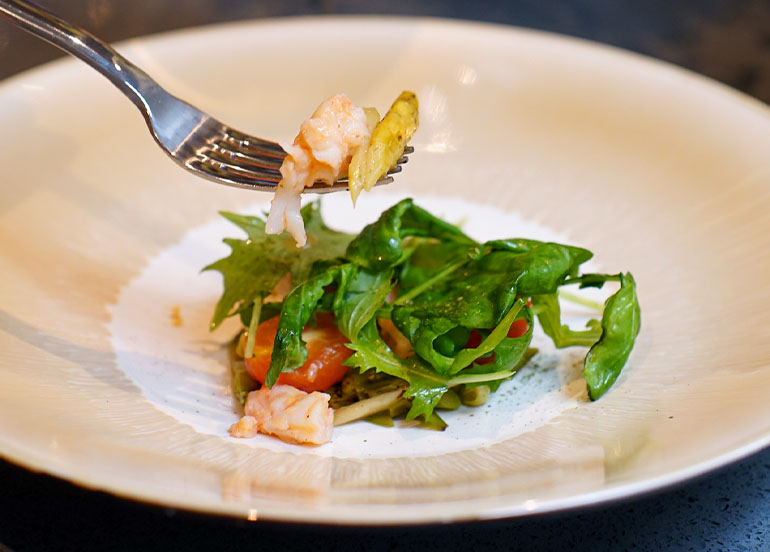 Grilled Mahi
This dish's mahi was tender and came with bok choy, onion, and cilantro oil.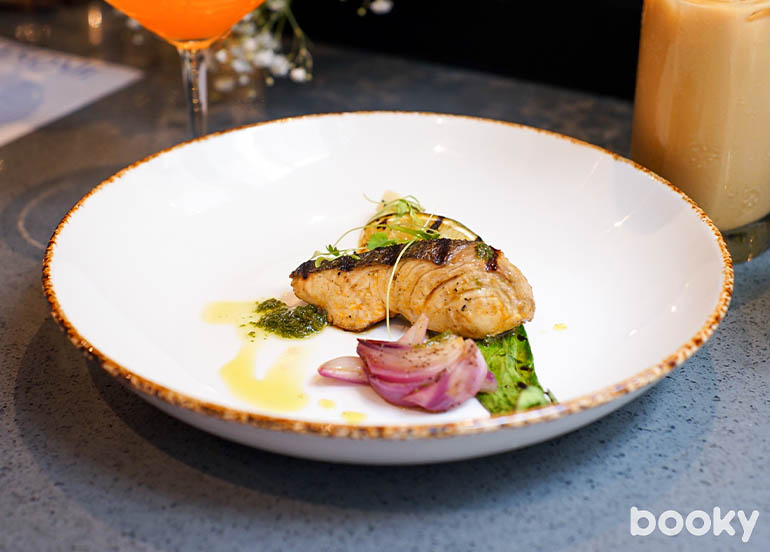 Tip: Pair this with their Off White-Sour. The inclusion of refreshing ingredients is a common theme in Eesome's dishes, which serves to highlight the variety of flavors that all come together in each item.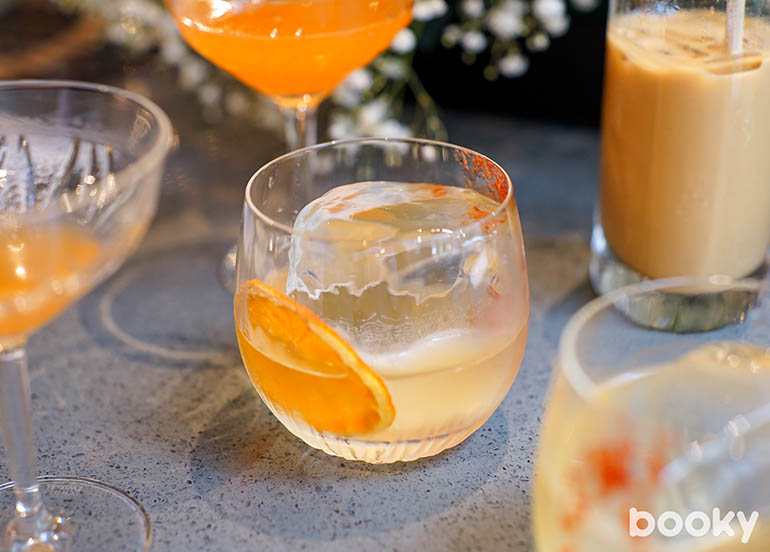 Short Rib Agnolotti with Charon
It's a stuffed pasta with savory beef charon, crispy garlic chips, topped with truffle cheese foam to make an indulgent dish.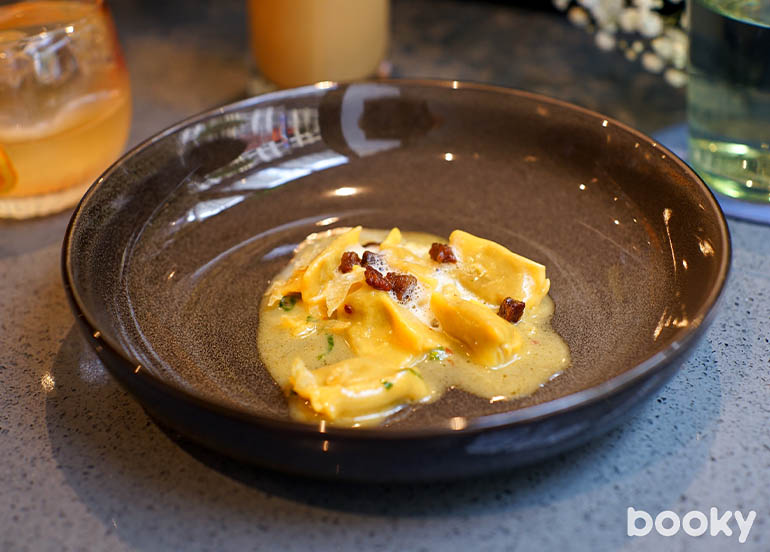 Tip: Pair this with a gin & tonic. It's refreshing, and their selection is a great introduction to those who are exploring liquors and spirits.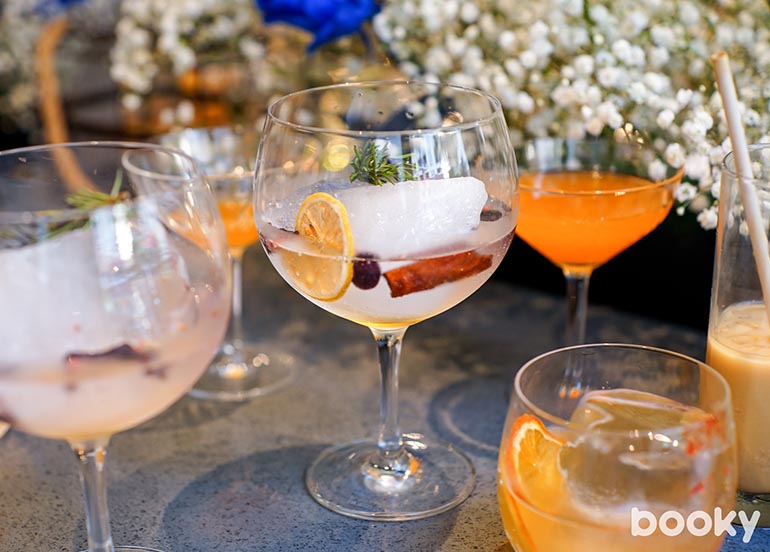 Mango & Coconut Panna Cotta.
Coconut lovers will fall in love with this dish topped with mango sorbet, coconut tuile, and toasted sticky rice. More than just the strong coconut flavor is the range of textures from the silkiness of the base, to the crispiness of the tuile, to the cool crunch of the sorbet.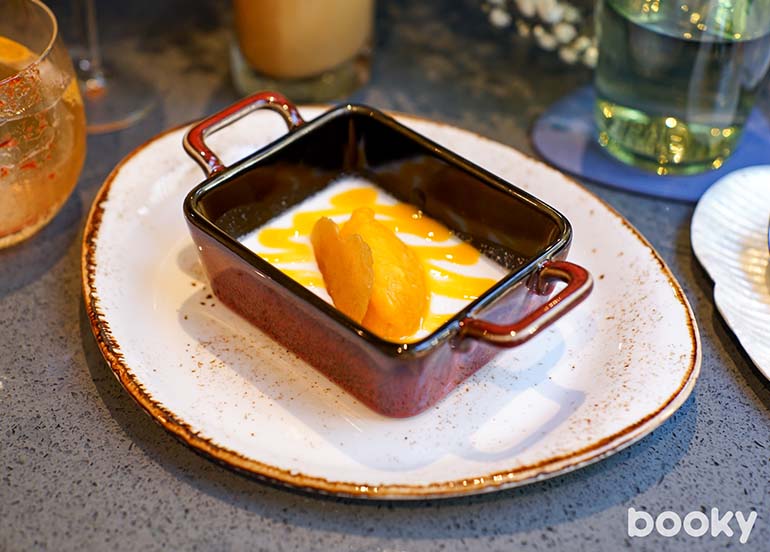 Sea Salt Late & Hazelnut Latte
There for the coffee? Enjoy waking up with these coffee drinks, both of which did not skimp out on either caffeine or flavor. If those don't quite tickle your fancy, their coffee menu offers a wide variety of items that can come hot or iced.
Enjoy delicious dishes and strong drinks (whether it be coffee or cocktails) in a beautiful space. Drop by and experience where retail and resto meet, they're open daily with the following operating hours: Cafe: 9 AM – 8 PM | Restaurant + Bar: 10 AM – 2 AM | Shop: 11 AM – 2 AM.
To know more about the brand, check out their social media accounts:
For more updates on everything trending and delicious with food, don't forget to follow our social media pages.
View our website
View our Facebook page
View our Instagram account
View our Twitter account
We know you loved using the Booky app for discovering the newest places in your city. Given these extraordinary times, we want to continue being helpful so check out our updated food delivery guide, where to shop for groceries online, and more.Order direct from restaurants. Enjoy the best prices. ORDER NOW