Fudging easy to make!
Christmas is just around the corner and we want to make our homes extra sweet and festive with chocolatey desserts. Why not surprise your loved ones and make these yourself!
If baking intimidates you, don't worry because here's a list of super easy chocolate recipes (most of them are no bake!) that you can make at the comfort of your homes. Nama chocolate, chocolate truffles and chocolate cheesecake? EASY.
Fudgy Mug Brownie
Can you believe you don't have to use an oven for this recipe? Just pop it in your microwave and let it cook for 40 seconds!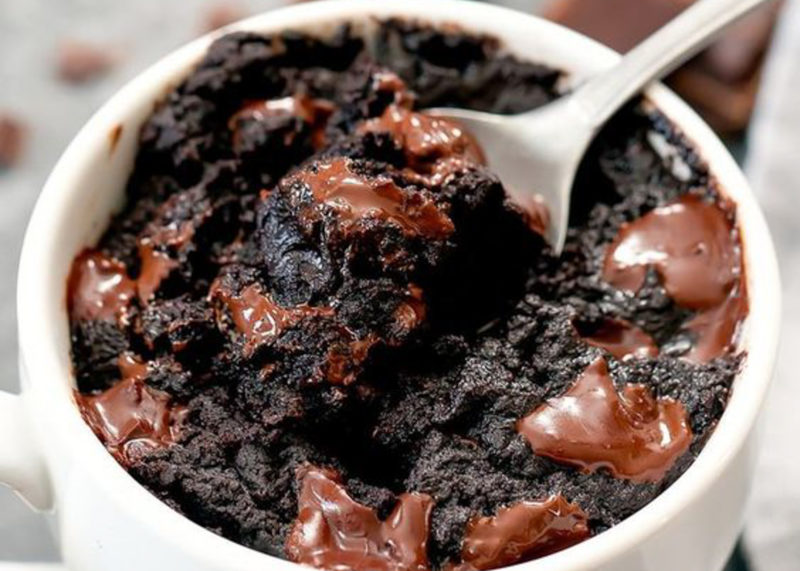 Here's the recipe from Kirbie's Cravings,
Ingredients
2 1/2 tbsp cocoa powder
1 1/2 tbsp all purpose flour
2 tbsp granulated white sugar
2 tbsp oil canola, vegetable or olive oil
2 tbsp water
1 1/2 tbsp chopped dark chocolate
Instructions
In a microwave-safe mug, add cocoa, flour, and sugar. Whisk them all together. Then add oil and water. Whisk them all together until the batter is smooth.
Add half of the chopped chocolate and briefly stir into the mixture.
Place your mug in the microwave and let it cook for 40 seconds. Top of the brownie shouldn't be wet.
Let it cool for a few minutes then you're ready to take a spoonful of this chocolatey treat.
Nama Chocolate
To those who tried Royce' Nama Chocolate can easily say that it's one of the best forms of chocolate that ever existed. Here's a simple recipe hack that you can try for yourself!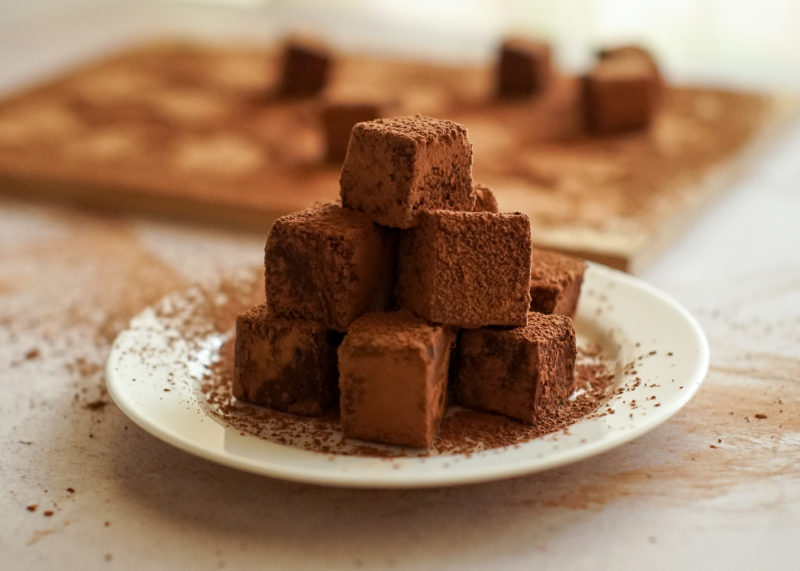 Here's the recipe from Just One Cookbook,
Ingredients
400g good quality dark chocolate (70% cacao)
200ml (3/4 cup + 1 tbsp) heavy whipping cream
1 tbsp liqueur of your choice (optional)
unsweetened cocoa powder
Instructions
Chop chocolate into smaller pieces for it to melt faster and more evenly.
Place parchment paper onto a baking dish (preferably 20cmx20cm baking dish size).
In a saucepan, add heavy cream and let it semi boil in a medium heat. Whisk it evenly.
When you see small bubbles around the saucepan, remove from the heat.
Add sliced chocolate into the heavy cream and stir to combine.
Mix the chocolate and cream until there are no lumps. The chocolate should be completely smooth.
If you like, add liqueur of your choice.
Pour the mixture into your prepared baking dish and smooth the surface with a spatula.
Tap the baking dish onto the counter a few times to evenly distribute the chocolate mixture.
Place it in your refrigerator and let it chill for about 4 to 5 hours.
After chilling for 4 to 5 hours, remove the chocolate from the baking dish.
Cut the excess chocolate around the edges to have nice sharp corners.
Warm up a sharp knife with a hot towel and cut the chocolate into 1" strips. Make sure to constantly clean and warm your knife before each cut to achieve a nice sharp cut. Then cut the strips into cubes.
Sprinkle cocoa powder on top. If you want all sides to have cocoa powder, you may dip in cocoa powder to coat all sides.
Serve in a plate and enjoy!
No oven? No problem… no gelatin? Not a problem at all!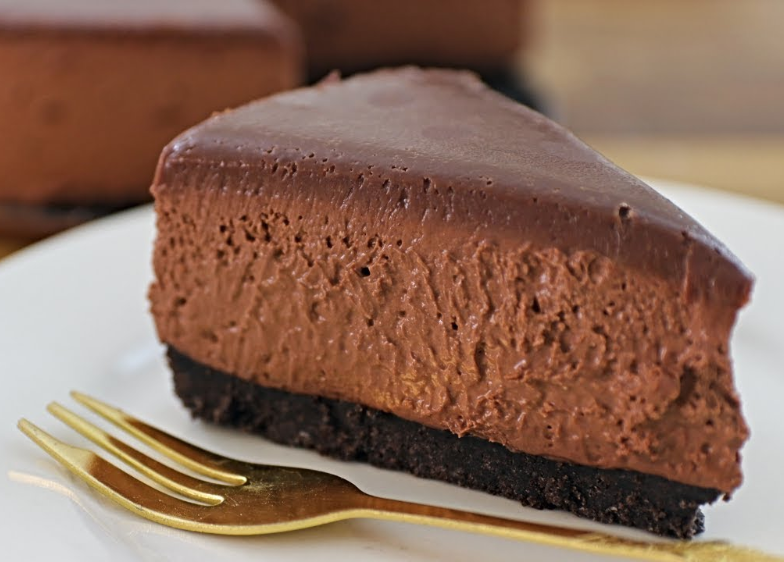 Here's the recipe from The Cooking Foodie,
Ingredients
For the crust
200g (7oz) Oreo cookies
1/4 cup (60g) butter, melted
For the filling
2 cups (450g) Full fat Cream cheese, room temperature
9oz (250g) Dark chocolate
1 cup (240ml) Heavy cream
2/3 cup (83g) Powdered sugar
1 teaspoon Vanilla extract
For the ganache
140g (5oz) milk chocolate
1/2 cup (120ml) Heavy cream
Instructions
To make the crust: In a food processor or a Ziploc bag, crush Oreo cookies into fine crumbs. Add melted butter and pulse until combined. Press into bottom of 8-inch (20cm) springform pan. Refrigerate while making the filling.
Chop the chocolate, melt in the microwave in 30 second pulses or over a double boiler.
In a large bowl beat cream cheese, powdered sugar and vanilla extract until smooth, add melted chocolate beat until combined and smooth.
In a separate bowl whip heavy cream to medium peaks. Gradually fold into the cheesecake mixture.
Pour the filling into the pan. Place in the freezer while making the topping.
Chop the chocolate, place in a large bowl. In a saucepan bring the heavy cream to a simmer. Pour over the chocolate. Let sit for 1-2 minutes. Stir until smooth. Pour over the cheesecake.
Refrigerate for at least 6 hours.
No Bake Chocolate Truffles
Chocolate Truffles are just too good to resist. You only need 4 steps to make these decadent little treats.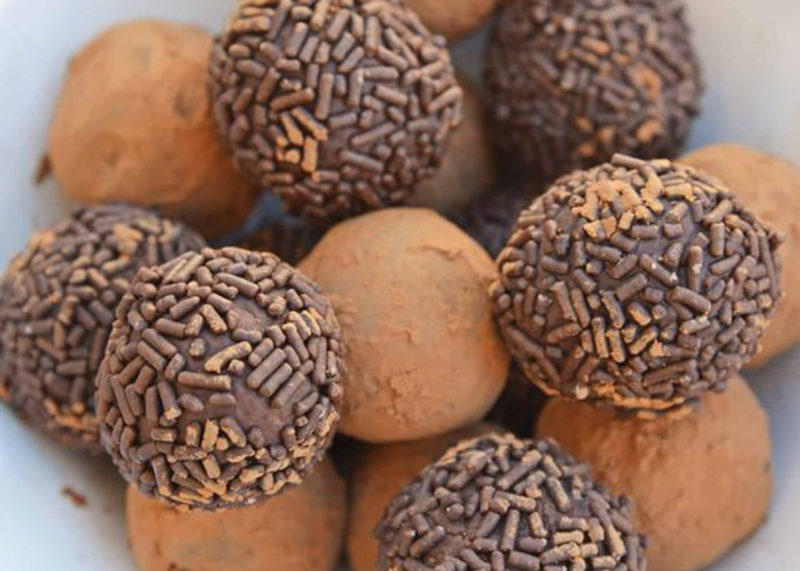 Here's the recipe from Savory Experiments,
Ingredients
14 oz. can sweetened condensed milk
3 cups semi-sweet chocolate chips
1 teaspoon butter
1/2 cup chocolate sprinkles, cocoa or powdered sugar
Cooking spray
Instructions
In a saucepan, combine condensed milk, chocolate chips and butter. Melt over low-medium heat until thick and glossy.
Coat a glass baking dish with cooking spray then spread the chocolate mixture into the bottom. Let it cool to room temperature.
Place the ingredients you plan to roll your truffles in into different bowls.
Using your hands, form into 1 1/2″ balls and roll in sprinkles, cocoa or powdered sugar (or anything you want!). Serve!
Chocolate Pots de Creme
This silky, smooth chocolate treat is super simple to make!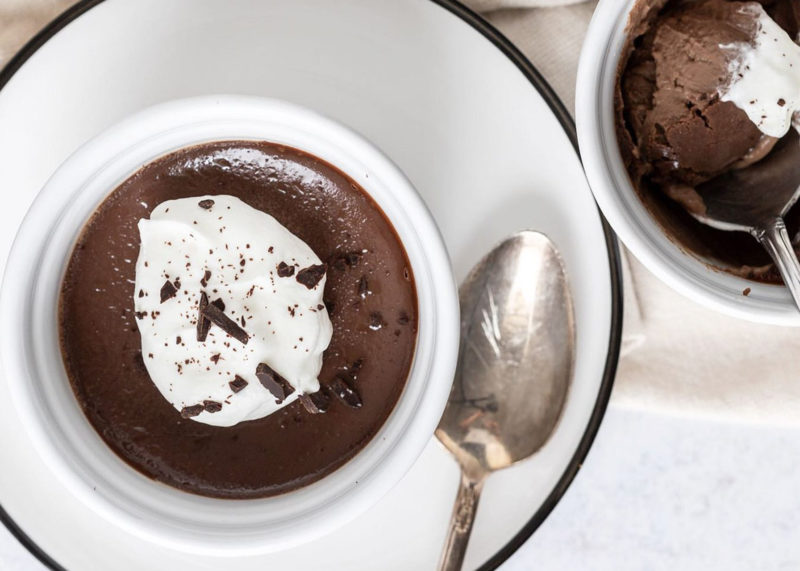 Here's the recipe from Kitchen 335,
Ingredients
For Pots de Crème
3/4 cup (170 grams) milk
1/2 cup (115 grams) heavy cream
1/2 cup (85 grams) semisweet chocolate chips
1 large (50 grams) whole egg
1 large (20 grams) egg yolk
3 tbsp (30 grams) sugar
1/4 tsp salt
For Whipped Cream
1/2 cup (115 grams) heavy cream
sugar to taste
Instructions
Preheat oven to 300 degrees (F). Prepare 4 small or 2 large ramekins.
In a small saucepan, bring the milk and cream to a boil over medium heat. Add the chocolate and stir until it's completely melted.
In a medium bowl, whisk together the whole egg, egg yolk, sugar, and salt until well combined.
Slowly pour the chocolate mixture into the egg mixture, whisking the whole time. Pass the mixture through a sieve and pour the crème into the ramekins.
Place the ramekins into a deep baking dish and fill with water so it covers at least 3/4 of the way up the ramekins. Bake for 30-40 minutes or until the middle of the crème no longer jiggles.
Remove the ramekins from the water and allow to cool at room temperature for about 30 minutes. Then chill until ready to serve.
For your whipped cream, whisk heavy cream and sugar until stiff peaks form.
Looking for more recipes for you to try? Simply type RECIPE in the Booky Guide to see the different things you can make at home from Korean cafe drinks to famous restaurant dishes and drinks like M Bakery's Banana Pudding