Have these contact numbers on speed dial!
With the current situation unfolding, it's hard not to panic with the ongoing state of the world. It may sound overwhelming and stressful but instead of panicking, let's stay positive and informed – this too shall pass.
In any case you or any of your loved ones is experiencing some COVID-19 symptoms, you may refer to the poster attached – DOH COVID-19 24/7 Hotline that's open to all callers nationwide.
INSIDER TIP: Search "HELP" on the Booky app to look up all emergency hotline numbers as well as LGU emergency hotlines, fire protection, MMDA hotline, etc.
DOH COVID-19 Hotline
(02) 894-26843
For PLDT, Smart, Sun, and TNT Subscribers:
1555
Check out website
View Official Facebook
View Official Twitter
Here are a few more hotlines to take note of.
NCRPO Public Information Office
Regional Headquarters
09562817917
Eastern Police District
09663151588
Manila Police District
09065982671
Northern Police District
09171364073
Quezon City Police District
09959540408
Southern Police District
09053717275
Regional Health Service
Point person PLTCol: (Dr.) Beverly De Guzman
09173360091
Regional Crime Laboratory Group
Point person PLTCol: Ruby Grace Diangson
09209797027
Joint Task Force NCR-AFP
Point person: Maj. Arniel C. Tormis
09058936044
Feel free to save this downloadable copy of hotline numbers on your phone just in case!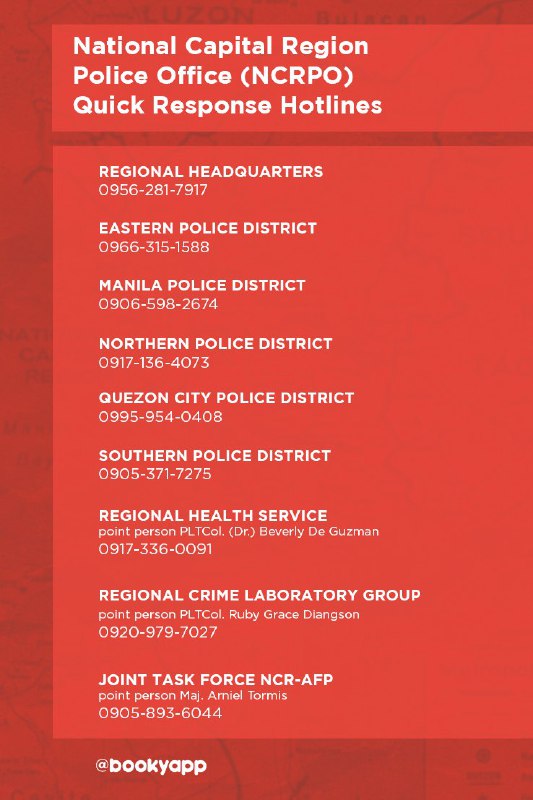 ALSO READ: What We Need To Know in the Time of Coronavirus [UPDATED]
During this time of uncertainty, let's not forget the responsibility to take good care of ourselves and stay calm and clean. We will get through this.
– The Booky Team
Cover photo from DOH Official