It's time to show off the best BTS merch that you own!
Last updated: June 20 12:37 a.m.
The McDonalds BTS Meal is EVERYWHERE — from our social media feeds to our co-fan girls' dining tables, it surely is a hit among all ARMY.
To further amp up its popularity, McDonalds Philippines is launching the BTS Meal Lucky Ride Promo where lucky fans can get an upsize to Large Fries and Large Coke all for free. Here's how it works.
The promo will run for one week from June 21 to June 27. Each day, fans can bring a memorabilia of the featured BTS member and present it to the McDonalds Drive-Thru Crew.
McDonalds Philippines defines a "memorabilia" as "any physical material that shows support to a specific BTS member. It should show the actual face of the BTS member of the day. It can be a photo, shirt, poster, postcard, mug, standee, etc."
Remember that digital materials, BT21 and TinyTAN merch, Funko Pops, Dolls, and cartoon figurines, and cartoon drawings are not allowed for this promo.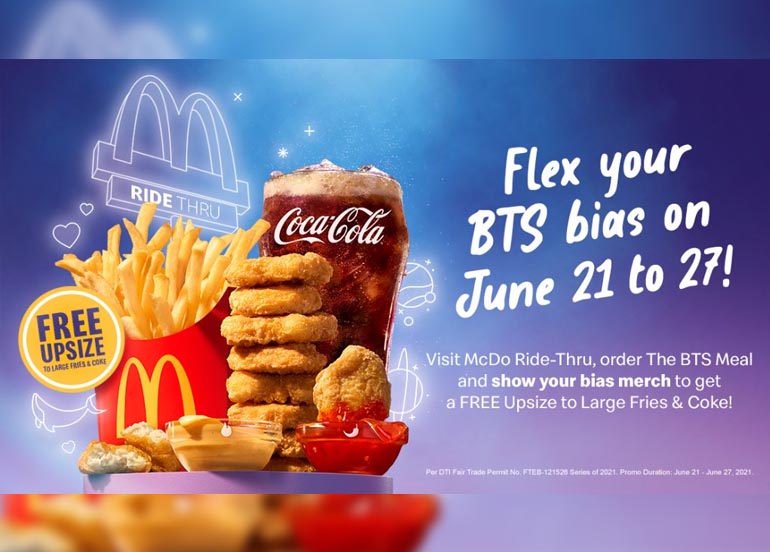 Here is the schedule of the BTS Meal Lucky Ride promo:
Monday, June 21 – RM
Tuesday, June 22 – Jin
Wednesday, June 23 – Suga
Thursday, June 24 – J-Hope
Friday, June 25 – Jimin
Saturday, June 26 – V
Sunday, June 27 – Jungkook
Visit McDonalds' website to view the participating branches for this drive-thru promo.
Additionally, you can grab the official McDonalds BTS Meal merchandise on WeVerse.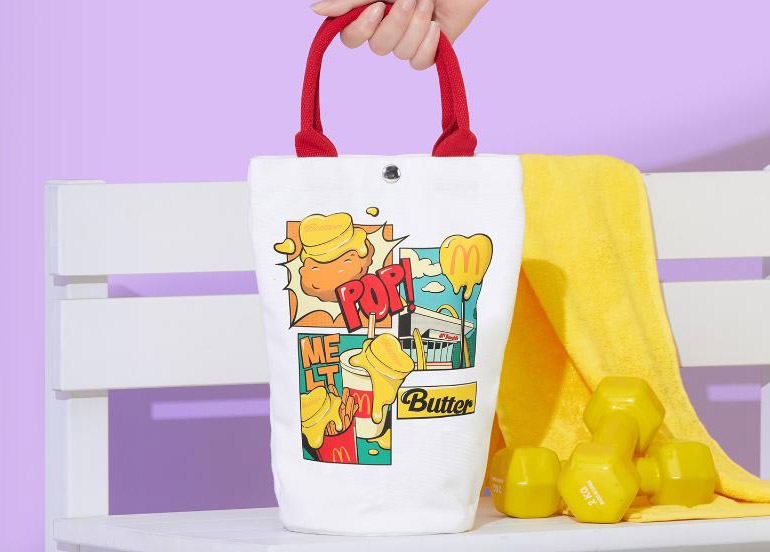 From tote bags to shirts, these limited-time pieces are a must-have for every Army!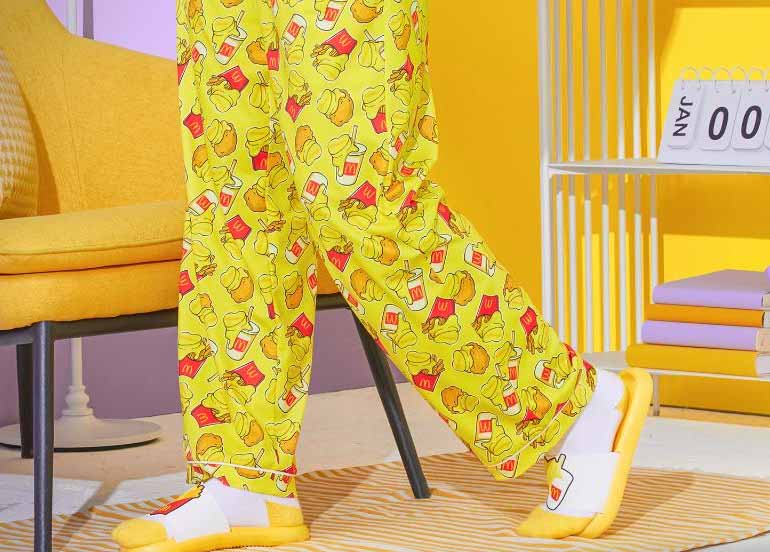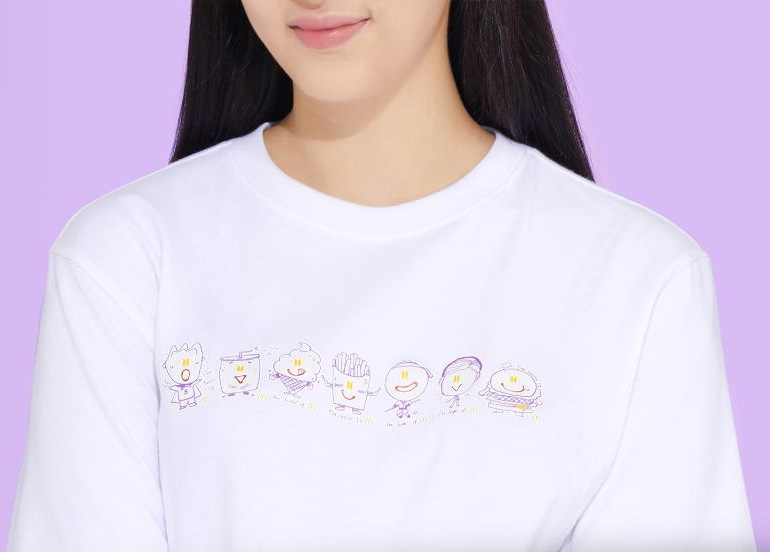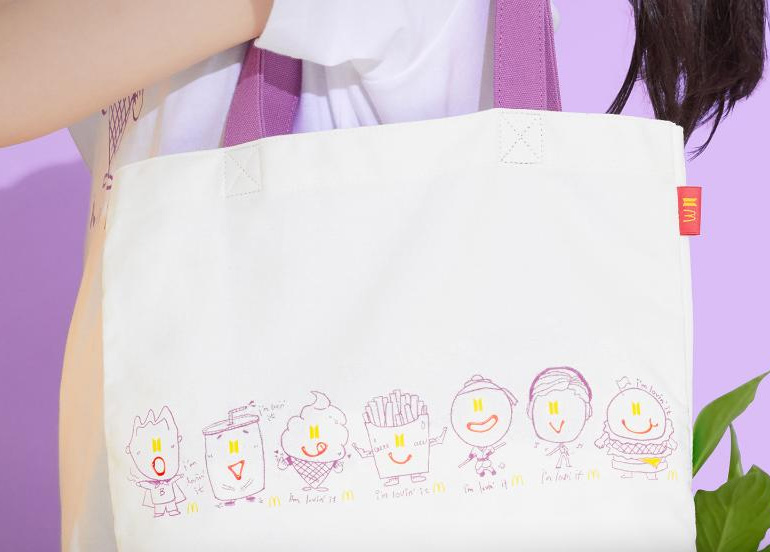 In Case You Missed It: McDonald's BTS Meal — Philippine Release Date, Photocards, and More
It comes as no surprise, that the Korean wave has completely taken over the Philippines. Appealing to the new taste of the Filipino palate, Mcdo has not only come out with new dishes featuring iconic Korean flavors but also, as we found out recently, is planning to come out with a new meal "inspired by popular recipes from McDonald's South Korea" which they call The BTS Meal.
Fun fact: BTS or Bangtan Sonyeondan is the global, Grammy nominated, pop icons behind the smash hit Dynamite. 
The BTS Meal includes 10-piece Chicken McNuggets, medium World Famous Fries, medium Coca-Cola, and Sweet Chili and Cajun dipping sauces.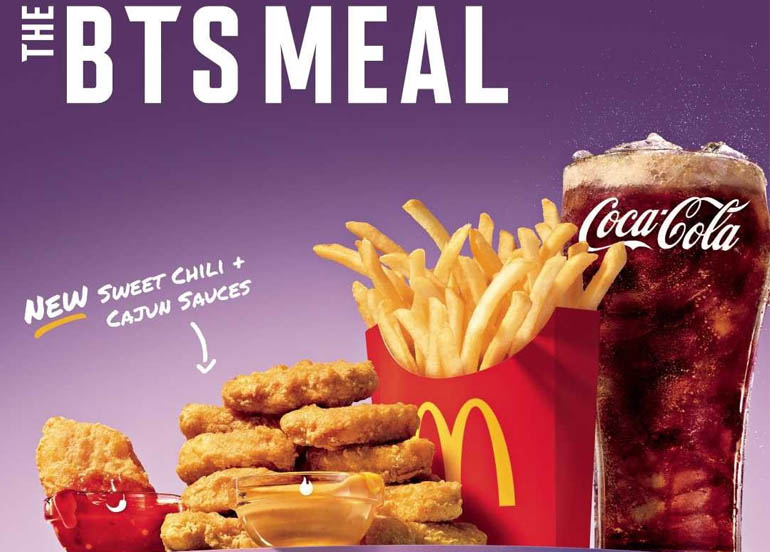 Both the Sweet chili and Cajun McNuggets sauces will be limited-time release only, so don't pass up the opportunity to try them out!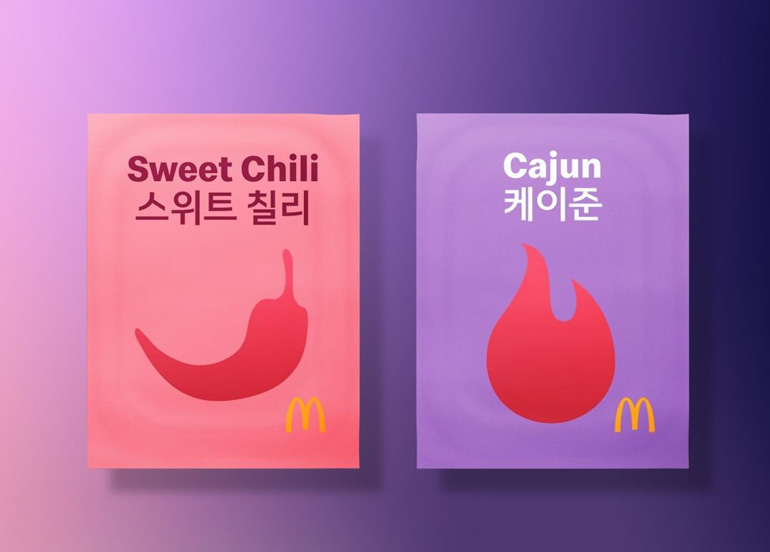 Unfortunately, the BTS Meal does not come with photo cards or any other merchandise. Instead, you can separately order the collaboration's official BTS x McDonald's merch at HYBE Merch.
To be released via a "one-of-a-kind menu tour", The BTS Meal will only be available in the Philippines starting June 18, 2021. For a full list of the "tour destinations and dates", check the photo below.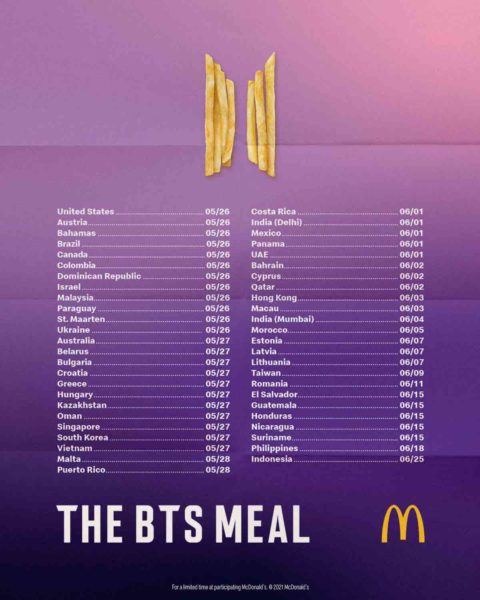 Can't wait to see the teasers they have in store? Want to stay updated? Check out McDonald's social media platforms listed down below.
Check out their website
Check out their Facebook page
Check out their Instagram account
Craving for fast food right this moment? Here's a list of Fast Food Delivery Available Now.
We know you loved using the Booky app for discovering the newest places in your city. Given these extraordinary times, we want to continue being helpful during the ECQ so check out our updated food delivery guide, restaurants that just reopened, where to shop for groceries online, and more.