You'll want to try these crack-infused desserts ASAP!
Biscoff has undeniably taken the nation by storm. What first started off as just a simple caramelized biscuit back in 1932 has now evolved into spreads, cookie sandwiches, and ice cream. What's even more exciting is that Biscoff addicts (ourselves included!) have taken matters into their own hands and have been infusing Biscoff into just about any kind of dessert you can think of.
Also Read: Where to Get Chocnut Desserts and Drinks in the Metro
Anywhere you look, there's bound to be a recipe, restaurant, video, or post of some sort offering up a variety of ways to use the product. And we don't blame anyone, there's just really something addicting about them to the point that it has been dubbed as 'crack' on social media. And just like a 'crackhead' wanting their dose of Biscoff, sometimes plain and old Biscoff just doesn't cut it anymore. So to make things easier for fellow Biscoff lovers, we've round up a list of the best Biscoff-infused desserts for when you're feeling a lil extra!
Cookie Butter Ice Cream – Alt Scoops
Alt Scoops' Cookie Butter Ice Cream is made with their signature creamy Oatly oat milk base and is mixed in with generous helpings of Lotus Biscoff spread and cookie crumbs giving it that hint of gingerbread, cinnamon, and butter combined with the smooth and creamy flavor of oat milk.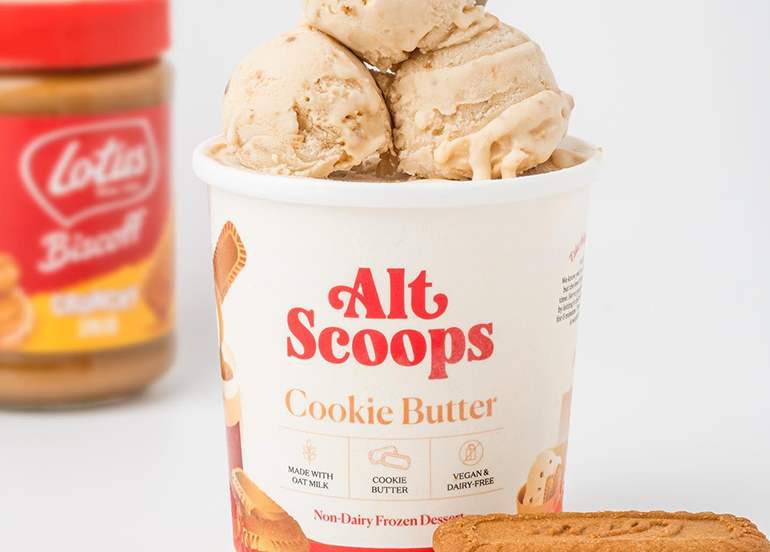 View their website
View their Facebook page
View their Instagram account
(0917) 127 4597
Among Powerstash's cookie stash options, the Biscoff Bomb is not one to miss. It's a leveled-up version of their classic double chocolate cookies with the added spice and warm fuzzy feeling that Lotus Biscoff spread and cookies add to any dessert. You might think that is a recipe for diabetes but the cookie base is incredibly subtle in taste that it doesn't overpower the flavors of cookie butter. And just to further reassure those watching their sugar levels, you even have the option to get it sugar-free!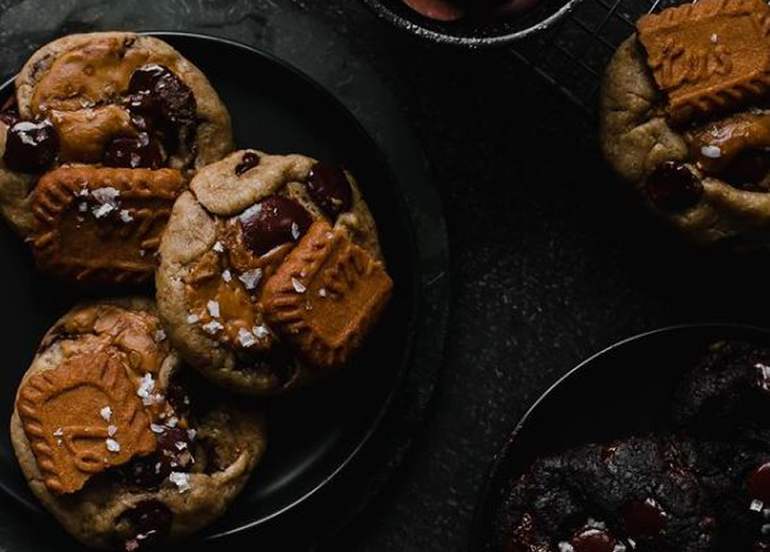 The one-man team behind Powerstash didn't just stop at cookies—they have Biscoff Brownies too! One order which includes 12 pieces goes for PHP 860. Did we mention that all Powerstash goodies are 100% vegan? Talk about a steal!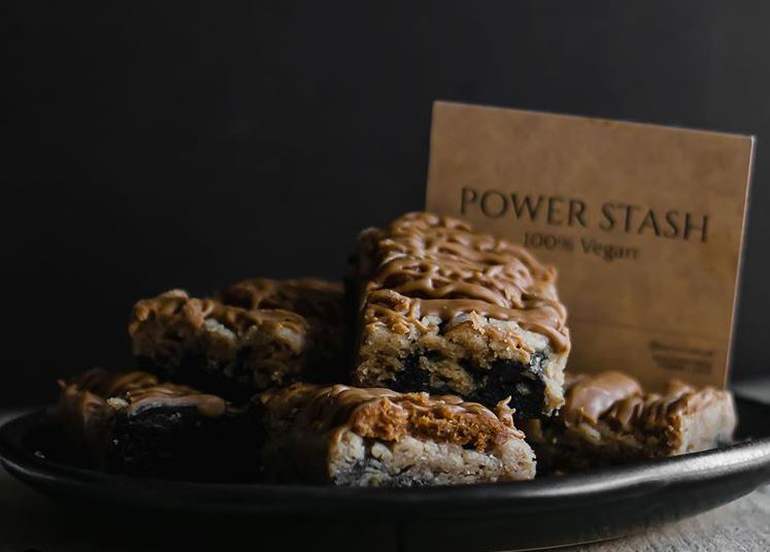 View their Facebook page
View their Instagram account
(0927) 532 0899
Biscoff Timpi Cups – Marahuyo
A no-bake dessert cup that's undeniably a healthier yet equally indulgent alternative for when the sugar cravings hit. It's generously filled with Lotus Biscoff spread and Marahuyo's homemade strawberry jam and is layered with crunchy chocolate oats and finished with a coat of rich dark chocolate. They're egg-free, dairy-free, and 100% vegan. For special occasions, they also customize boxes—making them the perfect gift for your loved ones or even just yourself!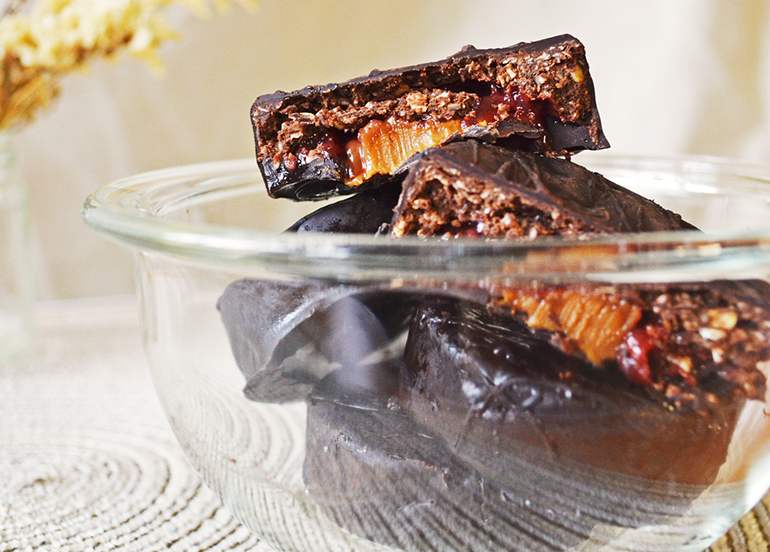 View their Facebook page
View their Instagram account
(0949) 641 5157
If a croissant and a waffle had a baby and were dressed in head-to-toe Lotus Biscoff we would get Bon Croffle's Lotus Cream Croffle. Their premium croissant waffles make for the perfect base to balance out the sweetness of the vanilla whipped cream, Lotus Biscuit crumbs, and caramel sauce that they use to top it with. It's an all-around mouthwatering dessert that's sure to tickle your fancy.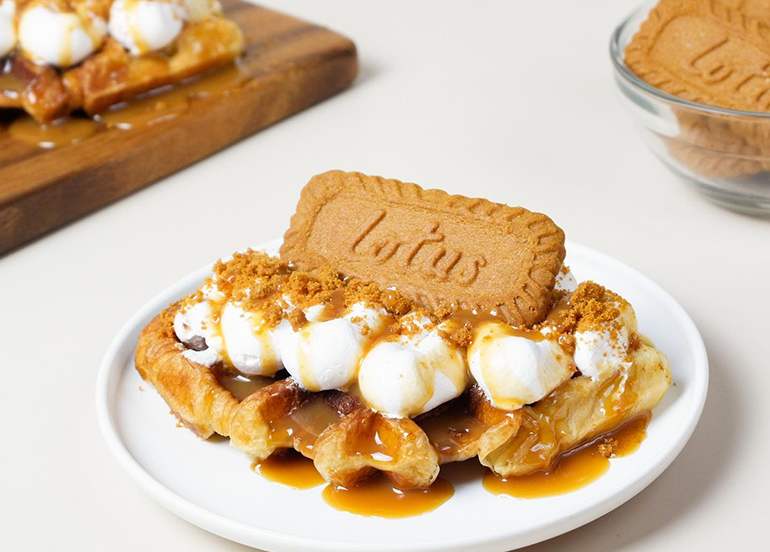 View their website
View their Facebook page
View their Instagram account
Le Joie Patsserie's Biscoff Cinnamon Rolls are pillowy soft rolls stuffed with Lotus Biscoff spread bringing out that deep caramelized flavor, is sprinkled with cinnamon sugar, and last but not the least topped with cream cheese frosting and crumbled Lotus Biscoff biscuits. Each bite of this warm and gooey roll is sure to transport you to Biscoff heaven. A box of 4 costs ₱245 and a box of 6 costs ₱360.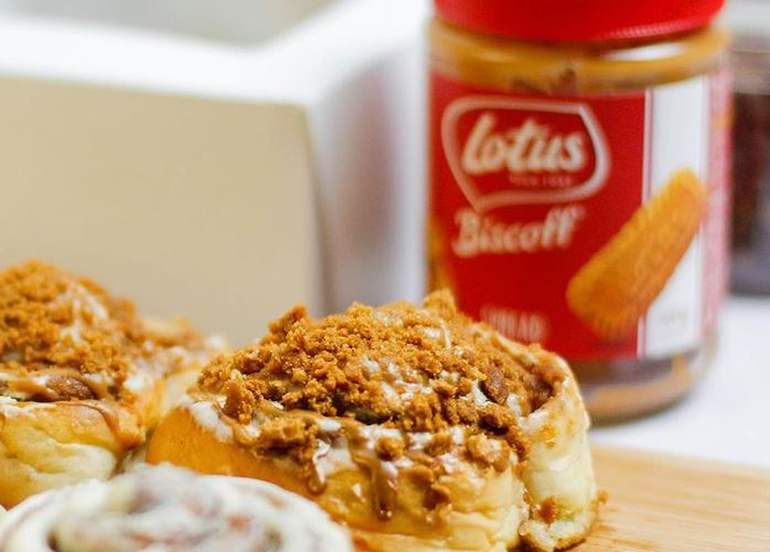 That's not all! They also make a Biscoff Drip Cake that makes for the perfect birthday cake for your Biscoff-obsessed loved one if you ask us. It's an 8-inch cake made with layers of soft and airy coffee-cinnamon chiffon cake, filled with mousse and crunchy Lotus Biscoff spread, and is finished with luscious cream and Biscoff drip on top.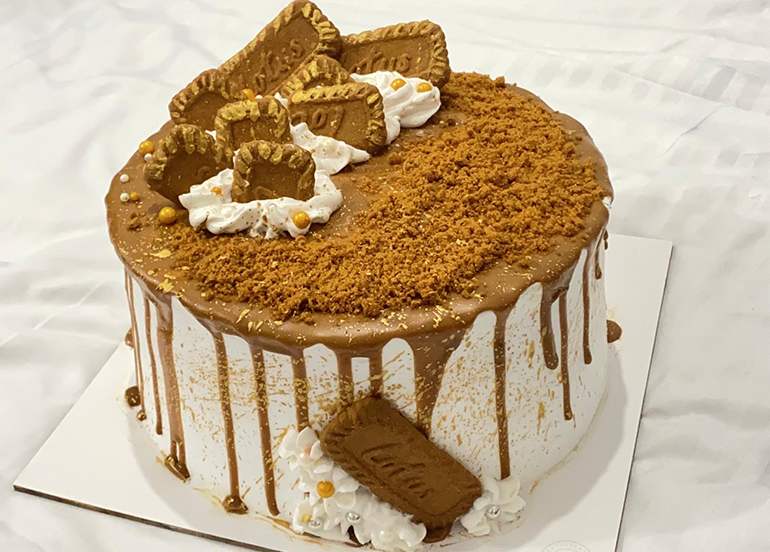 View their website
View their Facebook page
View their Instagram account
(0906) 418 0357
Calling all potheads, this one's for you! When the munchies kick in, GOTBAKED's newest creation, The Campfire Pot is the answer to your sweet cravings. The Campfire Baked Pot includes a cookie base, Biscoff, and hazelnut spread, and is topped with toasted fluffy and gooey marshmallows.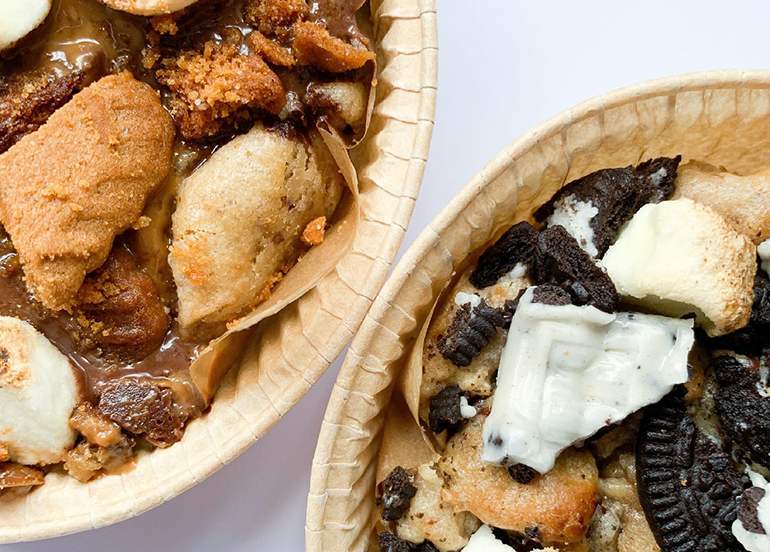 Biscoff Milk Tea – LiberTea
The Lotus Biscoff Milk Tea and the Lotus Biscoff Cream Cheese Milk Tea is two of LiberTea's newest addition to their evergrowing milk tea selection. You can get the Lotus Biscoff Milk Tea at ₱190 while the Lotus Biscoff Cream Cheese at ₱170 for every 470 ml container.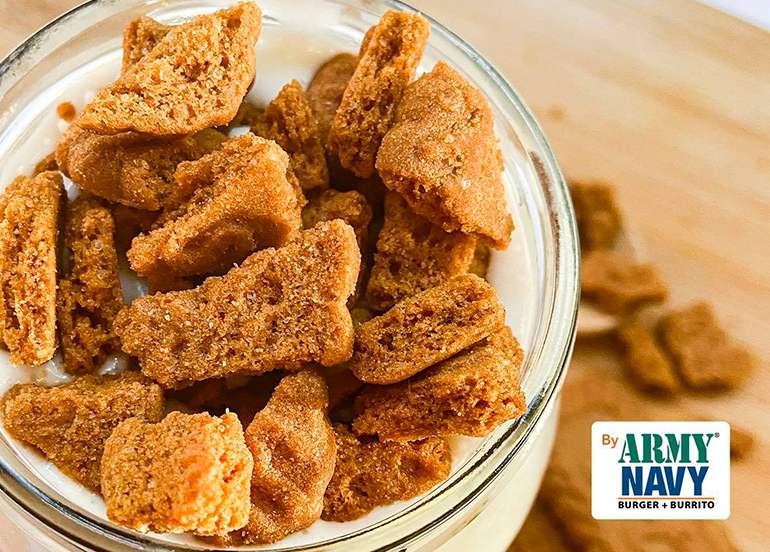 View menu
View their website
View their Facebook page
View their Instagram account
View all branches
There's a reason why Monkey Pint Central's bestseller is their Lotus Biscoff Banana Pudding. Just imagine sweet layers of vanilla custard, vanilla wafer cookies, and freshly sliced bananas combined with the gingerbread caramel flavors of the Lotus Biscoff spread and biscuits mixed in. Now, what's not to love about that?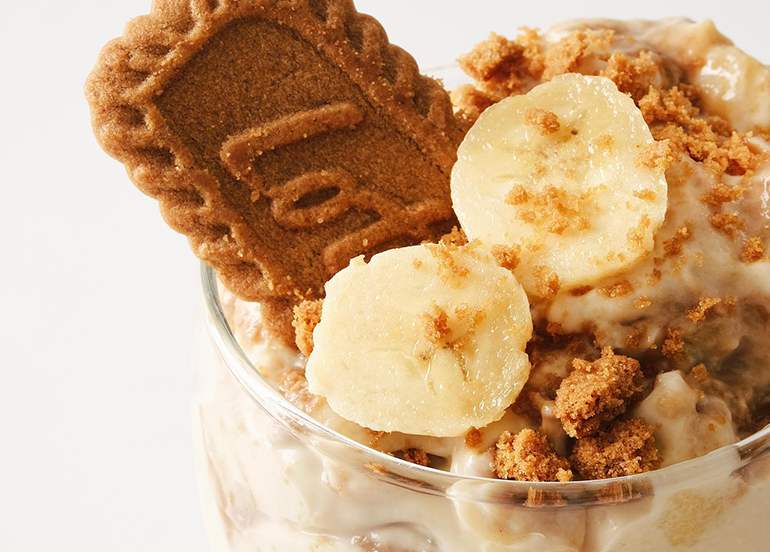 View their Facebook page
View their Instagram account
(0917) 828 0829
Ambassador's Ice Cream is an all-vegan ice cream shop with currently 14 different flavors you can choose from. They're just as creamy, rich, and delicious as regular ice cream minus the dairy! Their Mango Biscoff Gelato in particular is a coconut milk-based ice cream flavored with real mangoes and mixed in with Biscoff crumbles.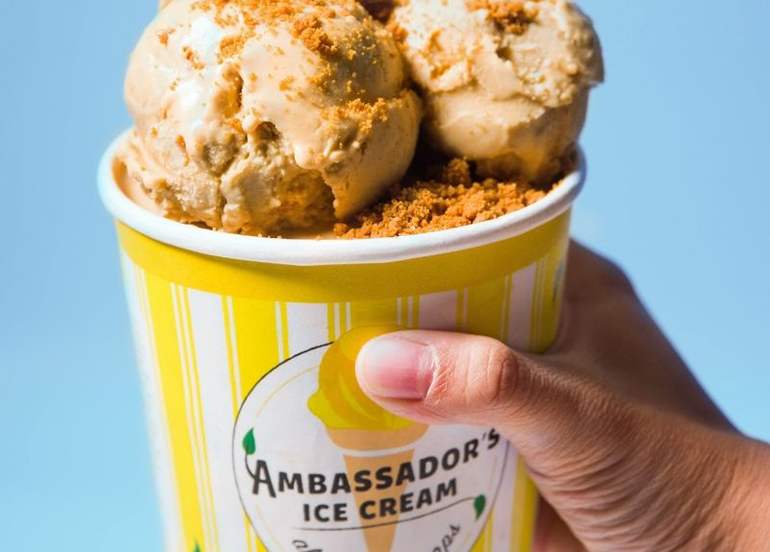 View menu
View their Facebook page
View their Instagram account
(0919) 067 6600
Biscoff Banoffee Pie – Ish
Ish's Biscoff Banoffee Pie is the latest addition to their menu and is an indulgent dessert layered with Biscoff biscuits, dulce de leche, freshly sliced bananas, and soft fluffy whipped cream. It comes in a 4x4x2.5″ tub at ₱280 only.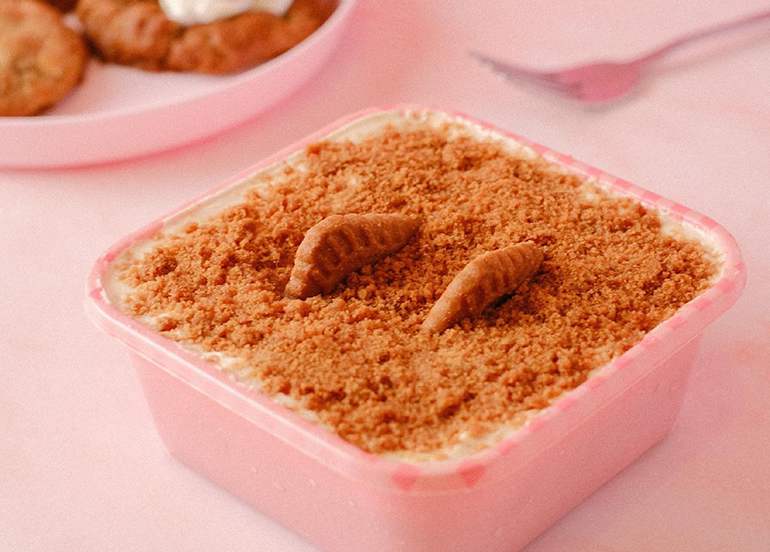 View their website
View their Facebook page
View their Instagram account
Biscoff Chocolate Cake – Crumbs MNL
Crumbs MNL didn't lie when they said they made homemade goods you'll love to the last crumb. If there's anything on their menu that we're drooling over, it'll have to be their Biscoff Chocolate Cake. It's made with their classic moist chocolate cake, dark chocolate ganache, and Lotus Biscoff frosting giving it that combination of the bitter dark chocolate and caramel-y cookie butter that complement each other really well. It comes in three sizes and starts at ₱1,000.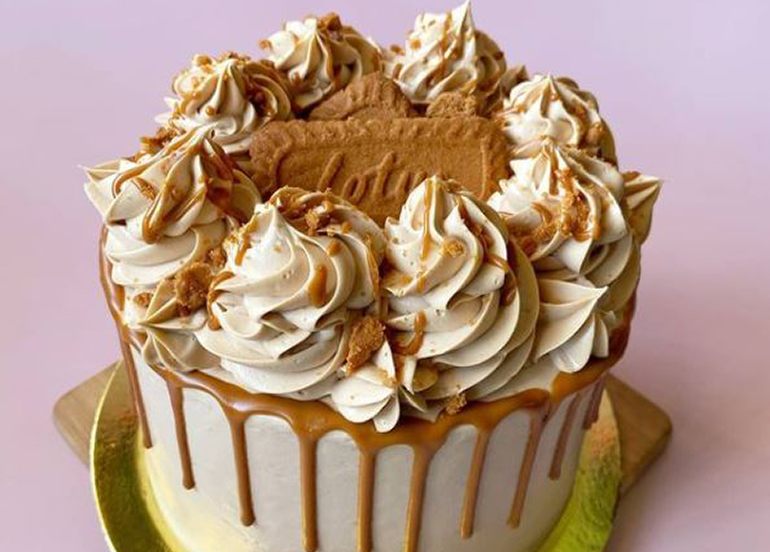 We know you loved using the Booky app for discovering the newest places in your city. Given these extraordinary times, we want to continue being helpful so check out our updated food delivery guide, where to shop for groceries online, and more.