It's a simple recipe, we kid you knot!
Miss the smell of freshly baked pretzel from Auntie Anne's? Guess what! Not only do you get to smell it at your very own kitchen, but you also get to bake it yourself! 
We found this easy and simple Cinnamon Sugar Pretzel hack that you can definitely try during this ECQ.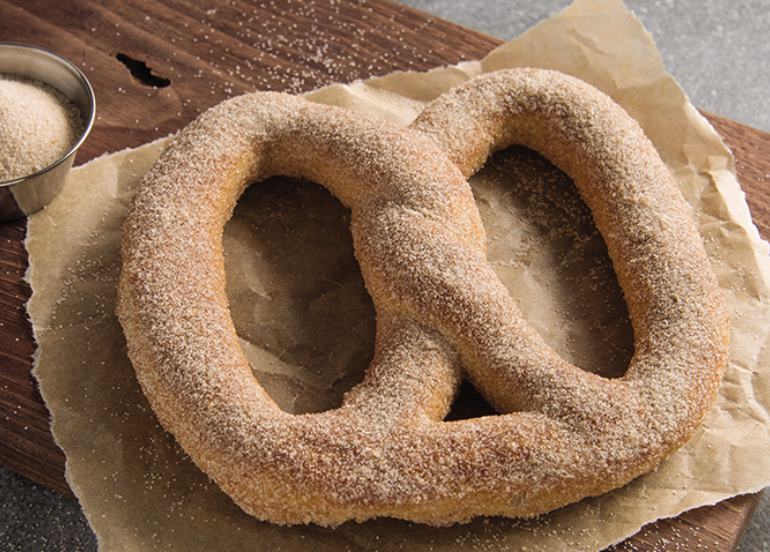 Ingredients:
For the pretzel dough:
1 1/2 cups of warm water
2 1/4 teaspoons of active dry yeast
1 tablespoon unsalted butter, melted and slightly cool
3 and 3/4 to 4 cups all purpose flour
cinnamon powder
sugar
salt (if you're craving for savoury pretzels)
For the baking soda bath:
1/2 cup baking soda
9 cups water
Instructions:
Whisk yeast into warm water, leave for 1 minute. In another bowl, whisk salt, sugar and melted butter.
Add in 3 cups of all purpose flour (add 1 cup at a time). Mix with a wooden spoon or by hand. Add around 3/4 cup of APF until dough is not sticky anymore. If it's still sticky, add 1/4-1/2 cup more. Try poking the dough – if it bounces back, you're ready to knead!
Dust flour on a clean surface and place dough onto it. Knead dough for about 3 minutes then roll it into a ball.
Cover the dough with a kitchen towel and let it rest for 10 minutes. While it's resting, you can prepare the baking soda bath.
Bring 9 cups of water and 1/2 cup of baking soda to a boil.
Preheat oven to 400°F/204°C and place your baking sheets with parchment paper (don't forget to brush butter over it) or silicone baking sheet.
Cut dough into 12 equal parts. While working with one piece, cover the remaining dough with a kitchen towel.
Roll dough into a 22 inch rope. Take both ends and bring them together to form a circle. Twist ends, bring them towards you and press down into a pretzel shape.
Once all 12 pieces are rolled and shaped, drop 1 to 2 pretzels into the boiling water-baking soda mix for 20 to 30 seconds MAX.
Using 2 forks, hook and lift the pretzels out of the mix and let the excess water drip before placing them onto your baking sheet. You may sprinkle some salt if you're making savoury pretzels.
Bake 12-15 minutes or until golden brown.
Melt butter and dip freshly baked pretzels.
Prepare cinnamon powder and sugar, adjust based on personal taste preference.
Coat baked pretzels onto the cinnamon powder and sugar mixture.
Serve and enjoy!
And there you have it, freshly baked Cinnamon Sugar Pretzel a la Auntie Anne's at the comfort of your home!
Looking for more recipes for you to try? Simply type RECIPE in the Booky Guide to see the different things you can make at home from ube cheese pandesal to famous restaurant dishes like Jollibee's Ultimate Burger Steak.