Coming in hot!
Not only does Ube Cheese Pandesal look delicious but oh, one bite and you'll be addicted! If you're one of us who just can't get enough of these rolls and have been trying to order but to no avail… there's another way… making them yourself!
Here's a recipe from Pepper.ph so you can have Ube Cheese Pandesal in no time!
Ube Cheese Pandesal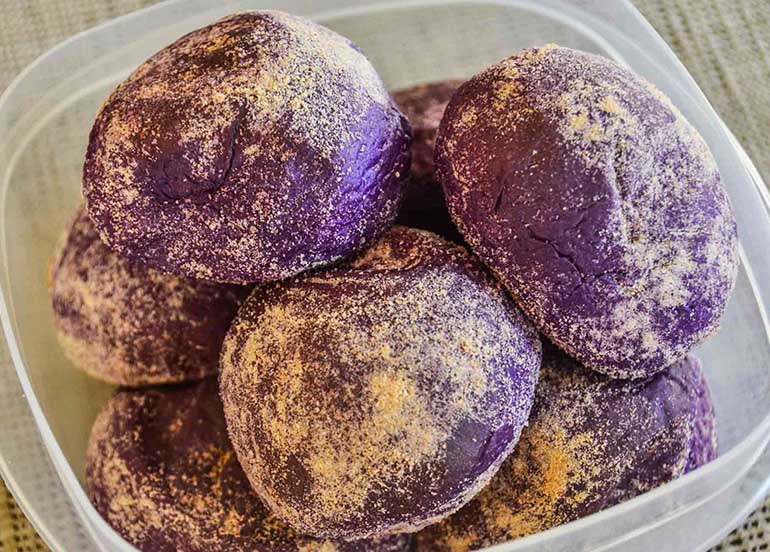 Ingredients
4 cups bread flour
2 tsp salt
1/4 cup sugar
2 tsp instant yeast
1/2 cup powdered milk
1 cup water
2 tsp ube extract
1/2 cup butter
1 cup white cheese, cut into cubes
2 cups fine breadcrumbs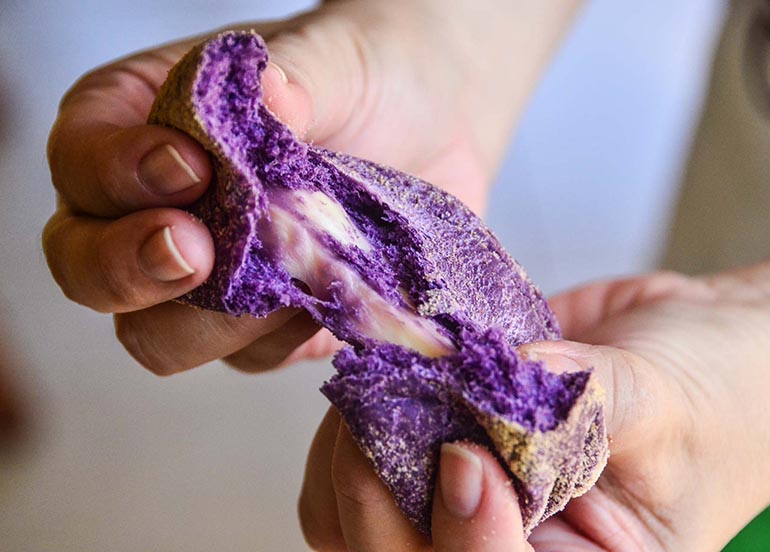 Procedure
For the dough, combine the flour, salt, sugar, yeast, and powdered milk into your mixer, use the dough hook to combine.
Begin to mix all these dry ingredients with the low speed setting, make sure they're well combined.
You can then start adding the water and ube extract with the speed now in the medium setting, mix for 3-5 minutes or until it reaches a dough-like consistency.
Now add the butter by the tablespoon and continue mixing until the mixture is smooth and elastic, this will take around 15 minutes.
Set this mixture aside, covered in plastic wrap, leave the dough to rise for about an hour or until you've noticed it double in size.
Spread flour over a clean surface and turn dough then cut into 12 equal parts.
You'll then want to roll each piece into a ball then cover them with plastic wrap.
Flatten each ball into a circle and place a chunk of white cheese at the center.
Gather the edges of the dough and start sealing the cheese you just placed.
Then roll it back into a ball and coat it with breadcrumbs.
Grab a 9×9 inch square pan that's lined with parchment paper and transfer the rolls here.
Once all the 12 pieces are in stuffed and in the baking sheet, allow the dough to rise again, give it around 30-40 minutes, notice if they've doubled in size.
Preheat your oven to 350°F.
Slide in your pan with the rolls and bake for 25-30 minutes until golden.
Afterwards, let them rest for a bit and serve!
Looking for more recipes to try? Simply type RECIPE in the Booky Guide to see the different things you can make at home from soju cocktails to famous restaurant dishes like Conti's Baked Salmon.