It's too good to be true!
Lotus Biscoff is the god-tier of biscuits. With its unique, caramel taste and perfect crunch, it's no wonder that these treats easily win the hearts and tastebuds of many. If you're one of the thousand Biscoff addicts, then you'll certainly be hyped to know that you can now drink your favorite biscuits through LiberTea's New Biscoff Milktea!
Also Read: 21 of Metro Manila's Favorite Milk Tea Spots
This delicious drink is available in two exciting flavors— the Lotus Biscoff Milk Tea and the Lotus Biscoff Cream Cheese Milk Tea!
The Lotus Biscoff Milk Tea is a mix of sweetened milk and a Biscoff crunchy spread that will make you go "mmm!" while the Cream Cheese Milk Tea has a richer texture that wonderfully complements the crushed Biscoff biscuits on top!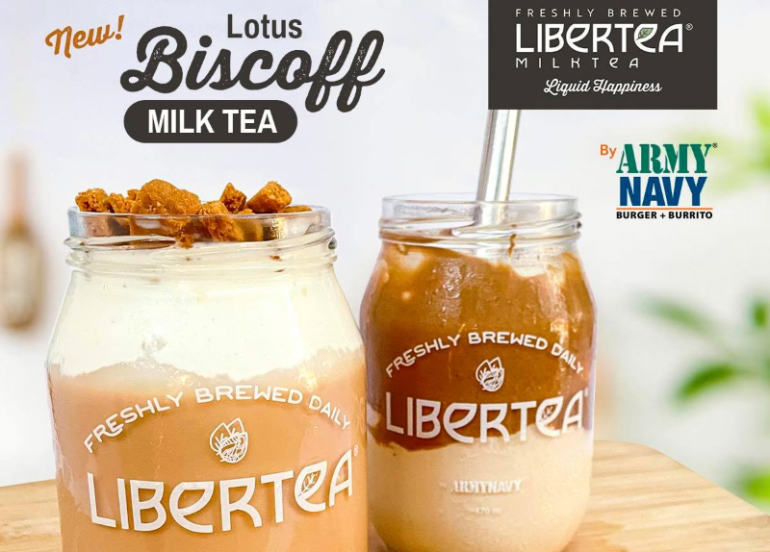 The Lotus Biscoff Milk Tea starts at ₱190 while the Lotus Biscoff Cream Cheese Milk Tea starts at ₱170 for every 470 ml container. It's available in selected ArmyNavy stores all over Luzon so be sure to get your share! You can order through their website or by finding them in GrabFood or foodpanda.
View menu
View branches
View website
View their Facebook
View their Instagram
For more options, search for 'MILK TEA' in the Booky app to see the complete list of restaurants and cafes offering your favorite drink. Download Booky now to get up to ₱500 discount plus a free dessert on our 1,000 prime partner restaurants!