Umami? More like Oooh-yummy.
Valentine's Day is upon us! And to couples and singles out there, if you're looking for an extra treat to go with your cakes, customized boxes, and flower bouquets, we suggest you check out the newest dishes by Kazunori Japanese featuring Auro Chocolate.
Don't have a Valentine's Day gift yet? Check out: Unique Gift Boxes for your Jowa this Valentine's Day
Take part in the Philippine's first-ever month-long Cacao and Chocolate infused dining experience by none other than Kazunori – a brainchild of those behind Mendokoro Ramenba and Ramen Yushoken – and Auro Chocolate – an internationally awarded Filipino chocolate company.
Choose from over 10 dishes crafted by Chef Kuramochi Kazunori himself and his head-chef. Each dish is an innovative and balanced combination of the bitterness of cacao, the sweetness of chocolate, and the umami of Japanese flavors.
Can't imagine it what dishes those may be? No need!
Here's a list of the dishes as well as their corresponding prices.
Cacao Yuzu Oyster
To begin your dining experience, Kazunori offers refreshing and light oyster sashimi brushed with Yuzu Jelly and Auro Cacao Butter for ₱1,100.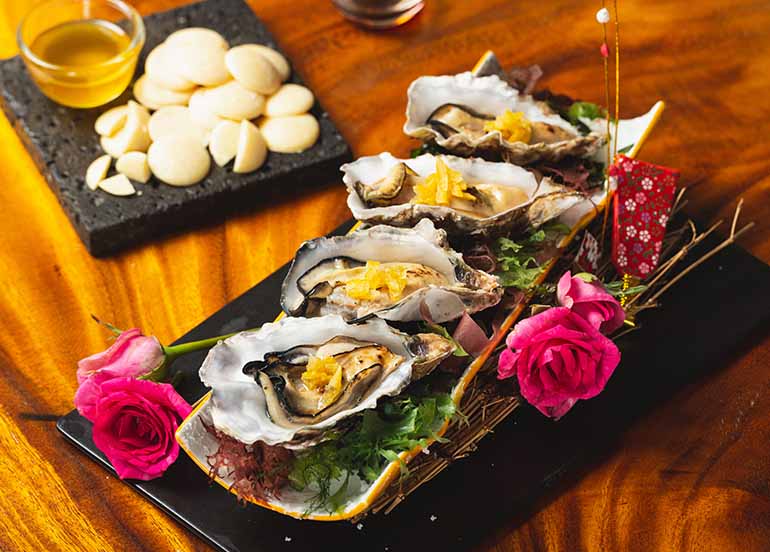 Auro Tori Paitan Ramen
It's Paitan ramen served with Hand-pulled Auro Cacao infused noodles and a selection of meats in a light and creamy chicken broth for ₱600.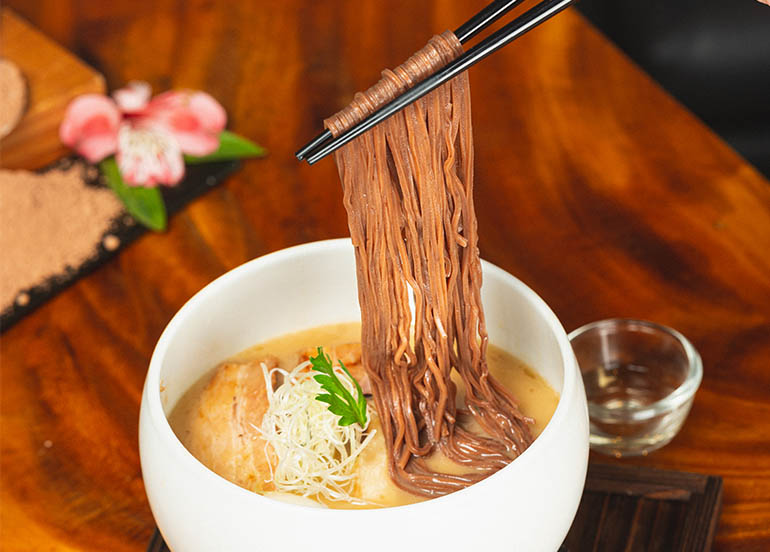 Chocolate Gyu Curry Don
This curry don includes a New York Beef marinated in a selection of Auro Cacao Butter, cacao powder, and nibs, and is served in a 64% dark chocolate dome over rice for ₱950.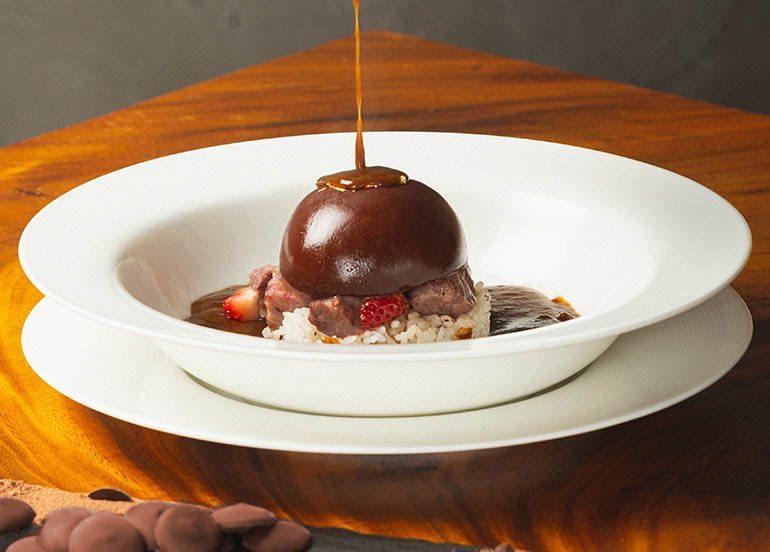 Cacao Butter A4 Wagyu Soba
Enjoy a duet of Auro Cacao butter-based Tare and Auro 100% cacao powder infused sous vide A4 wagyu for ₱1,200.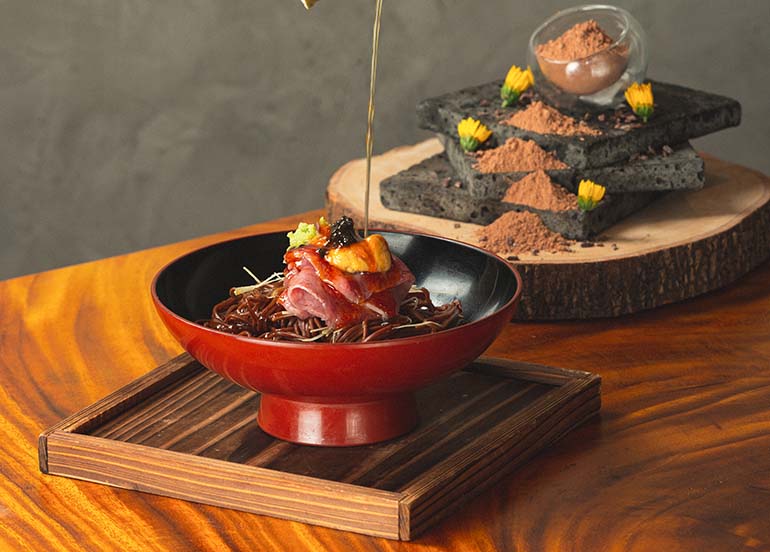 Tori Chashu Cacao Tsukemen
An innovative take on your classic dipping ramen, this Tsukemen dish features Auro cacao powder infused noodles, and is served with an assortment of chicken, pork, and egg. It is then topped off with shavings of Auro 32% white chocolate. This dish costs ₱600.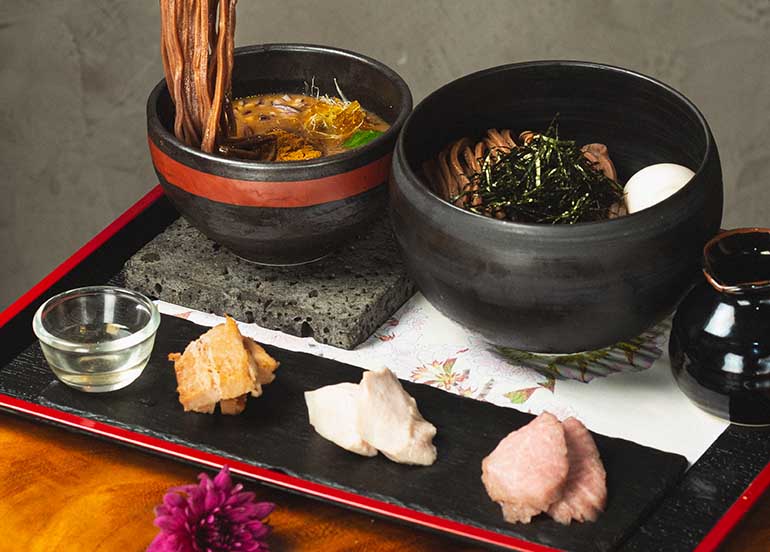 Cacao Unit Caviar Abalone
Seafood lovers will enjoy this marinated abalone in Auro cacao butter topped with uni, caviar, and salmon roe and sprinkled with Auro cacao powder for only ₱850.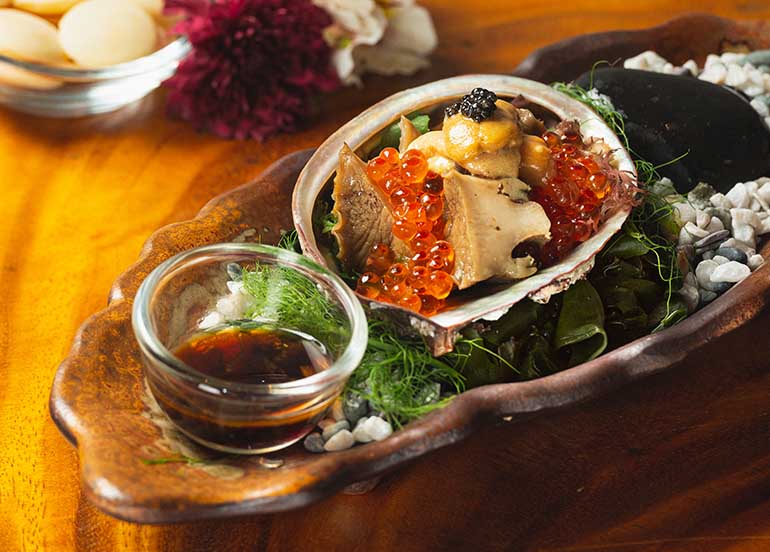 Spiced Chocolate Tori Sando
Take a bite of this one of a kind sando where a treasure of spicy fried chicken thigh dipped in butter, finished with a drizzle of Auro 100% unsweetened tablea, lies in between fresh lettuce and toasted bread slices. All of this is only for ₱420.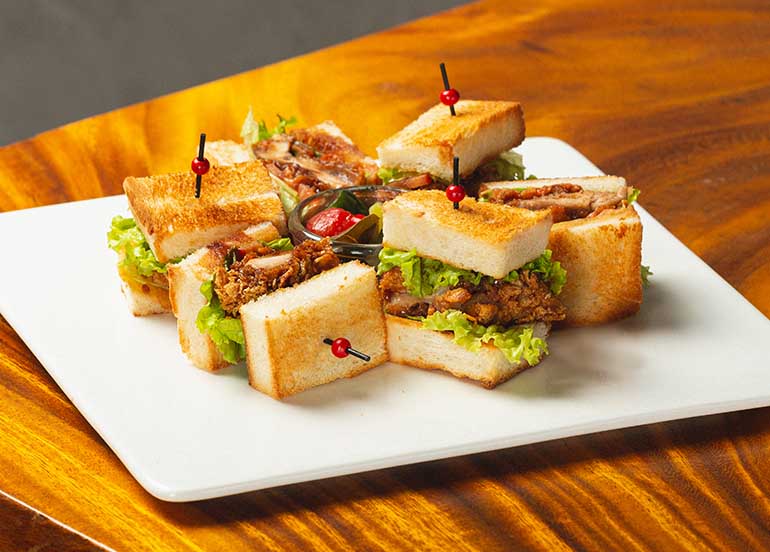 Cacao Crusted Binchontan Yaki
If you're a meat lover, this dish will sweep you off your feet. This dish's star is an oak-grilled tender lamb chop marinated in pure 100% Auro cacao nibs, cacao butter, and crusted in cacao nibs and it's all for ₱1,100.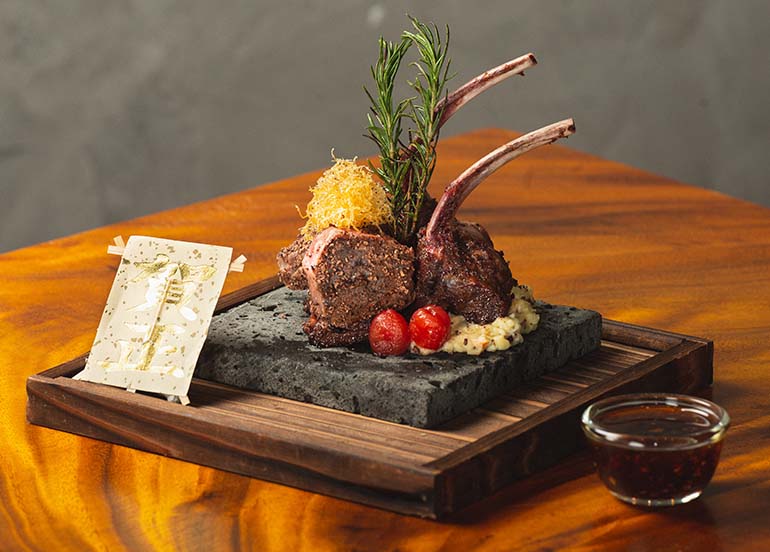 Banana Peanut Butter Cacao Tempura Roll
Satisfy your sweet tooth with this sweet-savory dessert which consists of a luscious roll of Auro 64% chocolate in toasted dried seaweed, paired with banana, and drizzled with semi-sweet crunchy peanut butter. Get this dessert for only ₱250.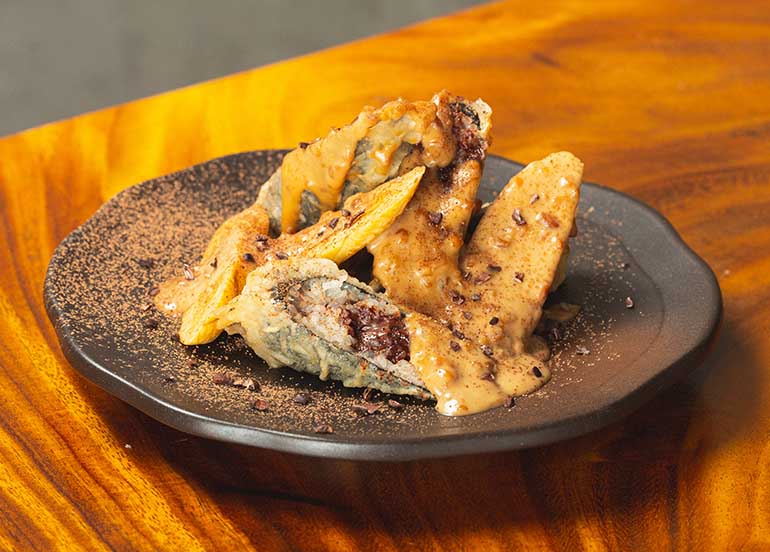 White Chocolate Matcha Tiramisu
Matcha and tiramisu fans will definitely love this dessert made with layers of sweet ladyfingers and creamy matcha mousse that's infused with Auro 32% white chocolate and topped with Auro Cacao powder. Enjoy this dessert which is only ₱300.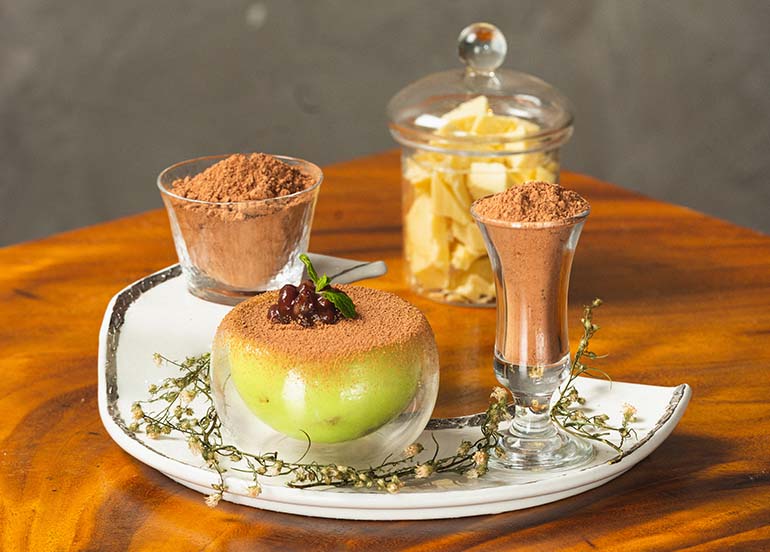 Now that you've check out their dishes, are you tempted now to try them out? You may either reserve a table or have some of their dishes delivered straight to your home. To inquire or to reserve a table, you may call (0917) 836-2695.
For more information on these two brands, check out their social media pages.
View Auro Chocolate's Facebook page
View Auro Chocolate's Instagram account
View Kazunori's Facebook page
View Kazunori's Instagram account
Open Hours: Monday to Sunday, 11 AM – 10 PM