Here are some of the ma-RAMEN ways to upgrade this dish!
Ice cream may relieve you from the heat you've been feeling recently but ramen is definitely one of the best dishes to satisfy your hunger.
Need to cool down before having some ramen? Check out: 6 Easy Ice Coolers to Make for Merienda
Although ramen is commonly eaten on it's own – sans garnishes or additional ingredients – it can also be enjoyed just as much when you upgrade it with some common and not so common ingredients you can find! Don't believe us? Try out these upgraded ramen recipes you can make at home!
Cheese Ramen
by Lorrycraves.
Ingredients:
1 package Shin Ramen
4 cups of water
1 egg
1 slice of cheese
1 sliced green onion (optional)
Procedure:
Cook the noodles in boiling water.
Strain the noodles.
In another pan with a fresh batch of water, add the seasoning, the dehydrated vegetables, and a beaten egg.
Once the noodles are cooked, top it with a slice of cheese and green onions.
Kylie Jenner Ramen
by Easy Peasy Pan.
Ingredients:
1 pack of instant ramen noodles
1 egg, beaten
1 tsp. garlic powder
1 tbsp. butter
parsley, for garnish (optional)
Procedure:
Boil your noodles in water.
As soon as your noodles are half-cooked, add the beaten egg then mix.
Then, add the instant noodles seasoning.
Afterwards, add the garlic powder and spoon in the butter.
Mix well before serving hot.
Pad Thai Style Ramen
by Ladies First.
Note: Skip to 3:08 for the step-by-step recipe. 
Ingredients:
instant ramen
sriracha sauce
1/2 tsp. – 1 tsp. soy sauce
1 tsp. peanut butter
cilantro (optional)
peanuts
lime
Procedure:
Cook the noodles only.
Strain the water.
Add the rest to the noodles: seasoning, 1 tsp. of peanut butter, 1/2 tsp. – 1 tsp. dark soy sauce, sriracha sauce (according to your preference) then mix well.
Garnish with cilantro, peanuts, and a dash of lime juice.
French Onion Soup Ramen
by Mythical Kitchen.
Note:  Skip to 1:44 for a step-by-step version of this recipe. 
Ingredients:
1 pack of instant ramen
2 tbsp. butter
2 thinly sliced onions
1/4 tsp salt
1 quart water
1/2 cup of cheese (anything you've got at home)
black pepper (to taste)
a shot of liquor (optional)
Procedure:
Saute with butter in a large sauce over medium high heat, the following: onions, salt, ramen seasoning packet.
After stirring, allow the onions to cook down until it's caramelized and slightly burnt or for about 20 minutes.
Once time's up or the onions are looking exactly how you want them, add the water and stir.
Allow everything to boil for 10 minutes.
Then add the ramen noodles and boil for an additional 2 minutes with the lid on the pot.
Once cooked, transfer the soup and the noodles to bowl and top with cheese. Broil or microwave until the cheese is melted then enjoy.
Note: If you plan on adding liquor, put it before the water and don't forget to scrape off the bits at the bottom of the pot. 
Laksa Ramen
by Mindy Saini.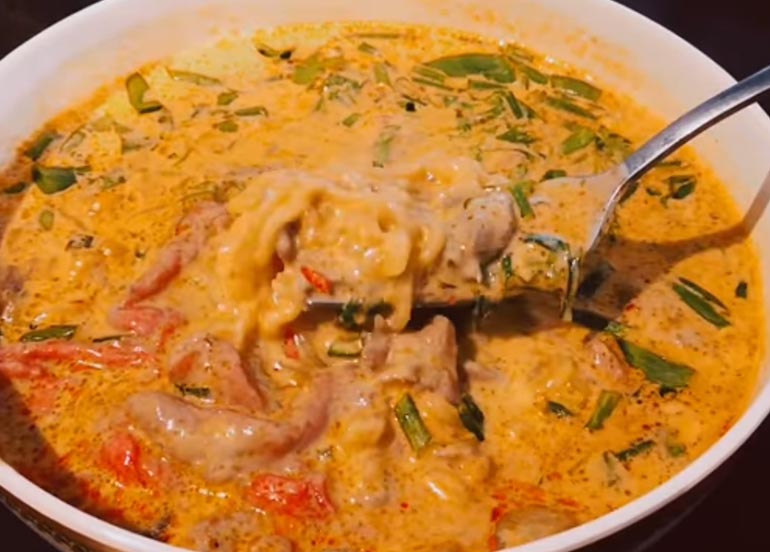 Procedure:
instant pack noodles
shitake mushrooms
coriander
spring onions
homemade chili
chicken stock powder
light soy sauce
sesame oil
coconut cream
beef schnitzel
laksa paste
Note: Don't have ready made laksa paste? Here's a recipe on how to make your own. 
Procedure:
Cook the noodles according to the packet but with only half the amount of water and if you want, without the vegetables.
Afterwards, add the light soy sauce, sesame oil, homemade chili, chopped shitake mushrooms, and 1 tsp. of chicken stock powder.
When the noodles are partly cooked, you may add the spring onions, coriander, sliced beef, laksa paste, and coconut cream.
After 5 minutes, you may serve the noodles in a bowl and enjoy!
Ram-Don
Ingredients:
1 Neoguri pack
1 Chapagetti pack
Sirloin Beef
Procedure:
Sear the sirloin beef in a hot pan.
While the beef is cooking, you may prepare the noodles by cooking both of the noodles, in a separate pan, according to the Neoguri packet instructions.
Once the beef is cooked on both sides and the noodles are cooked as well, set aside the beef.
Strain the noodles but keep 1/3 cup of the broth.
Add the Chapagetti seasoning in the noodles and stir well.
Finally, add the sirloin to the noodles, transfer the dish to a bowl, and enjoy.
Budae Jjigae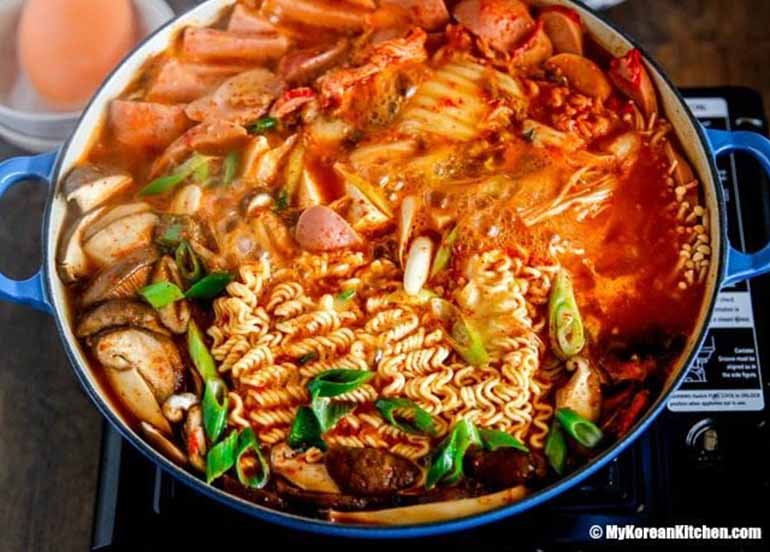 Ingredients (good for 4 servings):
For the stew:
4 cups or 1 liter of chicken stock
200g of thinly sliced SPAM
4 cocktail thinly & diagonally sliced Frankfurt sausages
200g of enoki mushrooms
200g of thinly sliced lengthwise of king oyster mushrooms
100g of thinly sliced of shitake mushroom caps
1/2 cup ripened bite-sized Kimchi
50g of Korean rice cakes for soup
110g of instant ramen noodles
30g thinly & diagonally sliced green onions
1-2 slices of cheese
For the sauce (mix these in a small bowl):
2 tbsp. Korean chili flakes (Gochugaru)
2 tbsp. rice wine (mirin)
1 tbsp. soy sauce
1 tbsp. minced garlic
1/2 tbsp. sugar
1/2 tbsp Korean chili paste (Gochujang)
ground black pepper
Procedure:
Place in the following ingredients in a shallow pot: SPAM, sausages, enoki mushrooms, king oyster mushrooms, shitake mushrooms caps, kimchi, and the sauce in the middle.
Pour the stock in the corner of the pot.
Close the lid and cook on medium high heat until the stock starts to boil.
After 8 minutes or when it boils, add the remaining ingredients: instant ramen noodles, rice cake,s green onion, and cheese on top of the pot and boil it uncovered until the noodles are cooked.
Serve hot and enjoy!
Looking for more recipes for you to try? Simply type RECIPE in the Booky Guide to see the different things you can make at home from soju cocktails to famous restaurant dishes like Max's Sizzling Tofu.