Need a pick-me-up?
Holiday drinks are popping up left and right and brands have been serving up a wide variety of flavors that cater to different palates.
To those who think that the ideal holiday drink is a simple, coffee and milk-forward, cold drink that comes with a gingery, gluten-free dessert, then check out FRNK x Yarkstick's collaboration drink: the Frozen Coffee Miruku.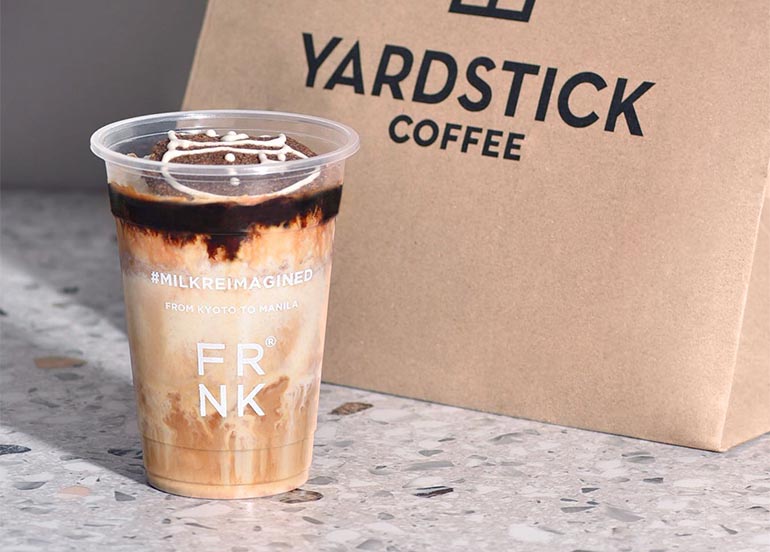 FRNK describes this drink as one that has sweet caffeine with milky slush goodness and is paired with a Gingerbread Cookie. If you think that you want to try it out, then head to the FRNK store nearest you.
In Case You Missed It
We don't always eat out of hunger. More often than not, apart from filling up the empty corners of our stomachs or nourishing our bodies, we tend to look to food for a pick-me-up when we're down in the dumps.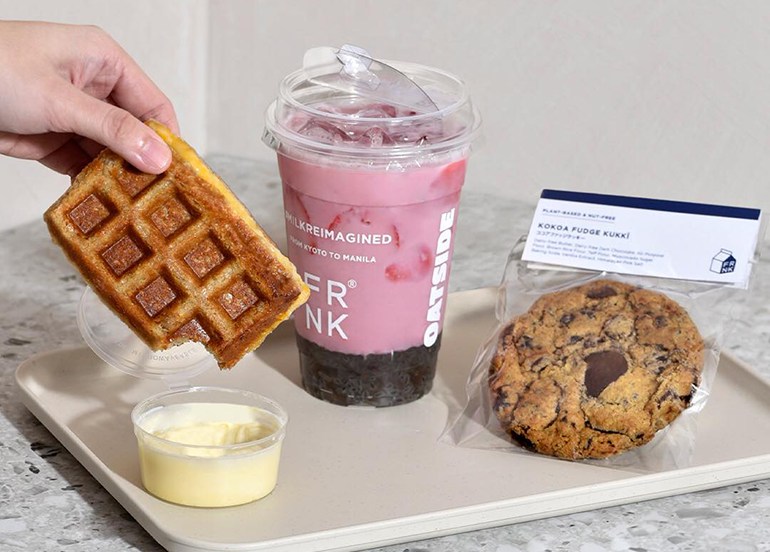 Luckily for us, we have options like FRNK Milk Bar, a Japanese-inspired milk bar that creates handcrafted artisanal beverages that are indulgent yet still healthy. Not only do we get a mood boost but do so without the guilt.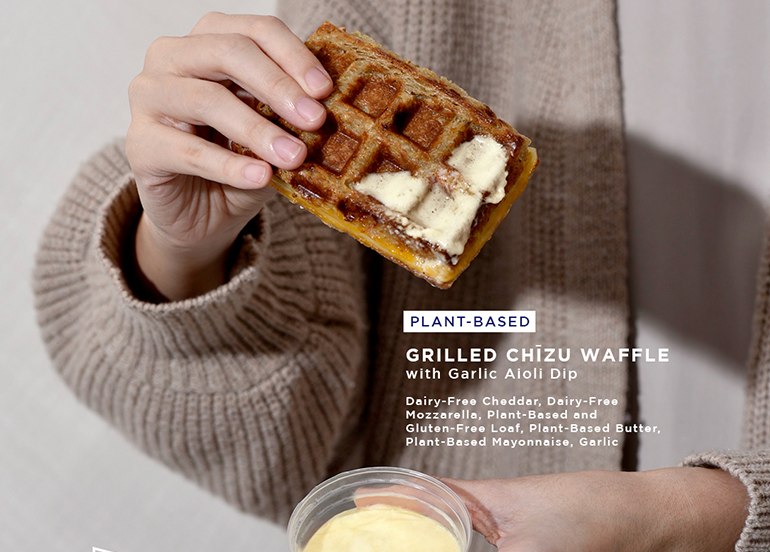 Their new Plant-Based Bento Set is the perfect guilt-free care package for when you're looking to mend a broken heart or just want a release. It includes their Grilled Chizu Waffle with Garlic Aioli Dip (PHP 190), Kokoa Fudge Kukki (PHP 165), and Beri Oat Milk (PHP 175).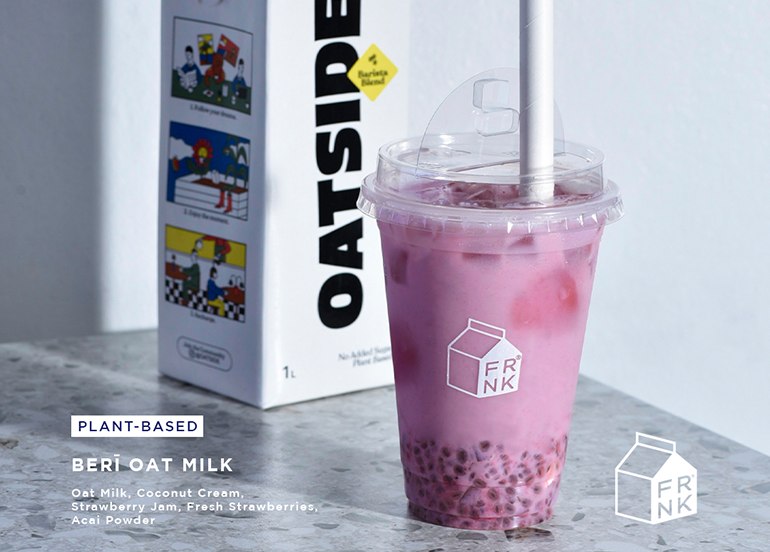 And while they're best eaten as a set, the items can also be bought individually. And to even get the most out of this set, when you buy a set via GrabFood, you can save as much as PHP 30!
The new Plant-Based Bento Set is now available in the nearest FRNK Milk Bar store to you. It's available for dine-in, take-out, and delivery.
Check Out Other FRNK Milk Bar Drinks in Manila
Milk tea is an indulgence that we Filipinos are already well-acquainted with. The year 2019 saw the arrival of a number of international milk tea franchises from Hong Kong and Taiwan. You would think the buzz around the craze would have died down by now, but the FRNK Milk Bar concept is defying all expectations.
If you've ever treated yourself to a cup of milk tea, you might be familiar with the guilt that comes once you've processed the insane amount of sugar and calories you've consumed. Indulgence often comes with a cost — and it's an even heftier price if you struggle with lactose intolerance — but from the looks of it, FRNK Milk Bar is changing the game.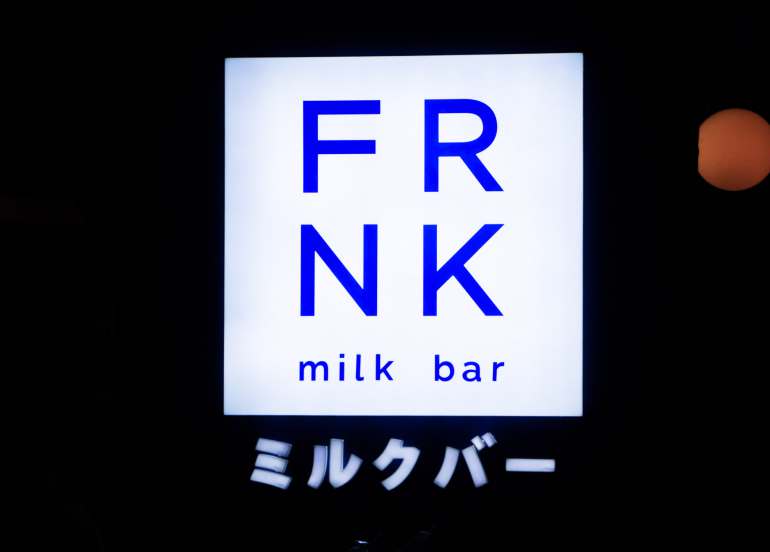 The first authentic Japanese Milk Bar is finally here in Manila and we can't get enough of it. Located on the ground floor of Glorietta 3 in Makati, the flagship store's interiors are an explosion of color – a balance of pastels and dark blue walls, adorned by murals and mirrors – all highly Instagram-worthy.
It's always milk tea o'clock for us, but FRNK Milk Bar is open from 10AM to 9PM on the weekdays and until 10PM on weekends! However, their last call for orders is at 9PM!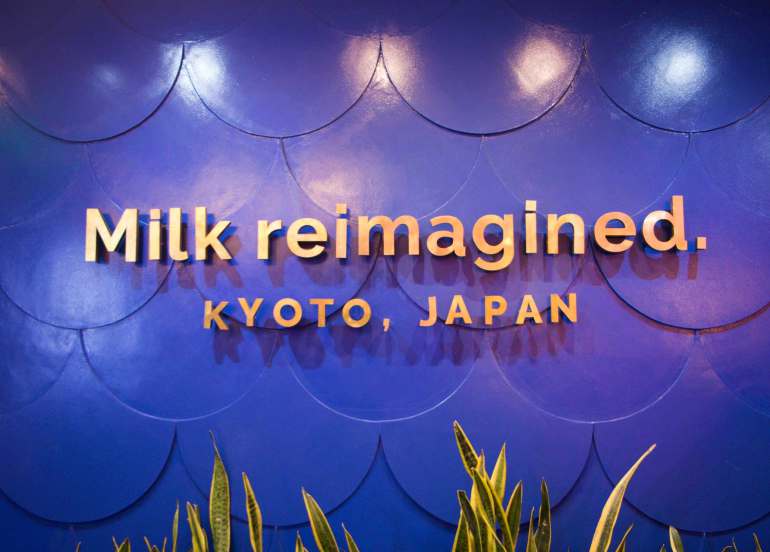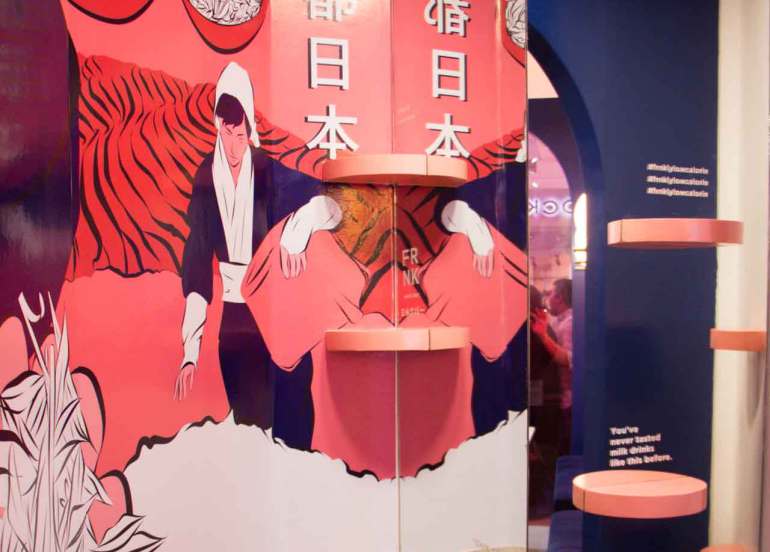 Not only are their handcrafted drinks made with the best ingredients, but they're super customizable for milk tea lovers of every diet. The fresh milk alternatives don't stop at non-fat, but FRNK Milk Bar offers gluten-free and dairy-free options!
Customers can choose from an assortment of alternative milk options including almond milk, oat milk, and even brown rice milk. Just tell them!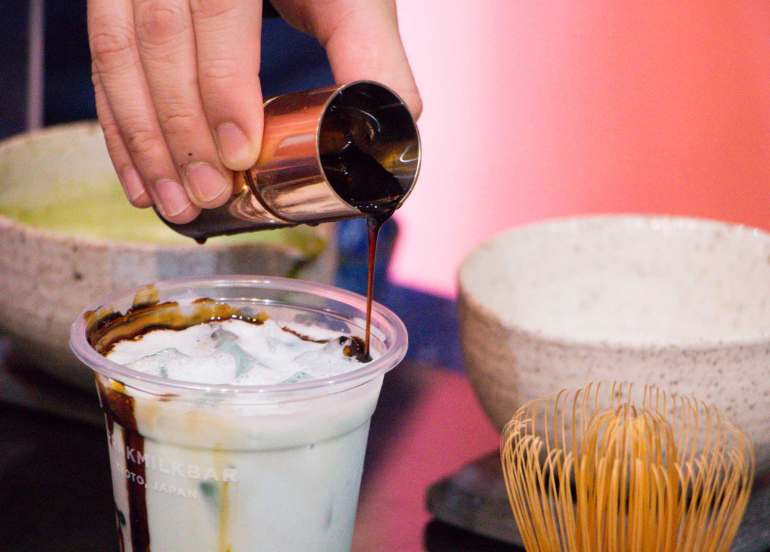 When they say handcrafted drinks, they mean it. Aside from their plant-based options for their milk-based drinks, they are flavored by teas all the way from Kyoto, with additional homemade syrups, sauces, honey, and even their unique sinkers such as blue tea pearls, blue tea mochi, and basil drops. Not to mention they get their matcha from Morihan, one of the biggest matcha producers in Japan!
Baked Purple Chizu
Made of coconut, homemade baked purple jam, coconut milk, with fruit honey, and blue tea pearls!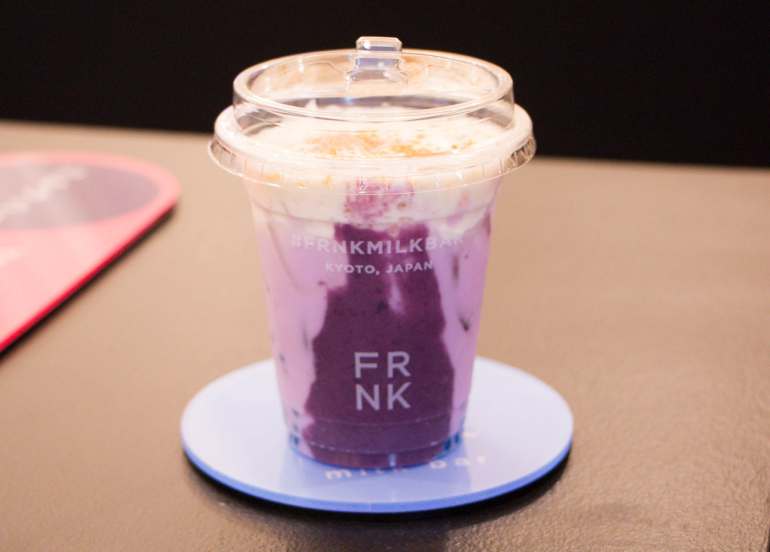 Kokoa Magma
An iced-shaken dark kokoa milk drink made with our secret almond crumble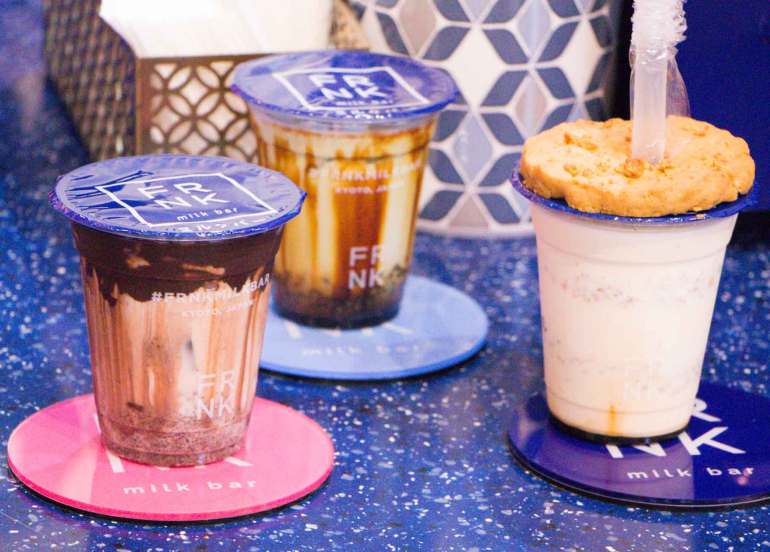 Blue Lava Miruku
Their take on the Brown Sugar drink; iced-shaken blue tea and full cream milk with dark sugar, topped with blue tea pearls and basil drops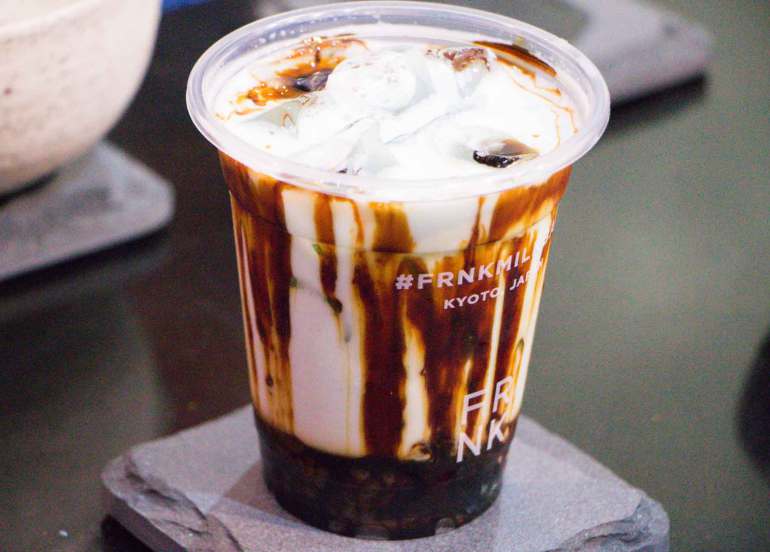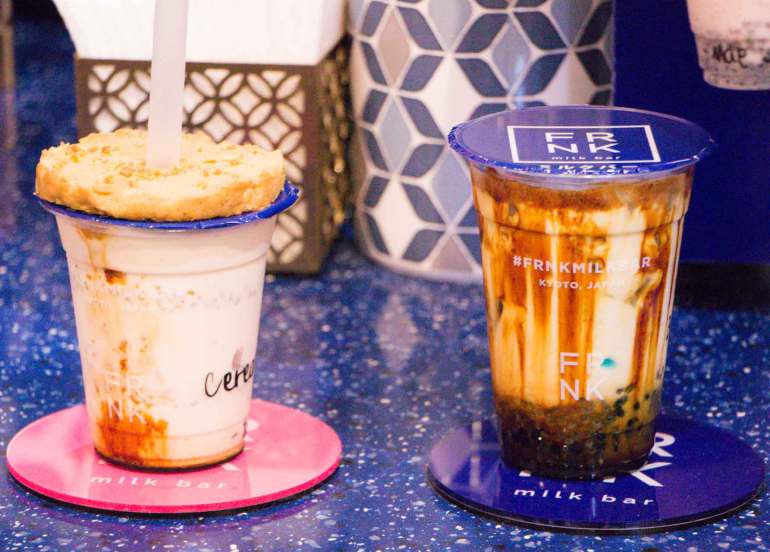 Frozen Cereal Miruku
Homemade corn cereal, milk, syrup, homemade cornflake cookie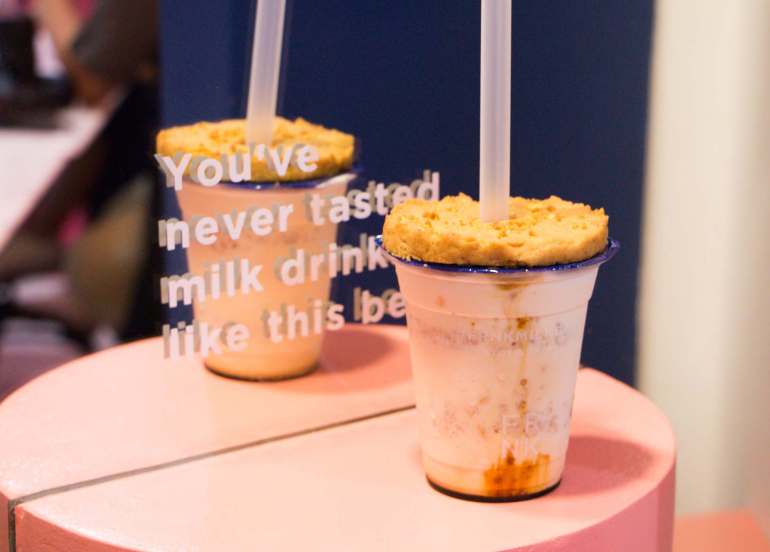 Kokoa Spiced Popsicle
Cinnamon black tea, fresh milk, with a dark cocoa popsicle stick; the only hot beverage on the menu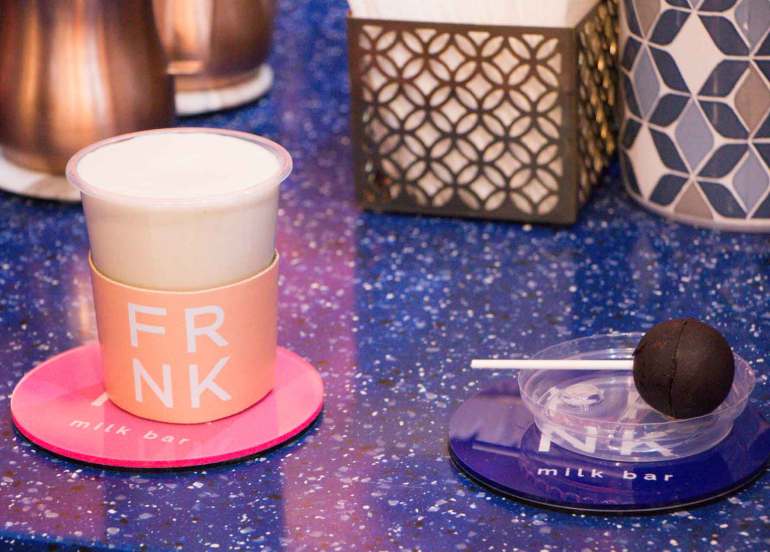 Ichigo
Hand-whisked uji matcha, homemade strawberry jam, milk, basil drops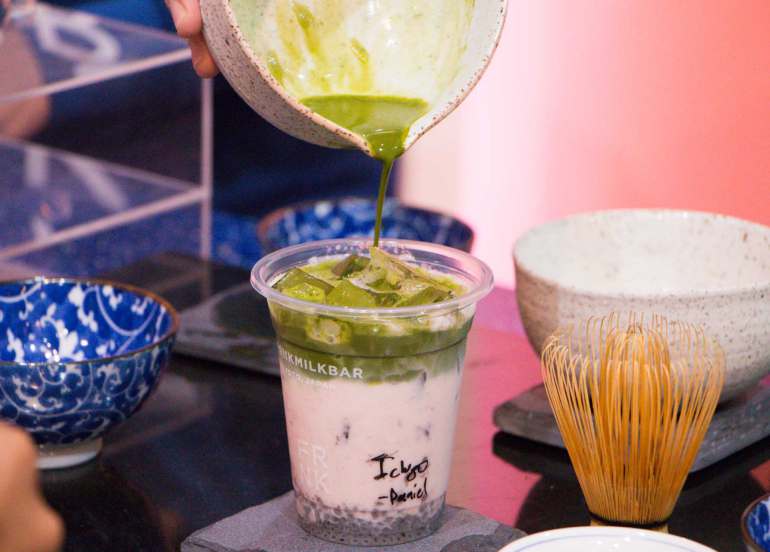 Time for Dessert!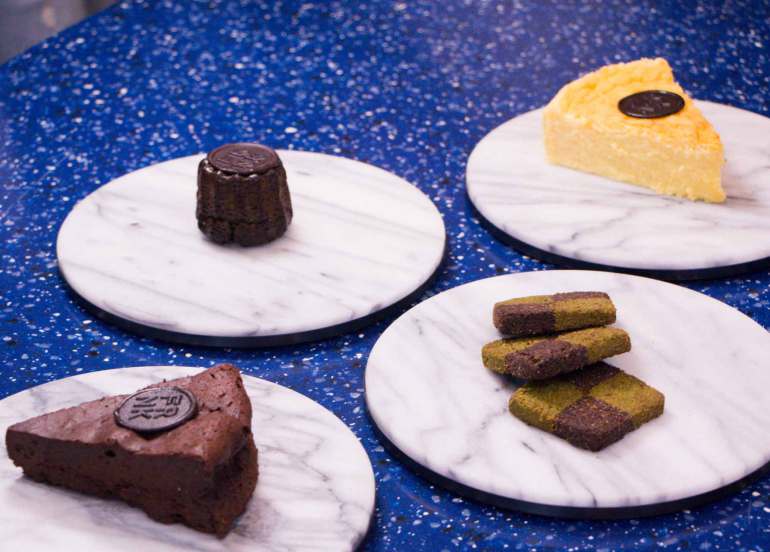 The sweet tooth doesn't stop at milk tea. FRNK Milk Bar also brought over their popular Flourless Chizu Cake, Flourless Kokoa Cake, Matcha and Kokoa Checkered Cookies, and Japanese Kokoa Macaroons.
View menu
View their Facebook page
View their Instagram account
G/F Glorietta 3, Ayala Center, Makati
Follow Booky on Twitter (@bookymanila) and Instagram (@bookyapp) to stay on top of foodie news! If you're not already enjoying the offline convenience of Booky, you can download the app for FREE on iPhone or Android. Discover over 900 of the top restaurants in Metro Manila and just watch as your foodiverse explodes!