It may sound (hazel)nuts but believe us, this recipe is legit!
From ice cream to donuts, Nutella has been an ingredient incorporated in a number of desserts to take those sweet treats and more to a whole 'nother level. By more, we mean even the trending dishes and drinks such as the quarantine drink trend: Dalgona Coffee.
Miss the coffee from your favorite coffee shops? Check out: Your Guide to Cafe and Coffee Delivery Available Now
A chocolate-y, caffeine-free alternative to the popular Dalgona Coffee, whipped Nutella or Dalgona Nutella is a drink that'll surely capture the hearts of non-coffee drinkers, sweet tooths, and Nutella lovers alike.
Planning to make some at home? Here's a recipe by @sweetportfolio you definitely have to try!
Whipped Nutella (a.k.a Nutella Dalgona)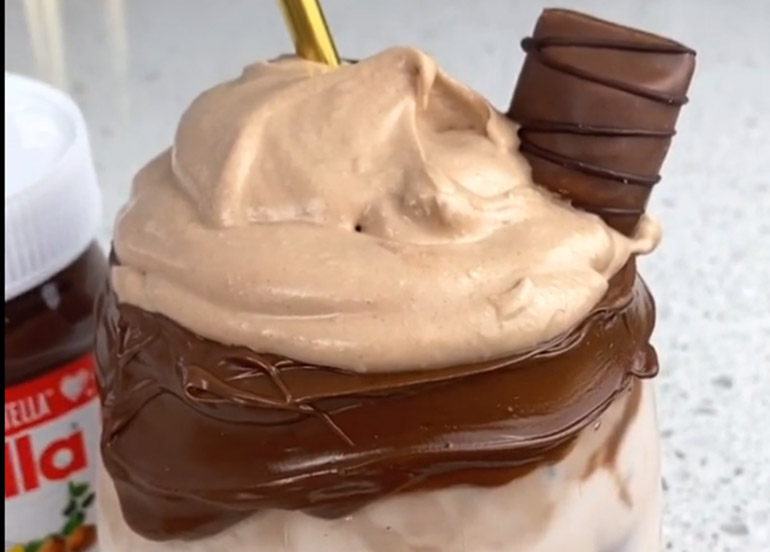 Ingredients and Procedure:
Whip a spoonful of Nutella and 1/3 cup of heavy cream until fluffy. Enjoy on top of milk with ice.
Fun fact: Want more non-coffee whipped recipes using famous ingredients like Froot Loops, Nesquik Strawberry Powder, Biscoff Biscuits, and more? Check out @sweetporfolio's Instagram account. 
Want to know more about the trend that started it all?
Dalgona Coffee: the Korean trend that's taken the lockdown period by storm. Zoomers (and the millennial #titas keeping up) are going gaga over the latest food trend to hit Instagram & Tiktok like wildfire.
And since most of us are under the enhanced community quarantine until April anyway, we figured you might want to try making it as well (and to those supportive folks helping out their partners or siblings for their Tiktok accounts, rest assured it's worth the effort!). But first, what is it?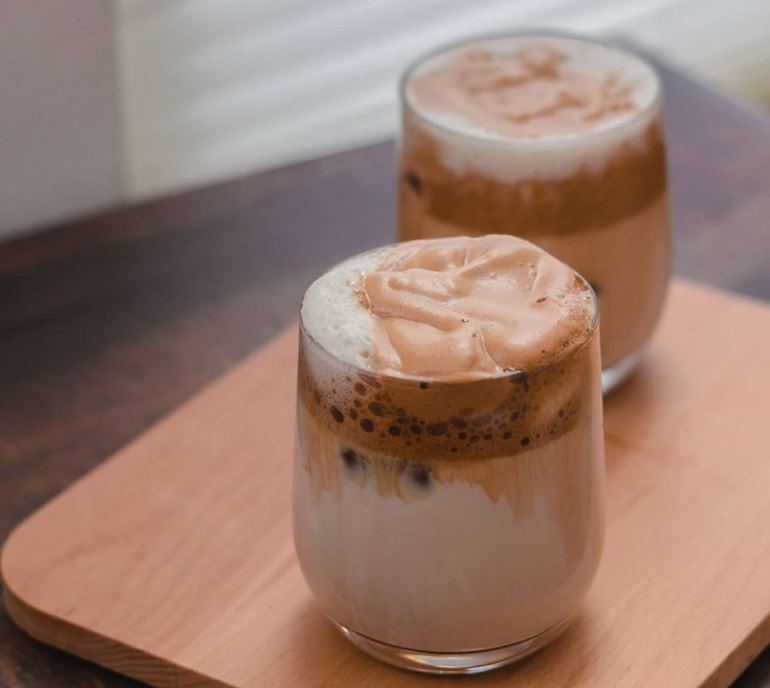 Dalgona coffee (a.k.a. whipped coffee) is called that because it resembles a popular sponge street candy in South Korea called Dalgona. What makes it worth trying though is that it mimics the foamy texture of a cappuccino without needing to froth milk (because unless you are a hardcore coffee lover, you probably don't have a milk frother just lying around your kitchen).
So, what makes it so good? First, let's look at the science behind it. To put it simply, mixing instant coffee, sugar, and water produces a highly viscous fluid solution which is capable of entrapping small air bubbles within. Beating with a whisk or a hand mixer introduces air to the solution and voila! You have a rich, sweet foam that doubles your coffee's intensity.
The secret lies in having the proper ratio of instant coffee to sugar to water. Just like the art of baking, precision is key! So without further ado, here's how you can make Dalgona Coffee.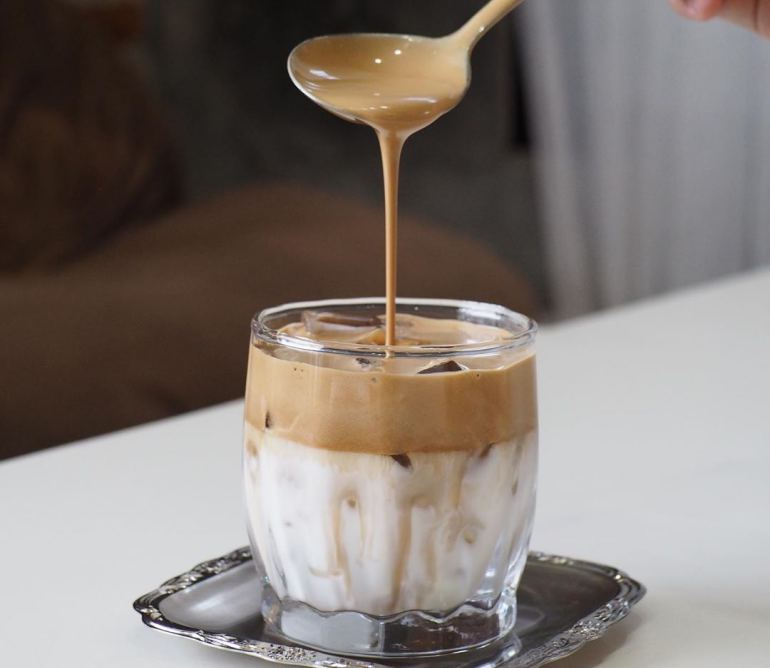 Ingredients (for 1 serving):
1 tbsp Instant Coffee
1 tbsp Sugar (white or brown)
1 tbsp Hot water
400ml Milk
Ice
Instructions:
Combine all three ingredients in a bowl and mix using a hand mixer for around 2-4 minutes or until you reach your preferred foaminess.
Transfer to a glass with ice and milk and you have yourself Dalgona Coffee.
P.S. Using 3-in-1 coffee won't get you the same level of foam as compared to instant coffee, but it's still possible if that's what you have at home!
Bonus: If you're feeling a little more experimental, you can try mixing ½ tbsp of chocolate powder and ½ tbsp of instant coffee instead of 1 tbsp of coffee to create a mocha version!
Don't believe how easy it is? Check out the video that started it all.
Posted on Tiktok.
By Lian Castro
Looking for different ways to spice your Dalgona Coffee up?
Here are Some Dalgona Coffee Innovations
Torched Dalgona Coffee
Think your dalgona coffee could use a fancy touch? Replace the white sugar with 2 Tbsp. of confectioners sugar, whip until it foams, transfer to a piping bag, pipe the mixture on top of the milk, and torch the top until it turns golden brown.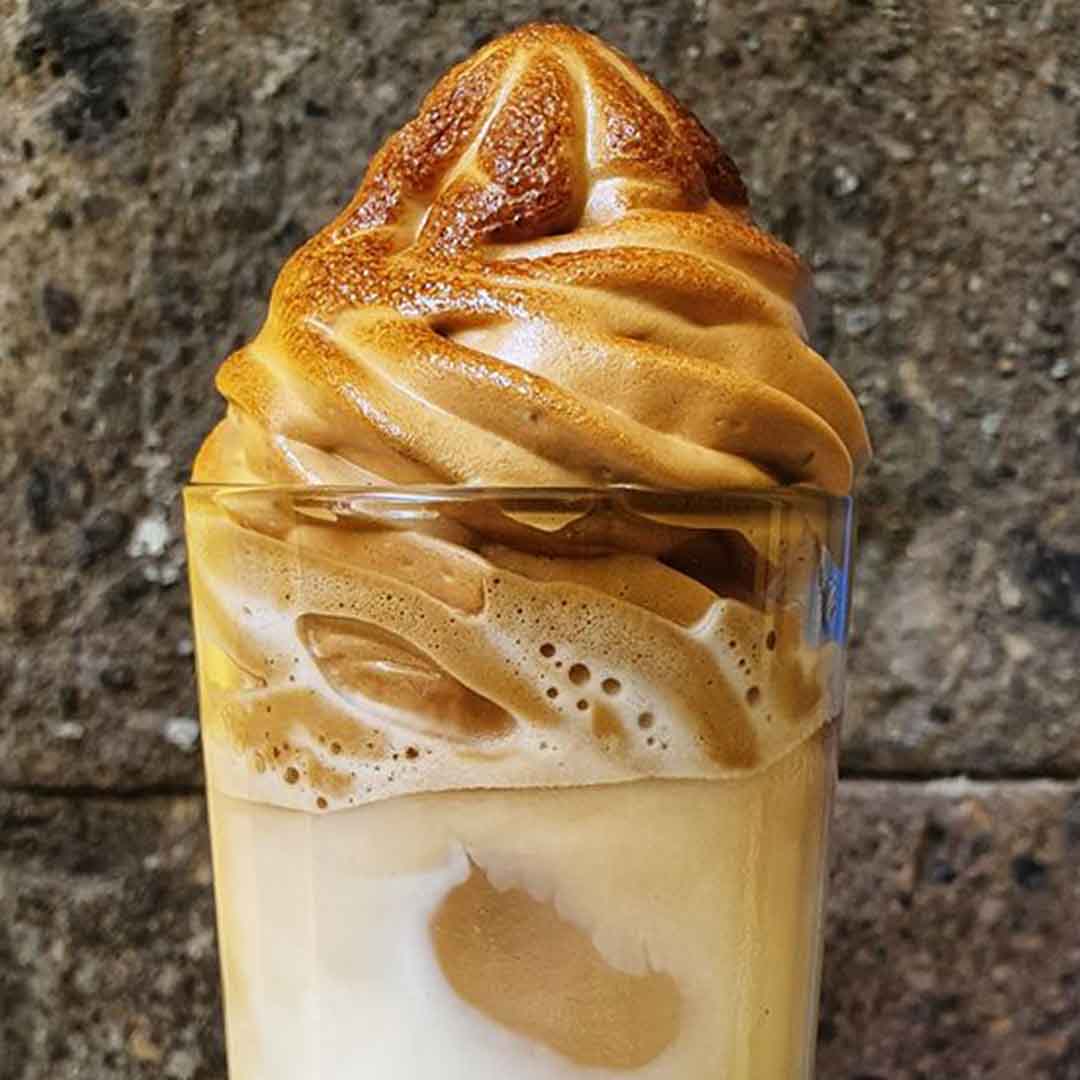 Dirty Horchata
To add a dirty horchata spin to your dalgona coffee, simply add cinnamon to your milk and top it with a dash of cinnamon as well.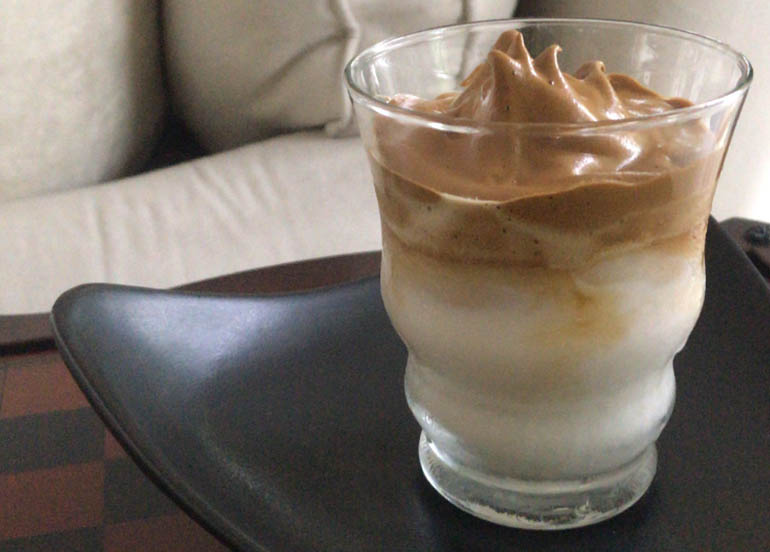 Dalgona Coffee with Coffee Jelly
Don't fancy cinnamon? Perhaps coffee jelly and black cocoa powder is the upgrade you'll enjoy. To make this, simply create your usual dalgona coffee, add the coffee jelly, and then garnish with the black cocoa powder.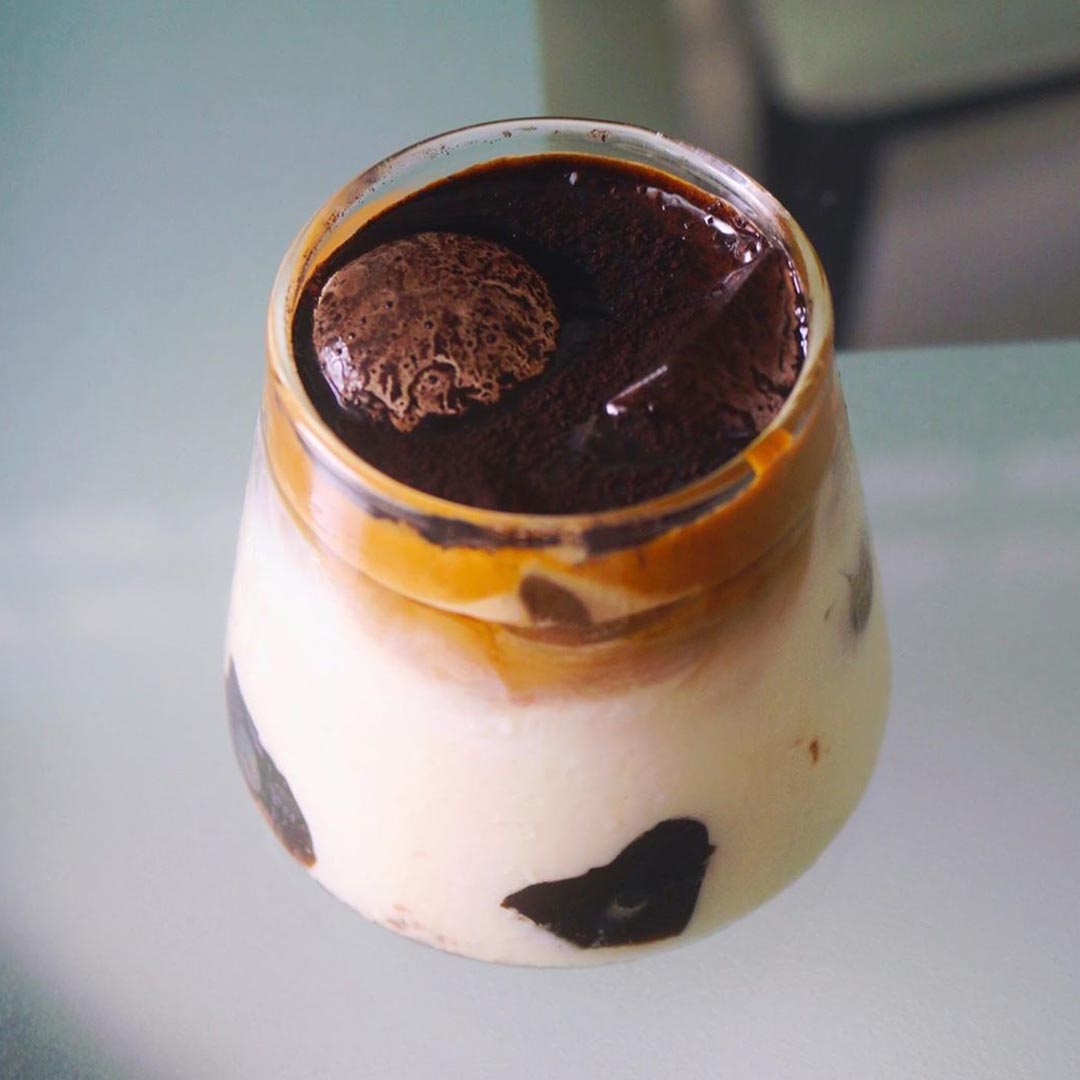 Dalgona Coffee with Flavored Milk
Level up your dalgona coffee with either strawberry, banana, or oreo milk. To make flavored milk, all you have to do is to mash your preferred ingredient in a glass and then add the milk.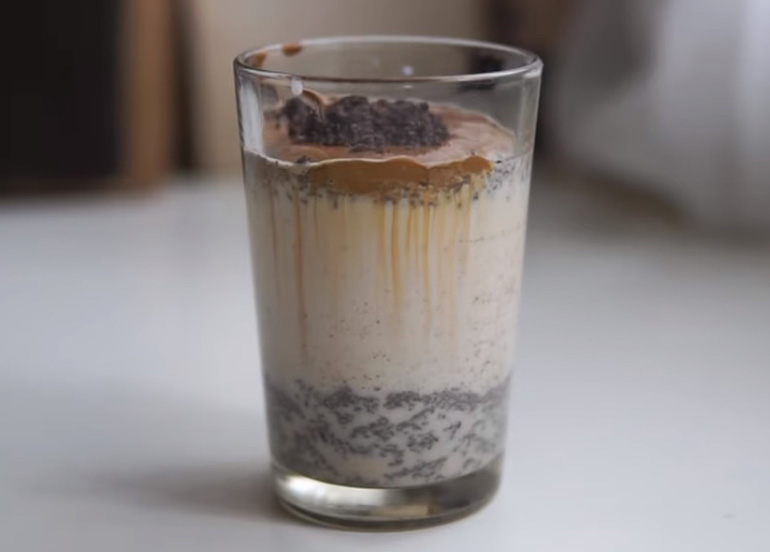 Black and White Dalgona Coffee
Is Oreo milk too simple an upgrade for you? Check out this recipe of Black and White Dalgon Dalgona Coffee by Hew Cheng that includes dark cocoa and Oreo.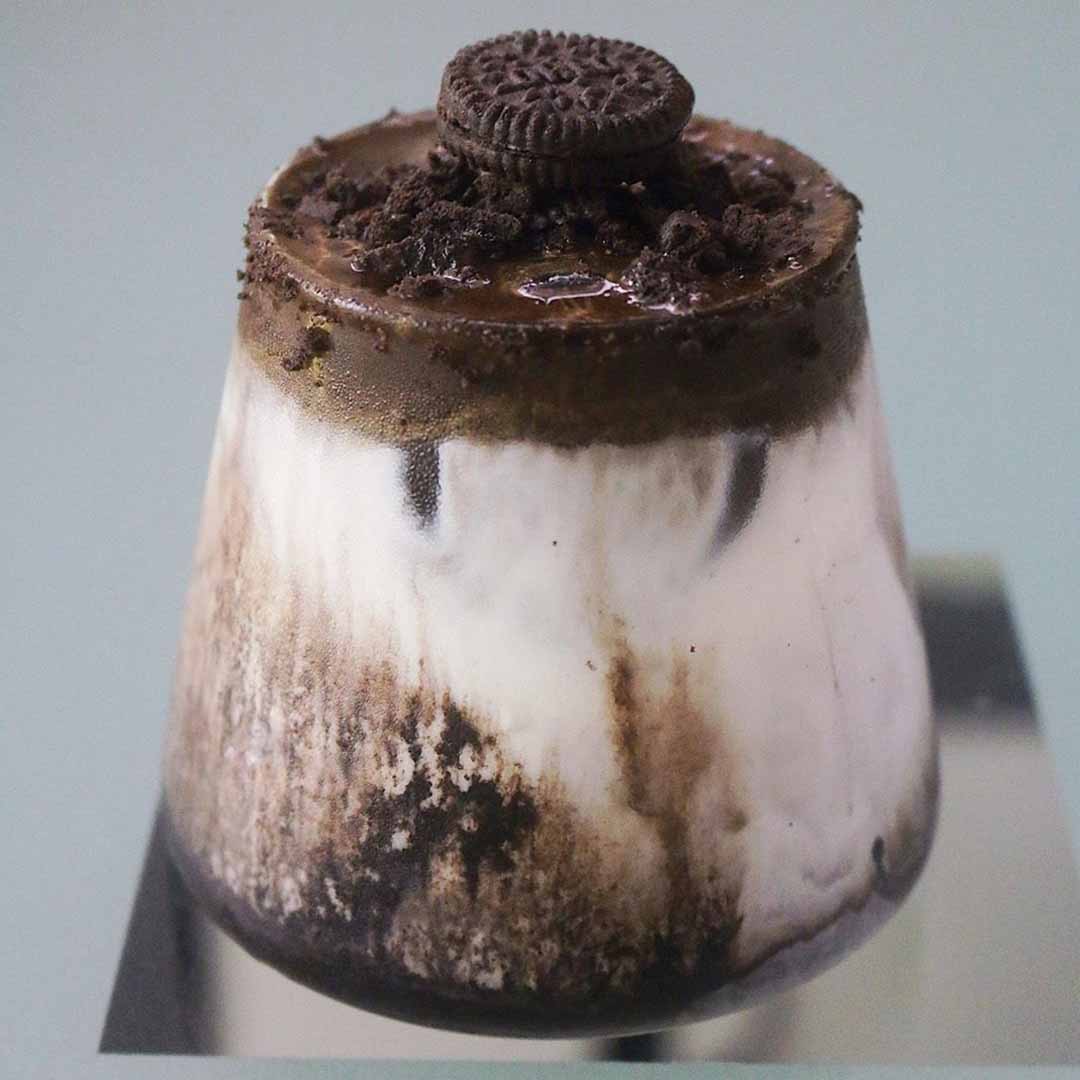 Ingredients:
Dark Cocoa Powder
Milk
Vanilla Extract
Brown Sugar
Coffee Powder
Oreo
Water
Procedure:
Combine and whisk well the following into a cup: Dark cocoa powder, milk, vanilla extract, and brown sugar. Afterwards, add more milk in the cup.
In a separate cup/bowl, mix coffee powder, sugar, and dissolved black cocoa power and whip until it looks like foam. Pour this mixture on top of the milk.
Garnish with the toppings of your choice.
Dalgona Milo and Matcha
For all you non-coffee drinkers, you can also make caffeine-free dalgona with Milo and Matcha. Simply add a dash of chilled all-purpose cream/whipped cream in your mixture then put it in the refrigerator for a while before you begin whisking until it foams.
Note: It may not look as frothy as dalgona coffee, however, it's light enough to not sink to the bottom.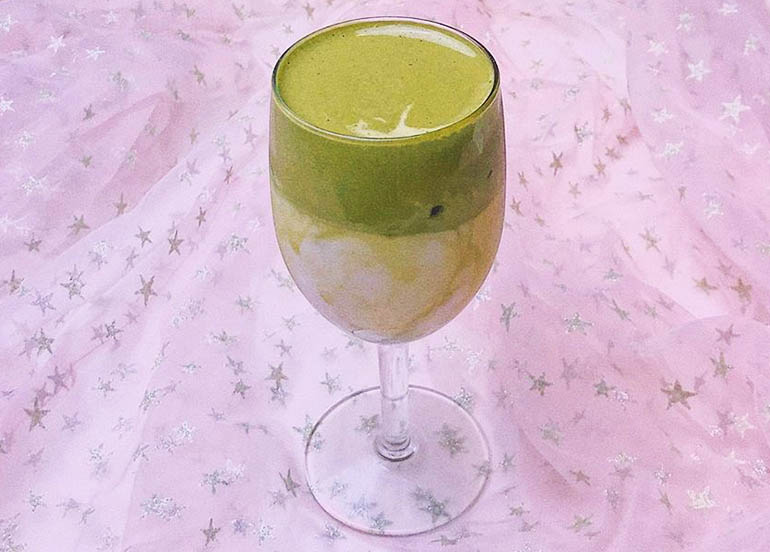 Well, that's all there is to it! In light of the COVID-19 crisis, we hope this recipe (and Tiktok plug) helped. Try it out for yourself and let us know if you liked it through our Instagram, @bookyapp. Take care always! – The Booky Team
Cover photo from @katherinefrancesk