Let's get cooking
We're all cooped up in our homes and just itching to have a taste of our favourite comfort food during these trying times; today may be your lucky day as Sentro 1771 has released two recipes that we can make ourselves!
They released their well-known and loved Corned Beef Sinigang and another refreshing favourite, their Tomato Kesong Puti Salad!
Read on to learn how to make these dishes.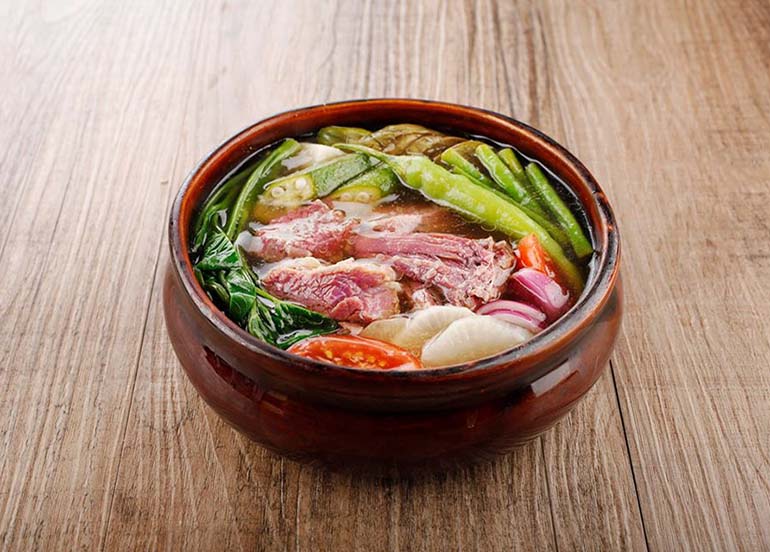 Serves 12 to 15 people.
Ingredients
Brine Solution
Combine all these ingredients in a pot and bring to a boil. Afterwards, transfer to another bowl to let it cool then strain the brine.
11 1/2 cups water
1 cup + 2 tsp rock salt
1/4 cup Prague salt
3 tbsp brown sugar
1 medium red onion, peeled and quartered
3 cloves garlic, peeled
Corned Beef
2 kg boneless beef camto, cut into 3-inch cubes
2 kg beef short ribs, cut into 3-inch cubes
Brine solution from earlier
2 leeks, root ends trimmed
2 medium red onions, peeled and halved
4 celery stalks, roots and leaves trimmed
4 bay leaves
2 tbsp whole black peppercorns
Purified water
Sinigang
4 native tomatoes, quartered
2 medium red onions, quartered
2 native taro (gabi), peeled and quartered
Reserved corned beef broth
Purified water
1/4 cup sinigang mix or fresh unripe sampalok
2 green finger chilies, siling pangsigang
Prepared corned beef
2 eggplants, diagonally sliced
1 bunch sitaw, cut into 2-inch long pieces
6 okras, diagonally sliced
1 radish, peeled and diagonally sliced into 1-inch pieces
1 bunch kang-kong leaves and shoots
Rock salt, to taste
Procedure
Corned beef
Cure the meat by placing beef camto and short ribs in a non-metal container then pour in the brine, making sure that the meat is fully submerged. Cover and refrigerate for 3-5 days, check from time to time to make sure the meat is still fully submerged in the brine. When ready for cooking, drain and do not rinse the meat.
Tenderize the meat by placing the cured meat in a stockpot. Add in the vegetables and fill the pot with water just until everything is submerged in the water then simmer until the meat is tender. You made add more water. Continue cooking until you're sure the meat is tender then drain out the broth into a bowl then set aside. Separate the meat from the vegetables and do not rinse the stockpot just yet.
Strain the broth then taste so you'll know if you need to season it more. Taste the meat as well to check if it's flavoured well or too salty.
Sinigang
Add in the tomatoes, red onions, and gabi to the stockpot awhile ago that wasn't rinsed just yet from the corned beef. Add in the broth and enough water just to cover the vegetables. Adding more or less water depends on the saltiness of your broth so make sure to taste as you go!
Add the sinigang mix or pang-asim and green chillies then add the conred beef, eggplant, sitaw, okra, and radish. Add the kang-kong leaves and shoots just before serving then season with salt if necessary. Enjoy!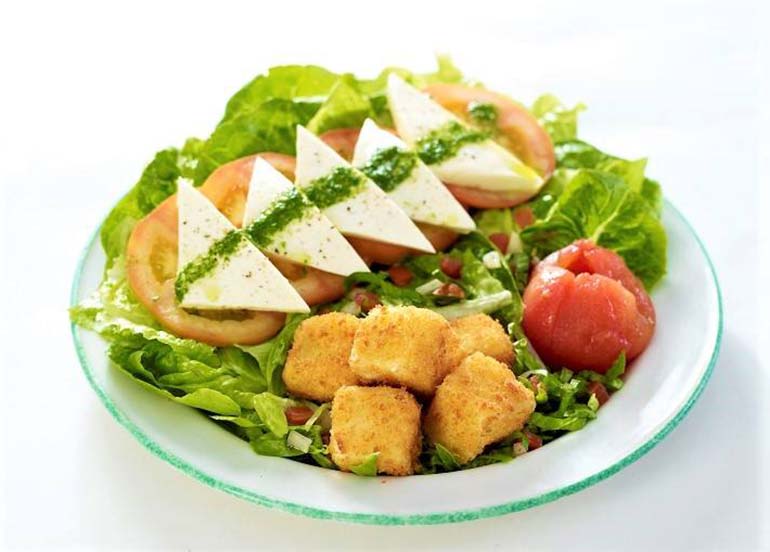 Ingredients
Breaded Kesong Puti Cubes
1/2 pack (100g) kesong puti, cutinto 3/4 inch cubes
1/2 cup flour
1 pc. egg, beaten
3/4 cup Japanese bread crumbs
Anchovy Dressing
2 tbsp bagoong isda
2 tbsp sibyuas Taglog, finely chopped
3 tbsp distilled white vinegar
Freshly ground black pepepr
1/4 tsp sea salt
1/3 cup + 1 tbsp olive oil
Salad
4 pcs (around 30g) native tomatoes, round slices
1/2 pack kesong puti, slices into triangles
sea salt
freshly ground black pepper
2 tbsp anchovy dressing
4 pcs native tomatoes, blanched, peeled and slit crosswise to open like a flower
Breaded kesong puti cubes
1 head Romaine lettuce, washed, dried, no holes and brown spots, torn into medium-sized pieces.
Procedure
Breaded Kesong Puti Cubes
Place the flour, egg, and breadcrumbs in three separate flat bowls or deep wide containers.
Roll the kesong puti cubes in the flour then remove.
Roll the floured kesong puti cubes in the beaten egg then remove.
Then roll it in breadcrumbs, shaking the container.
Freeze this for around 30 mins or leave in the freezer until ready to use.
Anchovy Dressing
Combine the bagoong isda, sibuyas Taglog, vinegar, salt, and pepper
Taste for balance, adjust if necessary then stir in the oil and reserve this in a bottle.
Salad
Start blanching the tomatoes so i thas tiem to cool down before salad assembly. Also start heating the oil for deep-frying the kesong puti.
Take some lettuce leaves and slice into strips. Transfer to a serving plate.
Season tomatoes with salt and place on top of shredded lettuce.
Place a slice fo kesong puti on top of each round of tomato slice.
Drizzle with some of the anchovy dressing you made.
Place the blanched tomatoes alongside then season with salt and pepper.
Deep-fry the breaded kesong puti until golden brown.
Place both lettuce in a large mixing bowl and season with salt and pepper, tossing lightly.
Drizzle with the anchovy dressing then toss, transfer to a serving plate.
Garnish with the deep fried kesong-puti.
Looking for more recipes for you to try? Simply type RECIPE in the Booky Guide to see the different things you can make at home from soju cocktails to famous restaurant dishes like Mamou's Lorenzo Truffle Pasta.