ONION na po!
Have you made homemade burgers recently and you think the meal wouldn't be complete without side dish to pair with it like 8Cuts' Onion Rings?
Does your homemade burger need bread? Check out Here are Bread Recipes even Non-Bakers Can Do!
Since only a limited number of 8Cut branches are open, not everyone can afford to have these crispy, flavorful side dishes. If you're one of these people, don't you worry, here's a hack to 8Cuts' Onion Rings by pepper.ph.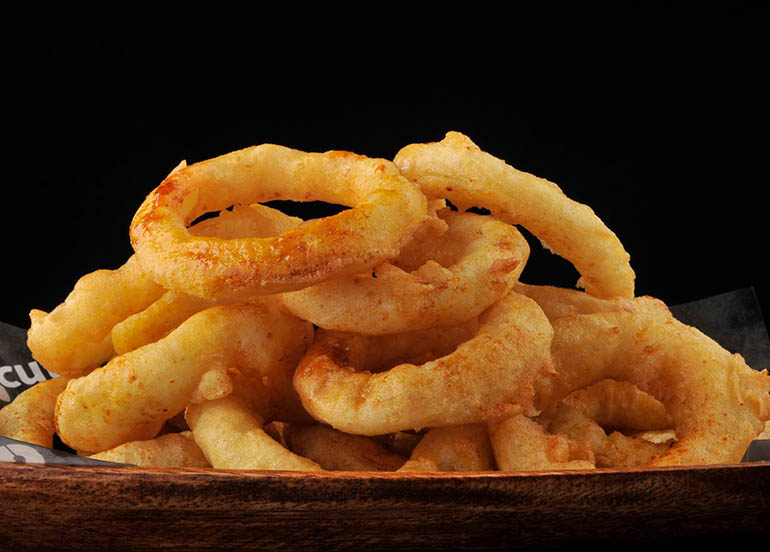 Ingredients (for 4-6 people):
2 large, sliced into half-inch rounds, white onions
1 cup heavy cream
2 tbsp. lemon juice
1 tsp. baking powder
3/4 cup flour
1/2 finely ground cornmeal
1 tbsp. barbeque powder + 3 tbsp (for sprinkling on finished product)
1 tsp. salt
1 cup chilled club soda
1 cup chilled light beer
1 cup flour
oil for frying
Procedure:
For the onions:
In a huge bowl mix heavy cream and lemon juice.
Soak the onions in the mixture for 30 minutes.
For the batter:
While waiting for the onions to soak, make the batter which involves putting baking powder, 3/4 cups of flour, cornmeal, BBQ powder, and salt in a bowl.
Afterwards, stream in the club soda and light beer in the same bowl while constantly whisking until you create a light batter.
For frying:
Prepare by heating the oil to 375° F. To add, put 1 cup of flour in a bowl to coat the onions in.
Now, to fry the onions. First, drain the onions and remove the excess liquid.
Second, toss the onions in the bowl with the flour until they're well coated.
Then, after you shake off the excess flour, you should dip the onions in the batter.
Once well coated, place the onions rings in the fryer and cook until it's lightly golden brown.
Don't forget to remove the excess oil from the onions by placing them on a paper towel as soon as you take them out.
To complete the dish, dust the onion rings with barbeque powder. Then, enjoy hot and fresh!
Be sure to follow Booky on Twitter (@bookymanila) and Instagram (@bookyapp) to stay on top of foodie news! If you're not already enjoying the offline convenience of Booky, you can download the app for FREE on iPhone or Android. Discover over 900 of the top restaurants in Metro Manila and just watch as your foodiverse explodes!