Let's make this quick
During this quarantine period, many of us have had a lot more time to unleash our inner chef and make dishes we've been putting on hold. Unlike your love life, it doesn't have to be complicated! Sometimes you need to take a little break and find ways to enjoy good quick food with little effort.
Whether it's for the gram, a quick merienda break, or this quarantine has got you bored and you're looking for something to get your hands moving, we've got you covered with these 10 quick under 10 minute recipes that you can whip up in no time!
Mac and Cheese
LDR got you needing some love? When the going gets tough this quarantine period and you miss your cheesy nights with bae, nothing beats this classic childhood comfort food to keep us feeling warm and fuzzy!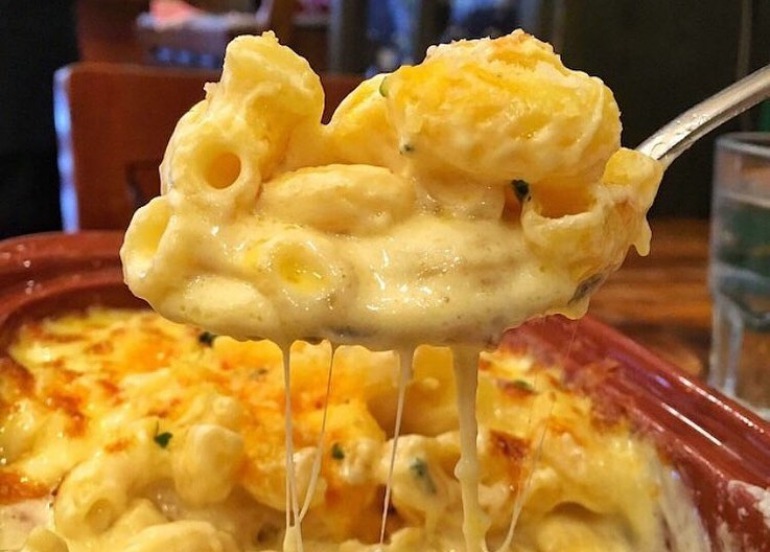 Ingredients (For 1 serving):
½ cup macaroni pasta
½ cup milk
½ cup water
Salt
Pepper
½ cup shredded cheese
Instructions:
Combine the macaroni pasta, water, salt, and pepper in a cup, then microwave for 2 minutes. Take out cup and stir, then microwave for another 2 minutes. Repeat for a third time, then take out cup. Top off with more cheese and enjoy!
Insider tip: If you have extra time on your hands, you can fry some bacon, crush, and add bacon bits!
Spam & Egg Rice Bowl
Did someone say SPAM? This classic staple always hits home and it's a sure-fire way to a happy stomach. Enjoy all-day breakfast in the comfort of your home with this simple spam & egg rice bowl.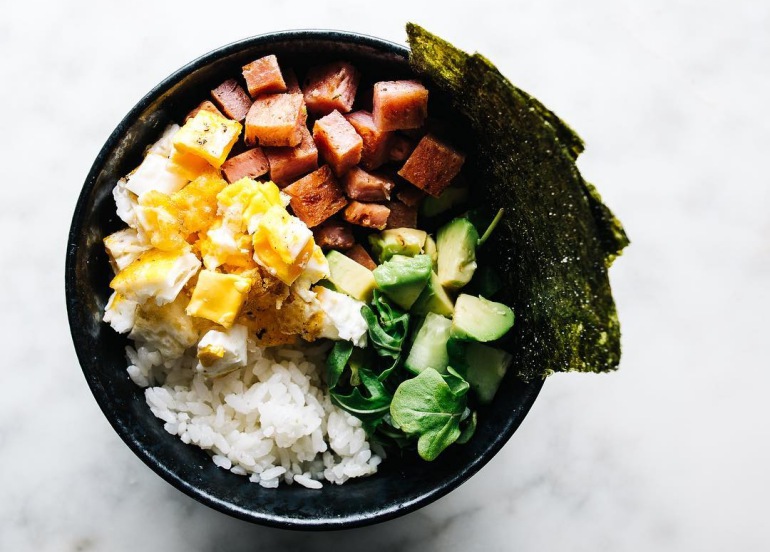 Ingredients (For 1 serving):
2 slices of spam
1 egg
1 cup or rice
Spices of choice
Instructions:
Cut spam in desired choice (slices, cubes, or keep whole). Fry in your choice of oil to your desired crispiness, set aside. Scramble eggs in pan. Heat leftover rice in microwave or pan. Put rice into a bowl, top with spam and scrambled eggs.
Insider tip: If you have furikake or nori around, pour furikake or cut nori into strips and top spam & egg bowl for an added twist! Ready for option 2? If you want to add an Asian kick to your bowl, add kimchi to your rice and stir-fry in pan!
Open-Faced Avocado Toast
Avocado isn't only for your smoothies! Here's a savory alternative to snack on with this nutrition packed fruit. Another perk? It's Instagramable and definitely worthy of your #QuarantineEats!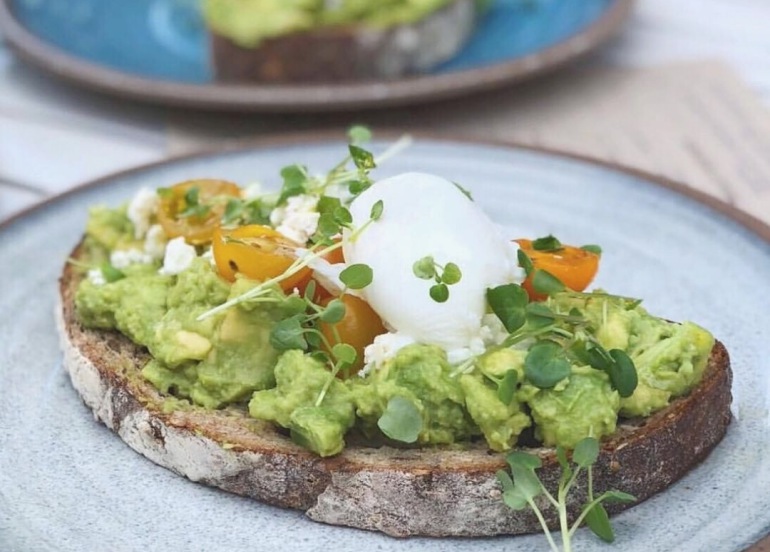 Ingredients (For 1 serving):
1 Avocado
1 bread slice
1 Egg
Lemon
Salt & Pepper
Chili flakes (optional for that extra kick)
Tomato slices (optional)
Instructions:
Mash avocado in a bowl. Add lemon, salt and pepper, and spice to taste, then set aside. Toast slice of bread in a toaster oven. Cook poached egg or sunny-side up depending on your liking. Spread avocado mix over toated bread and top with egg. Optional: add extra spice, salt, and pepper to taste.
Banana Chocolate French Toast
Saging lang ang may puso! Bananas continue to show us why it's one of the most versatile fruits. What better way than to pair it with a snack that hails from the city of love – French Toast!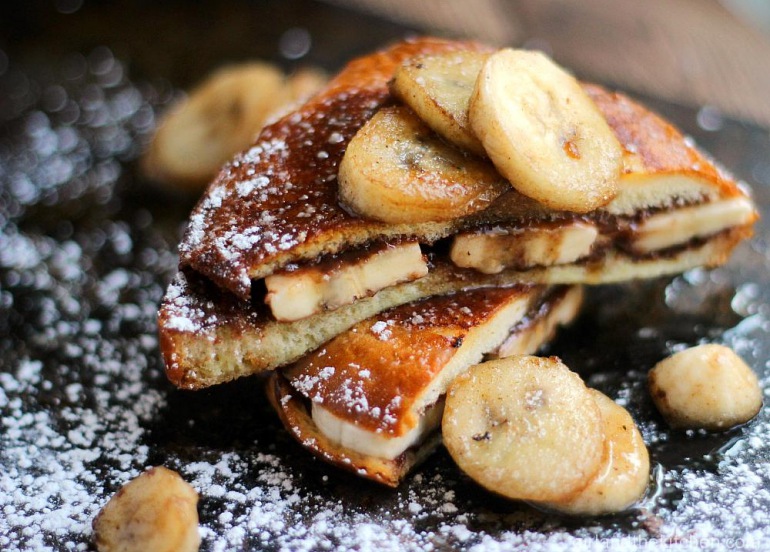 Ingredients (For 1 serving):
1 medium banana
1 bread slice
1 tbsp milk
1 egg
1 tsp cocoa powder
Chocolate syrup
Instructions:
Cut bread into cubs and put this as a base in a cup. Slice bananas into rounds and lay on top of bread base. In a separate bowl, mix together egg, milk, and cocoa powder. Pour the mix on top of your bread and banana. Microwave for 1 and a half minutes, take out. Drizzle with chocolate syrup and enjoy.
Insider tip: Get the best of both worlds! Add peanut butter if you're trying to bulk up and become the quarantine snacc we know you are!
Pizza Mug Cake
Mamma Mia! Our pizza delivery won't push through *sad emoji* but don't worry, this pizza mug cake is here to the rescue!
Ingredients (For 1 serving):
4 tablespoon all purpose flour
⅛ teaspoon baking powder
1/16 teaspoon baking soda
⅛ teaspoon salt
3 tablespoons milk
1 tablespoon olive oil
1 tablespoon marinara sauce
1 tablespoon shredded mozzarella cheese (The more, the cheesier!)
5 mini pepperoni or meat of choice
½ teaspoon dried italian herbs (i.e basil or oregano)
Instructions:
Mix flour, baking powder, baking soda, and salt in a microwavable mug. Add milk and oil, mix together. Don't fret if the mixture is lumpy. Take a spoonful of marinara sauce and spread around the surface of the batter. Sprinkle the cheese, pepperoni, and dried herbs over the batter.
Microwave for 1 minute 10 seconds to 1 minute 20 seconds, or until it rises up. Once you see the ingredients rising up you're good to go!
Note: Cooking time may vary depending on microwave wattage!
Spicy Tuna Melt Sandwich
Spice spice baby! Craving for your favorite tuna pie but can't get out of your house? This spicy tuna melt is sure to be a tasty alternative for now.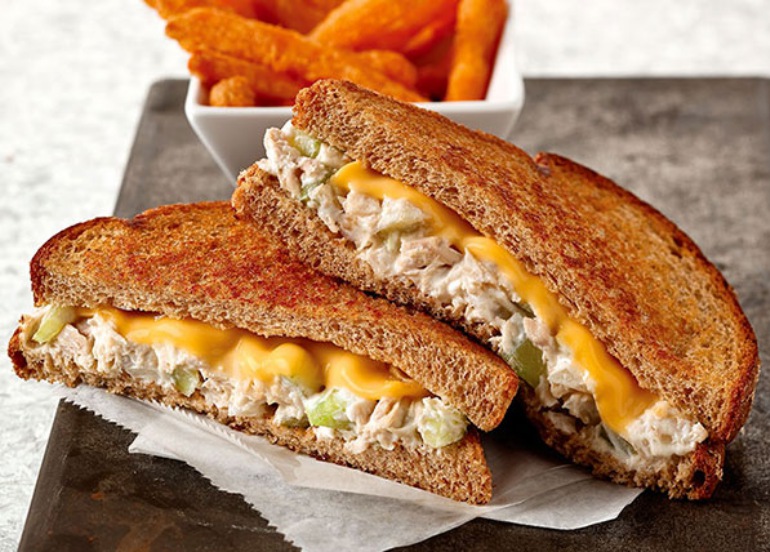 Ingredients:
Bread
1 Can of tuna
4 slices cheese (your choice of cheese slices)
4 tbsp butter
Mayonnaise (amount depends on how mayo-ful you'd want it!)
Black pepper
Sriracha or your favorite hot sauce
Optional: 2 boiled eggs
Instructions:
Put tuna into bowl. If you've decided to include eggs, slice up and add this to tuna. Add mayonnaise, sprinkle pepper and sriracha or hot sauce, then mix. Thoroughly cook tuna mixture in pan until slightly brown. Spread butter onto both sides of bread, then proceed to toast bread in oven toaster. Add cheese slices on top of tuna mix to slightly melt. Transfer tuna spread onto bread and enjoy!
Chicken Fajitas
Is your house starting to look like Mexico? We feel you. We know you can't wait to get your hands on some margaritas. But until then – buenos dias, Chicken Fajitas!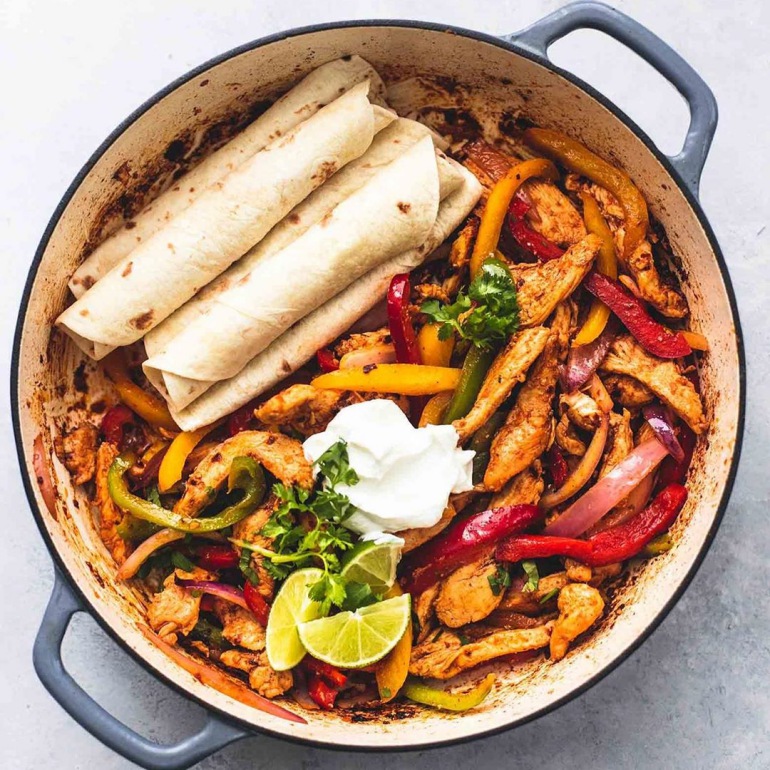 Ingredients (For 1 serving):
Red and green bell peppers
Medium sized yellow onion
Chicken tenders
Salt
Pepper
Taco seasoning
Cayenne pepper
Ingredients:
Chop the onion, and red and green bell peppers. Add a little bit of seasoning and set aside in a container. In another microwave safe container, season the chicken with salt, pepper, taco seasoning, and a little bit of cayenne for that extra kick. Make sure that it's fully coated. Cover the container and cook the chicken in a microwave on high for 10 minutes.
Insider tip: And that's a wrap! No, really – chicken goes with anything but we recommend pairing this up with pita bread and cheese to get anyone to shout Olé! after every bite.
Banana Almond Oatmeal
Remember that good ol' childhood memory, Bananas in Pajamas? Apparently this is what they meant. The best part? Since we won't be leaving our homes any time soon, you can have both bananas and be in your pajamas throughout the day. We won't judge!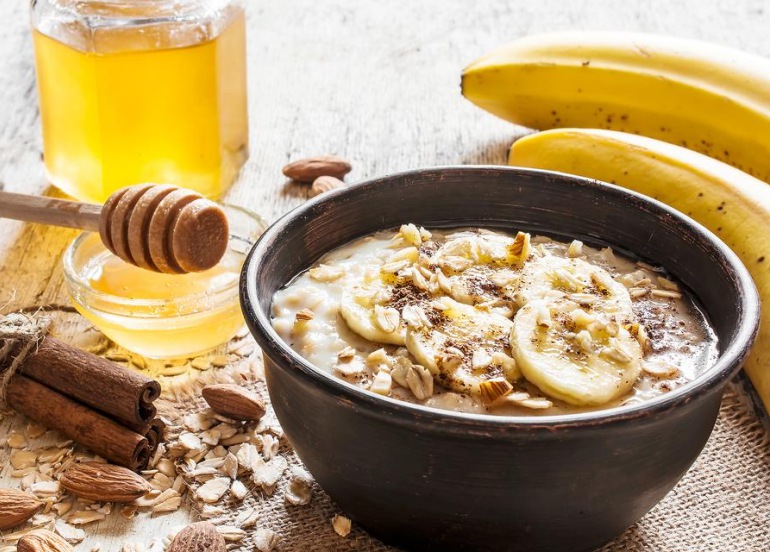 Ingredients (For 1 serving):
½ cup instant oatmeal
1 medium banana
¼ cup almond
Salt
Cinnamon
Hot water
Ingredients:
Pour oatmeal, salt, and cinnamon in a jar. Mix these dry ingredients together. Pour water just enough to submerge the oatmeal completely and let it soak for a few minutes. Top it off with banana and almond slices for extra texture and flavor.
Insider tip: You can replace water with milk to achieve that thick and creamy consistency. A little peanut butter wouldn't hurt either!
Tortang Tuna with Spinach Omelette
Who says that fitness goals have to end during the quarantine? Like what uncle Popeye says, "I'm strong to the finish 'cause I eat me spinach." This guilt-free meal is packed with your Omega 3 and vitamins that will have your #SummerBod ready in no time!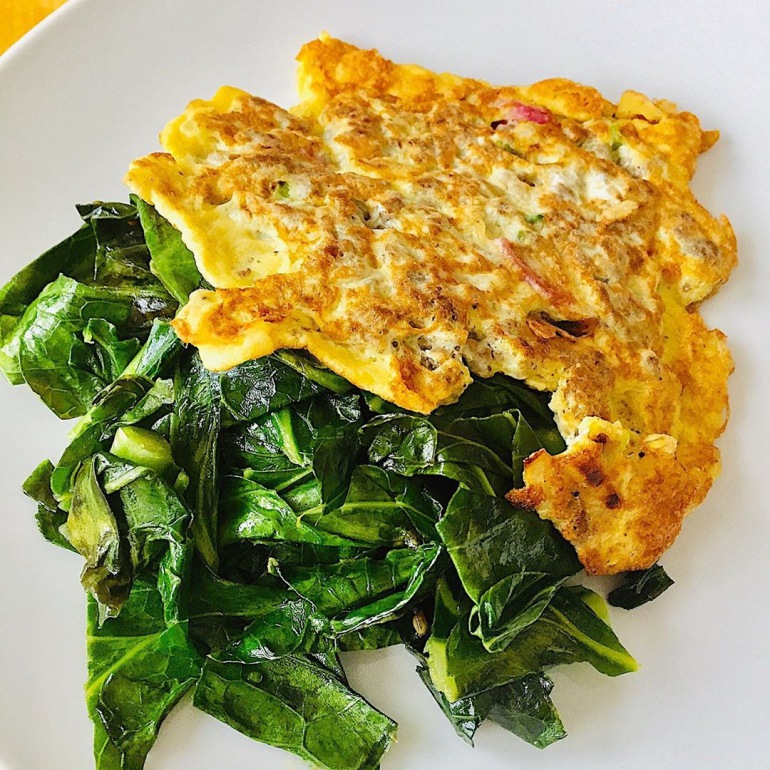 Ingredients (For 1 serving):
5 eggs
1 can of tuna
1 ½ cup baby spinach
1 medium sized yellow onion
5 tbsp cooking oil
Salt
Pepper
Instructions:
Set a pan in medium heat with 3 tbsp cooking oil. In a separate bowl, beat the eggs and set aside. Once the pan is hot, sauté the onion until translucent. Drain the water from the tuna and add this to cook. Add the spinach and let it cook for a few minutes. Finally, season with salt and pepper
After the tuna and spinach is done cooking, let the mixture cool and combine it in your bowl with eggs. Mix well. In a separate pan, heat the remaining 2 tbsp oil and pour the combined mixture. Continue to cook in medium heat, and then serve.
Chocolate Mug Cake
Why settle for a cup of coffee when you can have chocolate cake within your grasp – literally? Better yet, your drink has never found a more suited partner. This dessert serves justice and we're all found guilty 🤡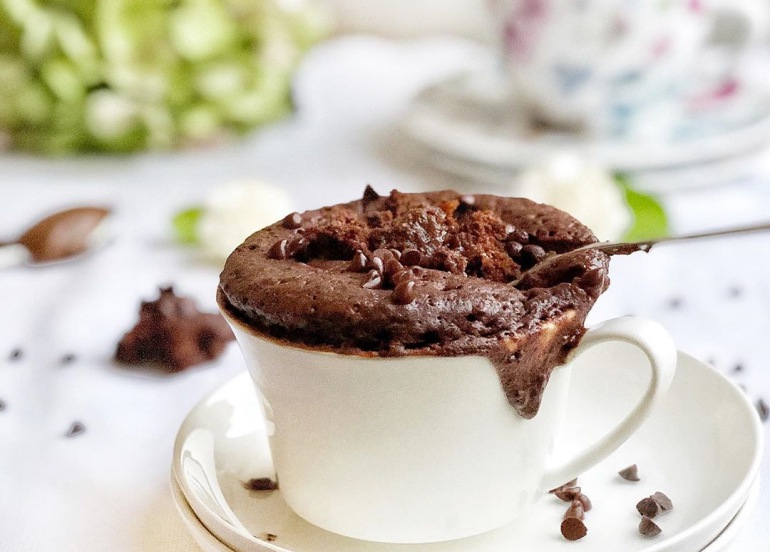 Ingredients (For 1 serving):
¼ cup all purpose flour
⅛ tsp baking soda
¼ cup sugar
2 tbsp cocoa powder
⅛ tsp salt
1 tbsp water
¼ tsp vanilla
2 tbsp canola oil
3 tbsp milk
Instructions:
Mix all dry ingredients (flour, baking soda, sugar, cocoa powder, salt, and sugar) in a mug. In a separate bowl, mix the milk, water, canola oil and vanilla. Combine all ingredients together in the mug. Microwave for about 1 minute and 45 seconds until the cake is done in the middle for that soft and moist center.
Insider tip: A little microwave goes a long way. Elevate this cake further by adding in a scoop of vanilla ice cream and caramel syrup.
By Dani Monfort, Lizelle Te, Mariel David, and Shikayna Ramos
Let us know what you think of these dishes when you try them! Tag us on Instagram @bookyapp and don't forget to use the hashtag #bookymanila whenever you post photos of your food trips! Happy eating!