June 18 is Sushi Day!
Nothing beats good sushi. For this list, we showcase some of the best value-for-money sushi you can get in the Metro.
From rolls to sashimi, there's something for every sushi lover here. The best part? You don't have to hurt your wallet to enjoy them
Genki Sushi from Japan is the pioneer of Kaiten Sushi, or sushi served on a conveyor belt. Genki innovates this concept with their made-to-order sushi that's served on a bullet train conveyor belt. The menu includes a variety of fresh sushi, maki, ramen, tempura, and more. Genki Sushi's roll prices depend on your order. They can go from ₱90 to ₱180!
What to order: Hana sushi, Trio salmon, and more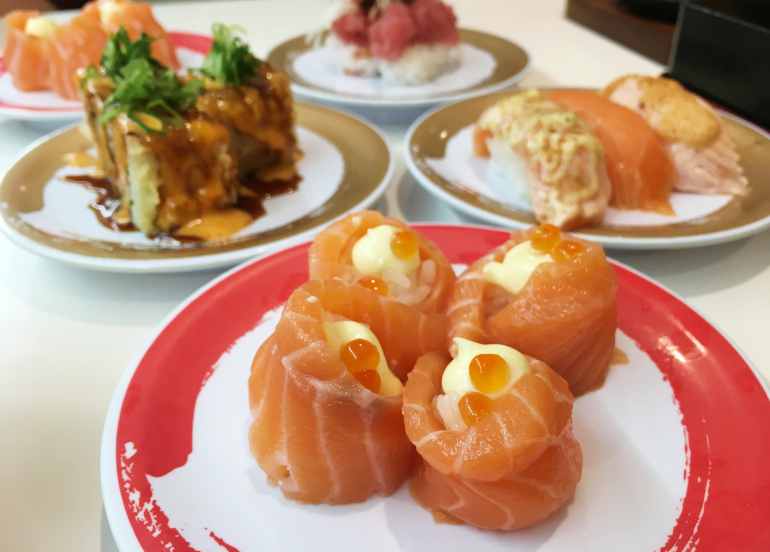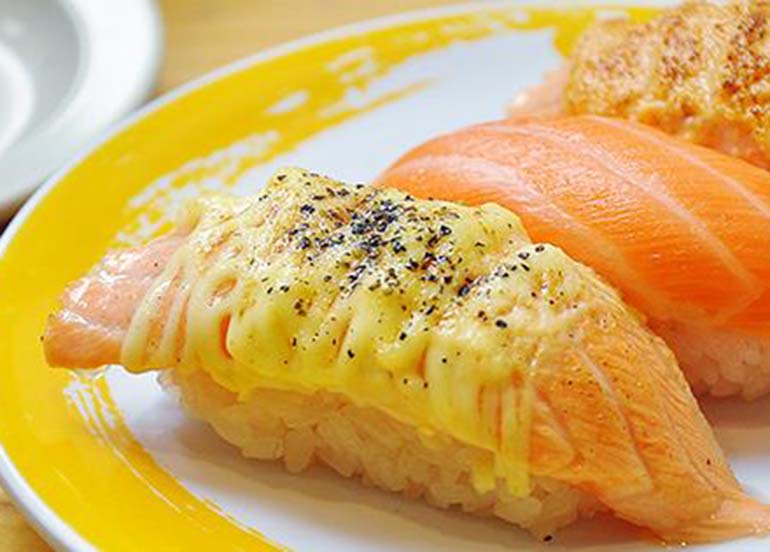 A Quezon City favorite, Red Hana Sushi has become the go-to for affordable and satisfying Japanese dining. From sushi rolls to rice bowls, satisfy your cravings at Red Hana Sushi!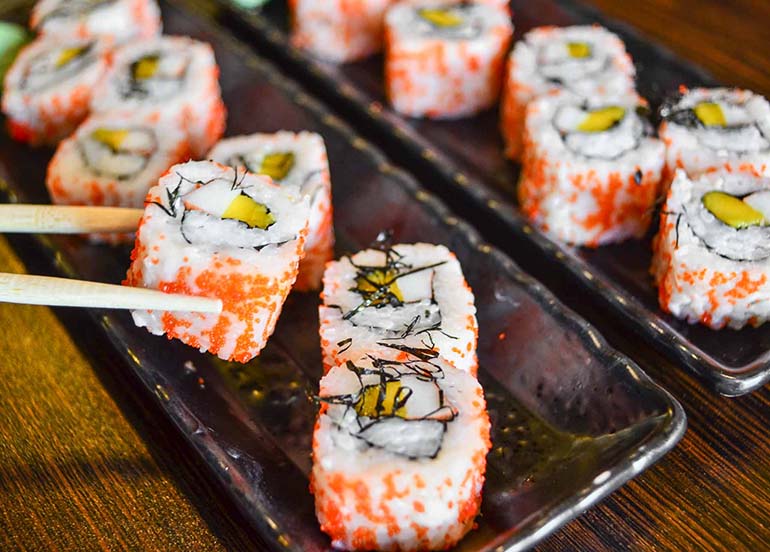 View menu
Avail at participating branches
Check out their Facebook page
Go Sushi – multiple branches
Enjoy fast, fresh, and fun sushi from Go Sushi! Serving up authentic, tasty, and convenient platters of sushi, Go Sushi is perfect for big parties at the office, at home, or with friends.
What to order: Black Sesame Salmon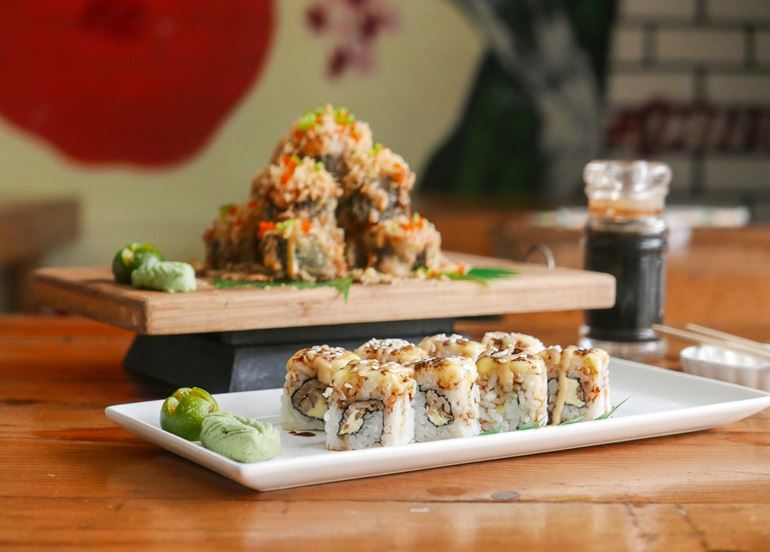 View menu
View all branches
View their Facebook page
View their Instagram account
Teriyaki Boy, owned by the Max's Group, is a casual dining Japanese restaurant with dozens of outlets around the country. They serve dishes like gyoza, beef donburi, yakisoba, and sushi rolls.
What to order: California Rolls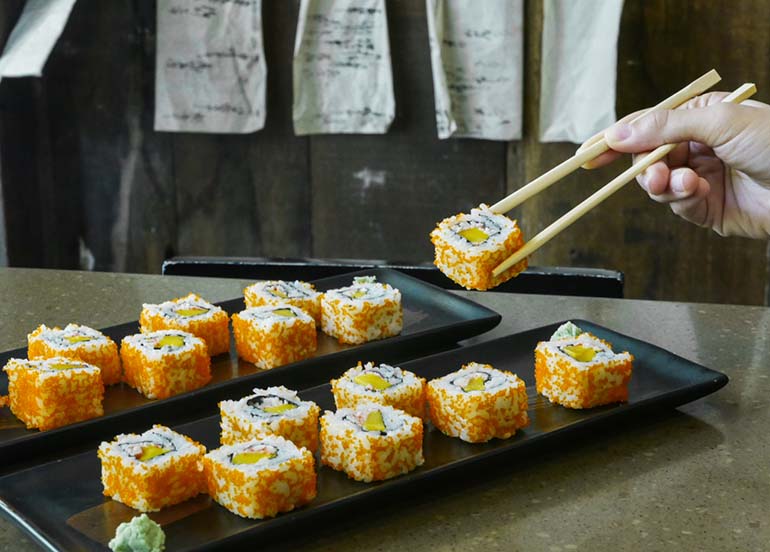 Reservations are accepted
View menu
View all branches
View their Instagram account
Nikkei – multiple branches
Headed by Argentinian Chef Christian Cejas, Nikkei is making waves as the first Peruvian-Japanese Sushi Bar in Manila. Venture into this one-of-a-kind dining experience and discover an inspired twist on Japanese cuisine. Their selection of maki ranges from ₱220 – ₱825.
What to order: Maki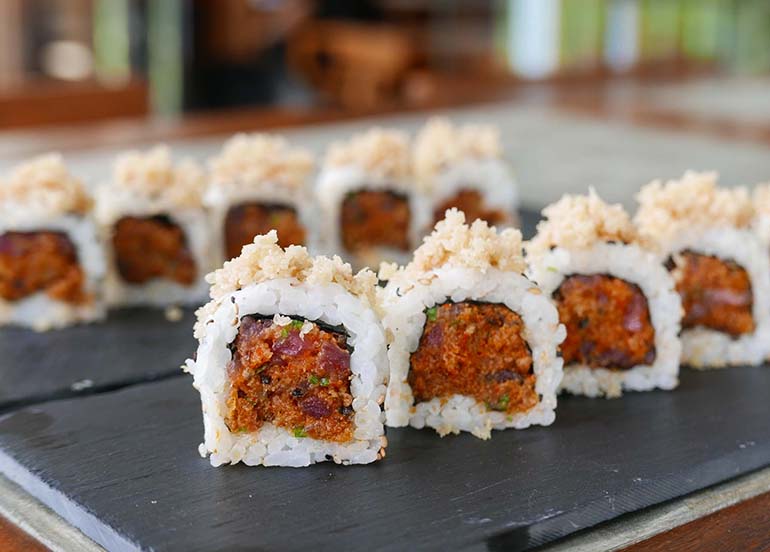 Aburi – multiple branches
From the team that brought us Relish and Romulo Cafe, Aburi offers modern Japanese cuisine specializing in aburi or "torched" sushi, chirashi bowls, and other unique dishes.
What to order: Salmon Aburi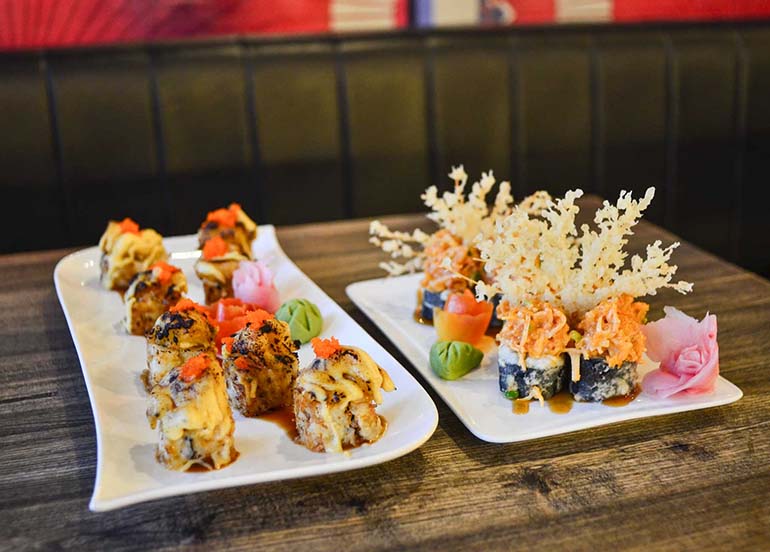 Sushi Nori is the first temakeria in the country that offers grab-and-go sushi. Try 26 different flavors to be made into a hand-rolled temaki or a 6-pc sushi rolls set. They also serve salads and sushi bowls.
What to order: Tamago Aburi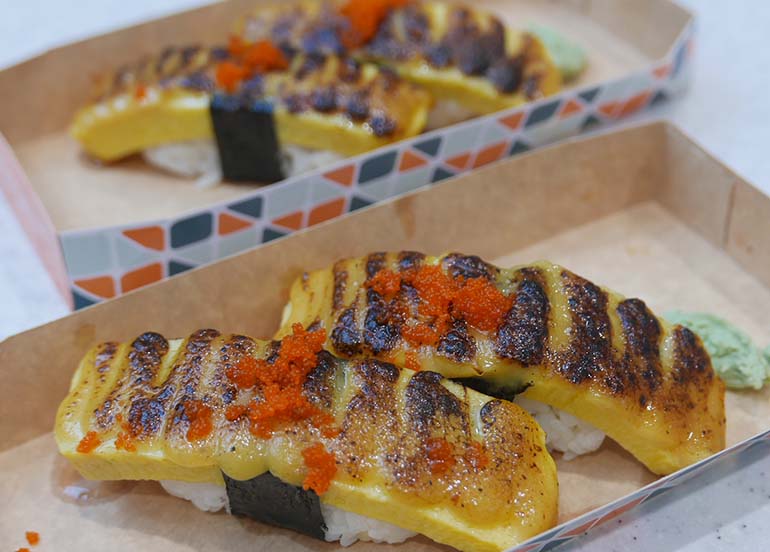 Jipan Cafe and Bakeshop has been offering authentic Japanese cuisine since 1992. They offer assorted bread and a wide selection of sweet and savory pastries. Their Salmon Set is ₱588 and already comes with a spicy salmon roll, salmon sushi, and spicy salmon temaki!
What to order: Salmon set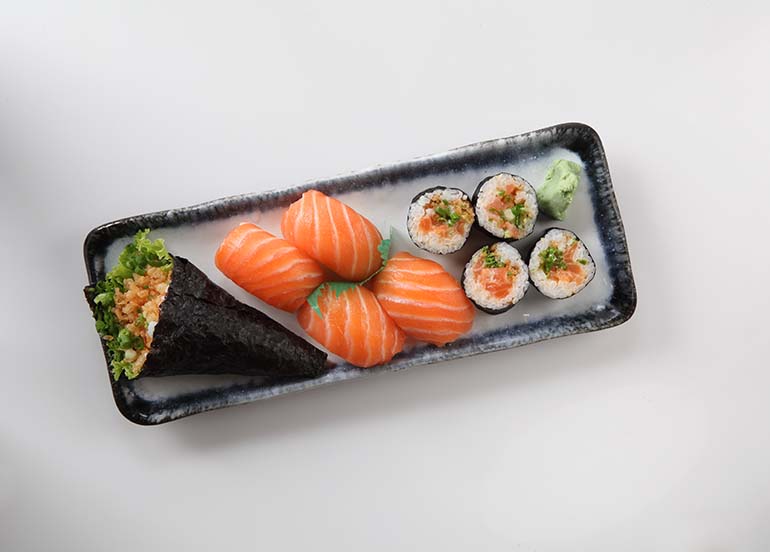 Influenced by the Robotayaki style of Izakaya, Soru Izakaya offers a tasteful blend of after-work gastropub drinks accompanied by fresh Japanese eats. From sashimi plates and savory yakitori combinations to refreshing beverages and speakeasy cocktails, Soru Izakaya completes the whole modern Japan experience that brings you a glimpse of the Tokyo nightlife. Soru Ichiban Makis go for ₱220-₱340.
What to order: Soru Ichiban Maki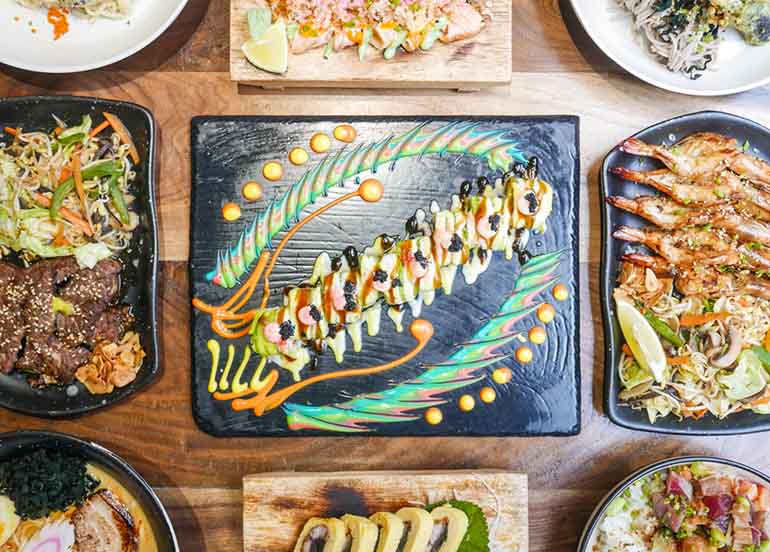 Shinsen is a homegrown local sushi bar and restaurant serving authentic Japanese food fare made with only the freshest ingredients available in the market. They have an extensive menu including sushi rolls, sashimi, Japanese steak, affordable donburi bowls, bento lunch sets, and more. The Dynamite Roll goes for ₱485.
What to order: Dynamite Roll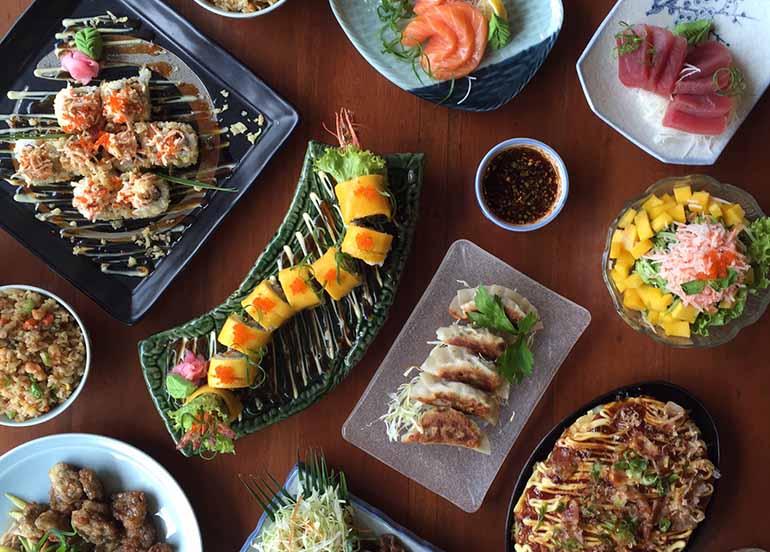 View menu
View their Instagram account
2/F Hampton Gardens Arcade, C Raymundo Ave, Maybunga, Pasig
(0977) 855-1105
Haru Sushi Bar & Restaurant, from the same owners of another Kapitolyo favorite Cafe Juanita, is a casual dining spot serving affordable Japanese cuisine. The sakura-filled interiors with a bridge smack in the middle add to the authenticity and romance of the place.
What to order: Tuna Avocado/Mango Cheese Maki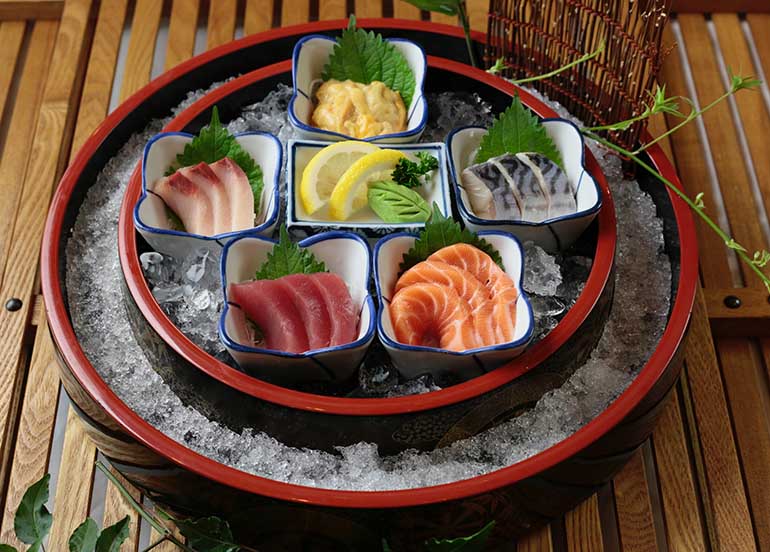 View menu
View their Facebook page
View their Instagram account
21 West Capitol Dr, Kapitolyo, Pasig
(02) 631-0597
Agezuki is a small Japanese restaurant, simple and straightforward. Known to Katipunan locals for their good quality yet affordable sushi, the place offers a collection of sushi, teppanyaki, tempura, rice bowls, and bento sets. The Sunrise Maki only cost ₱306!
What to order: Sunrise Maki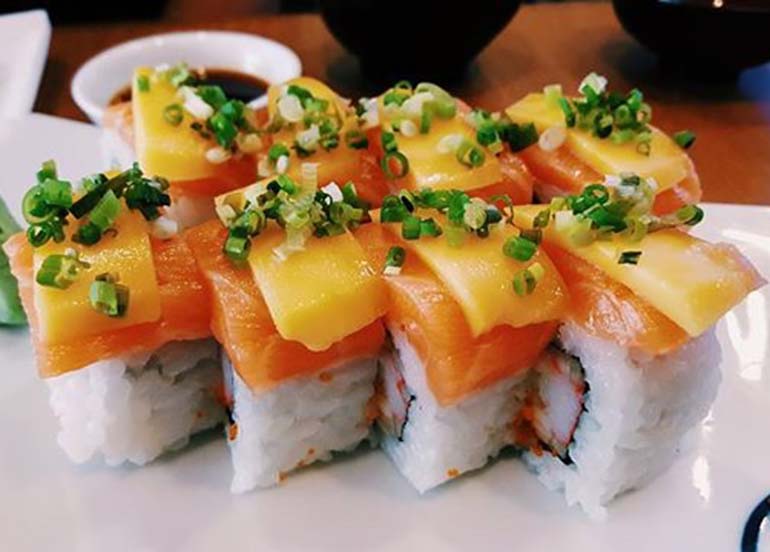 View menu
View their Facebook page
A Francisco Bldg, 83 Katipunan Ave,White Plains, Quezon City
(02) 931-7224
Ta Ke Ho Me (Take Me Home) is small sushi stand offering quick Japanese take-out for people on the go. For an 8-piece roll at Ta Ke Ho Me, it'll only cost ₱99!
What to order: Anything on the menu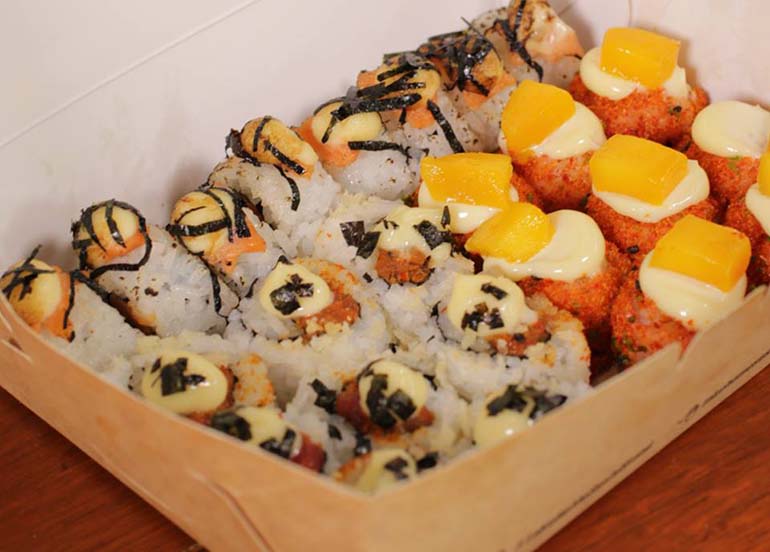 Omakase – multiple branches
Searching for the best Japanese place that serves unique mouth-watering sushi? Look no further! Omakase brings you only the best fusion paired with perfect drinks and more. Their humongous platters are clearly for sharing.
What to order: JSC/TOP/BDR/SAR Platter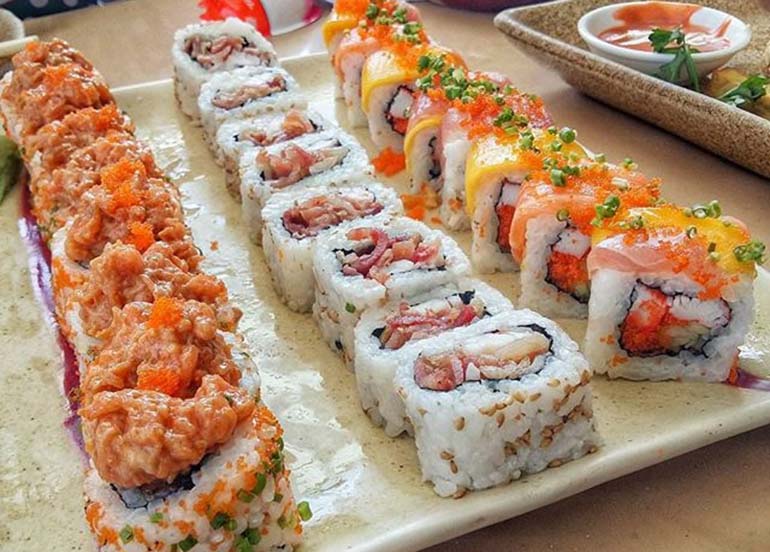 Ooma – multiple branches
A homegrown concept by The Moment Group serving the best Aburi Makis in town, Ooma is a bold take on casual Japanese fare. Playful and creative dishes paired with a range of sakes are all served in a buzzy Tsukiji Market-like setting.
What to order: Aburi Maki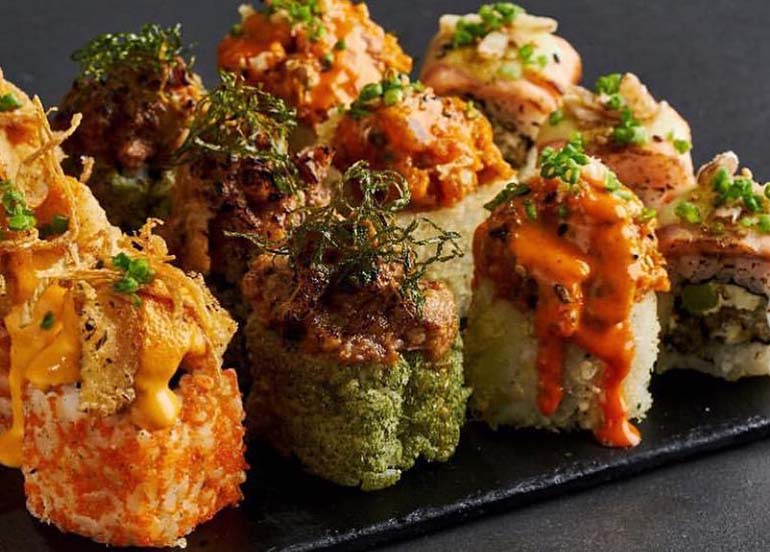 Nihonbashi Tei is a humble izakaya offering an extensive list of authentic Japanese specialties at fairly affordable prices. Their menu includes sushi, ramen, yakitori, curries, donburi, chirashi, and many more.
What to order: Sushi Donmono Set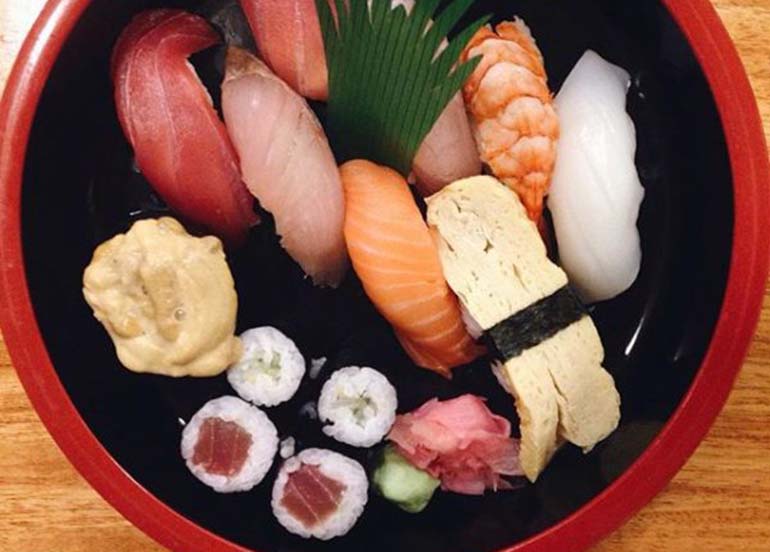 If you're not already enjoying the offline convenience of Booky, you can download the app for FREE on iPhone or Android. Discover over 1000 of the top restaurants in Metro Manila and just watch as your foodiverse explodes!
Cover image from @rokusushiramen