Searching for the best Southeast Asian food in BGC? Come to this restaurant!
When it comes to good food, BGC has certainly a lot to offer. But there are only some that can truly give you a dining experience worth remembering and worth coming back to–one of them is Sunae Asian Cantina.
Also Read: 11 Restaurants to Bring Your Family For Any Type of Celebration 
Located on the second floor of One Bonifacio High Street Mall, Sunae Asian Cantina is certainly one of BGC's culinary gems that deserves more hype than it gets.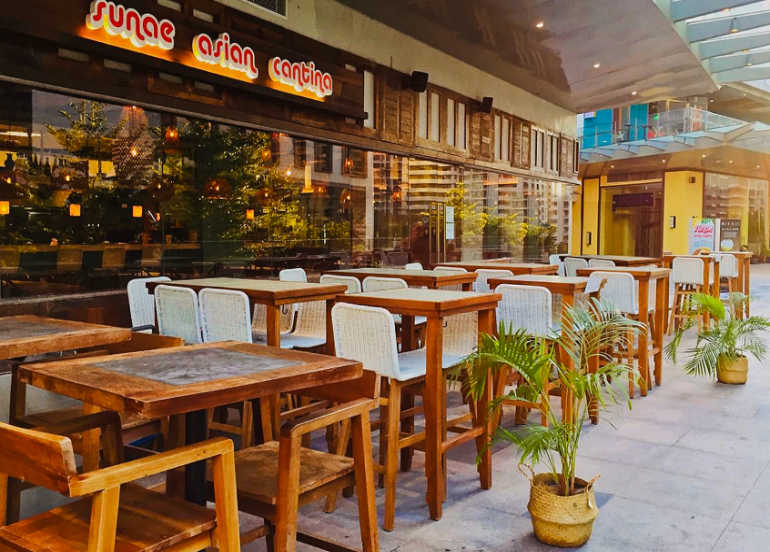 The restaurant is immediately inviting–with gorgeous rustic interiors, warm lighting and relaxed ambiance, and the beautiful view of the city right by your window.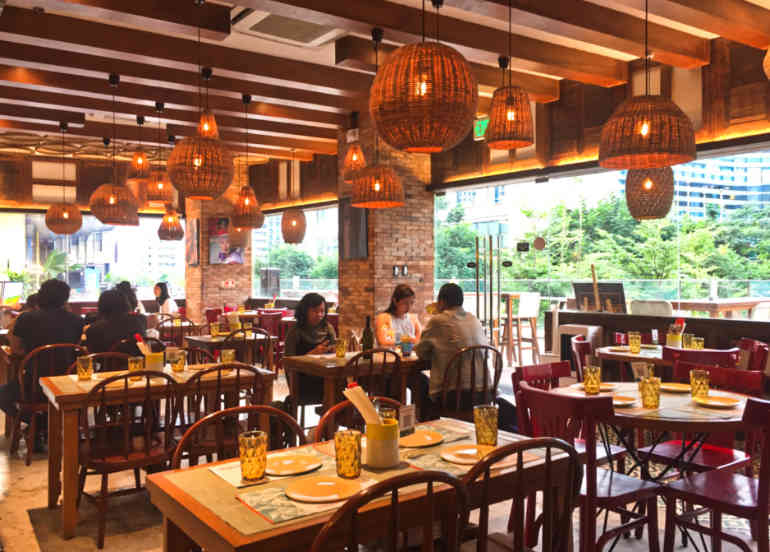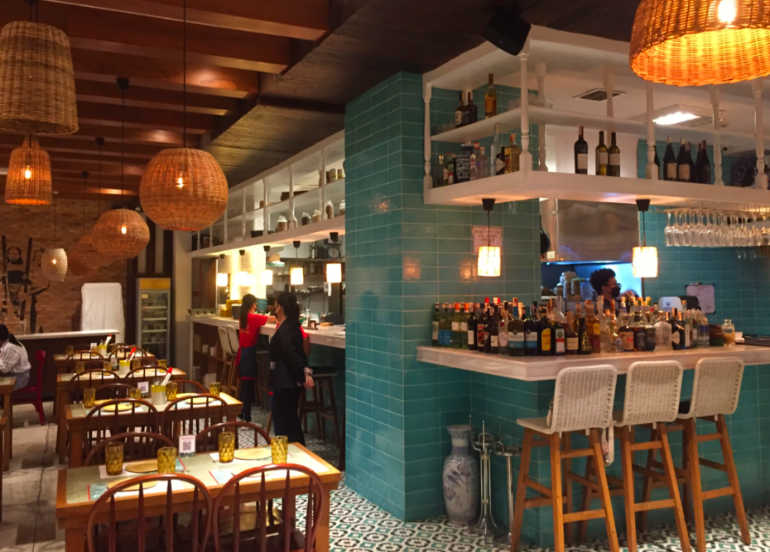 But it's the food that takes the center stage; food that is a melting pot of cultures and flavors across Southeast Asia. Unique, inspired, and astonishingly delicious–here's what awaits you at Sunae Asian Cantina.
The Mind Behind the Flavor: Chef Sunae
We had a chance of meeting Chef Christina Sunae, the mind behind Sunae Asian Cantina, who talked about her diverse background and how that inspired her creative process with her food.
"Filipino food nurtured me, my Filipino family nurtured me," she shared. Chef Sunae is Half-Korean and Half-American, but was raised in the Philippines, by her family in Pampanga.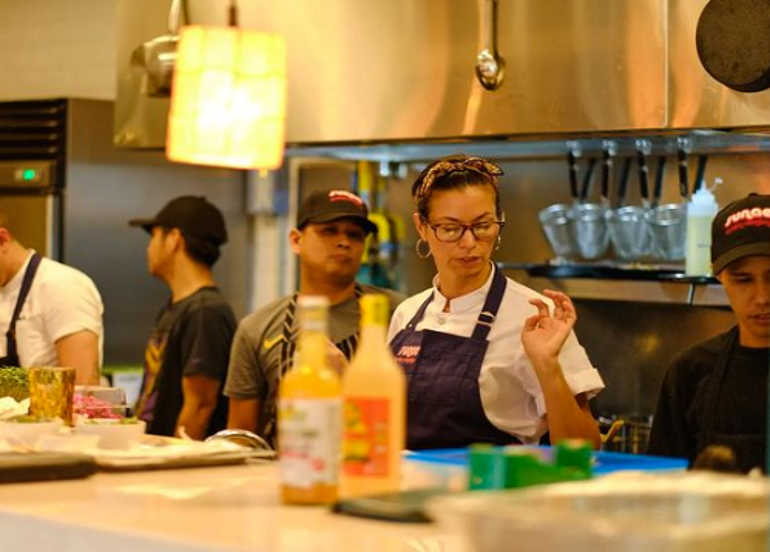 Her multi-faceted background is something she translates to her food, which she aspires to always possess punchy flavors. From her dishes, you can always expect a mix–a harmony of tastes and sensations taken from different Southeast Asian countries and put into one plate.
"It's all about flavor," she said. The idea is to create dishes where you have sour, salty, sweet, spicy, and savory–layers of flavor that reveal themselves to your palate with every bite, making you dig in again and again.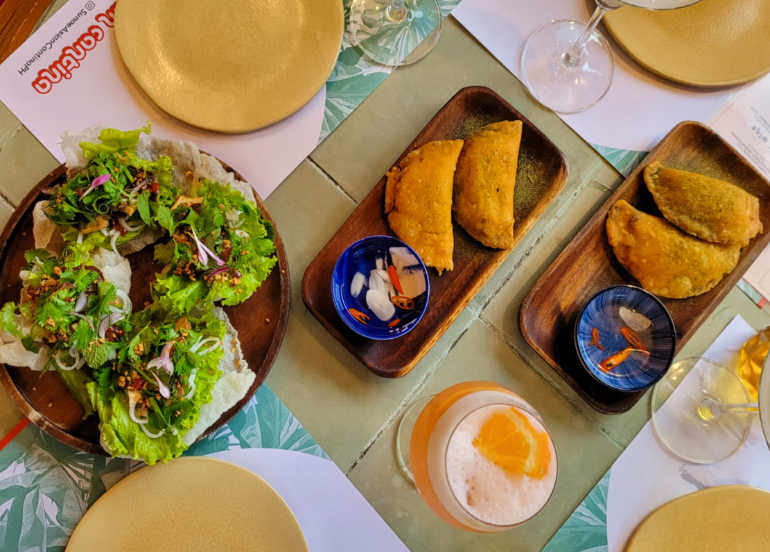 At Sunae Asian Cantina, Chef Sunae has made it a point to connect with the local ingredients and produce something homemade, because as we all know, homemade is always better. You may find that most dishes on their menu are familiarly Filipino. But you can be sure that each dish is artistically elevated to present something you don't expect.
A Look at Sunae's Must Eats and New Dishes
Sunae Asian Cantina's menu offers a wide selection of mouth-watering Southeast Asian food, but there's more to look forward to in this restaurant. New dishes from Chef Sunae are soon to be available, and we're giving you a bite of what's to come!
We tasted three dishes that were part of Chef Sunae's newest creations.
First up is the Empanada Ilocos, a delightful take on the classic Ilocos Empanada but this time made with rice masa and shrimp, mixed with papaya. Crispy, filling, and vibrant upon dipping in vinegar–this one is sure to wake up your appetite.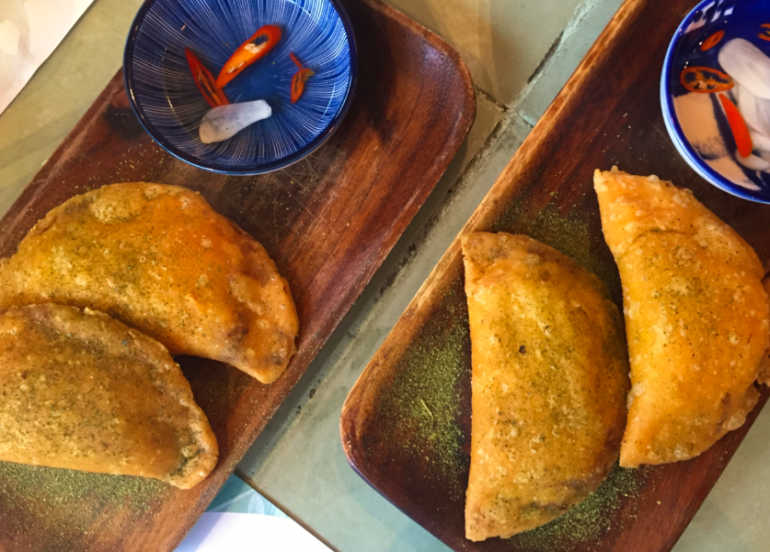 Then, we had the Tiger Cracker, a visually stunning vegetarian dish, made with fried tofu, peanut sauce, and a mix of herbs sitting on a rice cracker. Each bite is a joy–you get the crunch from the cracker, the light and vibrant flavors from the herbs, the texture of the tofu, all tied together by the peanut sauce.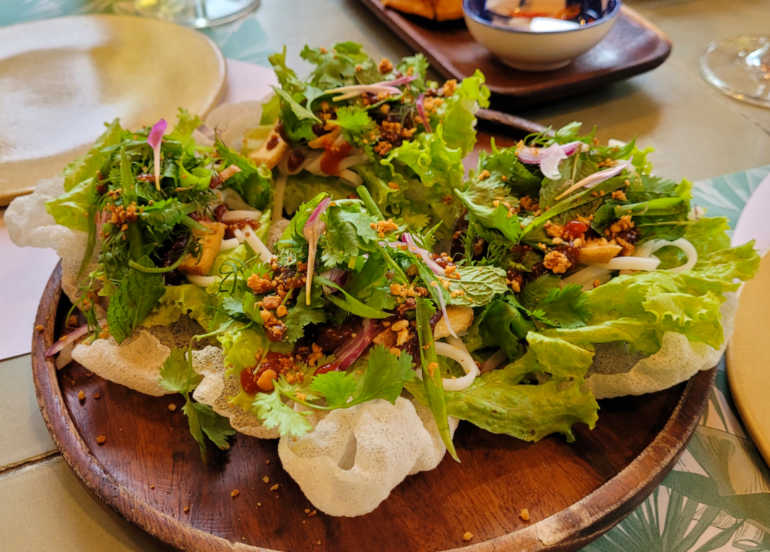 Third, and perhaps, most interesting is the Burnt Cabbage. This vegetarian dish features burnt cabbage sitting on peanut sauce, garnished on top with fresh herbs.
The result? An amazing blend of smoky and sweet from the cabbage complemented by the savory-spicy peanut sauce. Then you have the freshness from the herbs, giving you an overall balanced dish.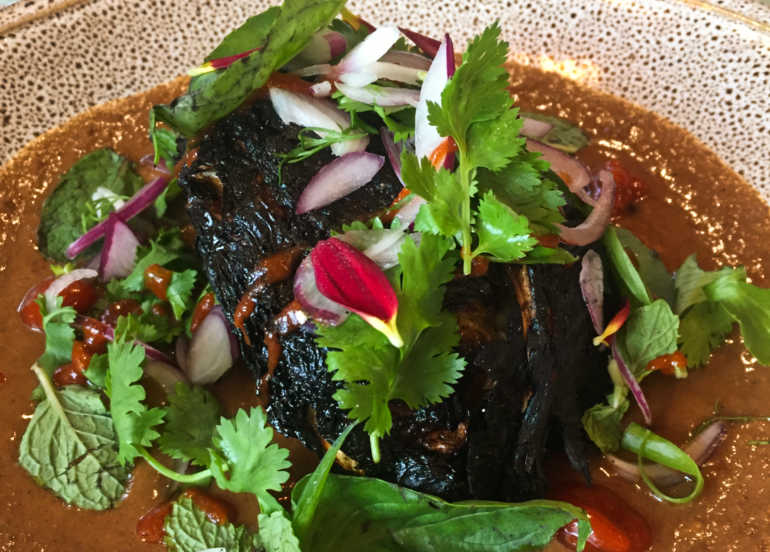 We also tried dishes that were part of the original menu, such as the Lemongrass Barbecue and the Crab Curry.
The Lemongrass Barbecue, skewered grilled pork with lemon grass and ginger, is on another level. The meat was tender and juicy, packed with spices and umami, but also with a hint of sweetness. The vinegar on the side added brightness to the dish and you can't help but want another plate to yourself (preferably with some beer on the side!).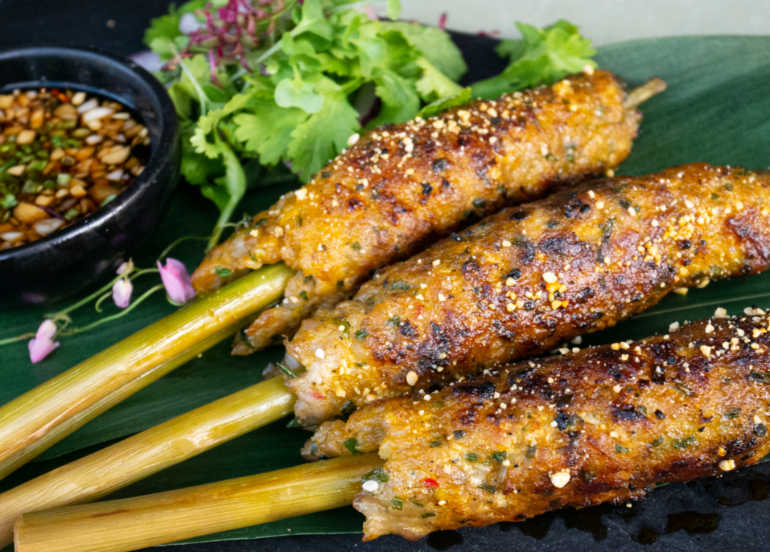 The last dish we tried was the Crab Curry and it did not disappoint. This dish–blue crab claw meat, homemade curry sauce, fresh kaffir, fried shallots, and sigarilyas–will deeply resonate with Bicolanos.
This one packed a punch with its spice, but it didn't overshadow other flavors and textures–the sweet coconut milk, the soft crab meat melting on your tongue, the other spices dancing on your palate. Plus, it's served with rice!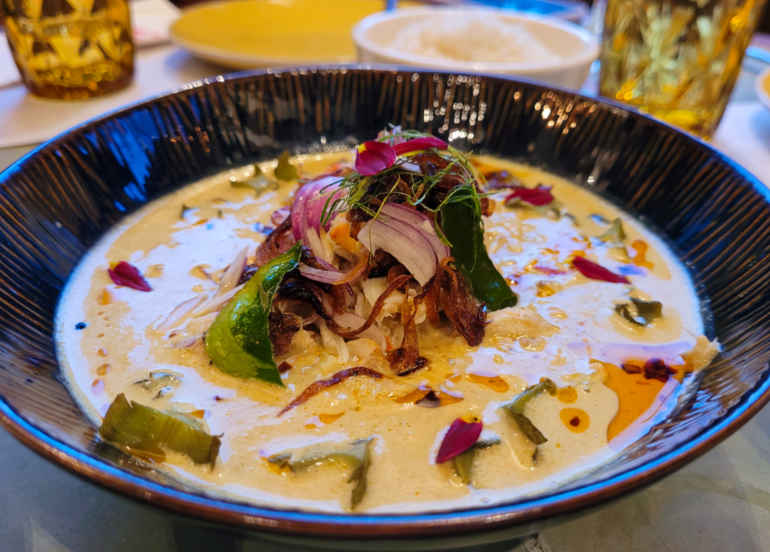 Not to miss of course is their selection of drinks and cocktails, created by Chef Sunae herself as well. We recommend the Tikling, a mix of Luisita Oro, pineapple juice, and campari; as well as Lychee Ron which has white rum, lychee, lemongrass syrup, and lemon.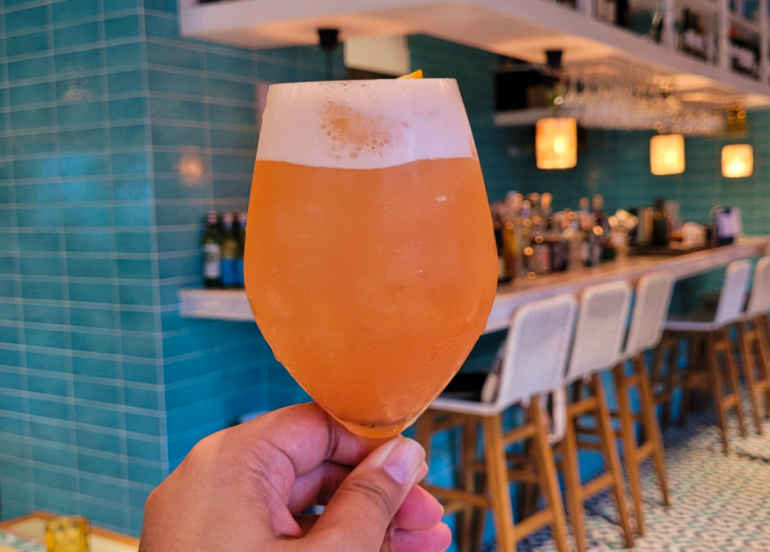 Come and Experience Sunae Asian Cantina!
Stay tuned for the new dishes to be launched soon at Sunae Asian Cantina! In the meantime, be sure to visit them and taste the extraordinary dishes waiting for you. They are open at these hours:
11:00AM – 10:00PM Monday – Tuesday
11:00AM – 11:00PM Sunday, Wednesday – Thursday
11:00AM – 12:00MN Friday – Saturday
They can hold private events indoors, on alfresco, as well as inside the whole restaurant. Don't forget to swing by for their every day, all-day happy hour for P550+!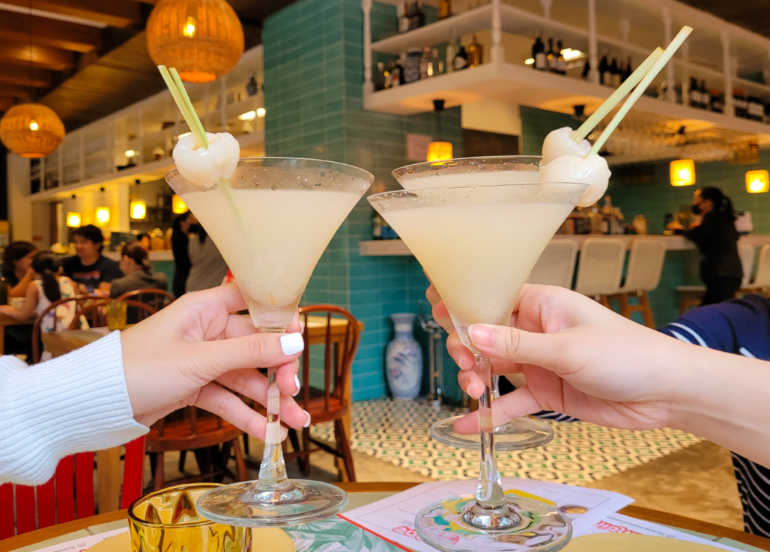 See you at Sunae Asian Cantina!
View menu
View their Facebook account
View their Instagram account
2nd Floor, One Bonifacio High Street, 5th Avenue corner 28th Street, Bonifacio Global City 1634 Taguig
(0916)6074903 | (0956)4692836 | (02)77469046
If you're not already enjoying the convenience of Booky, it's free to download on iPhones and Android. Stay updated with the latest on new restaurant openings via the Booky app.