You won't want to miss this!
It's a rare occurrence having someone or something articulate your innermost thoughts and feelings. Whether it's Adam Driver's vicious (and slightly pathetic) tantrum in Marriage Story or one of Carly Rae Jepsen's Emotion gems, there's magic in the way art has the capacity to convey just exactly how we feel. If anything, it's cathartic.
And if you're looking for a place to get a good cry on or feel understood, The Sandbox Collective's latest adapted plays do all that and more.
You're probably thinking, "What is The Sandbox Collective"?
In this case, you might be missing out. The Sandbox Collective is Manila's newest art collective, which aims to develop groundbreaking and cutting-edge theatrical work. And this upcoming March, they're showcasing two breathtakingly brilliant productions all in one space.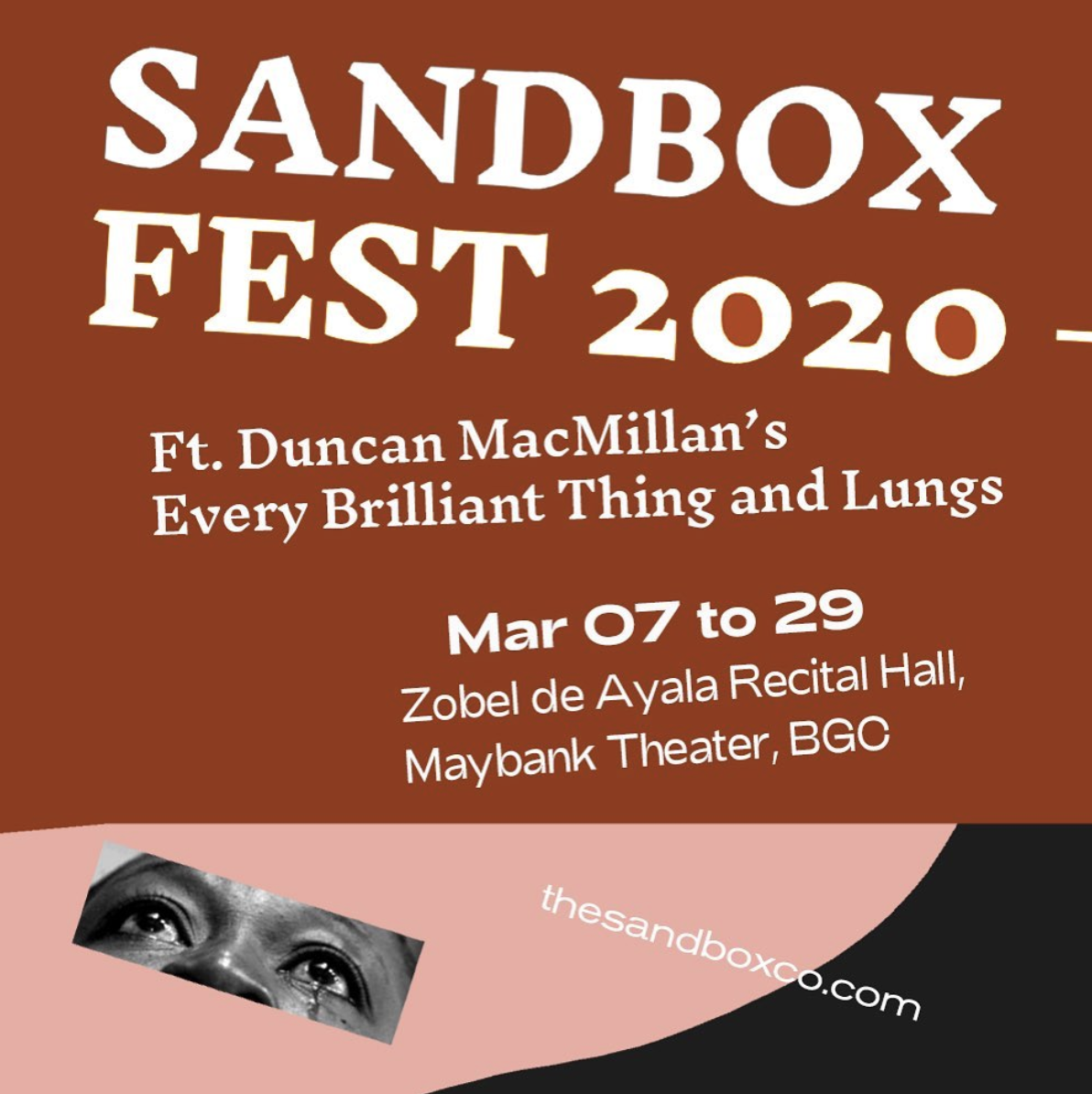 Yes, you read that right. This year, The Sandbox Collective kicks off its sixth year with Sandbox Fest 2020, a spectacular festival that brings two shows to one space and one festival. For this upcoming festival, The Sandbox Collective is bringing back two of award-winning playwright Duncan Macmillan's masterpieces: Lungs and Every Brilliant Thing.
"Say something that isn't being said." – Duncan Macmillan
If you're looking for a challenge, many of Duncan Macmillan's works are known for tackling pressing issues⁠— bringing addiction and recovery, climate change, and even mental health to the forefront. At the same time, his shows make you feel, make you feel heard, and make you ugly cry.
If you don't mind mindlessly crying like an idiot, snot dripping down your nose, and everything else that comes with it, here are two of the Sandbox Collective and 9 Works Theatrical's shows you'll have to catch at the Sandbox Fest 2020:
Every Brilliant Thing
You may be used to the dark, intimidating theater shows with grandiose sets and deafening silence sans the singing stage actors. If there's one thing you need to know about Every Brilliant Thing, it's that the show is anything but.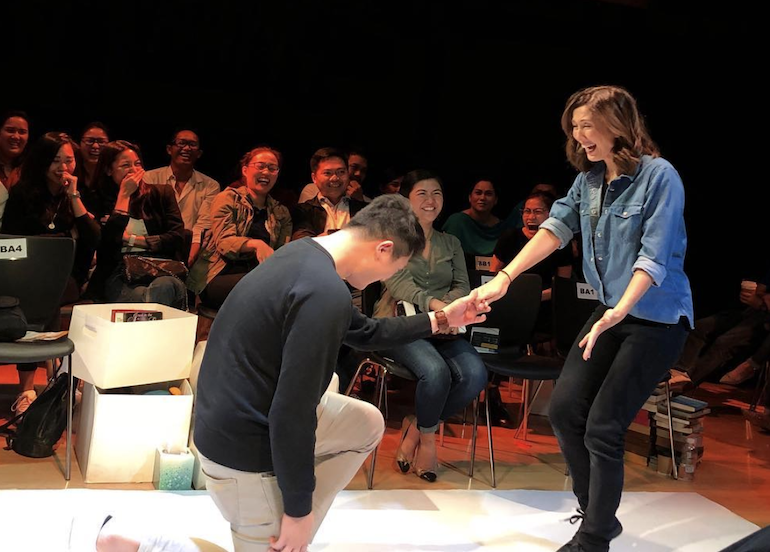 A one-woman show, Every Brilliant Thing is told through the perspective of Angela (Teresa Herrera) whose mother suffers from clinical depression and suicidal tendencies. Angela's way of helping her mother cope is to list down every brilliant thing she can think of.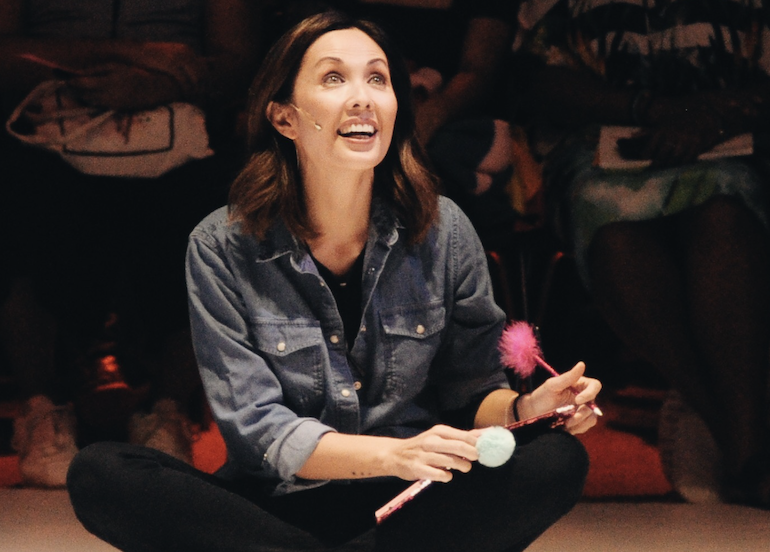 Not only does Every Brilliant Thing delve deeper into the stigmatized topic of mental health, but the interactive and improvised show also encourages its audiences to participate⁠ as a character in the story⁠— no matter how small the role⁠— allowing every single person in the theater to be a part of the conversation.
Lungs
Starring Jake Cuenca and Sab Jose, Lungs is a powerful two-person show depicting the moral dilemma faced by most millennial couples at present: whether or not to have a baby amid an already climate-changed world.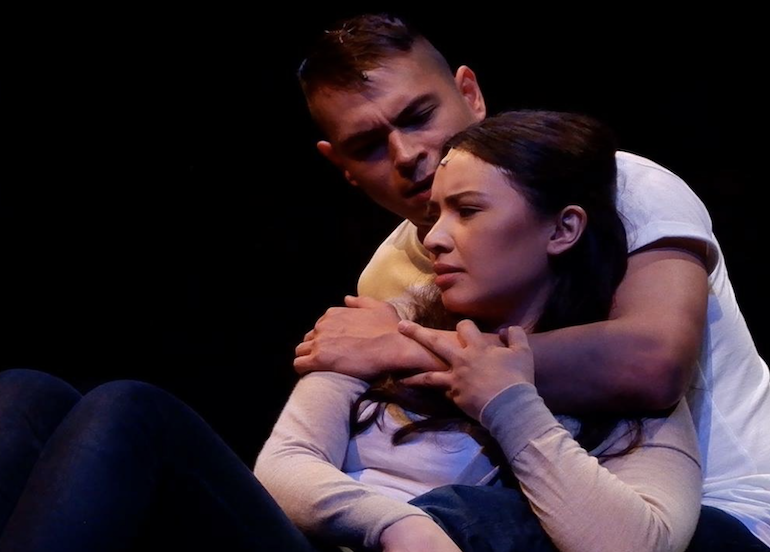 Lungs treats its audience members as flies on the wall where we listen in on an intimate back-and-forth between a millennial couple in their 30's as they pose thought-provoking questions concerning parenthood at a time of environmental decline.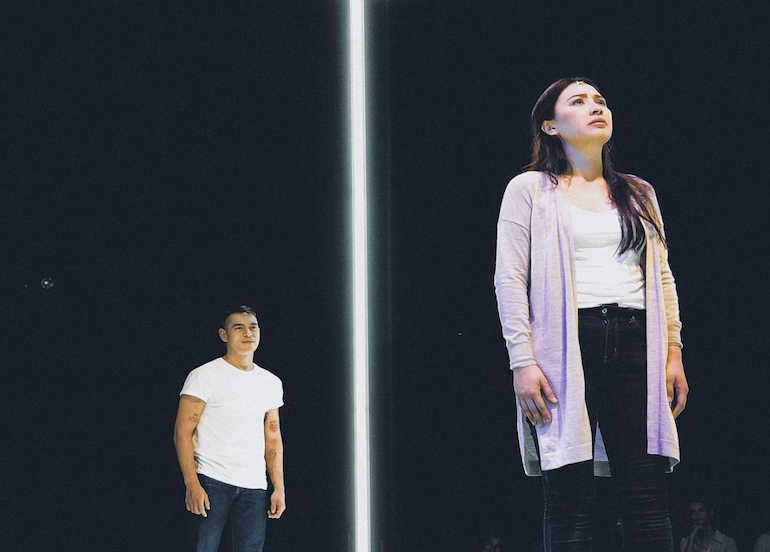 No props, gimmicks, or fancy costume design, Lungs excitably and breathlessly aims to raise hard-hitting questions while mesmerizing its audiences with substantial and fluid conversation.
Why should I watch it?
Through both shows, The Sandbox Collective hopes to inspire action and present audiences with avenues to help and contribute. Since Macmillan's works are more relevant than ever, there's definitely something for everyone at both shows. If you're up for it, Sandbox Fest 2020 will run from March 6 to March 29, 2020.
Where can I watch it?
Want to watch both #EveryBrilliant2020 and #Lungs2020? You can avail of The Sandbox Collective's Festival Pass to get 15% off (plus another ₱40 off) on their shows on March 28. To reserve tickets, send them a message on their Instagram account or through their mobile number.
You can catch Sandbox Fest 2020 at the Zobel de Ayala Recital Hall, 2/F Maybank Performing Arts Theater, 9th Avenue cor. 26th Street in BGC, Taguig City.
Check them out here
View their website
View their Instagram account
Zobel de Ayala Recital Hall, 2/F Maybank Performing Arts Theater, 9th Avenue cor. 26th Street, BGC, Taguig City
Reserve tickets through (0917) 554-5560
Join the conversation with The Sandbox Collective's mesmerizing shows. Want to see more of what Metro Manila has to offer? Just download the Booky app today and get great discounts from our top partners in food, fitness, beauty, and more.