Easy-peasy salmon recipes!
Fish can be daunting to cook as the last thing you want to do is to overcook it but fret not! We've gathered a bunch of salmon recipes that you can do right at the comfort of your home and honestly, cooking is pretty therapeutic even if you're just starting out.
We chose salmon because during these trying times (or any time, actually) we should be eating healthy and salmon is a whole bunch of healthy… among many things, salmon has omega-3's, selenium, vitamins A and D that helps to boost your immunity, reduce the risk of heart disease, and reduce the risk of osteoporosis essentially, making your bones stronger! Salmon also keeps you full longer because it offers lean protein… imagine a 4 oz salmon, that can easily give you 26g of protein! By being full longer, it'll curb your unnecessary cravings.
One of the must-try dishes served by Conti's, their Baked Salmon is a quick and easy dish worth preparing. Don't believe us?
Baked Salmon a la Conti's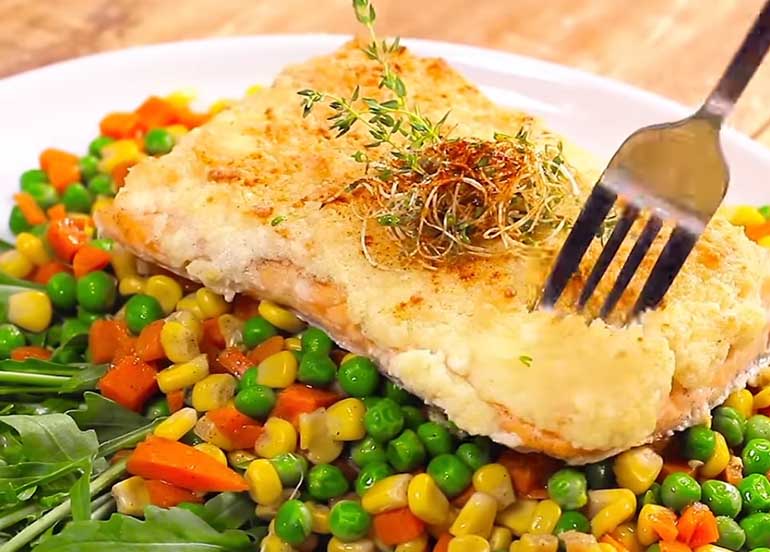 Ingredients (good for 4 servings):
500 g of salmon fillets
5 cloves minced garlic + 3 cloves minced garlic (for topping)
10 pieces juiced calamansi
1/2 block or 125 g of softened cream cheese
1 pack store-bought peas, carrots, and corn (or you can also make some)
butter
For instructions, you can head on to bitesized PH.
Need a video for help? Check out bitesizedph's video:
Here are more recipes you can hopefully try for your upcoming meals!
One-Pan Honey Garlic Salmon
If you aren't excited yet… you should be cause any recipe that says "One-Pan" is a blessing. You essentially put all the ingredients in one baking tray and pop it in the oven then poof, it's ready!
For the asparagus
14 oz asparagus, trimmed
2 tbsp olive oil
salt, to taste
pepper, to taste
3 cloves garlic, minced
For the salmon
1 tbsp olive oil
4 teaspoons honey
4 cloves garlic, minced
6 oz salmon, 4 fillets
For instructions, you can head on to Tasty.
Salmon Baked in Foil
Another simple recipe, similar to baked potatoes, you bake these salmon fillets in foil to keep them extra moist. They're packed with flavour but with super simple and with minimal ingredients.
4 salmon fillets, 5 oz each
2 tsp olive oil, and 2 tbsp olive oil
Salt, to taste
Ground black pepper, to taste
3 tomatoes, chopped (can also use a 14 oz can of chopped tomatoes, drained)
2 shallots, chopped (can also use red onion)
2 tbsp fresh lemon juice
1 tsp dried oregano
1 tsp dried thyme
For instructions, you can head on to Giada de Laurentiis via Food Network.
Salmon Roasted in Butter
There is one thing that any sane person (no offense) loves with seafood… and that's BUTTER. Here's a recipe we found from The New York Times that utilizes butter and herbs to create jam-packed flavour for the salmon.
4 tbsp butter (around 1/2 stick)
4 tbsp minced chervil, parsley, or dill
1 salmon fillet, around 1 1/2 to 2 lbs
Salt, to taste
Freshly ground black pepper, to taste
Lemon wedges
For instrucstions, you can head on to recipe.
Salmon Ceviche
This has got to be the easiest one of the four since there's no cooking necessary, all prep! If you love Kinilaw, you'll love this but of course always make sure that the raw salmon you're getting for this recipe is absolutely fresh.
Fresh raw salmon, cubed
Spring onions
Sesame oil (generous amount)
Rice vinegar (just a bit)
Soy Sauce
Black pepper, to taste
For written instructions, you can head on to Erwan Heussaff's website. For a recipe video, you can head on here.
Let us know what you think of these dishes when you try them! Tag us on Instagram @bookyapp and don't forget to use the hashtag #bookymanila whenever you post photos of your food trips with your friends! Happy eating!
Follow Booky on Twitter (@bookymanila) and Instagram (@bookyapp) to stay on top of foodie news! You can download the app for FREE on iPhone or Android and discover over 1000 of the top restaurants in Metro Manila and just watch as your foodiverse explodes!