It's a party in every box!
We got another international pizza chain in Manila and this time, it's really a party–introducing Pezzo Pizza!

Pezzo is a carnival-themed pizza joint from Singapore that uniquely lets you fully customize all the pizza slices in your box. That's right, they sell pizzas by the slice so you won't ever have to worry about your picky eater friend who hates olives, or that pepperoni-obsessed cousin who just can't seem to get his hands off other people's pepperoni.
Pezzo currently has 29 branches in Singapore, and a few other branches scattered throughout Malaysia, Myanmar, and China. Last April 21, Pezzo opened its flagship store in the Philippines at Robinsons Place Manila and people are already hooked.
Pezzo's handcrafted pizzas are freshly baked and served everyday for people on the go. It serves 15 classic and specialty flavors of pizza that can be randomly boxed in 1, 3 or 6 pieces. Enjoy as many as 6 different flavors in one box without any additional charge. If you have any special request, just let them know and they'll try their best to provide it.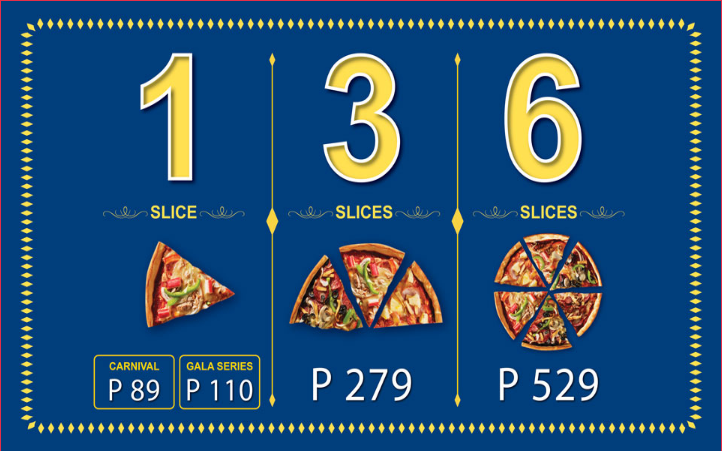 Check out some of their bestsellers: 
BBQ Bonanza
Chicken Strips, Red Onions, mixed with BBQ Sauce & topped with Cheddar & Mozzarella Cheese
Big Daddy Pepperoni Party
Minced Beef, Turkey Ham, Italian Sausages, Four Cheese with a dash of BBQ Sauce
Cheesy Cheese
Mozzarella, Cheddar, Edam, Parmesan & Feta Cheese
No reservations accepted
View their Instagram account
View all branches

Pizza is the only thing that matters.