Your new cafe and brunch spot at The Podium!
For a city that loves coffee, Manila sure is home to hundreds of coffee shops, both old and new. But to stand out as a cafe, you have to offer something unique, something extraordinary, and something memorable that will make your first-time customers your all-time regulars.
Also Read: The Ultimate Guide to the Best Bars Around Poblacion, Makati for Your Night Out
We've found a spot that does just that and more–Panco Cafe! And the great news is that their newest branch at The Podium is more accessible to people in the North and East! Here's a quick tour of the new location!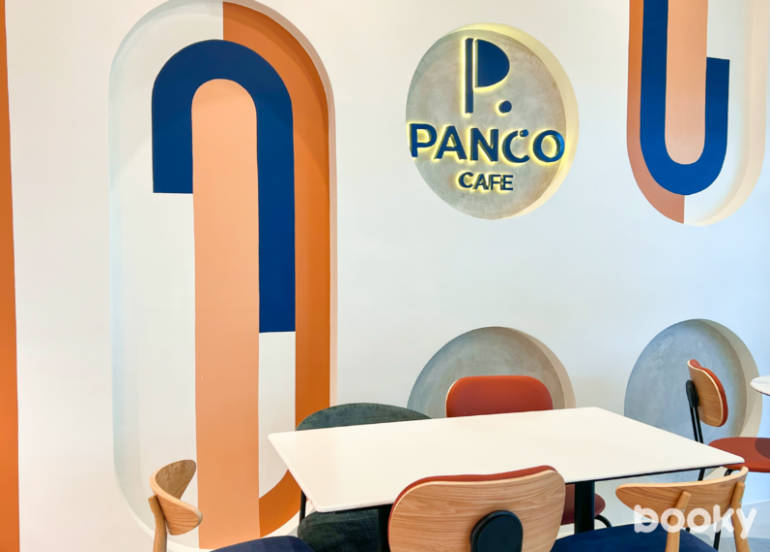 There are a lot of things to love about Panco's branch at The Podium–the bright, spacious setting, the warm and vibrant tones of the decor, and the overall coziness of the cafe.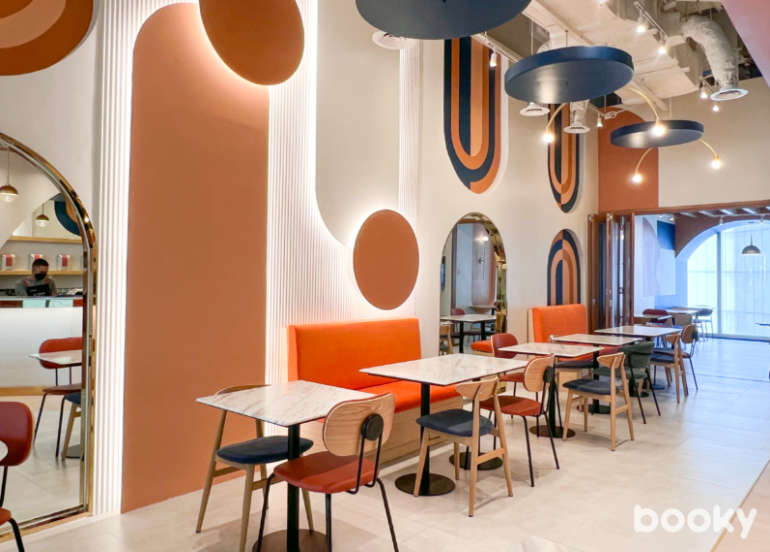 The whole vibe of Panco Cafe makes it a perfect place for casual dates, brunch with the barkada, coffee + work sesh, or any time you want to treat yourself to exceptional comfort food!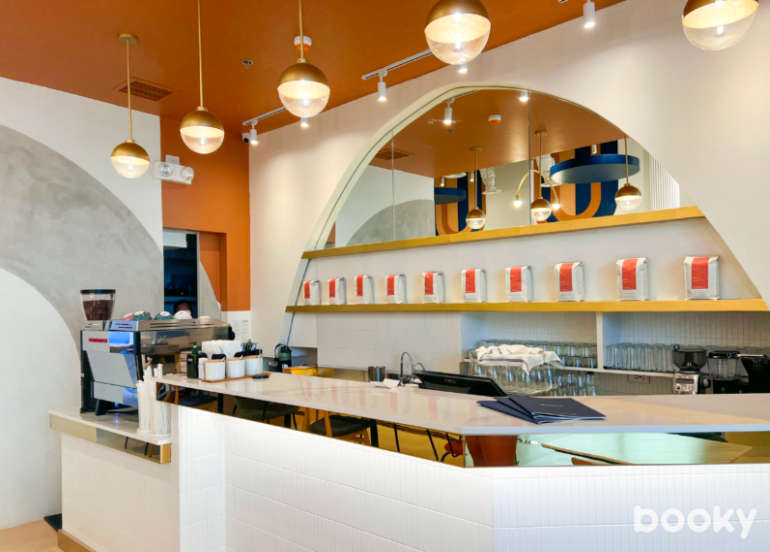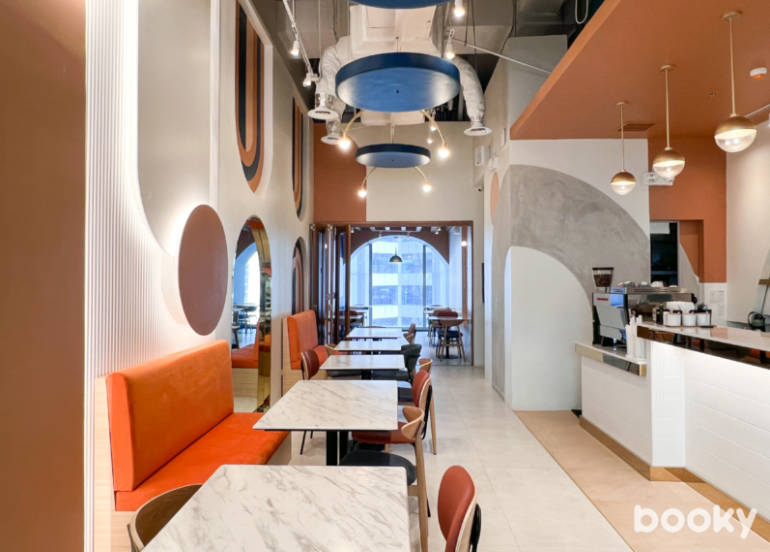 Panco Cafe also uses QR ordering and cashless payment, powered by Booky, allowing you a more seamless and convenient dining experience! Everything you need from ordering your food to paying your bill is just a scan away!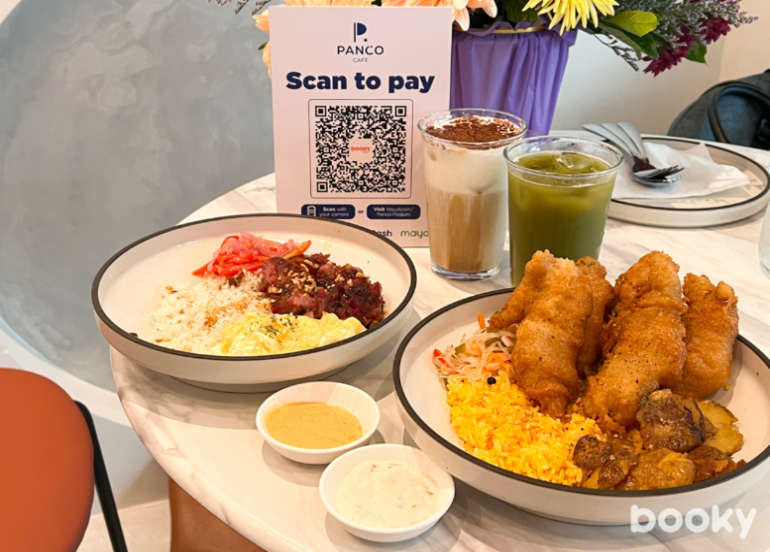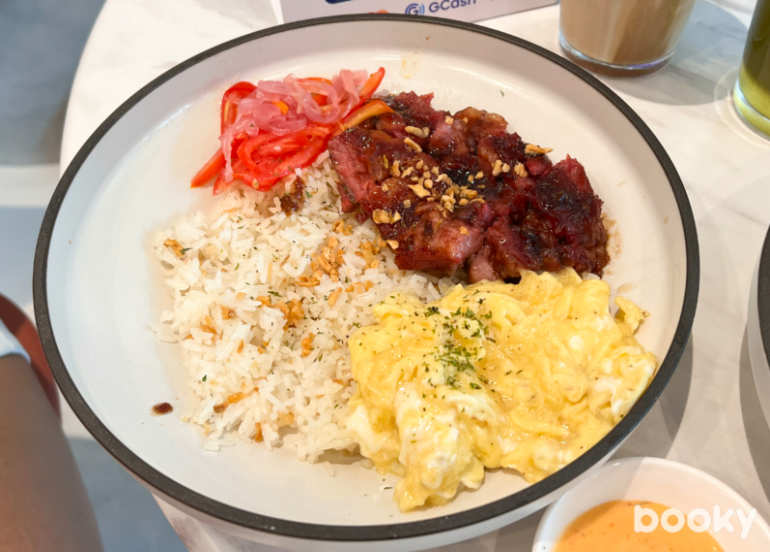 Visit Panco Cafe's new branch on the 5th floor of The Podium! Read on to know more about Panco Cafe, the hippest coffee + brunch spot on the block!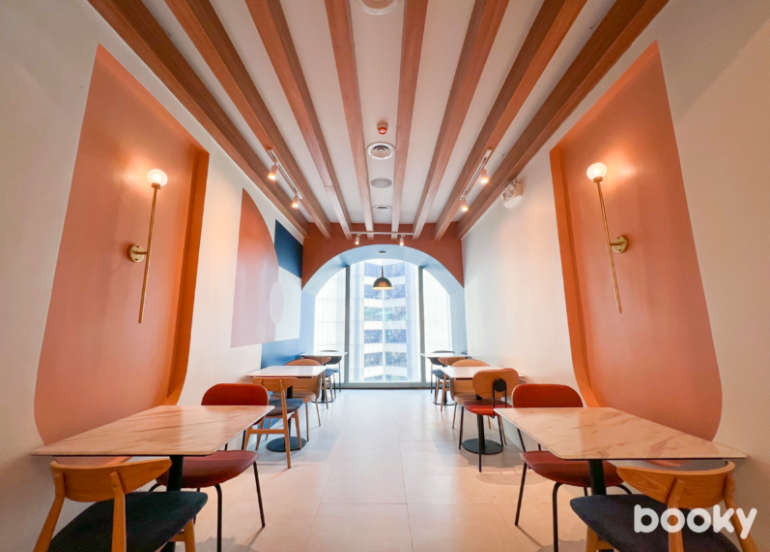 Panco Cafe: Your Next Favorite Coffee and Food Spot
Panco Cafe is a Melbourne-style cafe and restaurant offering Filipino Fusion dishes as well as 4th wave coffee from Australia. Panco stands for Pandesal and Coffee, two of Pinoys' favorite things and two elements that Panco Cafe hopes to reinvent as a combination.
We had a chance to chat with Shanel Tan, the owner of Panco Cafe, who happily talked about the warm reception of their recent opening in their Makati branch. "[Panco Cafe] opened on the 24th of July [2022], but we've gained a few regulars immediately," she shared.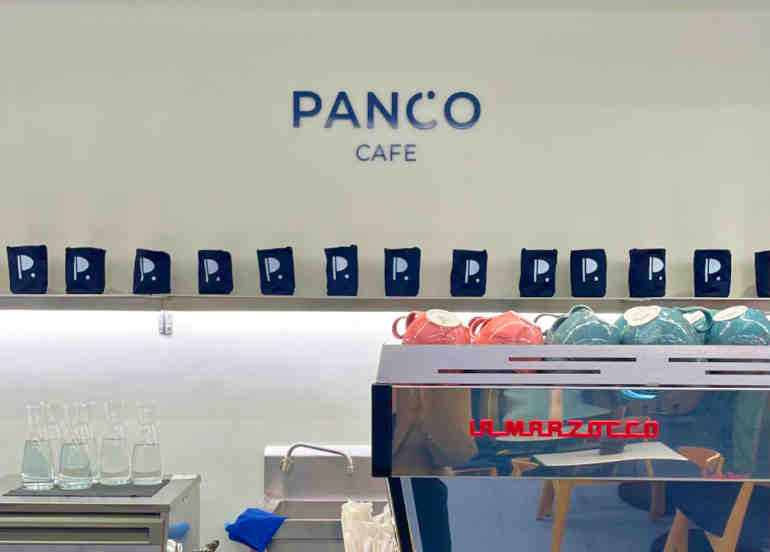 According to Shanel, the concept of Panco Cafe was inspired by coffee shops in Melbourne, where every corner houses a cafe that's ready to serve hot food and good coffee. She wanted to recreate the same thing here in Manila, but this time, putting Filipino food under the spotlight–with a special touch of Australia!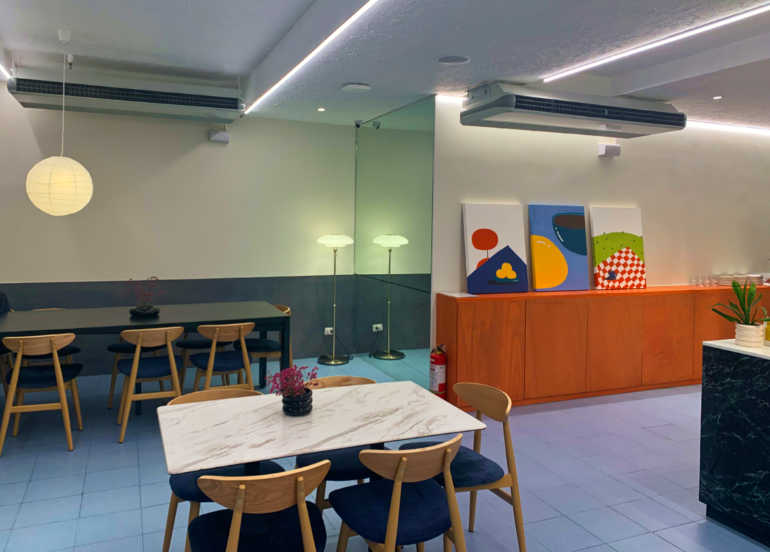 Upon entering Panco Cafe, you'll immediately feel the chill and relaxing vibes from the place. The space is less of the fast-paced, grab-and-go kind of ambiance, and more of the laidback and homey type of atmosphere. You'll love the pop of color from the artworks, the spacious layout of the restaurant, and the bright lighting that will perk you right up.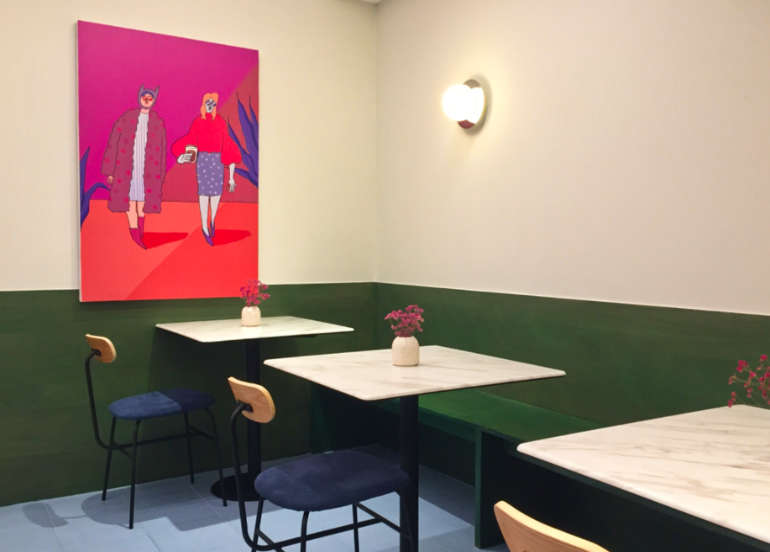 But of course, the highlight of the Panco Experience is their brews, which they proudly source from Market Lane Coffee, a famous coffee roaster and retailer in Australia. Their food menu, which features delicious and hearty hot meals, is what ultimately sets Panco Cafe apart from all the other coffee spots. Here, you'll find Filipino dishes reimagined and elevated, imbued with Australian elements.
Melbourne Style or Manila Style? Here's What You Should Try on Their Menu:
On their menu, you can choose from Melbourne style or Manila style. Melbourne style means you get to enjoy the dish in the form of a sandwich–a popular food among Australians–but this time using the Pinoy Pandesal. The dish comes with root crop chips and pickled atsara.
On the other hand, if you opt for Manila style, you get the dish with rice, a side, and fresh pickled salad!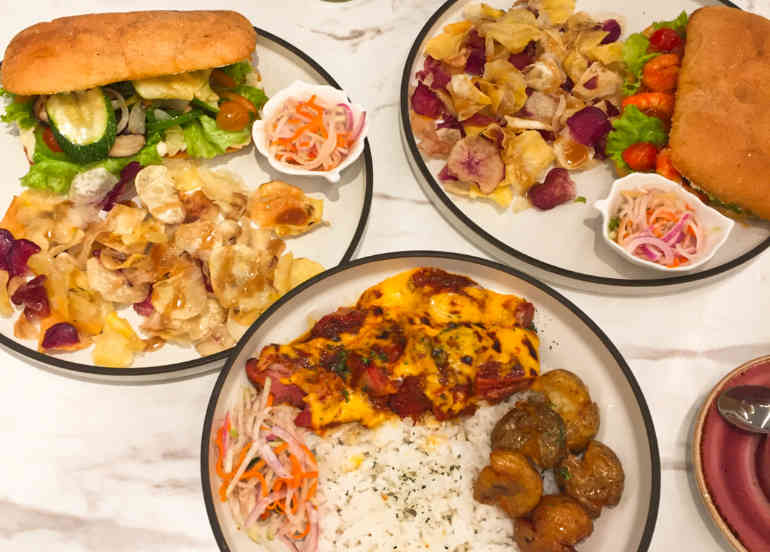 We tried the Can't Believe It's Vego and Spicy Gambas, Melbourne style, and the Cheesy Kaldereta, Manila style. All three dishes were a knockout!
The Can't Believe It's Vego was packed with generous portions of vegetables that were made extra scrumptious and flavorful thanks to the cauliflower puree. It's sure to convert veggie haters to veggie fans!
The Spicy Gambas was equally stunning. The shrimp was perfectly cooked, balancing well with the sambal sauce and the sweetness of the bread. The side of root crop chips was also a star on its own! Crispy, light, and slightly sweet thanks to that drizzle of latik sauce–this one was definitely addictive! In fact, you can get an extra order of these root crop chips if you can't get enough of them!
The Cheesy Kaldereta shone as well, with its tender meat and melted, cheesy sauce, you'll surely love to have it with heaps of rice! Not to miss is the side of pickled salad, which was fresh and had the right amount of acidity to fire up your appetite!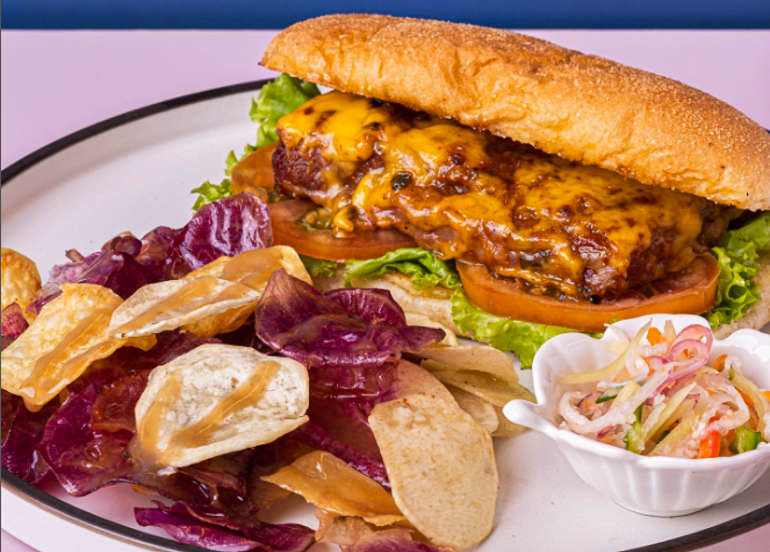 For our coffee and non-coffee drinks, we tried the Kalma, Tiramisu Latte, and Strawberry Lychee.
The Kalma was perhaps the most intriguing on the list, since it was a mix of matcha and kalamansi. But the combo surprisingly worked! The matcha wasn't too overpowering and blended well with the kalamansi juice. Overall, refreshingly delicious!
For something creamier, the Tiramisu Latte is a great choice. The sweet and indulgent tiramisu cream complements the coffee very well! The Strawberry Lychee, on the other hand, is a brighter, more freshening drink. It has strawberry chunks and lychee mixed with sparkling water!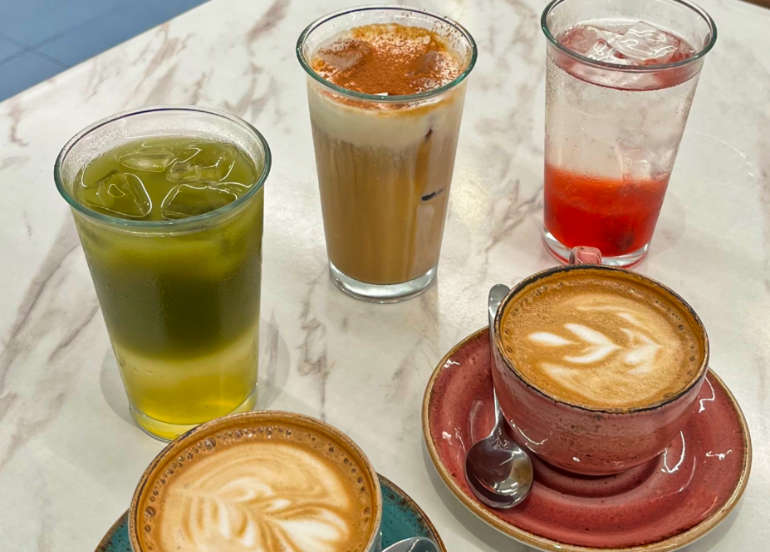 Other must-trys on their menu are the Breakfast Brisket, Chicken Tocino Silog, and Panco's Special Inasal. For the drinks, don't miss out on the Ube Halaya (made with real ube!), Citrus Brew, and the Dirty Mocha that's made with Davao tablea!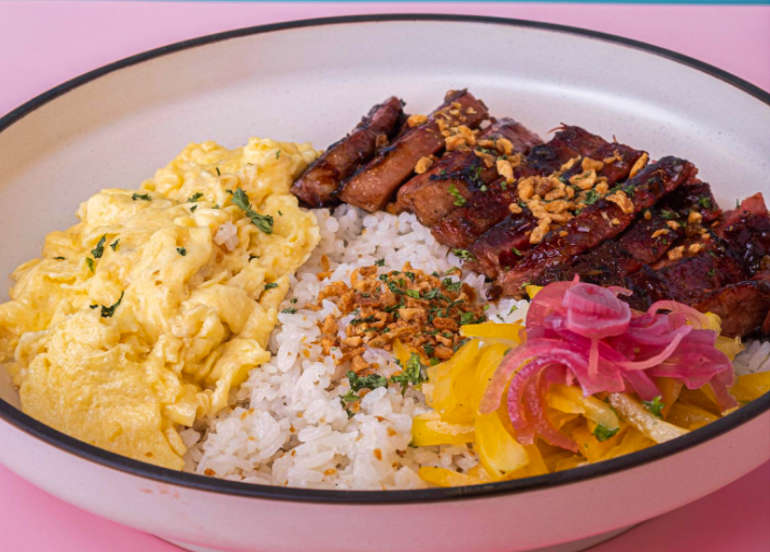 Visit Panco Cafe!
Find Panco Cafe at 110 Don Carlos Palanca, Legazpi Village, Makati City. They are open every day starting from 7 am, ready to serve you delicious cups of coffee and hot and homey meals. Whether you're stopping by for a filling meal, looking for a chill space to work, or bringing the whole gang together for a weekly tito/titahan, Panco Cafe is your spot!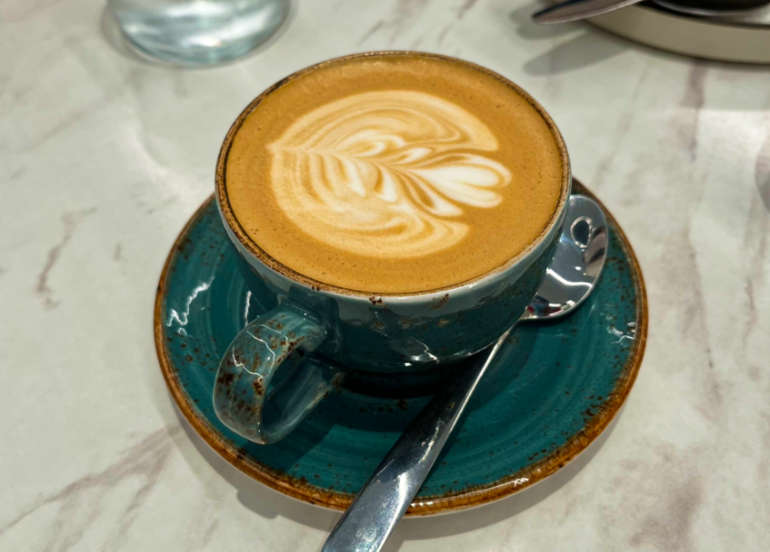 Check out their full menu here
View their Instagram page here
110 Don Carlos Palanca, Legazpi Village, Makati
All the coolest bars, cafes, and restaurants are on Booky. Download the app for free and type in a restaurant name or location and we'll give you all you need to know about the place. Menu, location, and more. It's all on Booky!