Masterchef is shaking.
Since the start of the current situation, cooking has been without a doubt our collective go-to source of meals, entertainment, and distraction. Recipe after recipe, it's still best to make our supplies last as long as we can to keep visits to the grocery as low as can be!
Miraculously, pancake mixes seem to be one of those kitchen staples you'll alway find at the back of your pantry. It's a phenomenon no one can explain. Luckily for us, we aren't restricted to just pancakes, syrup, and butter. Check out these 8 simple recipes using pancake mix ranging from breakfast, dessert to savory dishes that'll make you take you a 5-star chef at home.
Pancake Cereal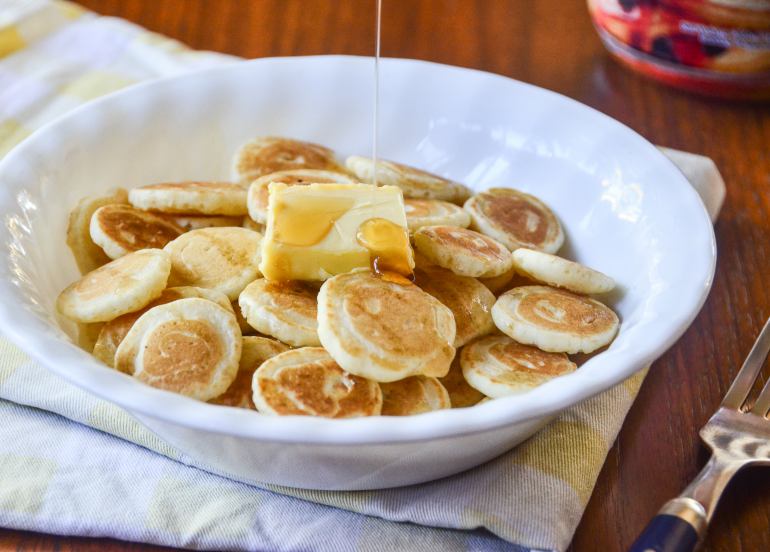 Ingredients:
Pancake mix
whole milk
Ziploc bag
1/2 tbsp. butter
sugar (optional)
maple syrup (optional)
Instructions:
Prepare your pancake mix as you normally would. Pour the batter into a Ziploc bag, secure the bag, and snip off a small section from the corner. Add butter or oil to your pan. Squeeze small dots of the pancake batter into the pan. Place in a bowl, pour some milk, and top with butter and maple syrup. Enjoy!
Pancake Crepe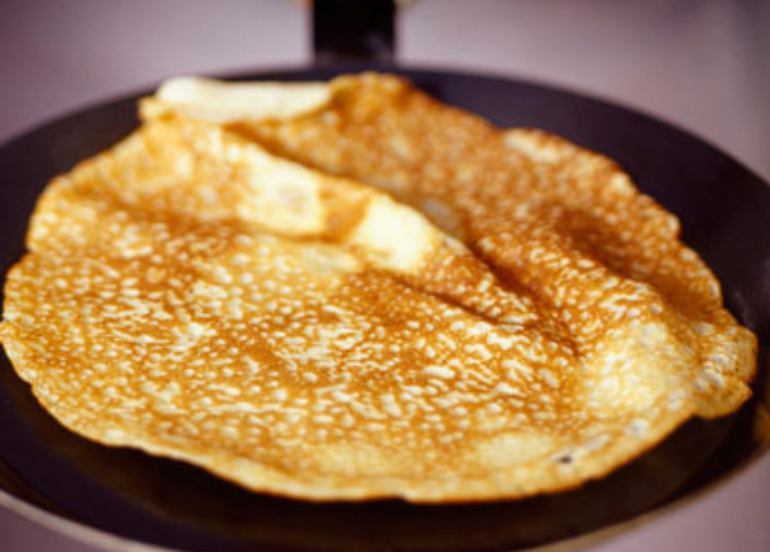 Ingredients:
Pancake mix
Butter or oil, for greasing
Water
Sugar (optional)
Instructions:
Prepare your pancake mix as you normally would. Add in water until you get a runny batter. Stir until smooth. Preheat a lightly greased frying pan. Spoon in 2-3 tablespoons of batter into the center of the pan. Tilt to coat the bottom of pan evenly until you end up with a thin layer of batter covering the pan. Cook crepes until slightly browned. Turn and cook lightly on the other side for about 1 minute.
Recreate the crepe flavor of your choice! If desired, go with the famous (and simplest) butter sugar crepe by spreading butter while the pancake crepes are hot and sprinkling sugar all over.
Insider tip: For dessert crepes, try Nutella and banana, or even vanilla ice cream and mango. For savory, you can try out any combination of ham, cheese, tomato, and egg, or even Bechamel sauce and mushrooms if you're feeling fancy!
Pizza Muffins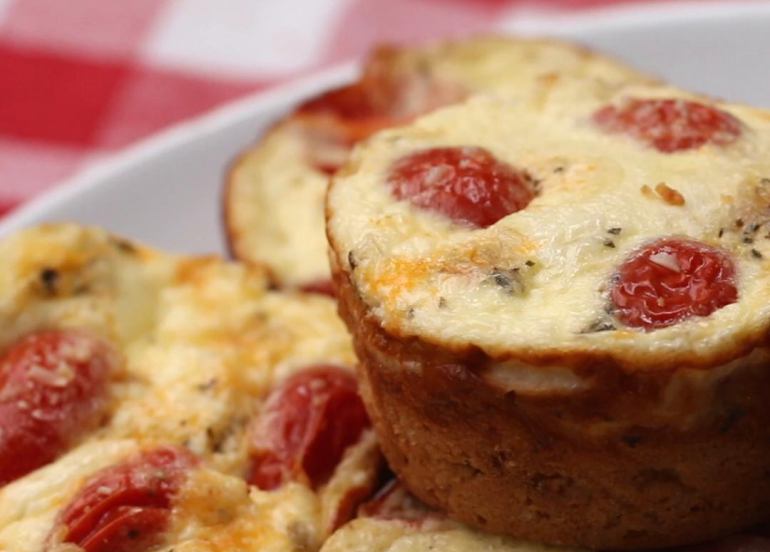 Here's a recipe from Tasty.
Ingredients (for 12 servings):
2 cups pancake mix(125 g)
½ cup butter(115 g), melted
3 eggs, divided
½ tablespoon dried basil
½ tablespoon dried oregano
½ teaspoon garlic powder
⅓ cup mini pepperoni slice(50 g)
1 cup shredded mozzarella cheese(100 g)
1 cup milk(235 mL), of choice
18 cherry tomatoes, or grape tomato
2 tablespoons heavy cream
2 tablespoons grated parmesan cheese
marinara sauce, for serving
Instructions:
Preheat oven to 350°F (190°C). In a medium bowl, add the pancake mix, butter, and 1 egg and mix until combined. Put about 1 tablespoon of dough into a greased 12-portion muffin pan and press to mold. Sprinkle basil, oregano, garlic powder, pepperoni, mozzarella cheese, and tomatoes over the dough. In a large measuring cup, whisk together 2 eggs, milk, and heavy cream. Pour mixture over the other ingredients in each muffin slot. Top with parmesan cheese. Bake 20-25 minutes, or until golden brown. After cooling for 5 minutes, serve with marinara sauce for dipping!
Pancake Mix Brownies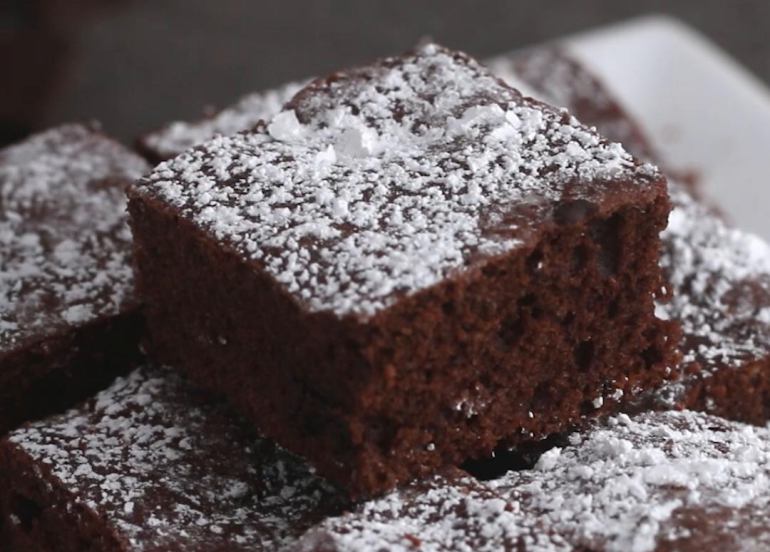 Here's a recipe from Tasty.
Ingredients (for 12 servings):
¼ cup butter(55 g), melted
2 tablespoons sugar
2 eggs
1 teaspoon vanilla extract
½ cup semi sweet chocolate(85 g), melted
1 ½ tablespoons cocoa powder, sifted
⅓ cup pancake mix(40 g), sifted
⅓ cup dark chocolate(55 g), chopped
powdered sugar, to serve
Instructions:
Preheat the oven to 350˚F (190˚C). Add the butter and sugar to a bowl and stir to combine. Add in the eggs and vanilla extract and whisk to combine until smooth. Stir in the melted chocolate, followed by the cocoa powder and pancake mix, stirring until well combined. Gently fold in the chopped dark chocolate to the batter.
Pour batter into a parchment paper-lined 8×8-inch (20×20 cm) pan, and bake for 20-25 minutes. Cool for 5 minutes, then top with powdered sugar, cut, and serve.
Pancake Mix Cinnamon Rolls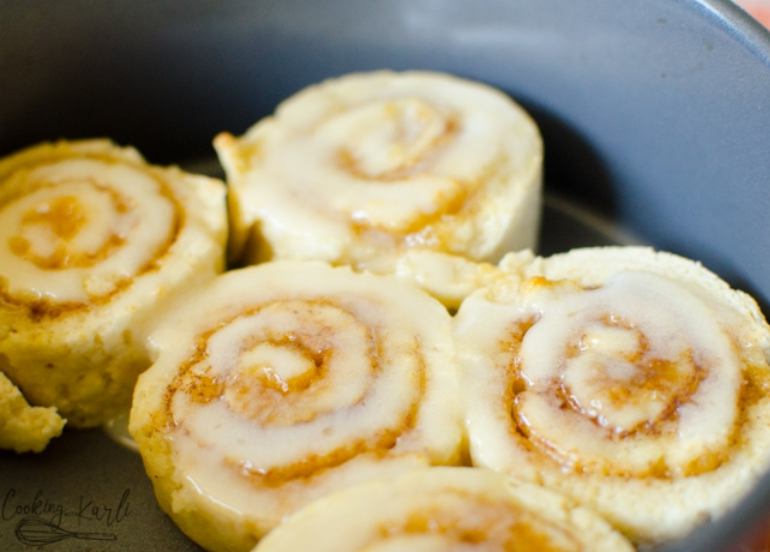 Here's a recipe from Cooking with Karli.
Ingredients:
1 1/4 cup pancake mix
1 tbsp sugar
1/3 cup milk
For Cinnamon Filling:
1 tbsp butter softened
2 tbsp brown sugar
1/2 tsp cinnamon
For Vanilla Icing:
1/8 cup butter
3/4 cup powdered sugar
1/2 tsp vanilla
1/2-1 tbsp milk
Instructions:
In a large bowl combine the pancake mix, sugar and milk. Stir until mostly combined and then knead with your hands until mixed thoroughly (the texture should be like Play-Doh). Roll out on a floured surface. Roll out into a rectangle approx 4 inches wide by 8 or 9 inches long. I can never get it into a good rectangle so I end up kind of piecing the rectangle tougher and that is fine!
Spread the softened butter all over the dough. Mix the brown sugar and cinnamon together. Spread on top of the butter. Carefully and slowly, roll the dough up using the short side. You will end up with a log that is approx 4 inches long. Cut the log into 6 equal slices. Place the cinnamon rolls into a 6 inch baking dish. Cover with foil tightly and create a foil sling. Pour 1 cup of water into the Instant Pot and place the trivet inside. Using the foil sling, place the 6 inch baking dish inside of the Instant Pot. Cook on Manual HIGH for 12 minutes then quick release the pressure.
While the Cinnamon Rolls are cooking, make the icing. Make the icing by combining all icing ingredients with a hand mixer. Set aside. Turn the oven on to BROIL. After the Cinnamon Rolls are done pressure cooking, take the Cinnamon Rolls out of the Instant Pot. Don't panic if it looks underdone, this is normal! Broil in the oven for 3-4 minutes. Drizzle on vanilla icing while they are hot, and eat.
Monte Cristo Pancakes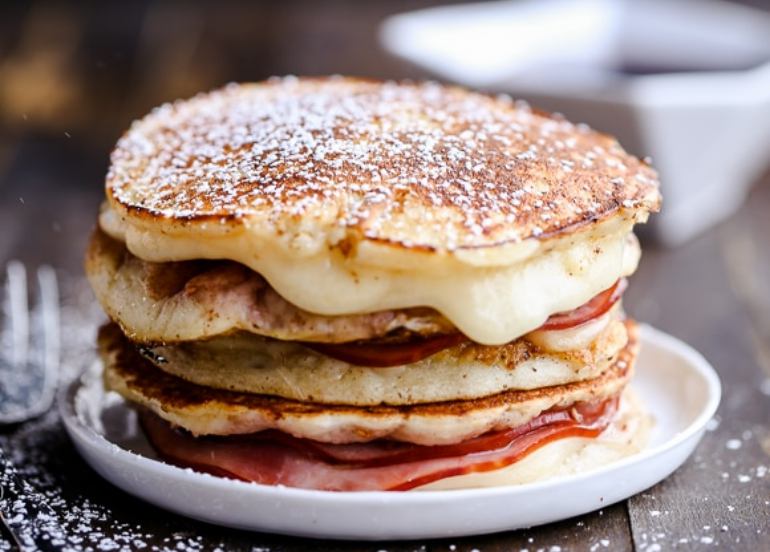 Here's a recipe from Bakerita.
Ingredients:
1½ cups Krusteaz Buttermilk Pancake Mix
1 cup water
For the filling:
4 slices gruyere or good melting cheese
4 slices ham thinly sliced
2 tablespoons raspberry jam
For egg wash:
2 eggs
½ cup milk
¼ teaspoon cinnamon
Instructions:
Heat pancake griddle or pan to 375°F. Lightly grease griddle. Whisk together pancake mix and water. Batter will be slightly lumpy. (Do not overmix.) Let batter stand 2 minutes. Pour slightly less than 1/4 cup batter per pancake onto griddle. You should have 8 pancakes. Cook pancakes 1- 1 1/4 minutes per side, or until golden brown, turning only once. Let pancakes cool.
Spread 1/2 tablespoon of raspberry jam on half of the pancakes. Top the raspberry jam with a slice of cheese and a slice of ham. Top with another pancake. In a shallow bowl, whisk together the eggs, milk, and cinnamon. Carefully dip one pancake sandwich into the egg mixture, coating both sides. Place on the hot skillet and cook for 3 minutes on each side, or until the outsides are golden brown and the cheese is melted. Repeat with all pancakes. Serve warm, dusted with powdered sugar.
Corndogs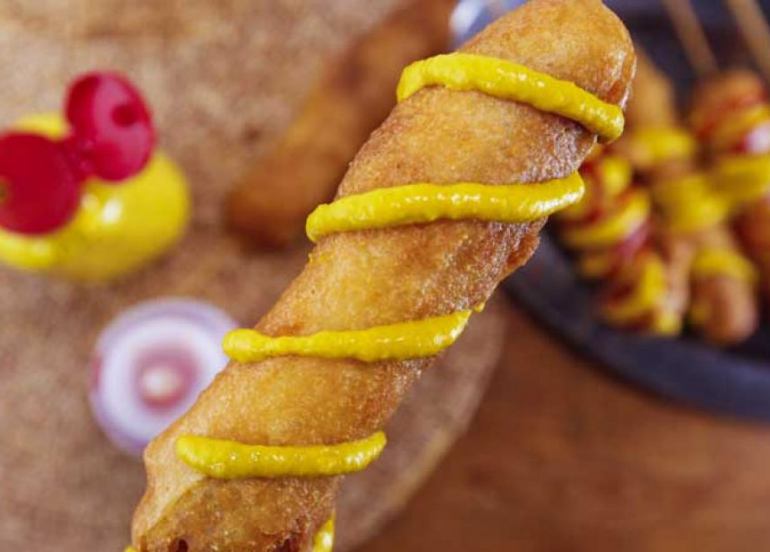 Here's a recipe from Rachel Ray.
Ingredients:
2 cups pancake mix (one that requires oil, eggs, milk)
1/2 cup cornmeal
1 1/2 cups whole milk
Kosher salt
8 hot dogs
Peanut oil, for frying
Mustard, to taste
Make the batter. In a large bowl, whisk together the pancake mix, cornmeal, milk and a pinch of salt. (The batter should be a bit tighter than pancake batter.) Let rest 5-10 minutes. If needed, add a bit more milk to loosen.
Dunk and fry. In a large pot or fryer, bring at least 4 inches of oil to 350° F. Dunk hot dogs in the batter and remove with a fork. Gently drop them into the oil and fry, rotating if needed, until golden brown all over, about 4-6 minutes. Remove and serve with mustard.
Italian Pancake Cups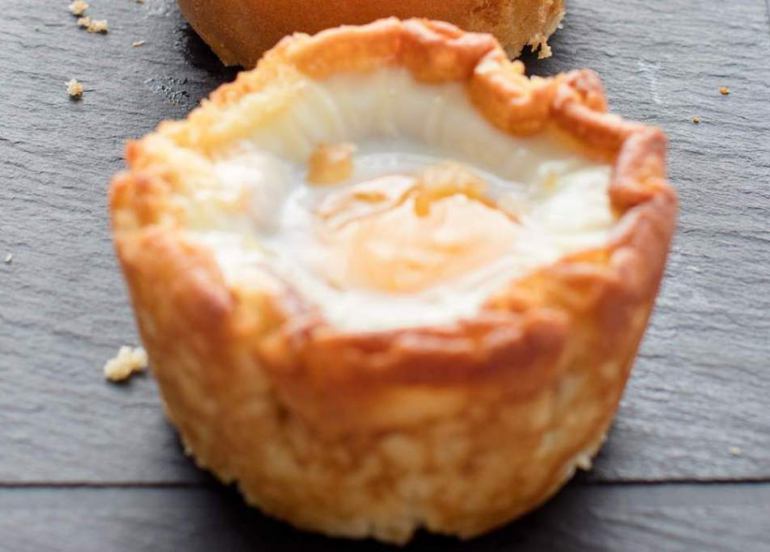 Here's a recipe from The Maya Kitchen.
Ingredients (for 7 cups):
1 pack pancake mix (200g)
7 eggs
White Sauce:
1/4 cup butter
2-3 tablespoons MAYA All-Purpose Flour
1 1/4 cups fresh milk
1/4 cup cream cheese
1/3 cup grated mozzarella cheese
1/4 cup grated cheddar cheese
salt and pepper to taste
Italian Sauce:
2 tablespoons butter
1 tablespoon olive oil
1 cup crushed tomatoes in can
1 tablespoon fresh basil, chiffonade
salt and pepper
2 teaspoons sugar
Instructions:
Preheat oven to 350°F/177°C. Grease two 6 oz. muffin pans. Set aside. Prepare pancake as per package directions. As soon as the pancake cooks, transfer the cooked pancake right away into the muffin pans. Mold and press the cooked pancakes into the muffin pans to create a crust-like base and bake for 5-8 minutes. Set aside and cool.
To prepare the Bechamel sauce, melt butter in pan and add flour until well-blended. Pour milk and the rest of the ingredients, and bring to a boil. Whisk until smooth and thick. To prepare Italian sauce, place and cool ingredients in a small pan until liquid is reduced and sauce is thick.
Place a tablespoonful of both Bechamel and Italian sauce in each pancake cup, and crack an egg on top for each cup and bake again until eggs are cooked (until it isn't too watery). Serve immediately.
By Jody Mackun and Dani Monfort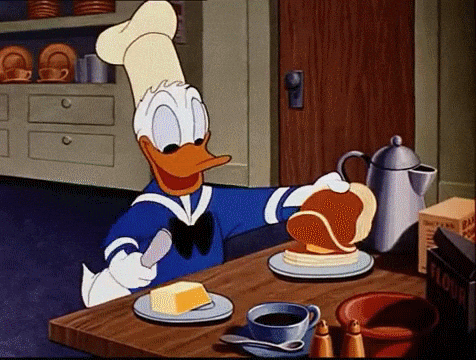 Looking for more recipes for you to try? Simply type RECIPE in the Booky Guide to see the different things you can make at home from soju cocktails to famous restaurant dishes like Max's Sizzling Tofu.