From Taiwan Classic to the famous Brown Sugar Milk Tea!
In light of the unprecedented situation going on, our deepest, most human cravings have been magnified: the desire to see loved ones, the itch to work out again, the longing to have our dose of retail therapy, but also our insatiable thirst for milk tea.
These are tough times for milk tea aficionados all over the country, given that a only limited number of brands have decided to open their doors for take-out and deliveries. Adding insult to injury, the enhanced community quarantine has been extended–– much to the dismay of milk tea lovers, just like us! But this doesn't mean that we'll have to deprive ourselves until everything is back to normal.
Are you a merchant of a brand open for delivery or takeout this lockdown? If you want your brand to be listed in our blog, send a message to database@booky.ph!
Fret not as we've compiled these 5 unique and exciting milk tea concoctions that you can try at home!
Matcha Tiramisu Milk Tea
from Tea Laboratheory
Matcha and tiramisu packed in one cup? Sweet-tooths are in for a treat!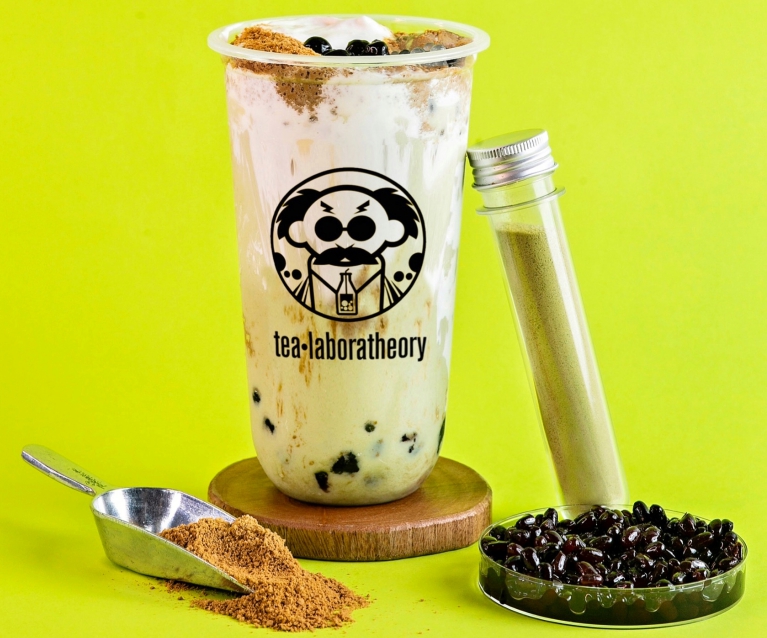 Here's a recipe from Tea Laboratheory.
Ingredients:
Matcha Milk (1 serving)
1 cup of milk
2 tbsp matcha powder/green tea
Cheese Cream (4-5 servings)
¼ cup cream cheese
¼ cup powdered sugar
½ cup cream
Instructions:
Heat cream until warm and add matcha until it's dissolved. Cool down the matcha milk you made, and mix it with 1/4 cup of ice and place it in a prepared cup, then set aside. Using a hand mixer, beat cream cheese and powdered sugar for 2-3 minutes; then add cream and beat for 30 more seconds. Add the cheese cream on top of your matcha milk! Optional: add toppings like grahams and black pears!
Excited to try it ready-made? After this lockdown, try it out and more unique flavors at Tea Laboratheory!
Peanut Bubble Tea
Who says that peanut butter only goes with jelly? Try this easy-to-make blend at home with your family!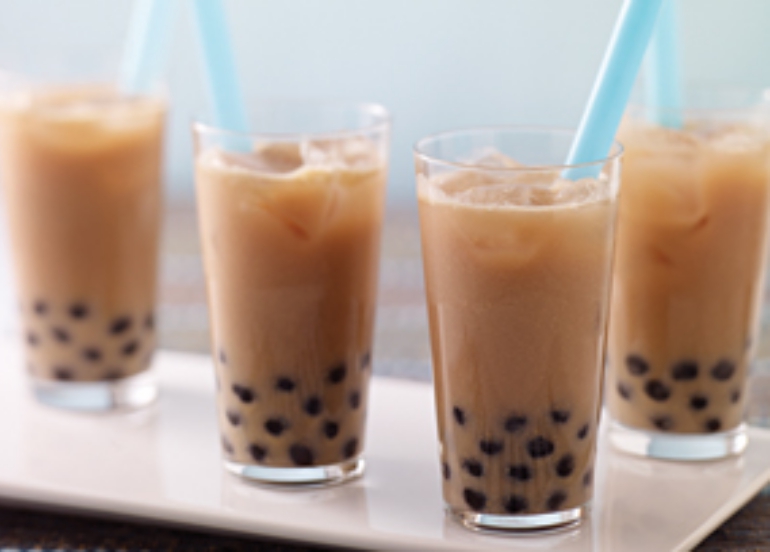 Here's a recipe from Kraft Canada.
Ingredients (For 4 servings):
½ cup jumbo tapioca pearls, uncooked
¼ cup Kraft peanut butter
3 tbsp. Honey
1 cup light no-sugar-added soy beverage
1 cup brewed black tea, cooled
1 cup ice cubes
Instructions:
First, cook the tapioca as directed on the package, then drain. Rinse with cold water until cooled. Whisk peanut butter and honey in a bowl until blended, then gradually stir in milk, followed by tea. Spoon tapioca into 4 tall serving glasses. Then add tea mixture and ice, and serve with a straw!
Bourbon Milk Tea with Bourbon-Soaked Boba
Contemplating on whether liquor would go well with milk tea? Well here's the answer everyone is waiting for!
Here's a recipe from The Kitchy Kitchen.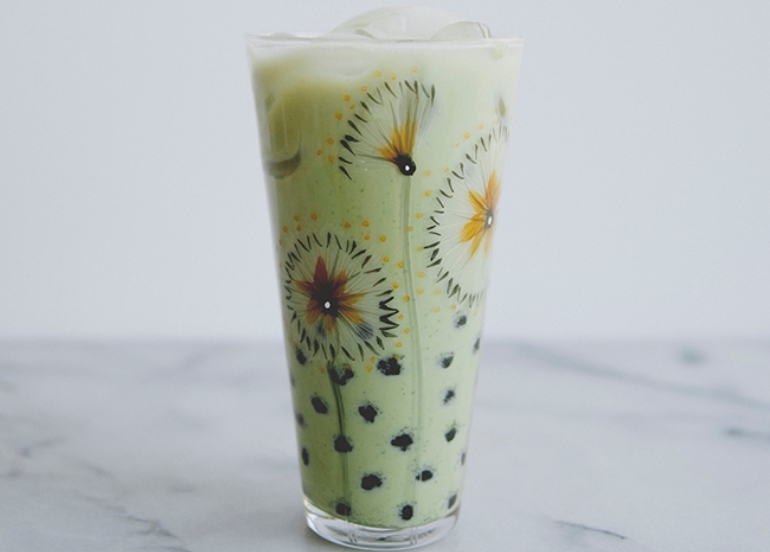 Ingredients (For 1 serving of 8oz):
1 heaping teaspoon matcha
½ cup water
1 ounce bourbon
Sweetened condensed milk or half and half, to taste
¼ bourbon soaked boba (see recipe below)
¼ cup dried boba (large tapioca pearls, not the quick cooking kind)
2 cups water, plus a 1/4 cup for sugar syrup
1/2 cup sugar
1/4 cup bourbon
Instructions:
Boil 2 cup of water over high heat, then turn to medium and cook boba for 12 to 15 minutes. Take off heat, cover, and leave for another 12 to 15 minutes. To make syrup, bring 1/4 cup of water to boil over high heat and add bourbon. Remove from heat and stir in 1/2 cup sugar until dissolved. Set aside to cool.
Return to boba and drain, then put in bowl. Add bourbon syrup and let boba marinate for at least 15 minutes (make sure all boba are submerged). Refrigerate. Boil 1/2 cup of water at 165F to 180F, then combine matcha and water in a bowl, whisking in rapid "W" movements until frothy. Pour the tea into a cocktail shaker with bourbon, sweetened condensed milk, and ice. Shake vigorously for 15 minutes, then add a scoop of bourbon-soaked boba!
Brown Sugar Oat-Milk Tea
Just the right mixture of sinful and healthy–perfect for the high summer heat!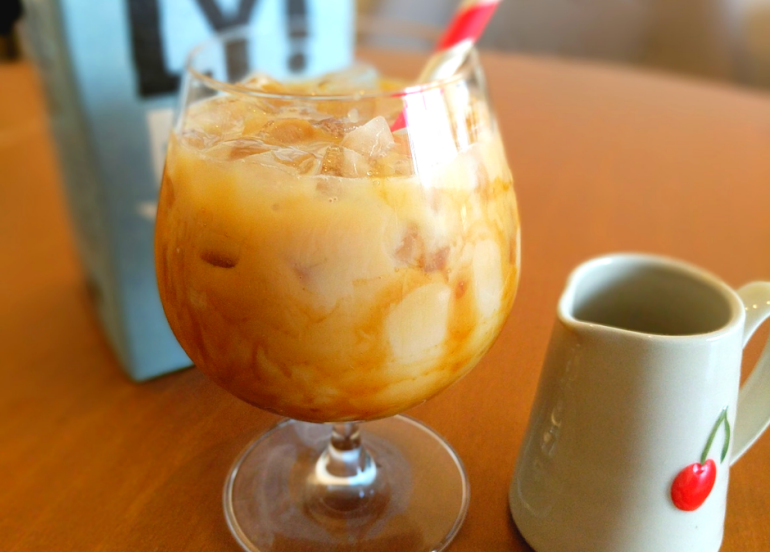 Here's a recipe from JENNY&GUS food.
Ingredients (For 1 serving):
1 tbsp black tea
2 tbsp brown sugar
1 tbsp water for brown sugar syrup making
1/2 cup hot water for steeping the tea
1 cup of oat-milk
1 glass of ice or as needed
Instructions:
Combine the 2:1 parts of brown sugar and water. Give it a quick stir and microwave for 20 seconds (Note: If you prefer the regular level of sweetness as found in bubble tea shops, double up the proportions of the sugar and water). Cool the brown sugar syrup concoction with an ice bath or you can pop it in the fridge for at least 5 minutes.
Take the 1/2 cup of water and microwave for 1 minute. Steep the loose leaf tea in the hot water and give it a stir to release the flavor. Steep for 2 minutes or as directed by the tea packaging. Filter the tea to produce a dark amber brew. Refrigerate briefly. Take the cooled brown sugar syrup and pour into your serving glass. Slowly swirl the syrup around the glass and create cascading patterns. Fill up the glass with ice then pour the oat-milk. Finally, finish by pouring the brewed tea.
Sweet Potato Milk with Brown Sugar Boba
Odd as it may seem, this filling vegetable-snack is also a perfect pair for our well-loved milk tea.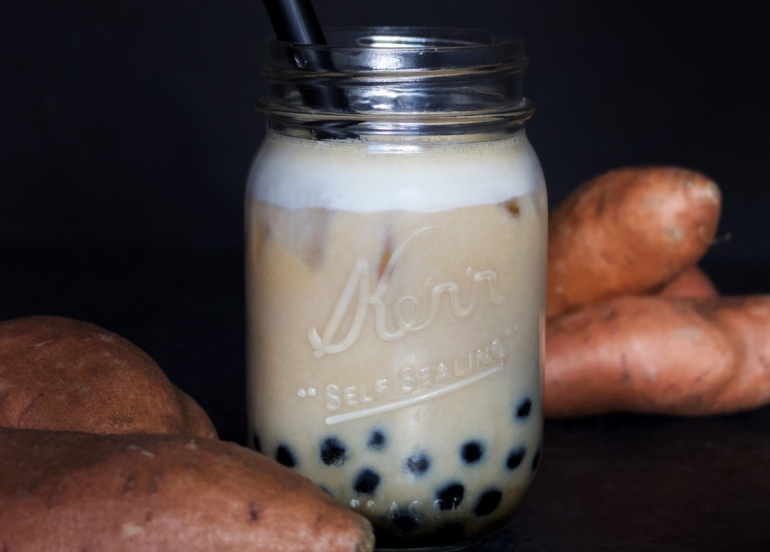 Here's a recipe from NO EGGS OR HAM.
Ingredients (For 3 servings):
8 oz unsweetened soy milk
1.5 oz boiled sweet potato, peeled*
2 oz brown sugar syrup
ice
4 oz unsweetened soy milk
5 oz ice
1 oz boiled sweet potato, peeled
1 oz brown sugar syrup*
3/4 c tapioca pearls
brown sugar syrup
Instructions:
For boba, bring 10 cups of water to a boil in a large pot over high heat. Once at a rolling boil, add in tapioca pearls and gently stir until they float to the top. Cover and continue to cook for 15 minutes. Take off heat and let sit for another 15 minutes. Drain and rinse thoroughly with cold water and transfer to a bowl. Add enough brown sugar to cover up all the boba and cover until use, or best to let sit 3 hours.
For milk tea, combine all the ingredients in a personal sized blender or mason jar and blitz or shake until creamy. Serve with a 1/4 cup of boba and plenty of ice.
While your favorite milk tea brands can't help you for the time being, we hope these exciting milk tea concoctions will suffice–– at least for the meantime. Bond with your family and try out these unique recipes at home!
By Jules Tan and Wilo Villame
Here are 5 More Milk Tea Recipes of 5 Popular Milk Tea Flavors!
Taiwan Classic Bubble Tea Recipe
Named after the country where the beloved milk tea/bubble originated, the Taiwan Classic Bubble Milk Tea is a good place to start if you're trying milk tea out for the first time.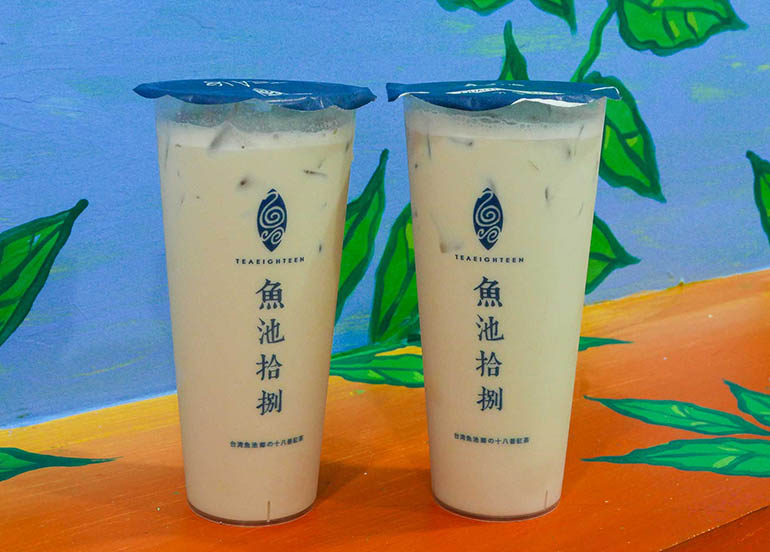 Here's a recipe from Yummy. ph:
Ingredients (For 1 serving):
2 bags of your favorite tea (black is preferred)
1 cup of hot water
2 tbsp. of non -dairy creamer/powdered skim milk
cooked tapioca pearls
simple syrup
ice
Instructions:
First, steep your tea bags for 5 minutes in hot water. Then, drain the water from your tea bags and pour the tea into a mug, adding the simple syrup to taste as well as the non dairy creamer. Once fully incorporated, transfer your mixture to a glass with ice and tapioca pearls. Wait for the mixture to cool then enjoy!
Can't bother to make a glass? Try out the Taiwan Classic Bubble Tea from Tea 18 and check Booky for a 2 for 1 offer from Tea 18. 
Wintermelon Milk Tea Recipe
One of the most popular milk tea flavors aside from the classic, the Wintermelon Milk Tea's a sure thirst quencher on hot sunny days.
Fun fact: Wintermelon is also known as waxy gourd, ashy gourd, or "kundol" in Filipino.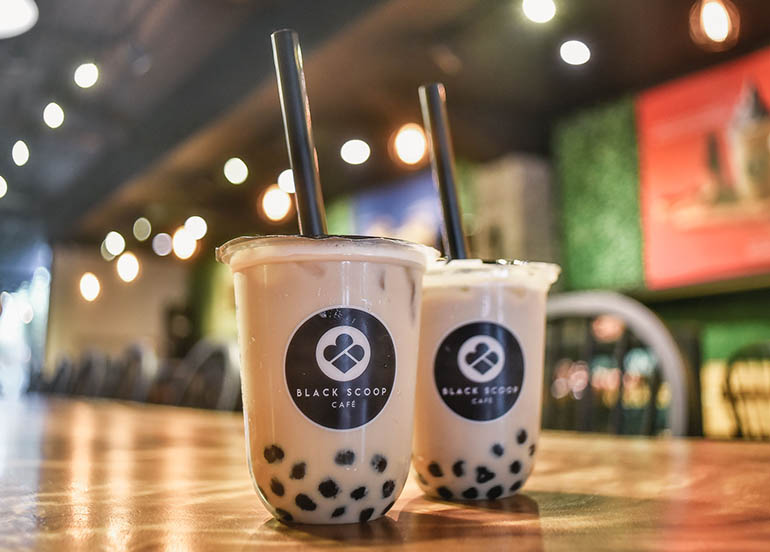 Here's a modified recipe from Bubble Tea Supply:
Ingredients (For 2 servings):
12 oz. Brewed Green Jasmine Tea (You can also use black tea)
2 oz. Wintermelon Syrup
2 oz. Milk
Tapioca Pearls
Ice
Instructions:
Once you've prepared your preferred tea, add the Wintermelon Syrup and milk to taste. Afterwards, transfer the mixture to a glass with tapioca pearls and ice. Stir well and enjoy!
Tired looking for Wintermelon Syrup or find it too tedious to make some, check out Black Scoop's Wintermelon Tea then check Booky for a 2 for 1 offer from Black Scoop. 
Thai Milk Tea Recipe
From Taiwan to Thailand, if your taste buds want a sweeter, stronger, and fuller milk tea, then you should go for Thai Milk Tea.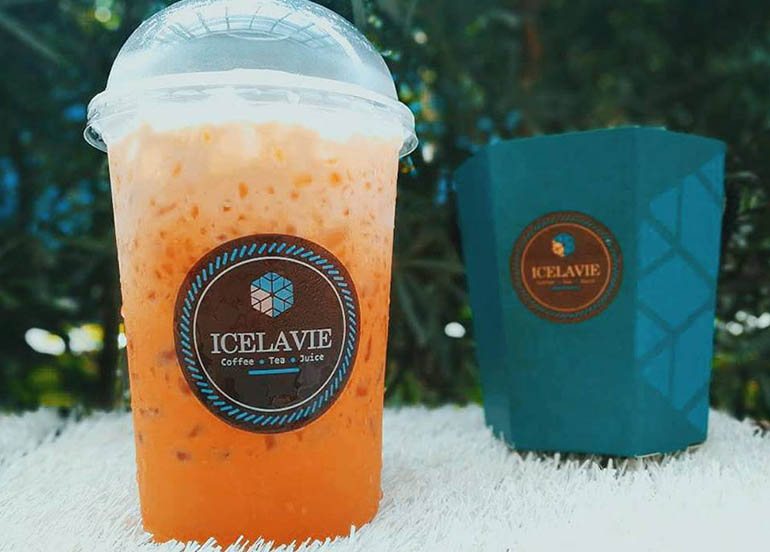 Here's a modified recipe from Tasty:
Ingredients (For 2 servings):
4 cups water (1L)
1 cup Thai tea leaves (25 g)
1/4 cup half & half (60 mL)
simple syrup
ice
tapioca pearls
Instructions:
First, combine the water and Thai leaves in a pot. Heat the leaves until it comes to a boil. Once it has, pour the mixture through a strainer into a container that's heat-proof. Wait until the tea is cooled before you assemble. To assemble, simply combine the tea, the half & half, and the simple syrup then place it in a glass with ice and tapioca pearls. Enjoy!
Not sure if you're going to like the taste? Try out Icelavie's Thai Milk Tea first. Also, keep an eye out on your Booky app, who knows you may just get 2 for 1 of this milk tea soon.
Matcha Milk Tea Recipe
Ever participated in the matcha craze? A kind of tea jam-packed with health benefits, if you love matcha, then you'll no doubt love the Matcha Milk Tea.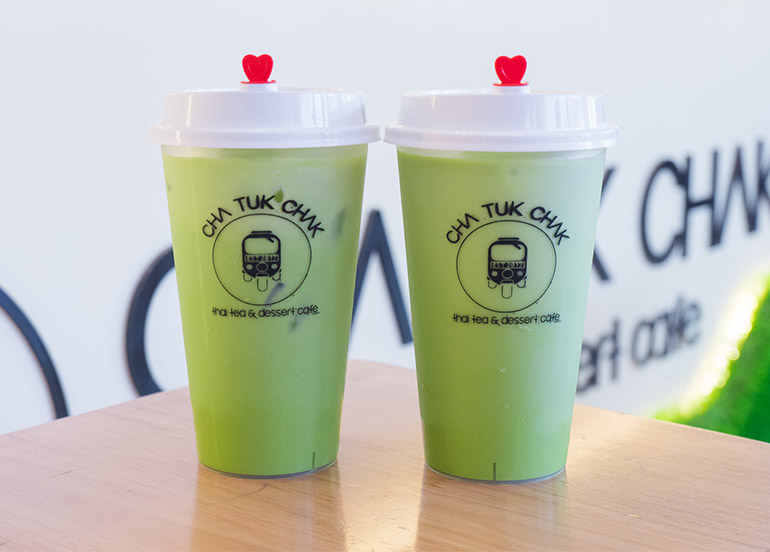 Here's a modified recipe from Spoon University:
Ingredients (For 2 servings):
2 tbsp. matcha
1 tbsp. green tea leaves
1 cup of almond milk (or whatever milk you prefer)
Simple syrup or honey
Ice
Instructions:
Begin by brewing your tea leaves in hot water for 2 minutes. Afterwards, add the matcha to your already steeped tea. Once fully dissolved, transfer the mixture to a glass with tapioca pearls. Finally, add simple syrup/honey, milk, and ice to taste. Enjoy!
Have a matcha craving you need to satisfy ASAP? Check out the Cha Khiao from Cha Tuk Chak and also check out the Booky for a 2 for 1 offer with Cha Tuk Chak. 
Brown Sugar Milk Tea Recipe
Another craze that's recently swept the nation, the Brown Sugar Milk Tea Recipe is undoubtedly worth the hype especially for those who like their milk teas sweet and rich.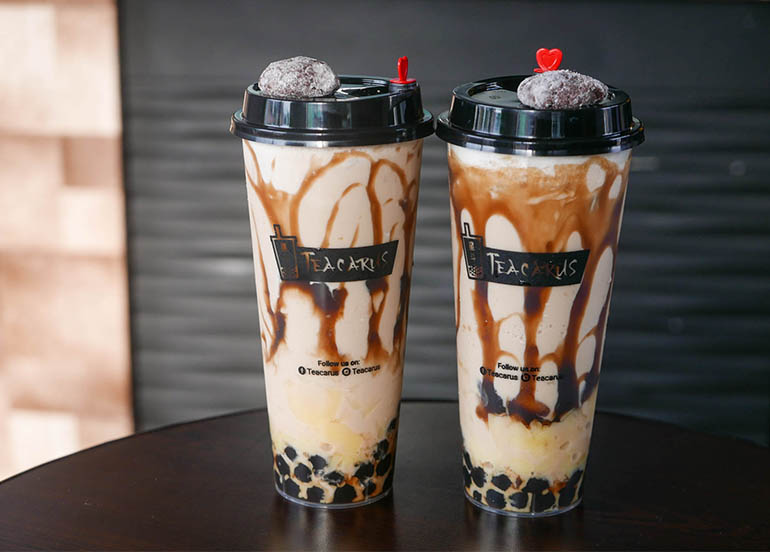 Here is a modified recipe from The Fat Kid Inside:
Ingredients (For 1 serving):
2 bags of tea (ideally black)
1/2 cup of full cream milk
Brown sugar syrup (It's like simple syrup but made of muscovado sugar instead of white sugar)
Tapioca
Ice
Instructions:
First, steep your teabags for 15 minutes. Once steeped, discard the tea bags and allow the tea to coo. Afterwards, combine the tea and the full cream milk then set aside. In another glass, place the tapioca pearls, line the glass with the thick syrup and finally, add the milk tea mixture to the glass. Best enjoyed after a quick stir!
Lines at a certain famous milk tea shops that serve Brown Sugar Milk Tea too long? Check out Teacarus' Brown Satou Milk Tea in the meantime and check out Booky for a 2 for 1 offer with them!
Now that you have the milk tea recipes, go ahead and make yourself a cup or two! Or if don't have that much time on your hands, type 'MILK TEA' in the Booky app and find the closest milk tea shop you can go to for your milk tea fix!
Guess what! Booky has more Buy One Get One promos waiting to be claimed! Just download the Booky app and go to the Buy 1 Get 1 tab to check out all the exciting food you can claim throughout the metro!