Jollibee(tin) ba yung isang recipe hack? Here's five!
Chickenjoy may be an iconic dish from Jollibee but as all true Jollibee fanatics know, that's not the only dish that'll you make you come back time and again to this popular food chain. Some of these dishes are: spaghetti, pies, and burger steak.
If you want to make a homemade Jolilbee feast featuring all your favorites, here are six recipe hacks we found of Jollibee's popular dishes so you can make some right in the comforts of your home!
Chickenjoy
Craving for some Chickenjoy now but you can't get yours delivered or you couldn't go to the grocery to get their frozen marinated chicken? Make some at home with the recipe by Marvin Roy Delminguez Vivo.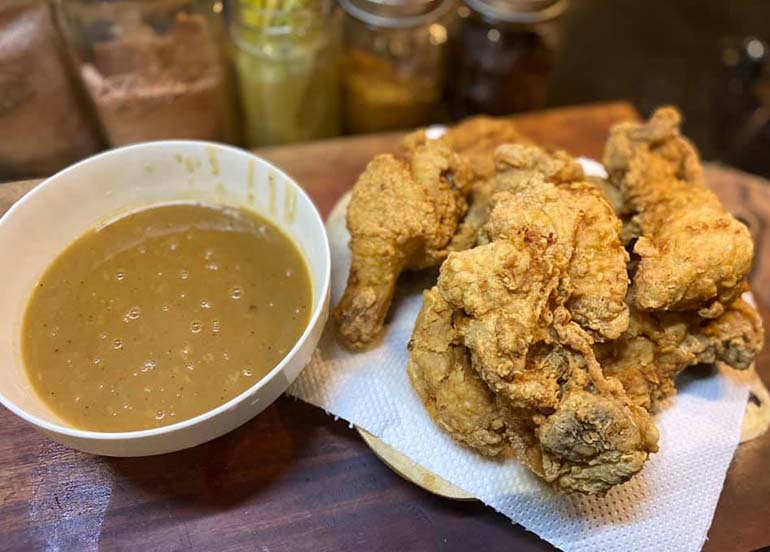 Ingredients:
For the chicken:
chicken
egg
water
3/4 cup flour
1/2 cup cornstarch
1/2 tsp. pepper
1 tsp. garlic powder
1 tsp. paprika
3 tbsp. salted egg powder
For the gravy:
4 tbsp. butter
3/4 cup beef broth
1/2 – 3/4 cup water
3 tbsp of the breading mixture you'll make for your chicken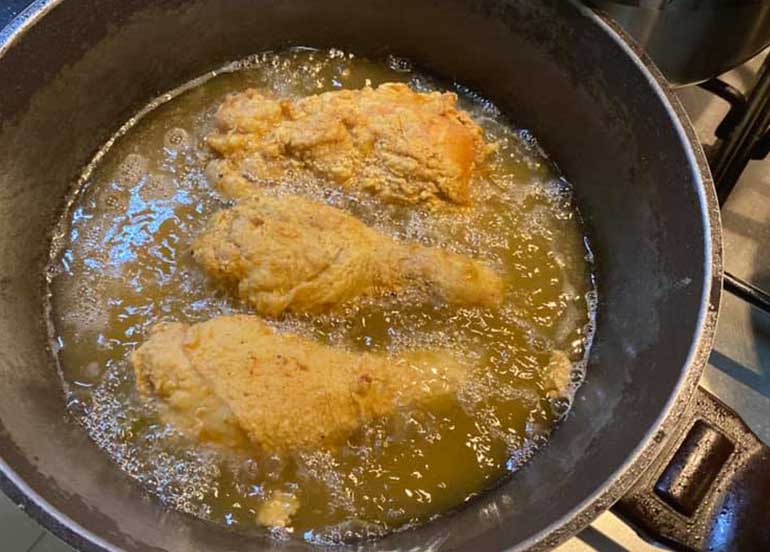 Instructions:
For the chicken:
Before you begin to heat your oil, make sure you've thawed your chicken well. Once you're sure it's thawed, you may prepare your breading.
In a casserole pan or a large plate, combine flour, cornstarch, pepper, garlic powder, paprika, and salted egg powder. In another bowl, prepare an egg and water mixture.
When you're done preparing these two, take your chicken and first dip it in the egg mixture then the breading before frying.
Fry all of the chicken until the skin is golden brown.
For the gravy:
Drain the oil from the pan where you fried your chicken but leave the breading at the bottom of the pan.
In the same pan, on low heat, add the butter, the breading mixture you set aside, the beef broth, the water, and a pinch of pepper. Cook until it's mixed well.
Burger Steak Supreme
A level up from the Jollibee's burger steak, the burger steak supreme may have a lot of components but it's one of the easiest to make and assemble. Don't believe us? Try out this recipe by Fry Dino: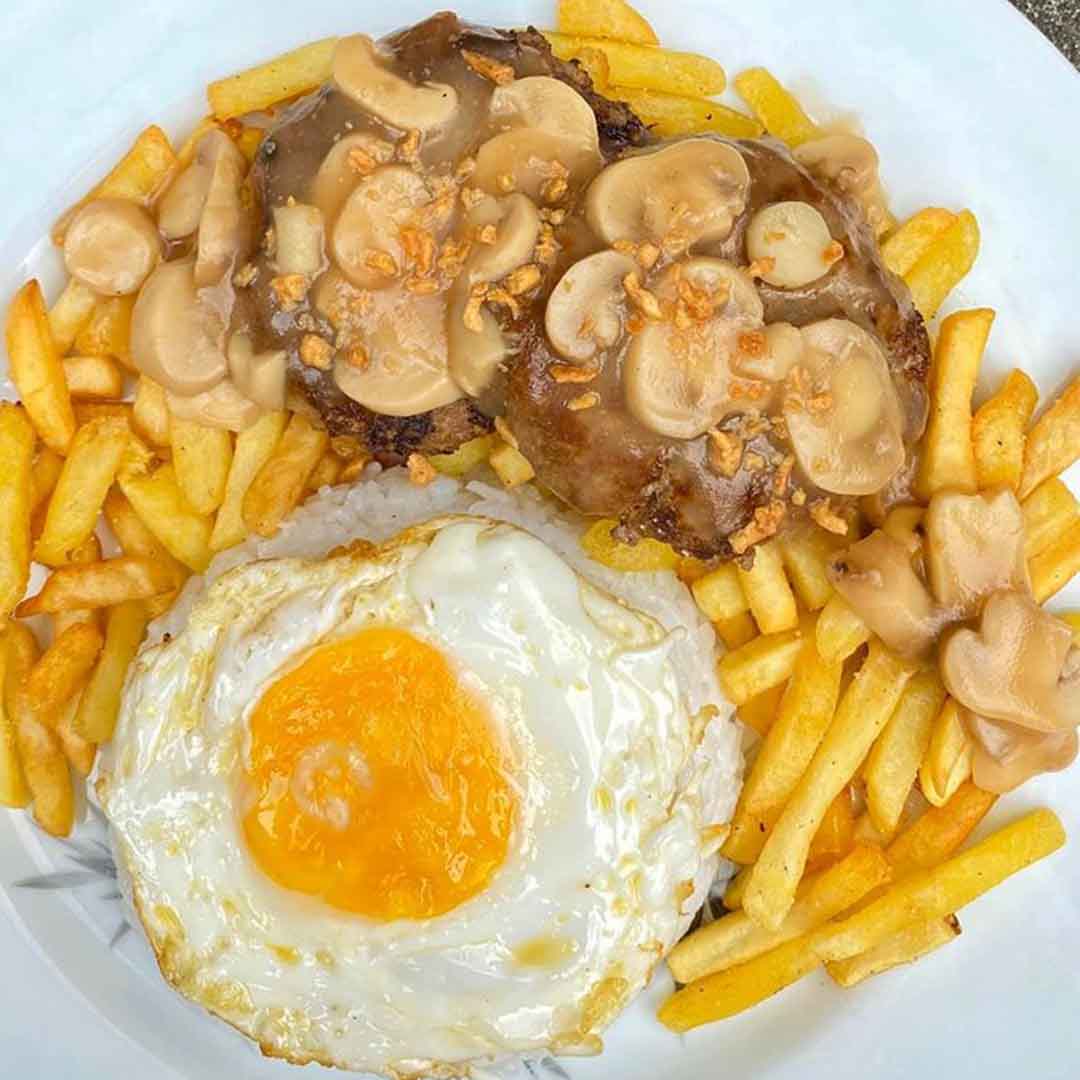 Ingredients:
Beef Patties
Instant mushroom gravy
Mushrooms
French fries
Sunny-Side Up Egg
Rice
Fried garlic (optional)
Procedure:
In a deep-fryer or large saucepan, fry your french fries.
Meanwhile, in another pan, cook your meat patties until they're cooked exactly the way you like it.
Once you're done with the fries and the burger patties, you may cook your mushroom gravy, adding mushrooms for that extra mushroom flavor and for additional texture.
Finally, before assembly, fry a sunny side up egg in a pan.
To assemble, place a cup of rice on your plate. Then, surround your rice with french fries. Afterwards, top the french fries with the patties and mushroom gravy with mushrooms. As a final touch, you may now place your sunny side on top of the rice. If you want some crunch, you may fry garlic and garnish your beef patties with a sprinkle of the garlic.
Don't have instant patties or instant mushroom gravy at hand? Here's a recipe from Speedy Recipe that'll help you make your own!
Tuna Pie
Tuna pie is a deep-fried savory snack like no other. Eaten best when hot, if you want your tuna sandwich with a lot more crunch and savory tones, then this is definitely the snack you should enjoy!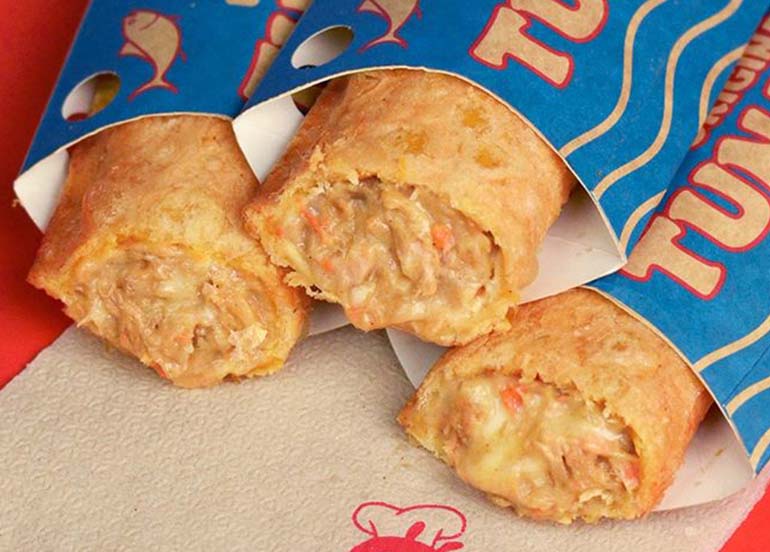 Ingredients (good for 10 pieces):
2 tbsp. butter
2 tbsp. finely minced white onions
2 tbsp. finely minced carrots
1 tbsp. finely minced celery
1 1/4 cups tuna flakes
3/4 cup all-purpose cream
1 cup grated cheddar cheese
20 pieces store-bought puff pastry cut into 4-by-2-inch rectangles
egg wash (1 beaten egg with 1 tablespoon water)
vegetable oil for frying
pepper, to taste
For procedure, you can head on to Yummy.ph.
Note: You may also opt to bake the tuna pies by placing them in an oven set to 375° for 30 minutes until they're golden brown. 
Peach Mango Pie
A unique treat that you can only get in Jollibee, the peach mango pie is one to beat when it comes to getting a sweet and savory dessert/snack. Craving for one now? Feel free to make your own with the recipe of Jaded chef: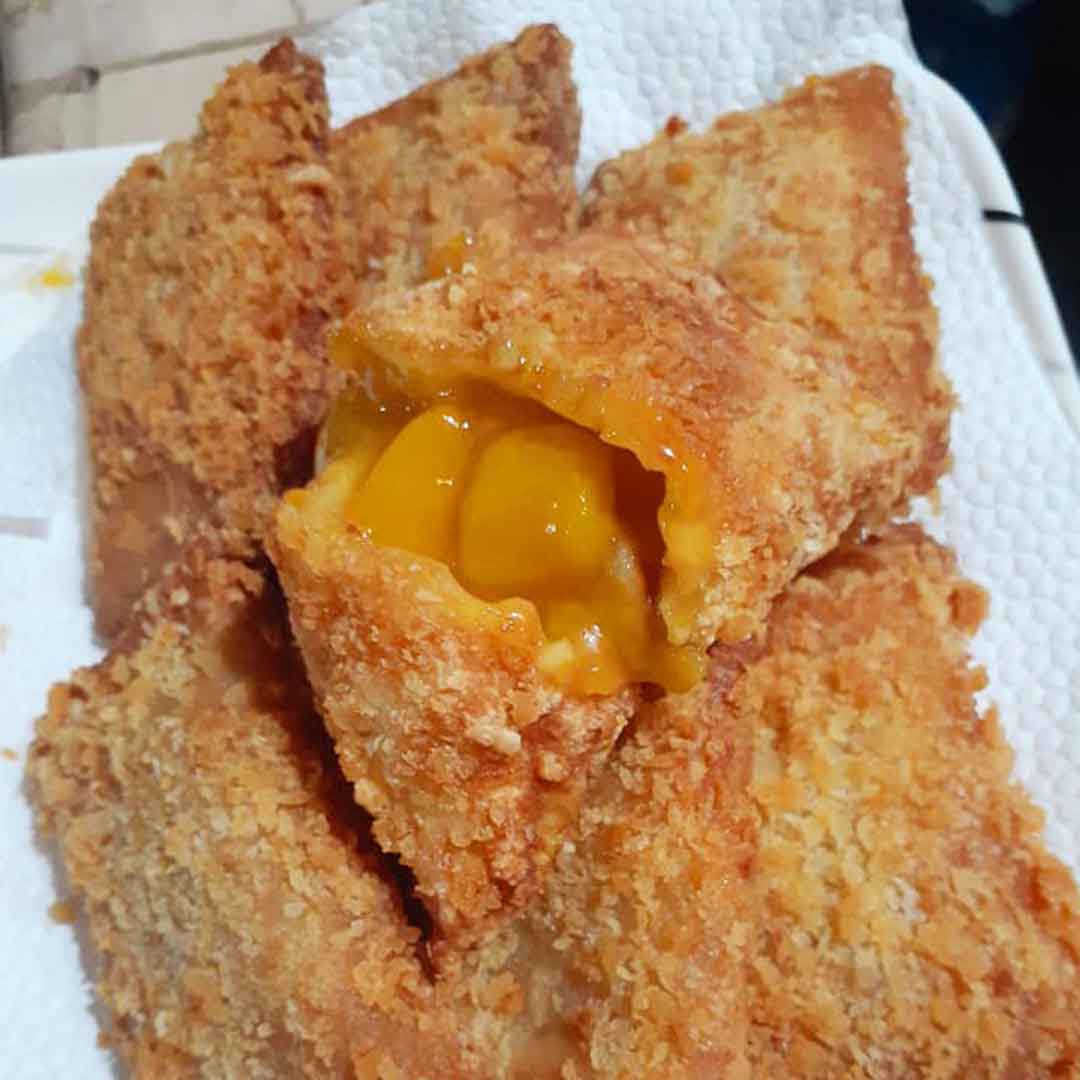 Ingredients:
For the filling:
1 cup of sliced ripe mangoes
1 cup of canned peaches
5 tbsp. peach syrup
1/4 cup white sugar
1 tbsp. cornstarch
1 tsp. vanilla extract
1/2 tsp salt
For the crust:
1 loaf of sliced white bread
2 eggs
4 tbsp. of all purpose flour
4 tbsp. cornstarch
8 tbsp. bread crumbs
vegetable oil
Procedure:
For the filling:
To prepare the fruits, cut the mangoes and the peaches into cubes. Don't forget to keep some of the peach syrup.
In a bowl, combine the white sugar and cornstarch.
Finally, in a sauce pan, bring to a simmer the following: sliced mangoes, peaches, peach syrup, the sugar-cornstarch mix, salt, and vanilla extract. Keep simmering until the mixture has the consistency of jam. Once finished, set aside to cool.
For the crust:
Get your bread and flatten each slice by using a bread roller or using an empty bottle. Don't forget to cut off the crust of the slices.
To assemble:
Place a tablespoon of the peach-mango filling onto a slice of flattened bread the fold it in half. Press a fork on all of the edges to seal. Now, it's ready for coating.
First, coat the pies in a mixture of flour and cornstarch. Then, dip the pies in a bowl of beaten eggs. Finally, add coat the pies even in breadcrumbs.
Fry the pies in a pan filled with vegetable oil over medium heat. Fry the pies until they're golden brown. Don't forget to drain the excess from the pies before serving.
Serve warm and enjoy!
Spaghetti
A taste that suits the Filipino palate perfectly, Jollibee's spaghetti is well-known for it's sweet and meaty flavor that both kids and adults love. Want to make some for your family or for yourself at home?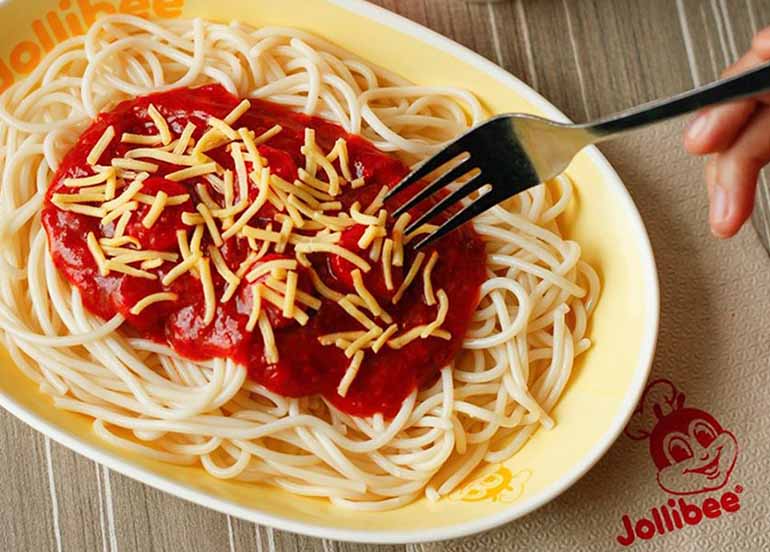 Ingredients:
1 tbsp. vegetable oil
1 tbsp. finely chopped garlic
1 tbsp. finely chopped white onion
50 grams of ground beef
200 grams of sweet Filipino-style spaghetti sauce
1/2 cup banana ketchup
30 grams of liver spread
50 grams of sliced red hotdogs
1/4 cup condensed milk
cooked spaghetti noodles
grated cheese
For the procedure, head on to Esquiremag.
Garlic Pepper Beef
A recently pulled out dish from Jolibee, if you're missing their garlic pepper beef, don't you worry, you can make some at home! Here's a recipe you can follow by Mama's Guide Recipes: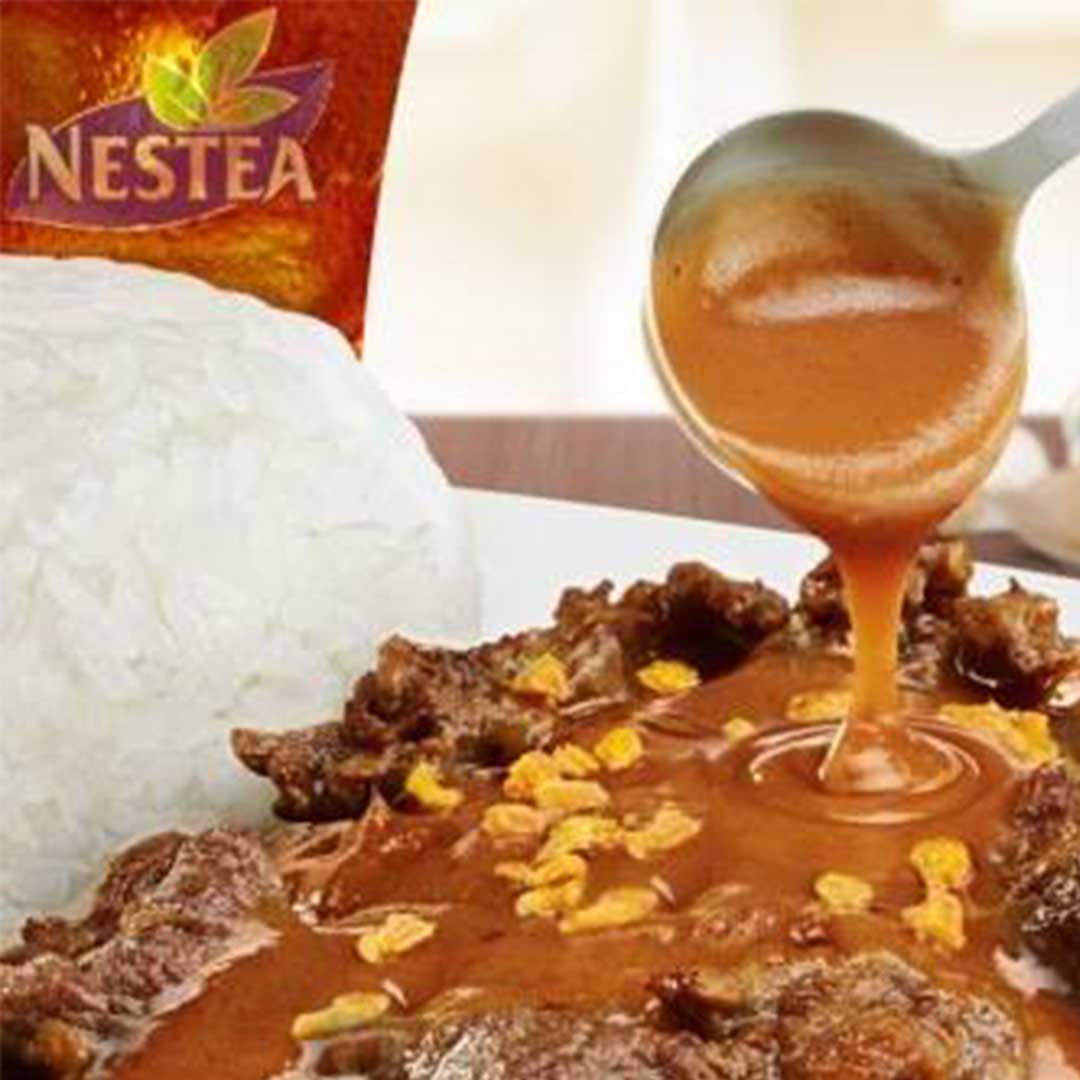 Ingredients:
1/2 kg sliced sirloin
4 tbsp. butter
4 tbsp. sliced garlic
1 tbsp. soy sauce
1 can (400 g) or sliced mushroom (drained)
3 cups of beef broth
2 tbsp of flour (dissolved in a bit of water)
2 tbsp. fried toasted garlic
salt (to taste)
pepper (to taste)
For the procedure, head on to mamasguiderecipes.com.
Enjoy with rice!
Can't get enough of Jollibee? Why don't you check out their social media accounts to see what they have in store for you either for delivery or for after these trying times?
View menu
View all 187 branches
View their Facebook page
View their Instagram account
Looking for more recipes for you to try? Simply type RECIPE in the Booky Guide to see the different things you can make at home from soju cocktails to famous restaurant dishes like Max's Sizzling Tofu.
Cover photo from Booky