Healthy options for everybody!
When the word healthy is mentioned in relation to food it is almost always connected to the idea of a diet. And although it is true that healthy food does help when it comes to dieting, everyone should be encouraged to eat healthier to be better inside and out.
So, this 2019, whether you're preparing for your summer bod or not, we suggest you start your journey to eating healthier by heading on to these healthy restaurants and taste their dishes. Who knows, you just might be pleasantly surprised and soon, you'd even prefer staying on the greener side!
Update: Check out our new Buy 1 Get 1 deals this week!
Restos with Memorable Vegan Options
Whether you're a vegan for your health, for the environment, or even for ethical reasons, here are some restaurants that'll give you vegan dishes that you'll surely enjoy.
A casual deli and cafe with vegan, gluten-free, paleo, and ketogenic dishes and take-home snacks, once you take a bite of The Good Seed's dishes, you'll be surprised at how many good vegan dishes you're missing out on.
Some must-try dishes are the Big Burger Burrito and the Vegan Laksa.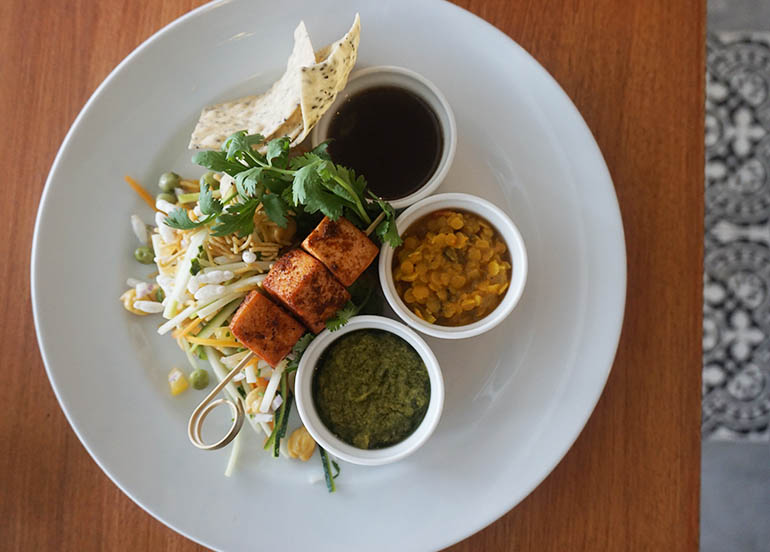 View menu
View their Instagram account
#3 Brixton St, Kapitolyo, Pasig
Susi – Fort Bonifacio
If you're a true health nut, head on to Susi, a two-floor restaurant that has soy-free, sugar-free, nut-free, and protein-packed vegan dish options that are definitely delectable.
Some must-try dishes are the Mac and Geez Pasta and Eat Your Feelings chocolate cake.
Insider tip: They have vegan ingredients and gluten-free bread which you can purchase and take home.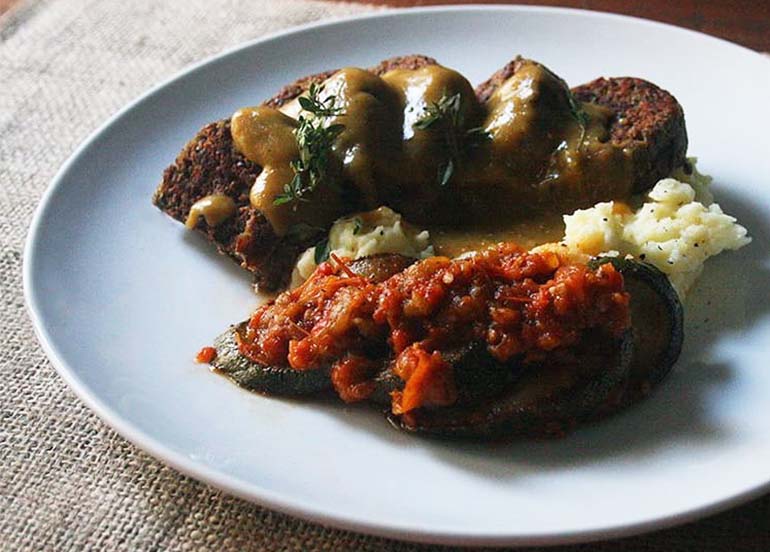 View menu
View their Instagram account
Bellagio 2 Forbestown, Burgos Circle, Fort Bonifacio, Taguig
(02) 720-9164
Corner Tree Cafe is an intimate restaurant that's not afraid to showcase their flavorful vegan, vegetarian, and gluten-free spin on some famous dishes from around the world as well as non-vegan dishes that are perfect for Sunday brunch.
Some of the must-try dishes are the Spagettini with Brocolli and Pine Nuts as well as the Arroz ala Cubana.
Fun fact: If you're bringing your kids along, don't worry, there's a kiddie menu available.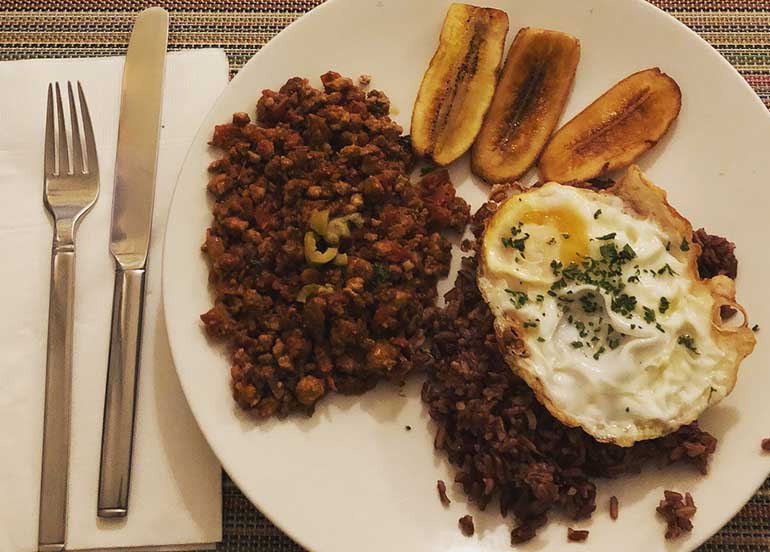 Restos that Are All About the Veggies
It's a no-brainer that veggies pack a ton of nutritional value but did you know that they're also one of the kinds of food that lends itself best to different kinds of preparations and spices.
An intimate restaurant in San Juan, don't let their interiors fool you, Agico Vegetarian Cafe's will surprise you with their Japanese-inspired, meat free, delectable dishes!
Must try: Their veggie burgers and gyoza appetizer.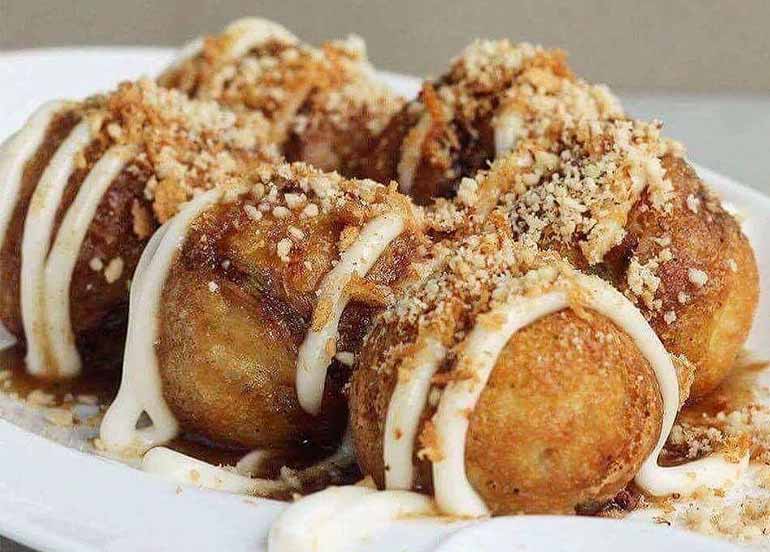 View menu
View their Instagram account
8 Missouri St., North East, Greenhills, San Juan

Serving up homemade vegetarian recipes in no doubt, homey and colorful interiors, Lucy in the Sky Cafe serves up not only vegan and gluten-free options but also Su (Buddhist) vegetarian ones.
Fun fact: This cafe is a hidden gem found inside an art space.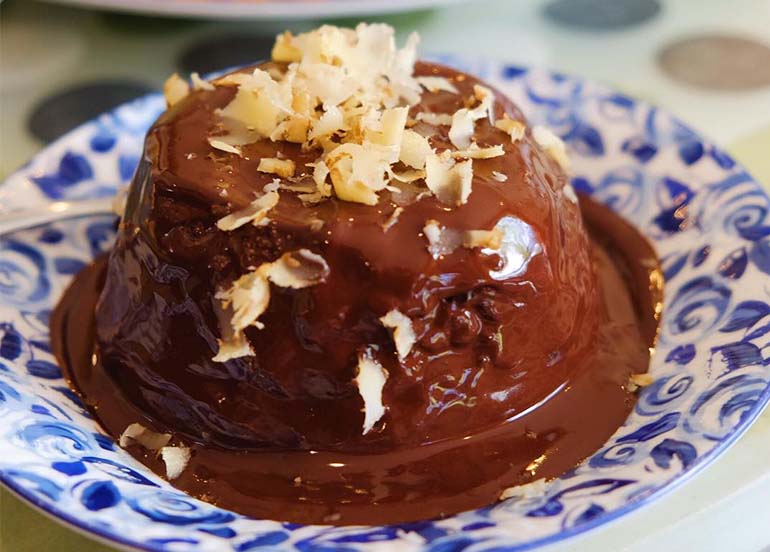 View menu
View their Instagram account
222 Wilson St., Greenhills, San Juan
Serving up soups, salads, sandwiches, entrees, and all-day breakfast dishes that are al plant-based, Pipino is definitely one of the best restaurants to eat at when you want to get started on your journey to eating healthier.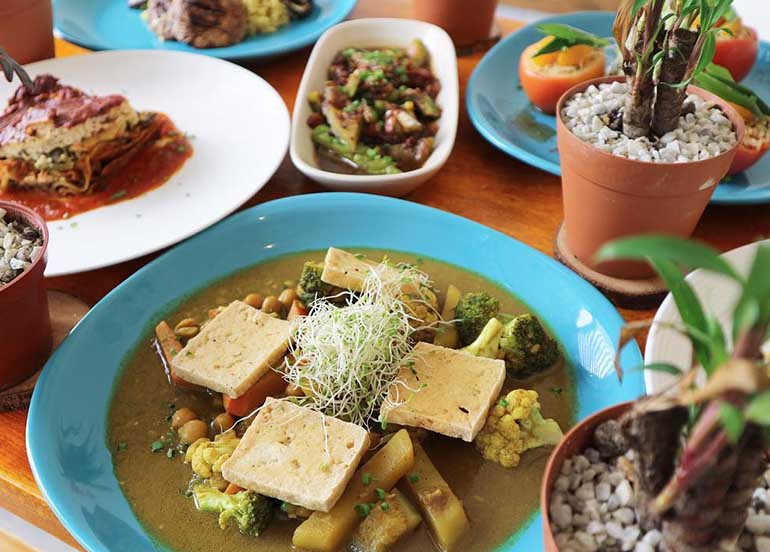 View menu
View their Instagram account
39 Malingap St., Teacher Village, Quezon City
Restos that Specialize in Salads/Bowls
Head on to these restaurants if you're one or both of the following: one, on-the-go or two, like to personalize your dishes. Well, even if you're neither, you'll love the dishes at these restaurants.
Offering create-your-own poke bowls as well as signature bowls, sushi rolls, and even nachos, if you're into customization, then Poke Shack is right up your alley.
Some must-try dishes are the Shack Standard and Santorini Shawarma.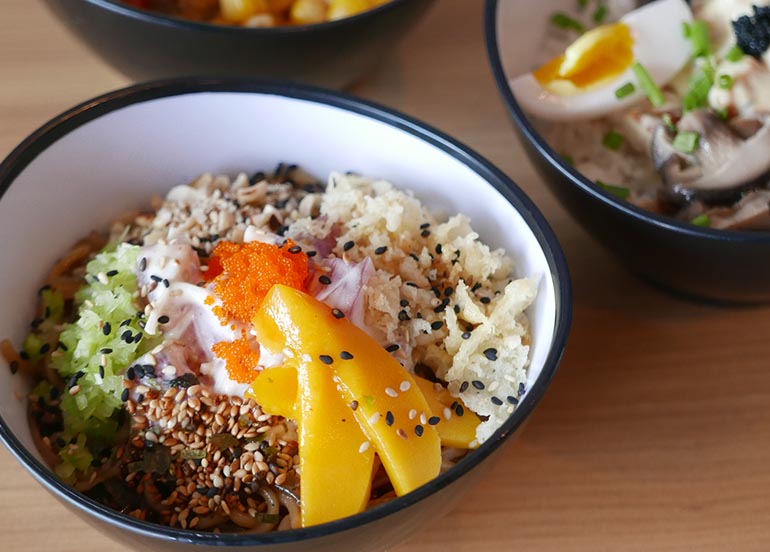 View menu
View their Instagram account
G/F Tera Tower, Bridgetowne, C5 cor. Ortigas Ave., Quezon City
Located right in the heart of Ayala Triangle Gardens, Berde is a restaurant that offers wholesome rice bowls made with Filipino ingredients that even those who aren't health nuts will love.
If it's your first time, you can try their recommended ready set meals like the Baboy Oh Boy and Baka Bowl or switch it up by making your own bowl.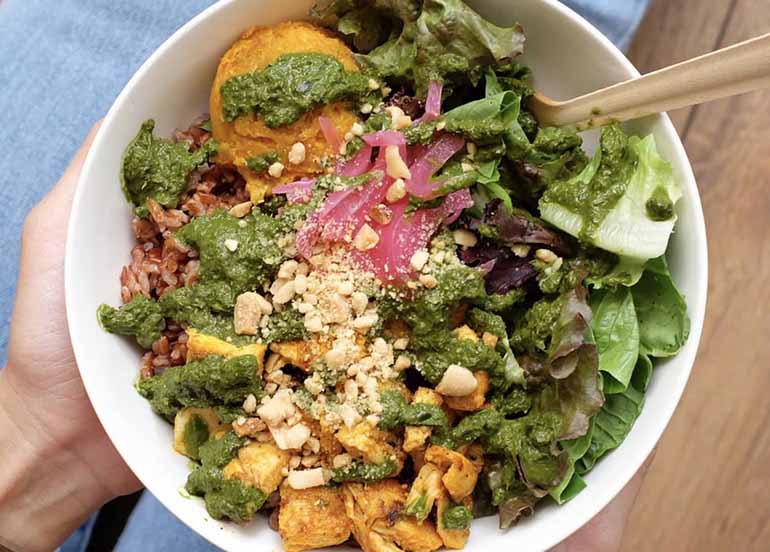 View menu
View their Instagram account
Ayala Triangle Gardens, Makati Ave, Salcedo Village, Bel-Air, Makati
Poke Poke – multiple branches
Complete with a wide array of ingredients like avocado, salmon, peanuts, steak, rice, and bacon, you'll no doubt have fun customizing your own poke bowls in six easy steps at Poke Poke.
Insider Tip: Enjoy Buy 1 Get 1 Poke Cups at Poke Poke with Booky!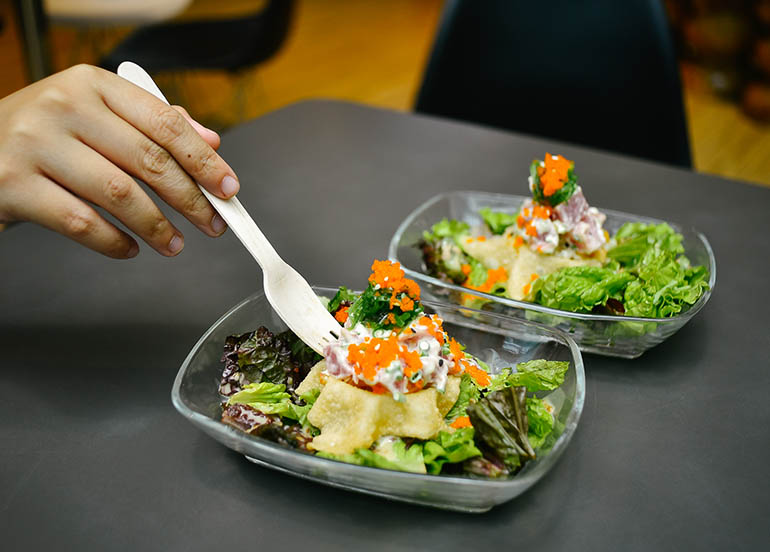 Gusto! – Mandaluyong
If you find yourself at The Corner Market Food Hall craving for something healthy, then check out Gusto!, a stall that offers salads, sandwiches, and their famous bowls which you can personalize!
Try out their Kani Sesame Salad and Kimchi Bowl with Heirloom Rice and Beef.
Fun fact: They also offer organic produce and flowers straight from the market which you can purchase and take home.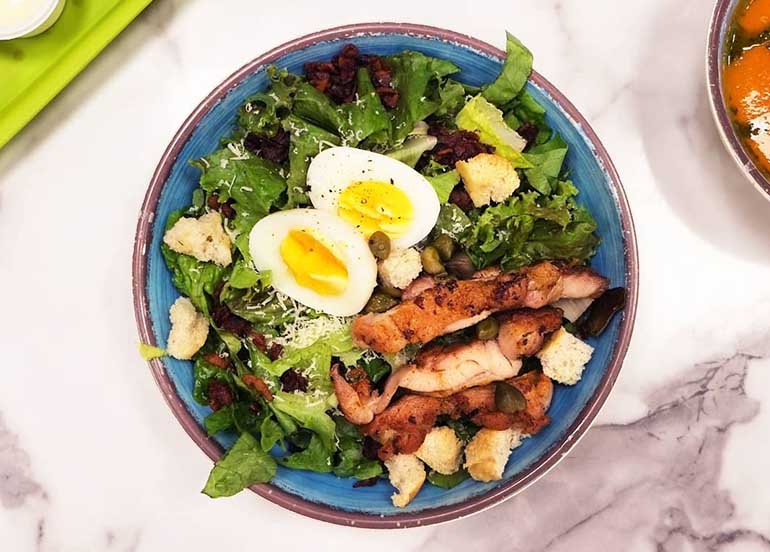 View menu
View their Instagram account
2/F The Corner Market, The Podium, 18 ADB Ave., Ortigas, Mandaluyong
Restos that Offer Satisfying Smoothies
Nothing beats a healthy, cold smoothie on a hot summer day. It's summer body friendly and refreshing too!
With kiosks all over the metro, get your fix of something healthy for breakfast, lunch, and even dinner at Go! Salads. Choose from their available salads, soups, snacks, paninis, and their highly recommended Smoothies.
Two must-try smoothies are the Rock Smoothie and Guzzler Smoothie!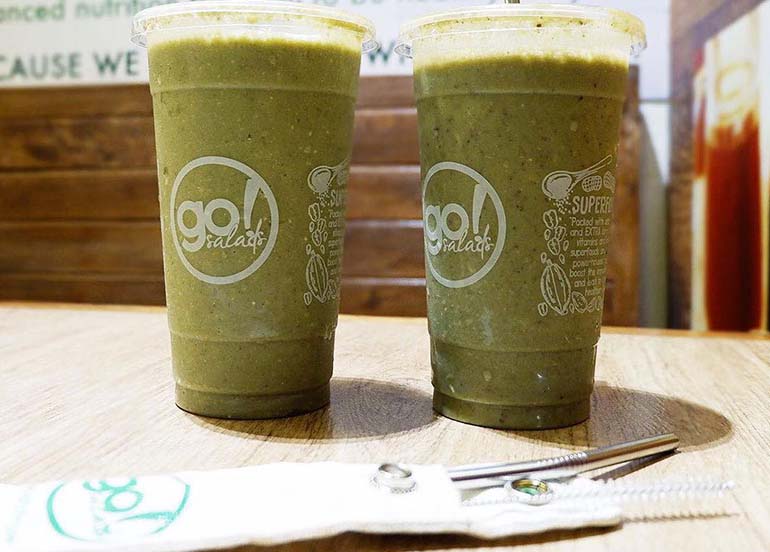 Get your daily dose of vitamins with Jamba Juice's fruit smoothies and fresh juices which you can pair nicely with their energy bowls and power packed snacks!
Two of their must-try smoothies are their Strawberry Wild and their Peanut Butter Moo'd!
Insider tip: With Booky you can get Buy 1 Get 1 smoothie offers on flavors like Strawberries Wild and Banana Berry!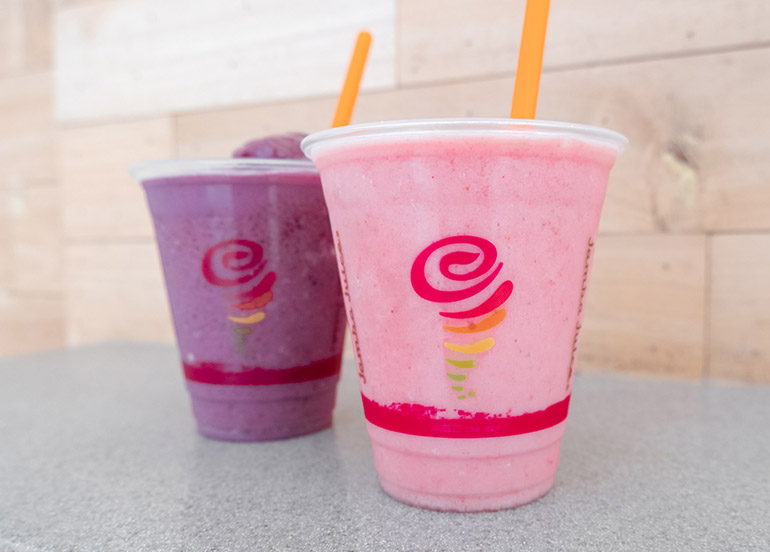 Offering only the best of what fruits and veggies can offer in juice/shake form, Pure Nectar's juices can not only quench your thirst but even cleanse your body or help you burn those extra calories.
Insider tip: Download Booky and get up to 4 different Buy 1 Get 1 offers on different flavored juices like Pumpin' Pumpkin and Gushing Guyabano.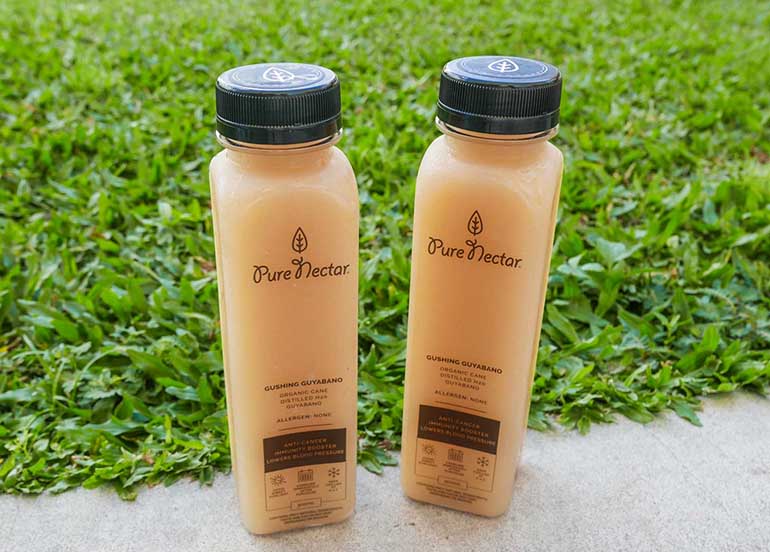 Restos that Have A Balance of Healthy and Sinful Dishes
Let's admit it, there are days when you don't want to follow your strict diet. On those days, to avoid the guilt, we suggest that you go to these restaurants so you can have dishes that are healthy, sinful, and delectable.
Owned by Chef Waya Araos-Wijangco, get a taste of healthy yet slightly sinful dishes inspired by cuisines from around the world at no other place than Gourmet Gypsy Art.
Recommended dishes are the Spaghetti Al Nero, Vietnamese Beef Stew, and Elote Mexicano.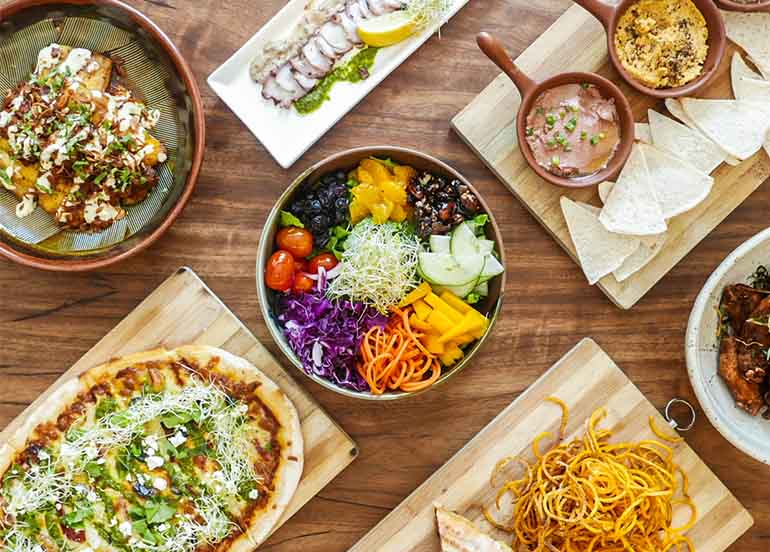 View menu
View their Instagram account
25 A Roces Ave, Quezon City
Green Pastures is a farm-to-table restaurant concept by Chef Robby Goco of crowd-favorite Cyma. From different kinds of toasts to Filipino dishes, Green Pastures is definitely a go-to place for clean, healthy, and organic dishes.
Recommended dishes are the Farmhouse Salad and the Ultimate F2T Lasagna.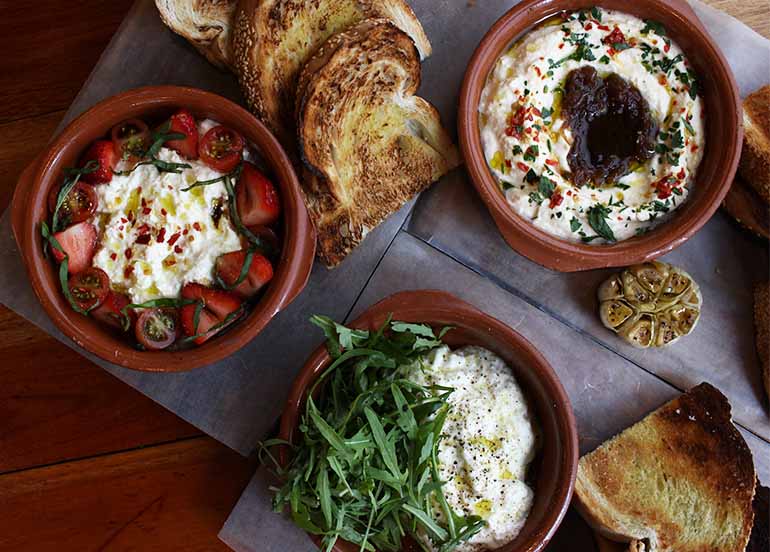 View menu
View their Instagram account
Avail of the discount at 2 branches

Another farm-to-table concept restaurant in the metro that's also a joint project of the Got Heart Foundation and Hizon's catering, Earth Kitchen's dedication doesn't stop with promoting the products of local farms and indigenous people but extends to serving their customers sustainable and healthy dishes.
Two of their recommended dishes are the Watermelon and Rocket Salad and the Bulgogi Wrap.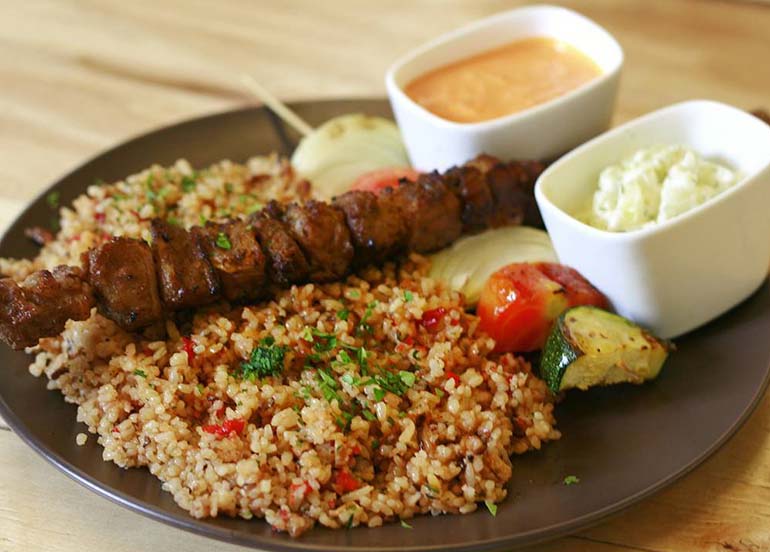 View menu
View their Instagram account
Lot 10-B-10 White Plains, Katipunan, Quezon City
The Wholesome Table is an organic restaurant serving healthy comfort food and an early breakfast menu with pasture-raised meat, ingredients that aren't processed or refined, and has dishes with produce that's organic and sourced locally.
You definitely have to try their Bistek Tagalog which is gluten-free, dairy-free, and nut free as well as their Meat and Eggs Plate that has a nut-free and gluten-free option.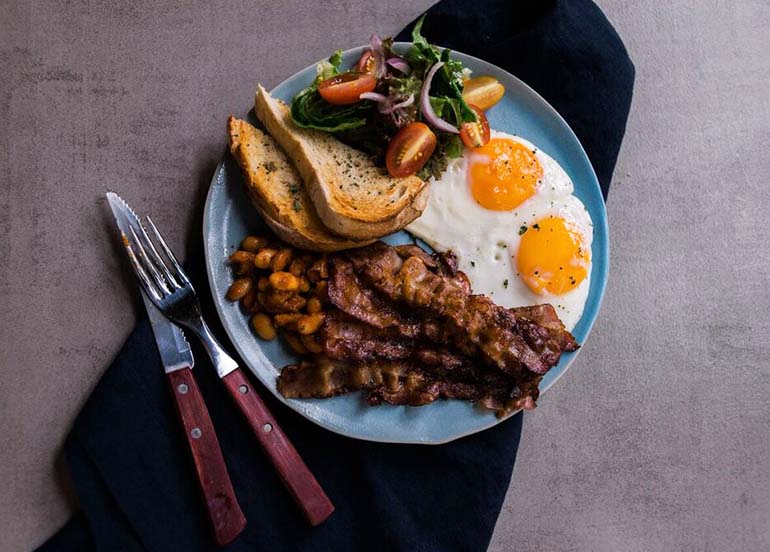 View menu
View their Instagram account
Avail the discount at 2 branches

An intimate, hidden destination in Antipolo, Crescent Moon Cafe won't only give something new every time you visit but also a refreshing, vegan and vegetarian take on familiar international dishes and desserts.
Some suggested dishes are the Alagao for starters and the Suman at Mangga for dessert.
Fun fact: They also have a pottery shop and hold pottery workshops on certain days.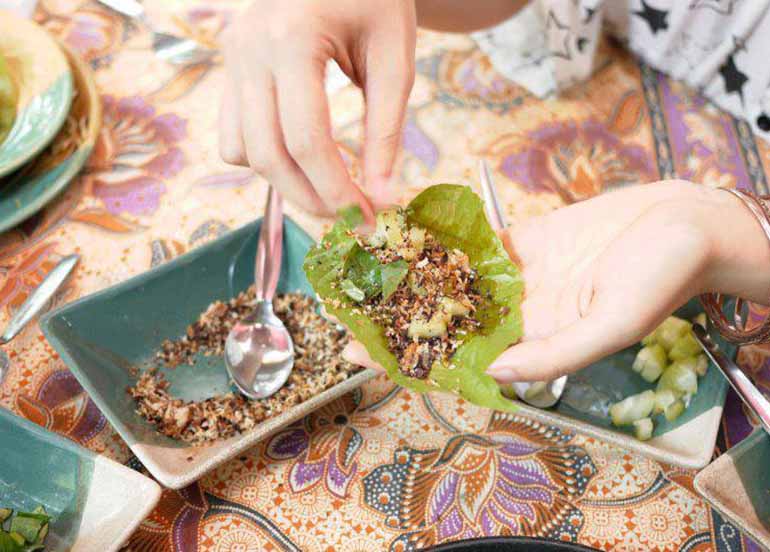 View their menu
View their Facebook page
Sapang Buho Rd, Brgy Dalig, Antipolo
A Mediterranean vegan and vegetarian restaurant, Medley Modern Mediterranean Cafe serves colorful creations in forms of sandwiches, bowls, salads, and pizzas in dine-in and to-go options.
Two of their must try dishes are the Beef Koften Bowl and the Levantine Chicken Bowl.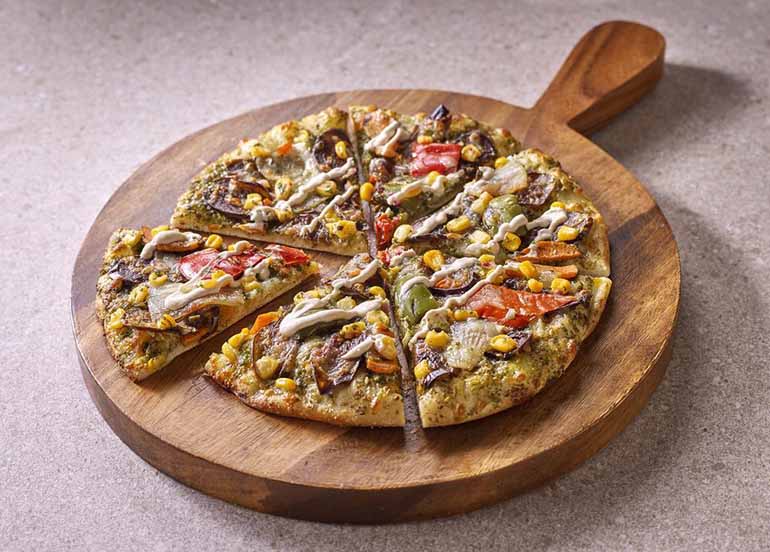 View menu
View their Instagram account
The Studio, 3/F Fully Booked Bldg., Bonifacio High Street, 9th Ave, Fort Bonifacio, Taguig

A restaurant that's conveniently located near gyms, Get Greens is a restaurant that serves all things healthy – from poke bowls to green smoothies and even wraps. Even better, nothing in their menu is over ₱300!
Two recommended dishes are the Chicken Blueberry and Cheese Wrap as well as the Salmon Poke.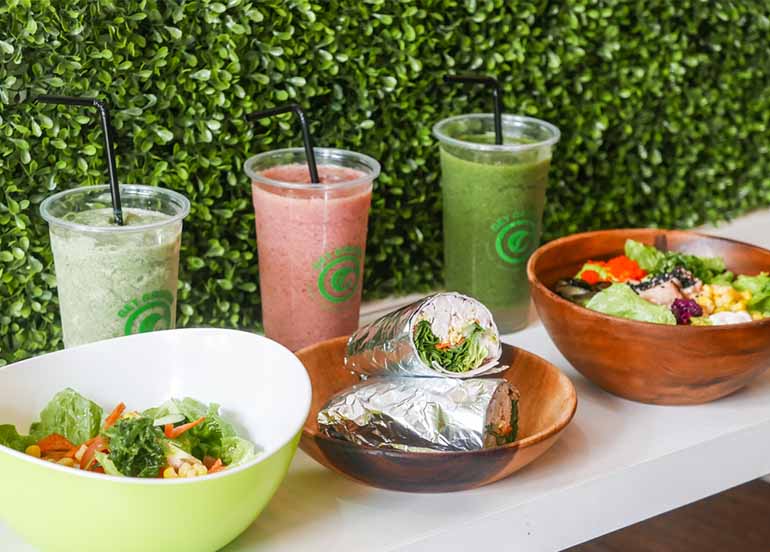 View menu
View their Instagram account
Avail of the discount at 2 branches
Faburrito – multiple branches
Serving mostly healthy spins on Mexican wraps, burritos, and tacos, Faburrito's dishes will surely satisfy your craving for Mexican without weighing you down.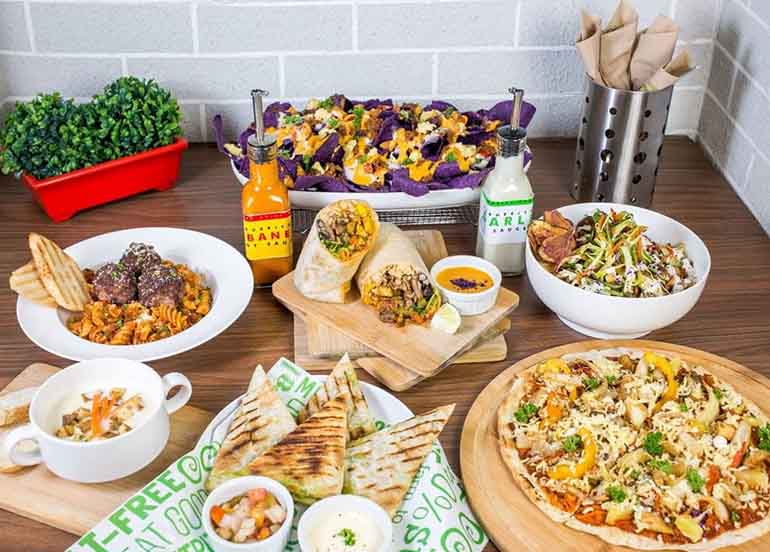 Offering all-day breakfast, bowls, sweets, drinks, and to-go options, Green Bar Cafe is a go-to spot for healthy comfort food, snacks, coffee, and free-wifi.
It's recommended that you try the Breakfast Burrito as well the Vegan Donuts that are just the right amount of healthy and sinful.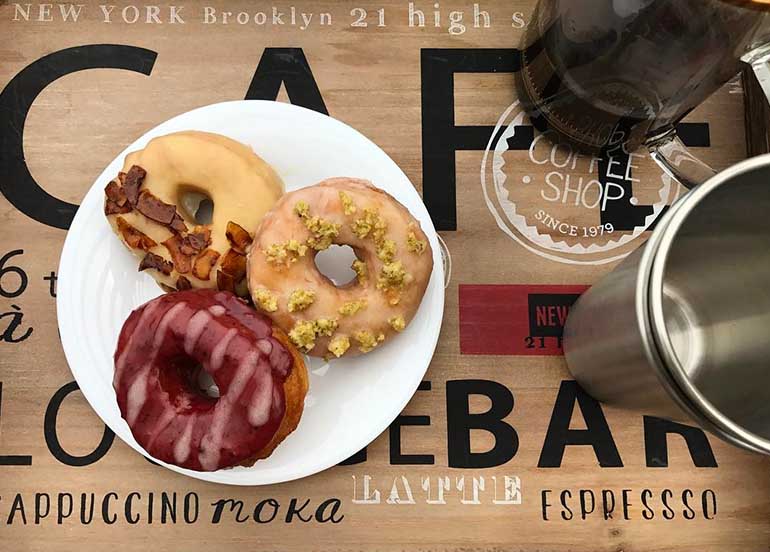 View menu
View their Instagram account
Mezz-104 West of Ayala, Urban Ave, Gil Puyat, Legazpi Village, Makati
Don't forget to download the Booky app to get unlimited access to prime restaurants around Metro Manila where you can get up P500 of your bill, Buy One Get One Coupons, and dessert freebies!
Don't forget to tag us on Instagram @bookyapp and use #BookyManila when you dine out, to get a chance to be featured in our future posts!