That's what cheese said.
To brie or not to brie? That is the question. But when it comes to anything grilled, it cheddar be cheese. It's so edam good, it's always a gouda choice to say yes.
If we've tugged at your heartstrings, get that cheese pull in your sandwiches at these places, and don't forget to add these spots to your 'MUST-TRY' lists on the Booky app so you never miss a bite!
Arguably known as one of the best grilled cheese sandwiches in Metro Manila, Elephant Grounds' Gruyere Grilled Cheese Sandwich is made with a combination of gruyere cheese, yellow cheddar, caramelized onions, sourdough, and served with tomato soup.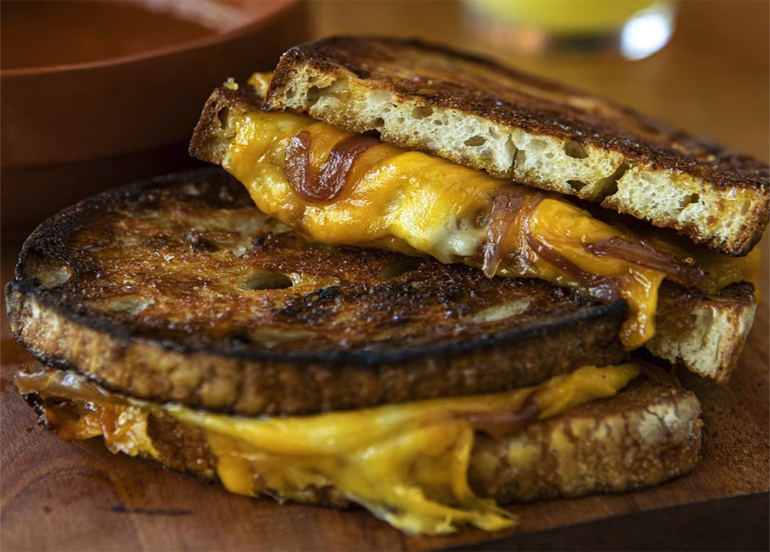 View menu
View their Instagram account
LG/F One Bonifacio High Street, 28th St cor 5th Ave, Fort Bonifacio, Taguig
(02) 8631-1406
The Clubhouse is a casual dining restaurant serving modern comfort food. The restaurant serves a wide variety of items from breakfast favorites, handmade soups and salads, sandwiches, pastas, hearty meals, and even desserts. Located in Robinsons Magnolia, it's the perfect place to spend the morning, a lazy afternoon, or even Sunday dinners.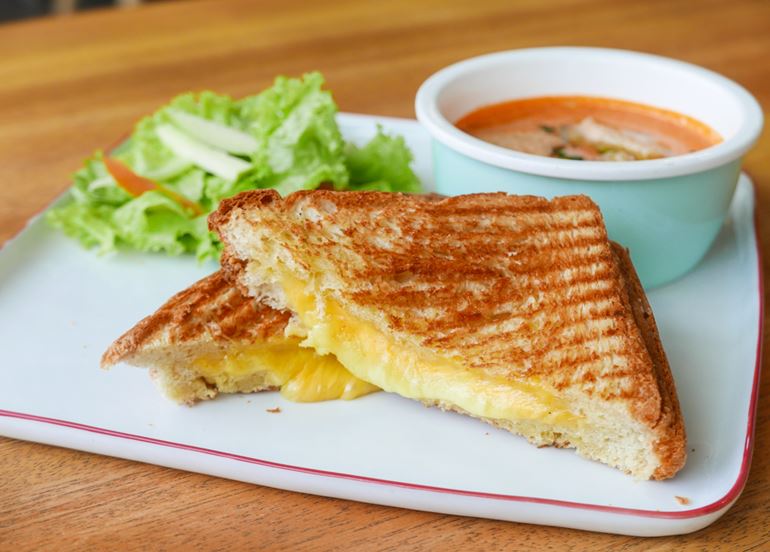 View menu
View their Instagram account
G/F Robinsons Magnolia, Doña M Hemady Ave, Valencia, Quezon City
(02) 442-5571
White Camp Specialty Coffee & Kitchen serves Asian comfort food, specialty coffee and feel good desserts. Their Brioche Grilled Cheese comes with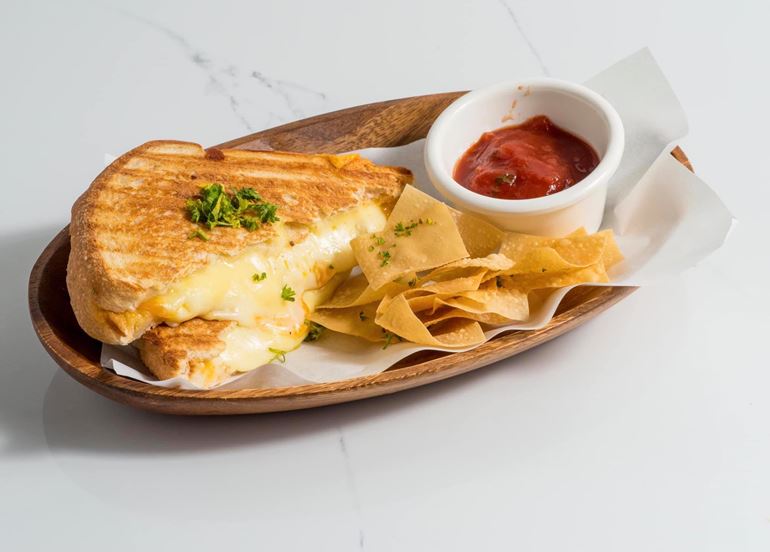 View menu
View their Facebook page
62 Sgt. Esguerra Ave cor. Mother Ignacia Ave, Diliman, Quezon City
(0917) 898 7793
What makes this simple Grilled Cheese sandwich special at Green Pastures? It is made with organic ingredients! You can also choose between two sides apart from the tomato soup: sweet potato chips or salad.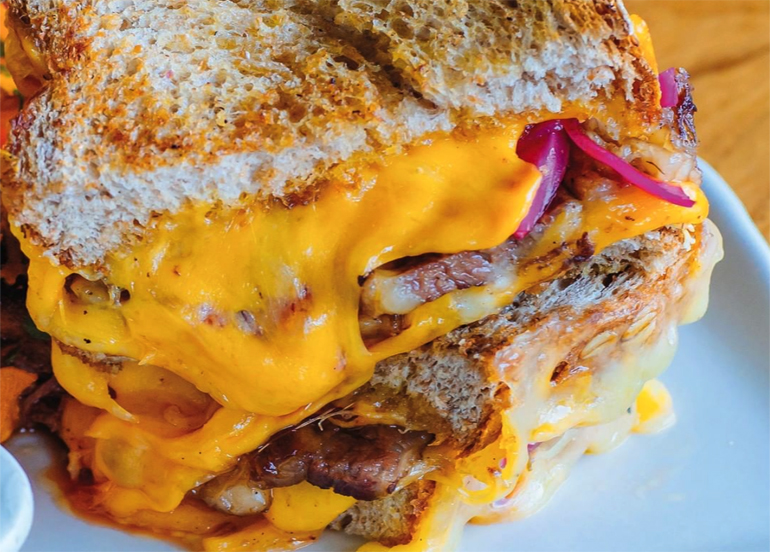 Get P200 off your next bill!
Update: Check out all of our Buy 1 Get 1 deals here!
Ultimate Grilled Cheese with Roasted Tomato Soup – Early Bird Breakfast Club
The Early Bird Breakfast Club is a whole-day breakfast cafe that has redefined and redesigned our breakfast favorites. They aim to serve 'beautiful breakfast morning, noon and night'. It has one of the most bright and beautiful interiors and plated dishes in the metro today.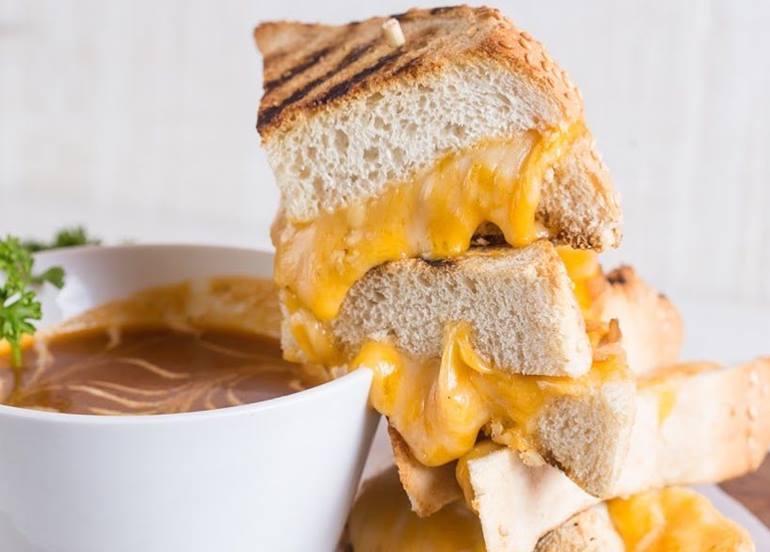 Enjoy a P200 discount when you book with us!
Grilled Cheese – Borough
Borough is a restaurant that serves up authentic NYC comfort food by Chef Cuit Kaufman. Drop by and enjoy a sleek modern aesthetic paired with premium food choices at Borough. Their Grilled Cheese Sandwich is made with homemade brioche bread and served with creamy tomato soup— a total must-try at their restaurant!
View menu
View their Facebook page
View their Instagram account
C2 Bldg, Bonifacio High Street Central, 7th Ave, Fort Bonifacio, Taguig
(0966) 400 1150
If you're familiar with the Katipunan area, you'll know that The Fat Seed Cafe + Roastery serves traditional comfort food with a touch of elevation— their Wagyu Pares, Sea Bass & Chips, and Grilled Four Cheese Sandwich are some perfect examples to mention. In case you want something slightly different, The Fat Seed also offers Grilled Cheese with Bacon and Mango.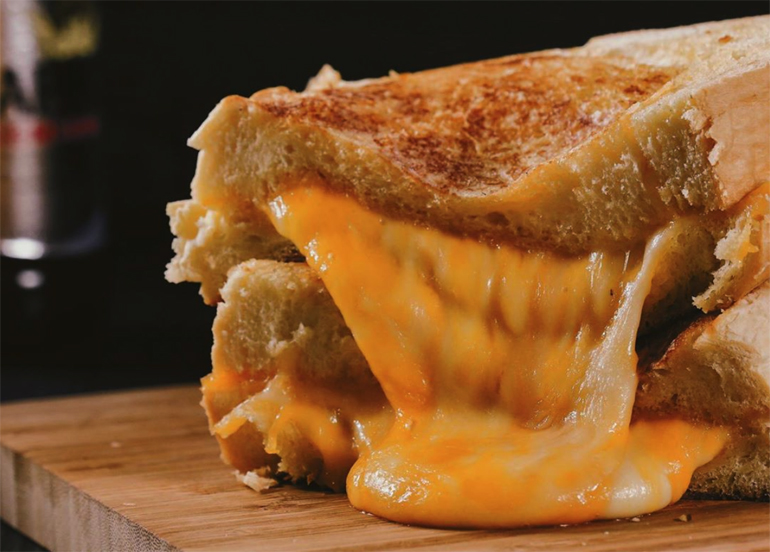 View menu
View their Instagram account
G/F Phase 2, UP Town Center, Katipunan Ave, Diliman, Quezon City
(02) 8936-2113
Grilled Cheese with Bacon – Refinery
First gaining traction in its Rockwell branch, Refinery is a third wave cafe that serves all-day breakfast and brunch items, international comfort dishes, light meals and specialty coffee. If you're a Grilled Cheese sandwich fanatic, Refinery offers three types of grilled cheese: Grilled Cheese with Bacon, Honey & Basil, and Tomato & Pesto.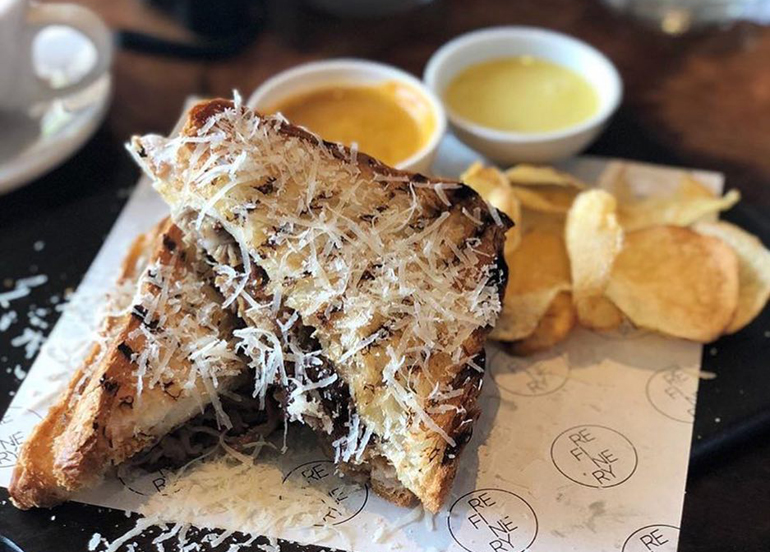 Insider tip: Get up to ₱100 off on your bill with Booky!
Grilled Four Cheese – Kettle
Settle down for some classic Southern dining with Kettle. With its warm and welcoming ambiance paired with comfort food classics such as their generous Grilled Four Cheese Sandwich made with gruyere, fontina, cheddar, and parmesan.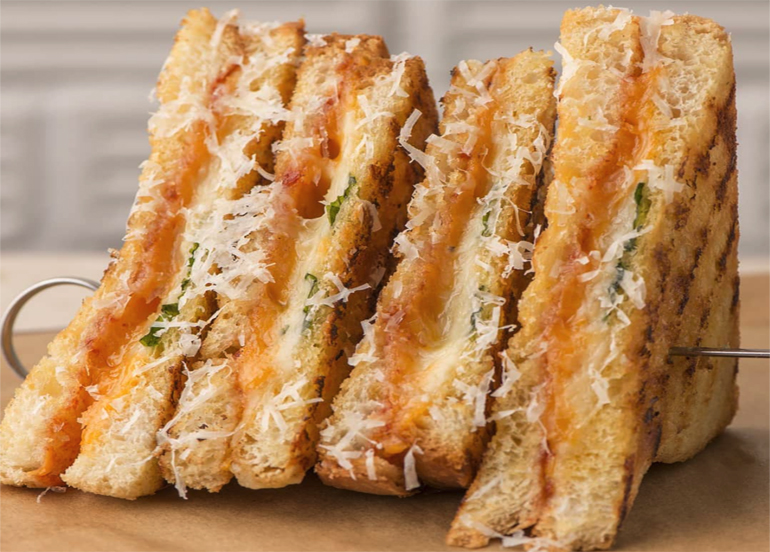 Did you know? You can actually get ₱300 off on your bill with Booky!
The Wholesome Table admits that they take the creation of their sandwiches seriously. Sticking true to their claim, their grilled cheese rendition is made with emmental and mozzarella cheese mix, Dijon mustard, onion jam, and mourners sauce. These ingredients are then sandwiched in between two thick slices of sourdough bread and served with a hearty tomato soup or a side of their breakfast salad.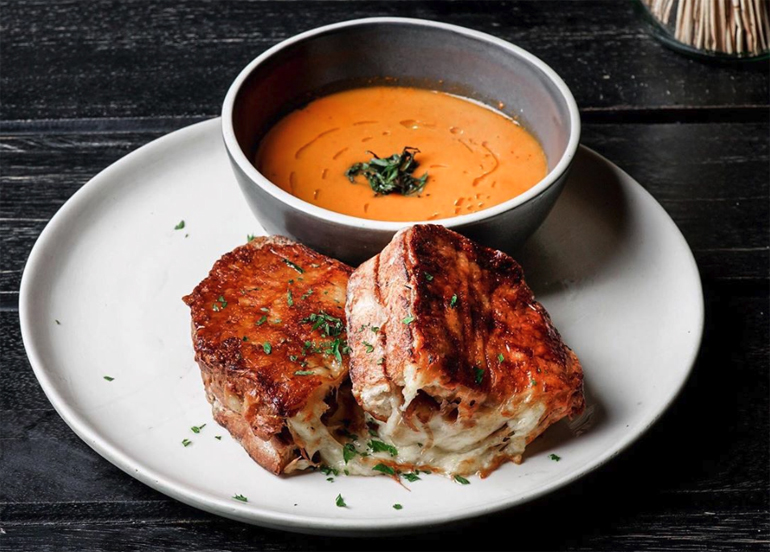 Get P100 off your next bill with Booky
Melt is a cheese lovers' heaven–a gourmet grilled cheesery serving a variety of unique cheese dishes. You can bond with your loved ones over delicious cheese delicacies like their Choco Cheese Toast, a definite must-try for chocolate and cheese lovers alike! But don't miss their sinful yet sumptuous Bacon Mac and Grilled Cheese Sandwich for the ultimate treat!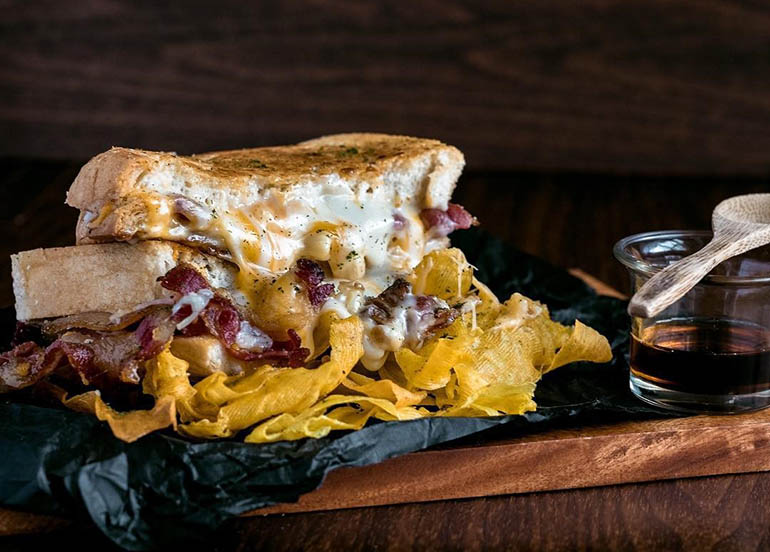 Reservations are accepted
View menu
View all branches
View their Facebook page
View their Instagram account
3/F Uptown Place Mall, 36th St. cor. 9th Ave., Fort Bonifacio, Taguig
(0917) 892-4377
Grilled Cheese + Tomato Soup – Nicto's Coffee
Nicto's Coffee Shop offers unique drinks like espresso pop, marble cafe mocha, and nicspresso quake. They also serve desserts that go well with their coffee.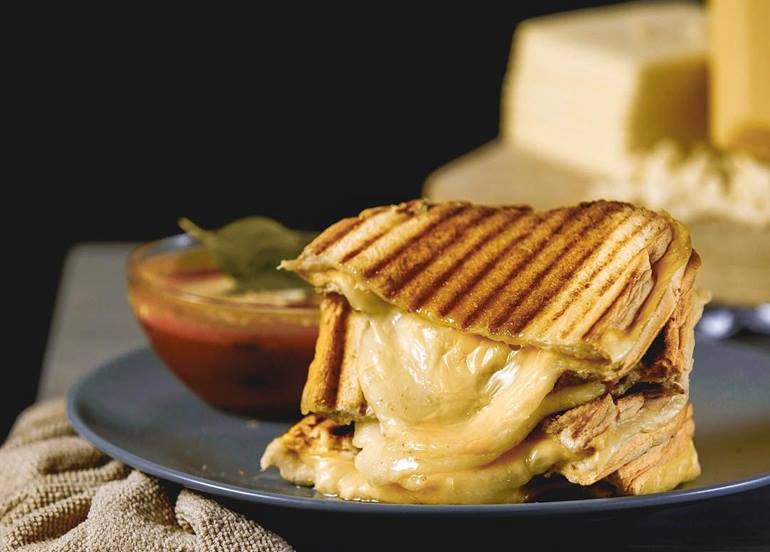 No reservations accepted
View menu
View their Instagram account
G/F 58 East Capitol Drive, Kapitolyo, Pasig
Common Folk is a hip new coffee bar that promises #NoBadDays with their coffee and light meals including open-faced toasts and hot off-the-press sandwiches.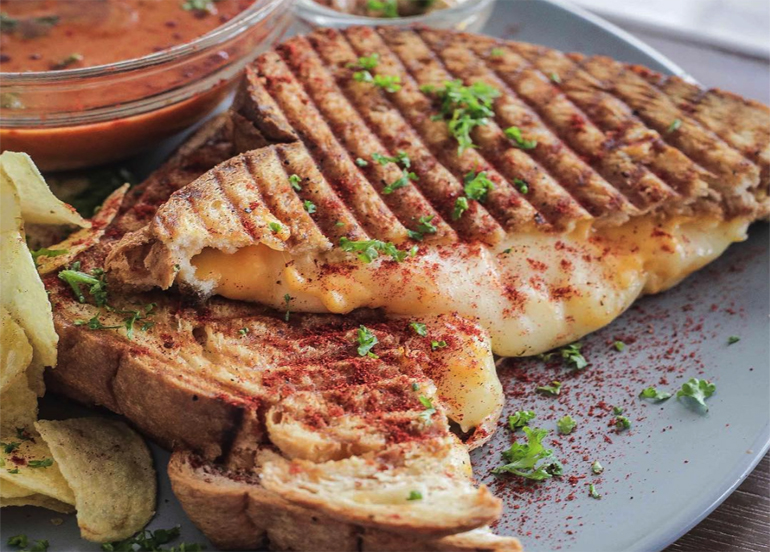 No reservations accepted
View menu
View their Instagram account
79 Katipunan Ave, White Plains, Quezon City
(02) 277-6357
A crossbreed of sorts between a Frenchie and a grilled cheese sandwich, Magnus Opus offers this savory sandwich with smoked ham and lots of cheese in between. Of course, it won't be an authentic Monto Cristo without a side of jam. This one is served with homemade cherry jam.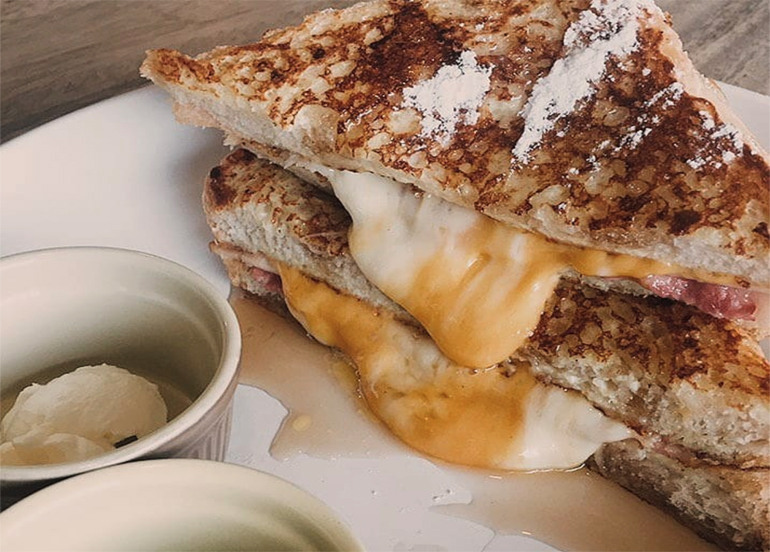 No reservations accepted
View menu
View their Instagram account
2F The Prime Bldg. 115 Aguirre Ave, BF Homes, Parañaque
(0939) 920-0701
If it wasn't already obvious, Everything But Cheese is all about the cheese. From cheese fondue bread bowls with incredible sides to flavorful dips and grilled cheese sandwiches galore, you're sure to satisfy all of your cheesy cravings at Everything But Cheese.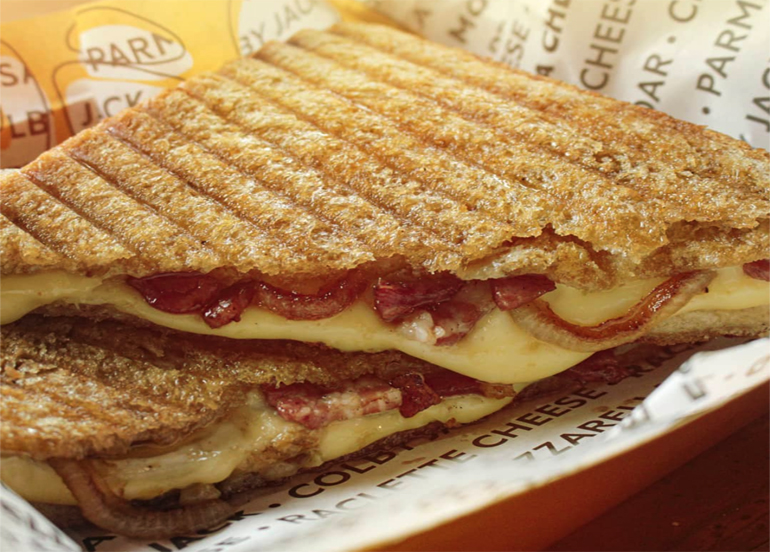 How do you like your grilled cheese sandwich prepared and where do you usually have it? Share it with us in the comments section below. Don't forget to tag us @bookyapp on Instagram so we can join all your food-ventures!
If you still haven't, download Booky! We have over 15,000 restaurants in our database, which you can search from and access even without internet. Yes, it works offline. Moreover, we have a 'Navigate' feature which is integrated with Waze to help you find the location of each restaurant.