And we've got some work to do!
Even as we move forward with the new normal, there's one thing that remains the same with us here at Booky, our love for watching people prepare food with the utmost care and consideration. If you're looking for something soul-soothing to help you get by, we recommend watching the following. We can't guarantee you won't get hungry.
Make the most out of your Netflix subscription and turn to food for comfort—who knows, you might even find the inspiration to experiment with ingredients you have at home. Check out these food documentaries, cooking shows, and a few other food-centric movies that are available on Netflix Philippines!
For those who miss Anthony Bourdain (i.e. everyone):
Anthony Bourdain: Parts Unknown
Heightened by our current situation, we crave for the outside world more than ever. We miss the outdoors, we miss good food, and we miss Tony.
But we've been (semi) blessed! Soon, we'll get to take a food tour around the world with him! Netflix UK & Ireland is streaming all 12 seasons of Anthony Bourdain: Parts Unknown.
Netflix has clarified that it's confirmed only in UK & Ireland but we all know the power of social media! Ask, or rather TWEET and you shall receive! Once they realize how serious we are, they'll have to send all 12 seasons our way! So pretty soon, we can watch the late Anthony Bourdain's journey around the world and discover unique dishes and cultures!
For the future chef:
The Chef Show (2019)
We love: Roy Choi and Jon Favreau's friendship (and the Franklin Barbecue Brisket episode). Let's not forget Tom Holland's adorable cameo.
Following Jon Favreau's film, Chef (2014) where celebrity chef Roy Choi acted as consultant, the two created an unlikely (but lasting) friendship founded on mutual respect and overall love for food. Featuring the passionate and compelling duo, The Chef Show is far from intimidating⁠—displaying the joys of cooking and the gratification of eating good food with close friends.
Chef's Table (2015)
We love: The ultra HD shots of beautifully-plated dishes, not to mention the added drama of intense classical music
Chef's Table goes inside the lives and kitchens of the world's most renowned international chefs. Each episode focuses on a single chef like Massimo Bottura (Osteria Francescana in Modena, Italy), Dan Barber (Blue Hill Restaurant at Stone Barns and in New York City, USA), Christina Tosi (Momofuku Milk Bar in New York), and more.
Tip: Don't miss the French and Pastry seasons of Chef's Table! Some episodes have English audio available if you're too lazy to read subtitles.
Salt Fat Acid Heat (2018)
We love: The joy and passion the host has whenever she eats.
Based on Samin Nosrat's best-selling book, Salt, Fat, Acid, Heat, is the essential guide to the basic elements of good cooking. Travel all around the world to discover, demystify and explore with Samin the fundamentals of what makes food delicious and how to incorporate them in every dish.
For some representation in the food world:
Street Food (2019)
We love: getting to know Cebu's local culinary heroes and the representation of our country's fishing communities, lechon businesses, and roadside carinderias.
Street Food explores nine countries across Asia: Thailand, Japan, India, Indonesia, Taiwan, South Korea, Vietnam, Singapore, and the Philippines. The show documents the passion and perseverance behind the colorful characters responsible for feeding the streets of Asia. Through blood, sweat, and tears, these local legends prove that excellent food goes beyond white tablecloths and Michelin stars (though some do, in fact, have them).
Flavorful Origins (2020)
We love: getting to know the history of our favorite Chinese food
This Mandarin language documentary explores the origin, culinary secrets, and cooking techniques with native Asian ingredients. They visit a region in China to delve into the culinary tales of each famous cuisine per season. Currently, there are 3 seasons you can watch: Season 1 (Chaoshan), Season 2 (Yunnan), and Season 3 (Gansu).
For the foodie who likes a bit of a competition:
The Final Table (2018)
We love: the representation of global cuisine and the intricate artistry of cooking.
In each episode, The Final Table asks an internationally-acclaimed chef to pick an ingredient representing their country's cuisine and cooking culture. Each team must utilize and highlight the chosen ingredient in their exquisite and ingenious dish.
For an adrenaline-pumping marathon, The Final Table's format is similar to Top Chef's, displaying beautiful plates of food while showcasing and celebrating authentic culinary heritage.
For those who love a good laugh:
Somebody Feed Phil (2018)
We love: the charming simplicity of this show; Phil is likable, funny, and kindhearted.
"Everybody Loves Raymond" creator Phil Rosenthal travels the globe to take in the local cuisine and culture of Bangkok, Lisbon, Mexico City and more. The best part? He checks in at the end of every episode with his elderly parents via video call to chat with them about his latest adventure. How cute is that?
If you want food served with sociological perspective:
Cooked (2016)
We love: The beautiful cinemagraphic shots.
COOKED is an enlightening and compelling look at the evolution of what food means to us through the history of food preparation and its universal ability to connect people. Bestselling author Michael Pollan and Academy Award winning director Alex Gibney join forces to connect the essentials of cooking to the basic elements of the Earth.
Rotten (2018)
We love: how thought-provoking the show is, making you think twice about what you put in your mouth
Created by Zero Point Zero Production, the team that works with Anthony Bourdain on Parts Unknown, Rotten dives deep into the food production underworld to expose the corruption, waste and real dangers behind our everyday eating habits.
Barbecue (2017)
We love: The sound of the steak sizzling' on the grill
A feature documentary telling stories of different cultures and their approach to grilling, Barbecue will open your eyes to see that barbecue is more than just grilling a piece of meat.
Korean Pork Belly Rhapsody (2020)
We love: the fancy camera work which only heightens our craving for some juicy samgyeopsal
Korea's love for Samgyeopsal has been around for more than 50 years, and this docuseries can attest to that. With host, the most famous and beloved Chef in South Korea, Baek Jong-won, this is like a love letter for this mouthwatering dish. Get to know the story of how pork belly became the most beloved dish in Korea and why it has become so popular over the years. As well as, the many ways Korean prepare and cook pork belly depending on the region your in.
For the David Chang fan:
Ugly Delicious (2018)
We love: the featured food— it's bucket-list, round-the-world itinerary worthy stuff.
Ugly Delicious poses the question of whether food can somehow open a gateway to mutual understanding and greater tolerance of our differences. In his new series, Chang is iconoclastic and insightful offering powerful takeaways on multiculturalism and American history in every episode.
Breakfast, Lunch & Dinner (2019)
We love: the feeling of embarking on a culinary journey amongst the company of Seth Rogen, Kate McKinnon, Chrissy Teigen, and Lena Waithe.
Another well-received docuseries from Chef David Chang, Breakfast, Lunch & Dinner explores the Momofuku founder's insatiable curiosity for food, culture and, identity through a single city while in the company of his fun-loving and quick-witted celebrity guests.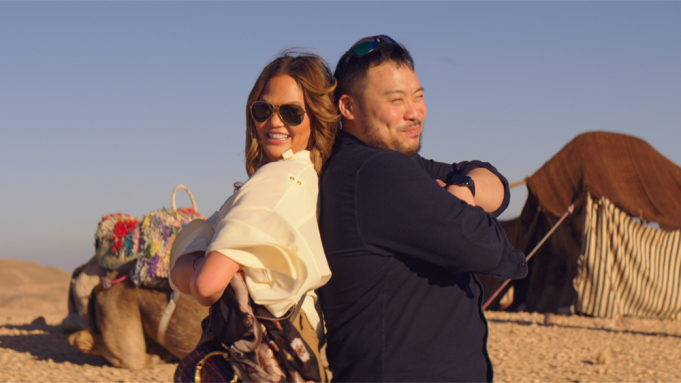 If you love all things Japanese:
Jiro Dreams of Sushi (2011)
We love: how the painstaking (and mouthwatering) preparation of sushi was captured
At 85 years old, Jiro Ono is considered by many to be the best shokunin (sushi craftsman) in the world. His restaurant, Sukiyabashi Jiro, lies in a Tokyo subway station and seats only ten, yet attracts patrons from all over the world. In Jiro Dreams of Sushi, director David Gelb captures the magic of the legendary chef and his relationship with both family and food.
Samurai Gourmet (2017)
We love: Takeshi Kasumi's facial expressions when he tastes his food!
"Do we eat to live or do we live to eat" Samurai Gourmet follows the culinary adventures of Takeshi Kasumi, a 60-year-old recent retiree whose samurai manga fantasies usually come to life in the middle of a meal. The premise may seem simplistic, but it's anything but.
Samurai Gourmet never has a shortage of sweet and funny moments, depicting a celebration of life through food. If you're an avid eater of Japanese cuisine or a sucker for food porn, you'll thoroughly enjoy how Samurai Gourmet offers gratuitous shots of sizzling meat and simmering stews.
Midnight Diner (2016)
We love: The indie feel of this short documentary mini-series.
Open from midnight to 7 a.m.and serving whatever the customers request — the tiny, tucked-away Japanese diner draws a diverse group of patrons who bond over the Master's food while sharing their soulful stories.
Izakaya Bottakuri (2018)
We love: how healing the entire show is
If you love Midnight Diner, then you'll certainly enjoy Izakaya Bottakuri too. Having the same feel of a suburban Izakaya but with a premise of 2 sisters running the so-called "rip-off" izakaya – because the food they serve can easily be made at home. It's a show where you can find a sense of community amongst the sisters and the throngs of characters that visit their little place. It's a heartwarming show that would make you feel things including the shots of the food they serve.
If you love chick flicks with a foodie twist:
No Reservations (2007)
We love: that scallop dish
Catherine Zeta Jones is the star of this touching story about how a famous chef's life is completely changed after an accident that leaves her with a young niece.
Today's Special (2010)
We love: The sumptuous authentic Indian food!
Today's Special is inspired by Aasif Mandvi's Obie Award winning play "Sakina's Restaurant." It's about a sous chef who dreams of becoming the head chef at an upscale Manhattan restaurant but is forced to take over the family restaurant after his estranged father suffers a heart attack. Now he is left with no choice but to learn the basics of Indian cooking, a cuisine that he's completely clueless about.
The Hundred Foot Journey (2014)
We love: A.R. Rahman's dynamic soundtrack and director Lasse Hallström's fantastic shots of food
A story centered on an Indian family who moves to France and opens a restaurant across the street from a Michelin-starred French restaurant. The Hundred Foot Journey tells the story of a young chef on his way to culinary success.
Julie & Julia (2009)
We love: the legendary crossover between two of the most iconic actresses, Meryl Streep and Amy Adams
A rundown apartment in Queens and a menial secretarial job in her 30's, Julie Powell (Amy Adams) is determined to find sanity in structure by recreating all 524 recipes from Julia Child's book in the span of 365 days. In this lighthearted comedy, Julie Powell & Julia Child are both separated by time but intertwined by their mutual love for food and the joys of cooking.
***Captions are based on synopsis/description from Netflix, YouTube, Fandango.
Bring us to your next food trip session during the by tagging us on Instagram @bookyapp. Don't forget to use the hashtag #bookymanila to get featured on our lists.
Cover photo from The Chef Show
Enjoy the calories!