Donate na, mga sis.
We know how you might be feeling. Recent developments of the COVID-19 crisis might have you feeling helpless, especially since most of us can't leave our homes to show our support. Nevertheless, there are countless ways you can help our healthcare workers, our daily wage earners, and the families who are most vulnerable to the coronavirus. And it's as simple as cashing in a ₱20 bill.
We need each other now more than ever. So, while we're on that topic, we've listed down initiatives and fundraising campaigns that you can volunteer in or donate to. If you don't have the resources to donate, don't worry!—a simple "share" or repost on your social media can go a long way. On that note, let's begin:
For Personal Protective Equipment
The frontline health workers and medical professionals are facing a shortage of personal protective equipment such as surgical masks, N95 masks, face shields, gloves, and more. Because we're facing a shortage amid the increasing cases of COVID-19 patients, our healthcare workers are more vulnerable. Here's where to help:
UP Manila's Tulong Kabataan is launching a face mask drive for the patients, health workers, and interns of Philippine General Hospital to help their current need for masks and other medical supplies. Financial and logistical support will also be of big help.
What they need: Cash donations; N95 and surgical face masks, 70% ethyl alcohol, and medical gowns.
Check out their donation tracker to see what supplies need to be donated.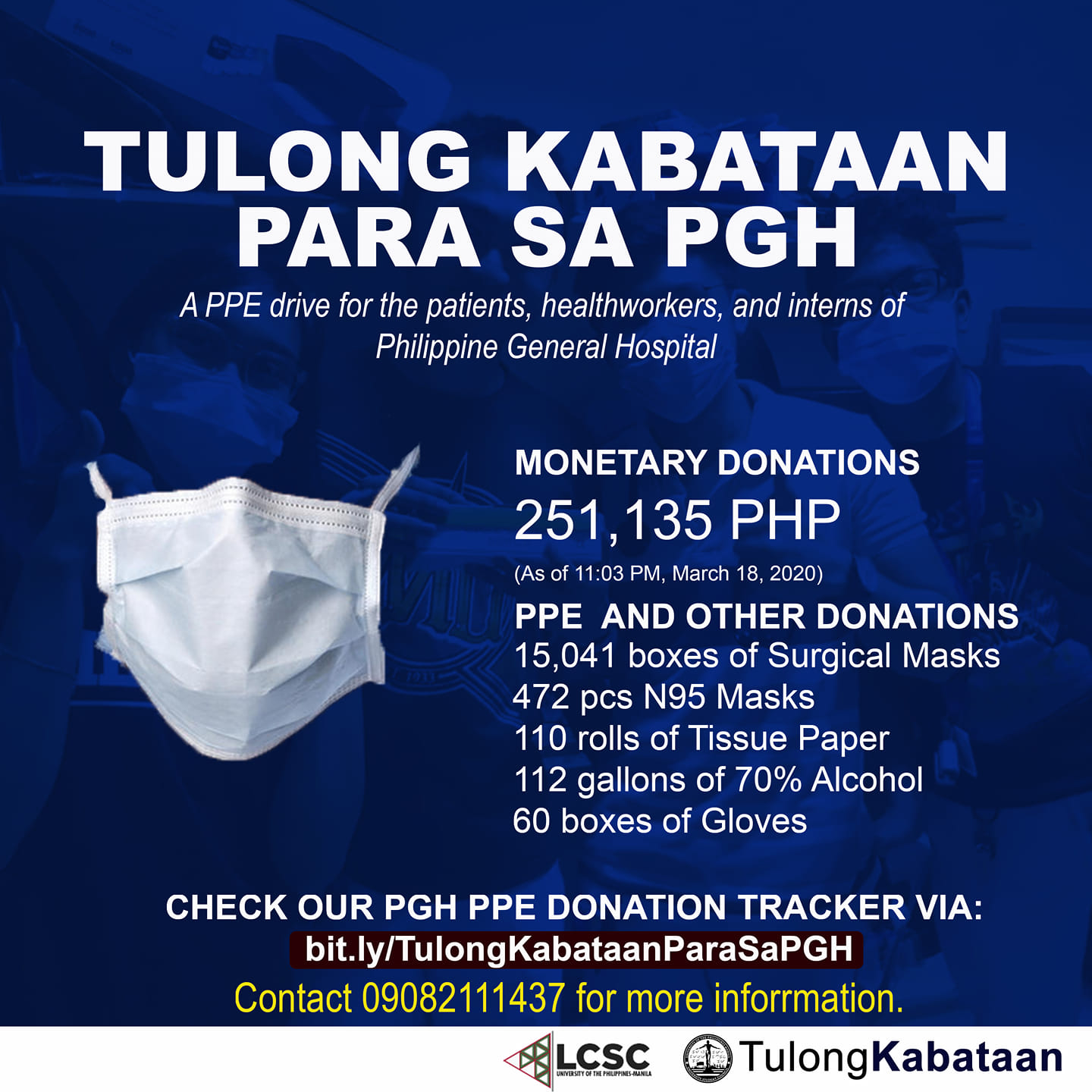 Check them out here
View their donation tracker
(0908) 211 1437
The Philippine General Hospital (PGH) is a tertiary government-owned hospital administered and operated by the University of the Philippines Manila. Due to the surge in COVID-19 patients, supplies have been rapidly dwindling for patients, health care workers, and medical professionals alike.
What they need: 70% ethyl alcohol, surgical masks, N95 masks, face shields, and surgical gowns.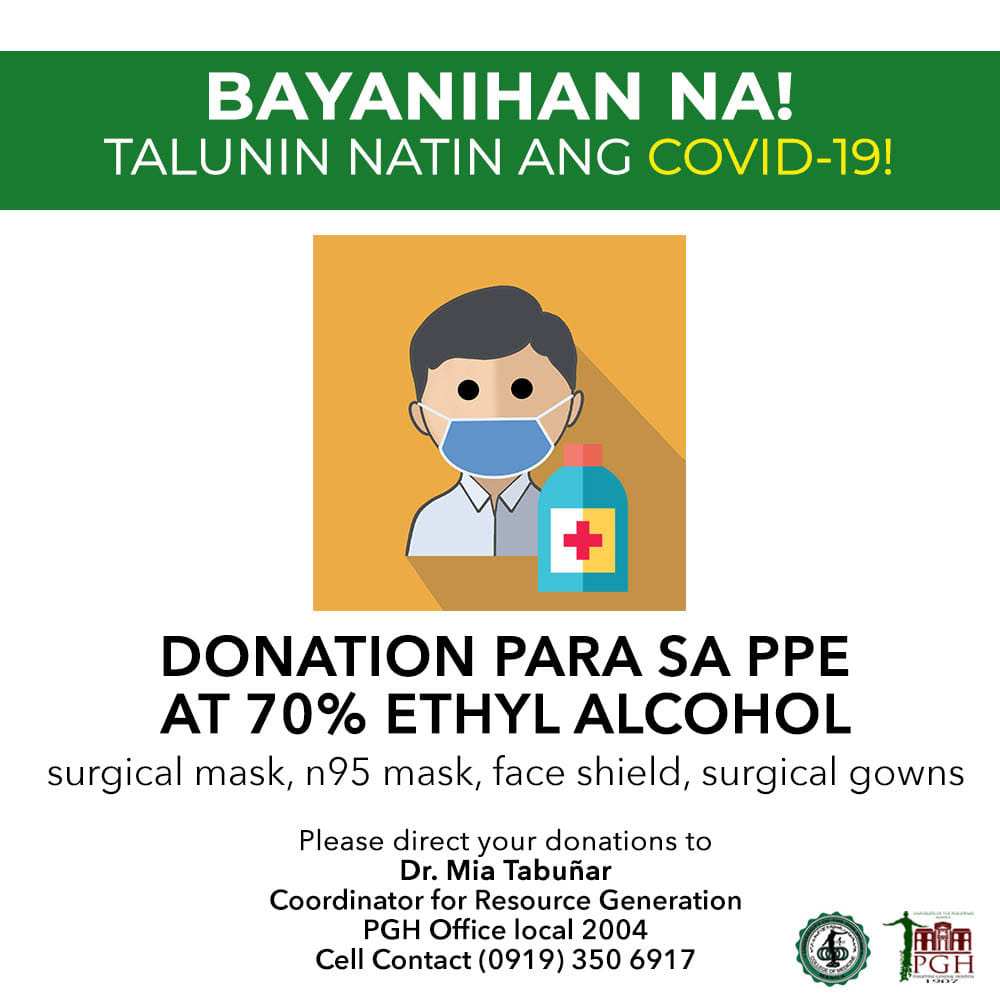 Check them out here
Dr. Mia Tabuñar
(0919) 350-6917
In coordination with the Office of the Vice President, the Kaya Natin! Movement has organized a fundraising campaign for healthcare workers and frontliners fighting COVID-19.
Each donation consists of one N95 mask, one gown, two sets of gloves, two pieces of head covers, two sets of shoe covers and one pair of goggles good for one (1) health worker only. Each Food and Care Pack Ticket will help one health worker or frontliner per day.
What they need: Cash donations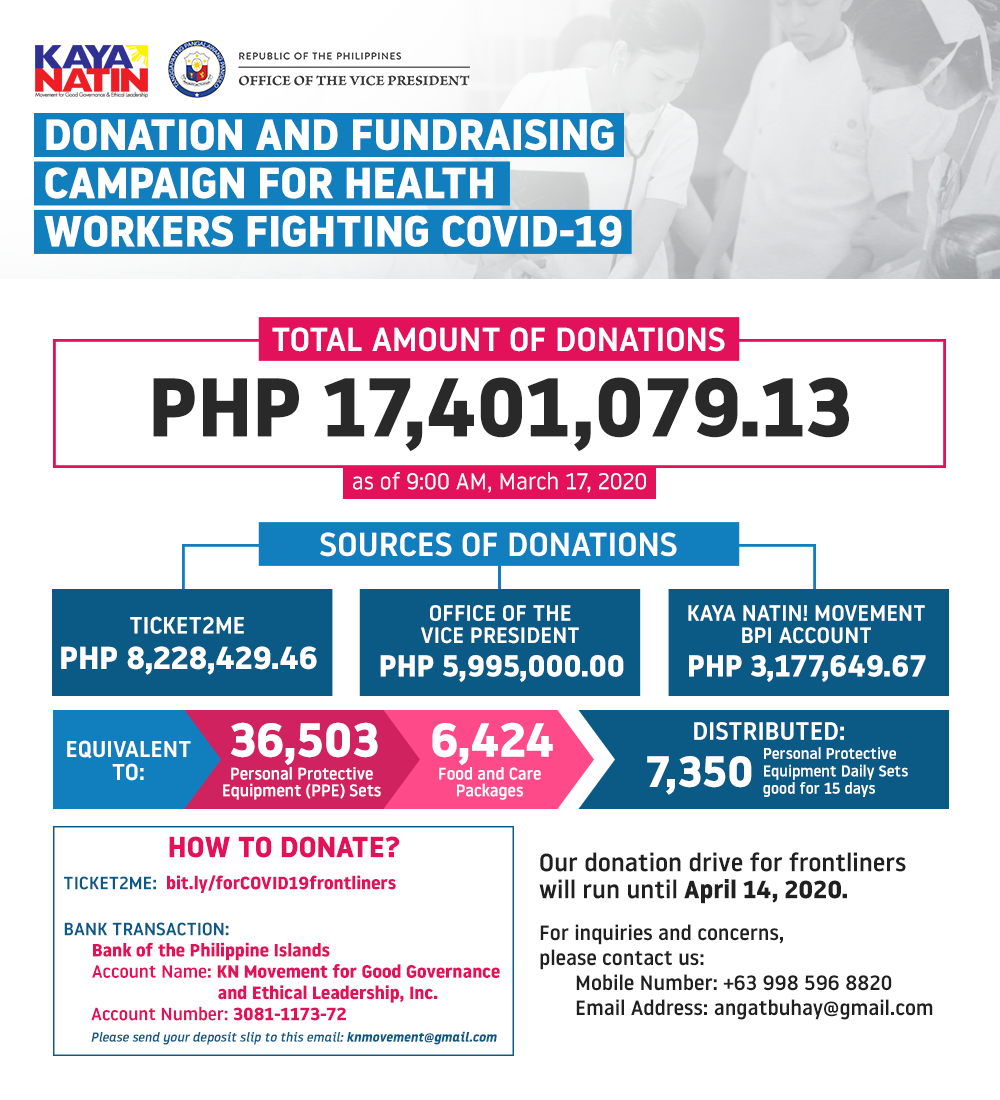 Donate here
Check them out here
(0998) 596-8820
Amidst the COVID-19 situation, Angkas is working to mobilize its network and resources to gather donations for hospitals in most need. If you have extra PPE to spare, Angkas can pick them up to consolidate and distribute it to the respective hospitals!
What they need: Ready-to-eat products (i.e. canned goods and instant noodles), PPE (i.e. N95 and surgical masks, face shields, and surgical gowns), and sanitizing products (i.e. soap, alcohol, and hand sanitizer).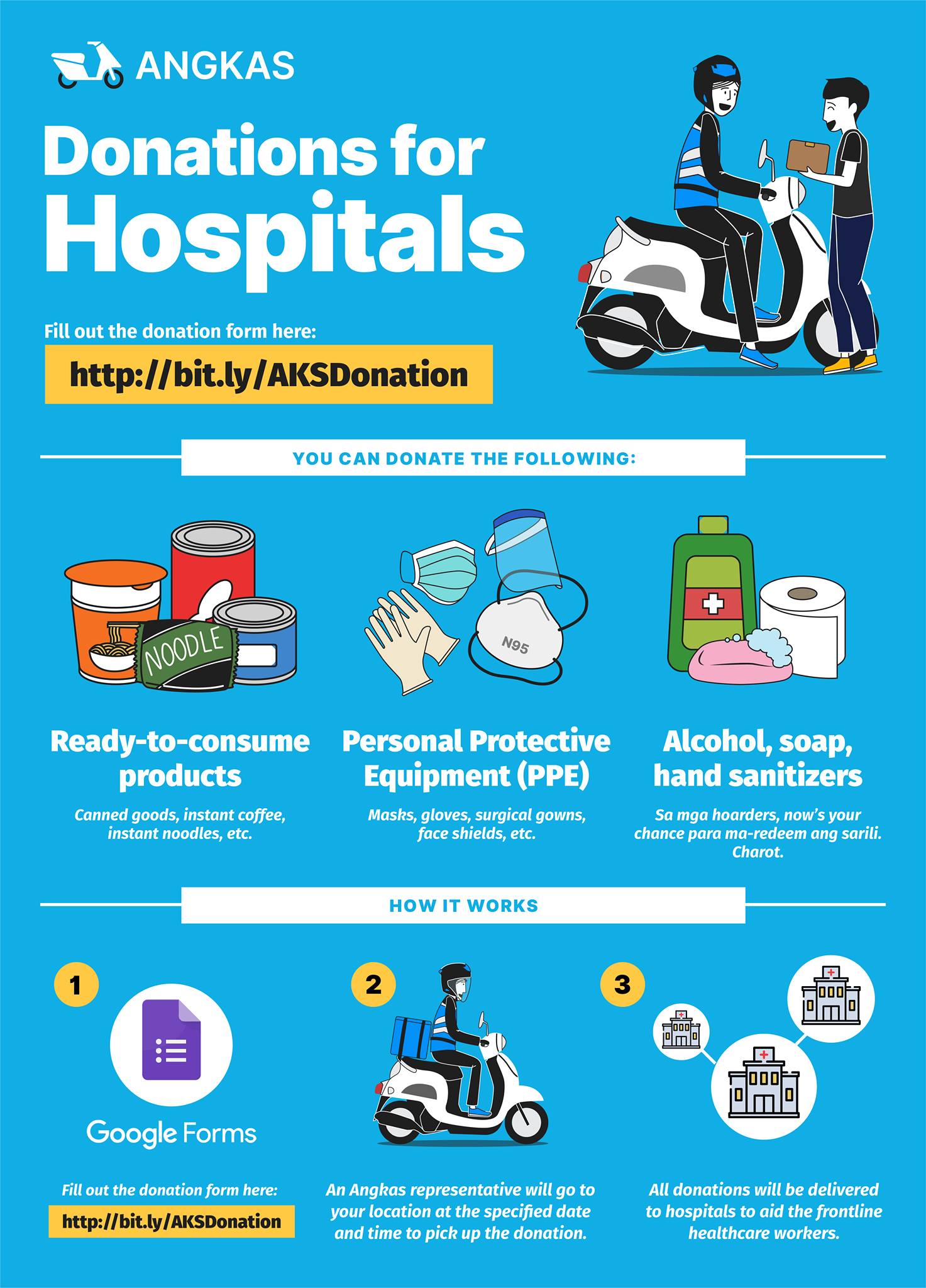 Fill out their donation form
View their Facebook page
(0917) 516-4527
Known as a multi-functional warehouse space, Warehouse Eight has been the venue for all types of gatherings and events that focus on genuine and meaningful experiences. Right now, Warehouse Eight aims to earn ₱403,000 to provide medical frontliners with masks and test kits.
What they need: Cash donations.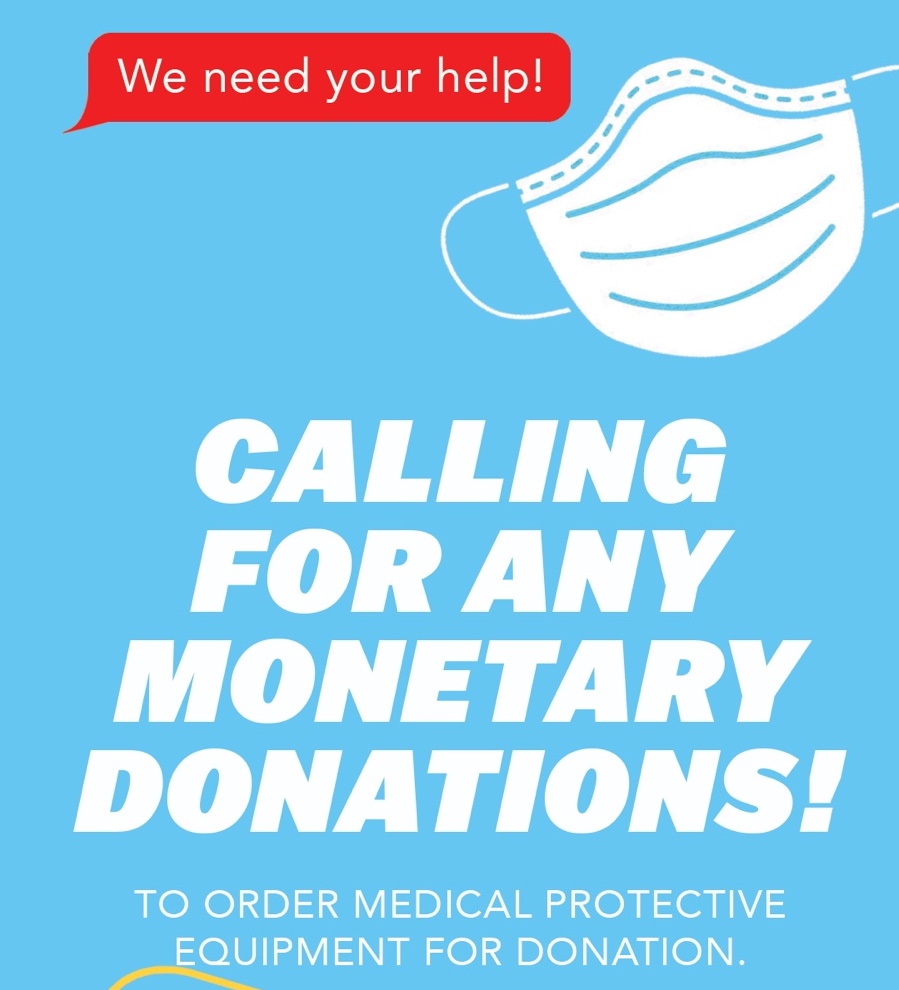 View full details
View their Facebook page
View their Instagram account
k.dionisio95@gmail.com
(0917) 570-9208
Sponsor a Medical Worker's Meal
FoodTray2Go serves home-cooked goodness delivered straight to your doorstep. Though this time around, FoodTray2Go is doing its part to support the medical workers around Metro Manila through their food. To sponsor a medical worker's meal at a rate of ₱85/packed meal, message FoodTray2Go on Instagram or Viber!
What they need: Cash donations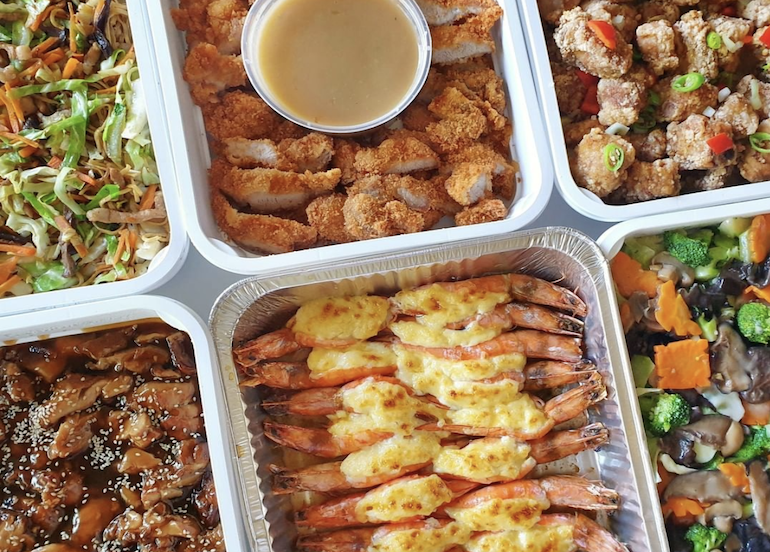 View their Instagram account
Viber: (0917) 702-6395
Rock Ed Philippines is a volunteer group that works to provide venues and events for alternative education via music, arts, sports, etc. The alternative classes invite celebrities, musicians, and more as substitute teachers. Now, they're launching #RockEdRelief to provide E.R. frontliners with nutritious and freshly-cooked meals. Message them on Facebook to find out how you can help!
What they need: Cash donations; Fresh ingredients.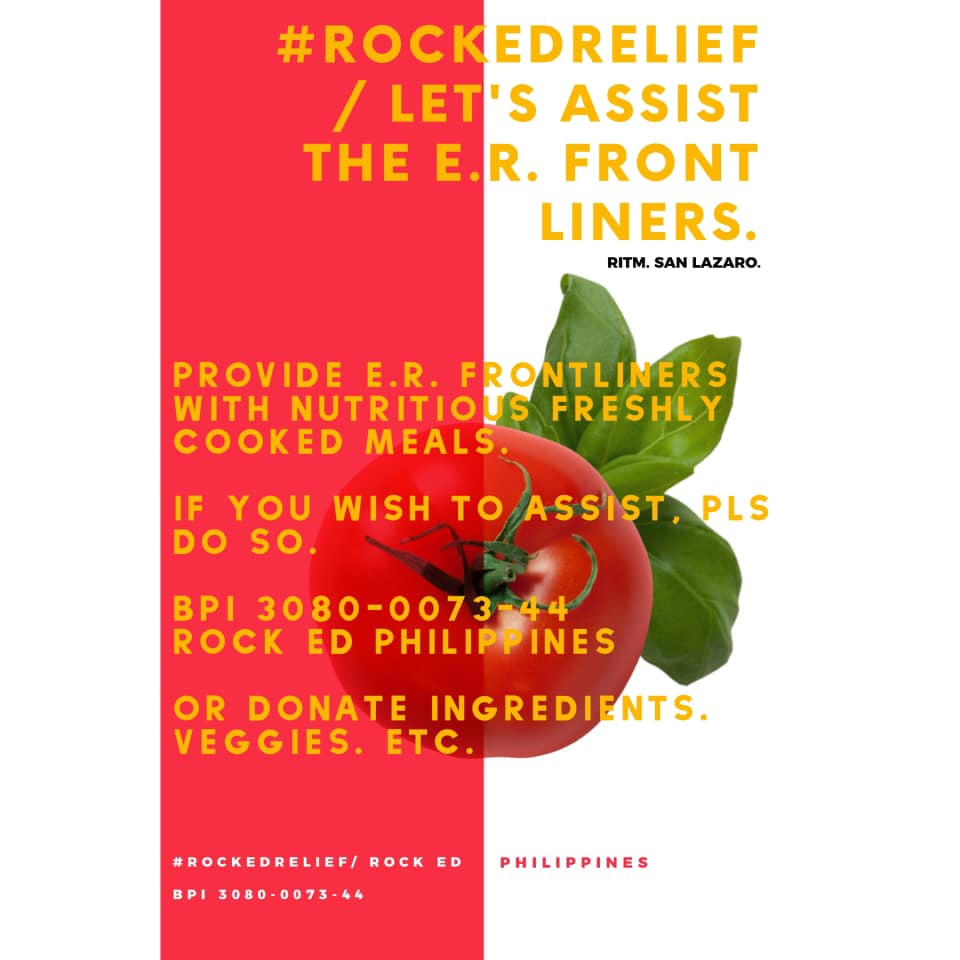 Salamat PH Healthcare Heroes is a volunteer group in the Philippines that supports the medical frontliners in the fight against COVID-19. Through donations, the group is able to provide nourishing meals to hundreds of healthcare workers and AFP troops in Metro Manila. Some of their partners include Myron's, Gourmet Gypsy, and Barrio Fiesta's Chicken BBQ.
What they need: Cash donations; N95 and surgical masks, goggles, gloves, face shields, and cleaning and/or disinfecting supplies.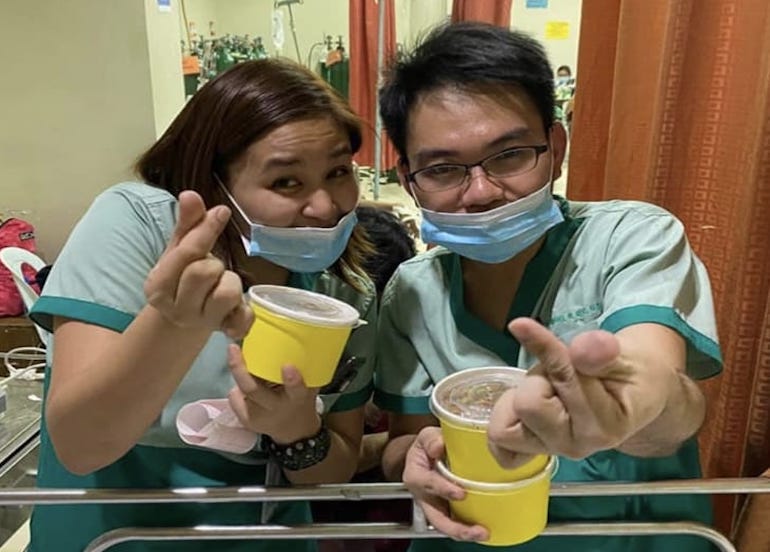 View their Facebook page
View their donation details
(0917) 800-3999
In their efforts to show appreciation for the medical frontliners, Rice Top Fil-Asian Comfort Food is asking for donations to sponsor one (1) meal for our medical workers. They will be working with hospital partners such as Ospital ng Makati, The Medical City, Lung Center of the Philippines, Cainta Municipal Hospital, and Marikina Valley Medical Center.
What they need: ₱200 cash donation
Sponsor A Frontliner's Transportation
Public transport is suspended, which means many of our doctors, nurses, and grocery and drugstore employees need to get to work. Life Cycles PH is pairing up with hospitals, groceries, drugstores, and LGUs to help their frontliners get to work.
What they need: Extra bikes to spare or lend, cash (one bike is approximately ₱5,000). Helmets and locks are also welcome!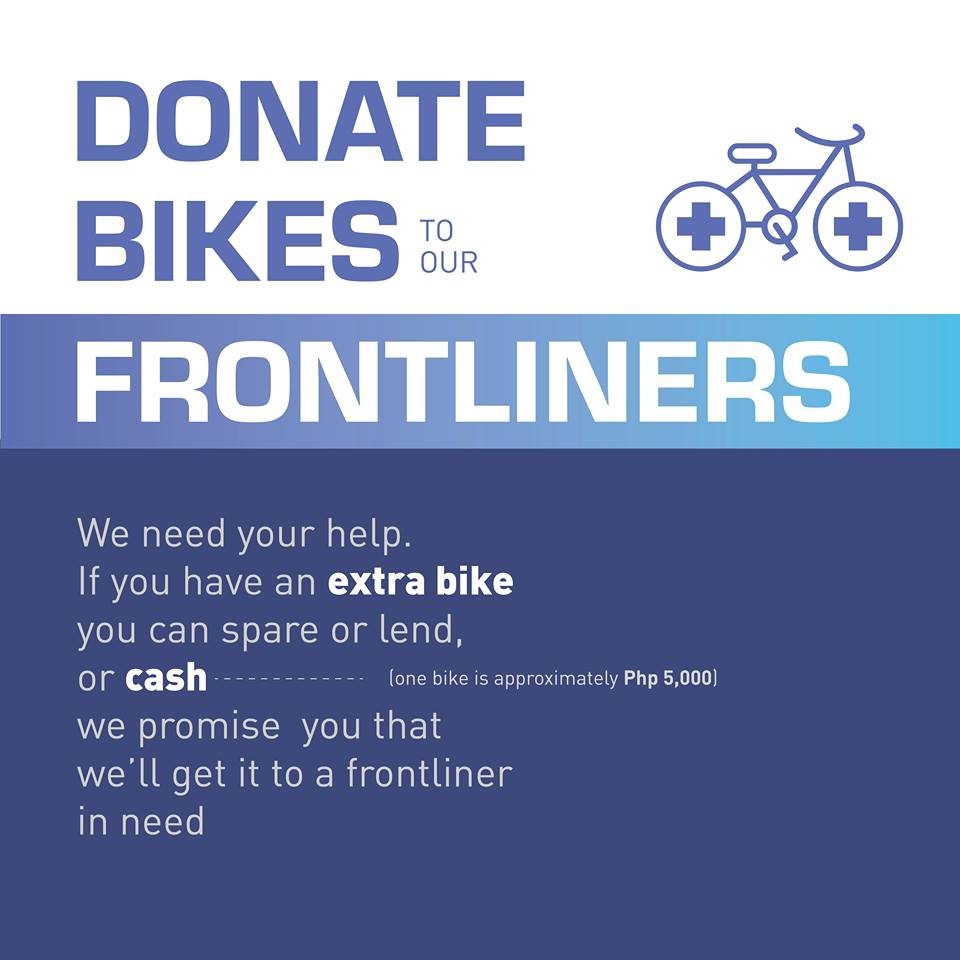 Check them out here
Paypal: keisha.mayuga@gmail.com
In connection with the PGH management's great concern of providing employees with easy, convenient and smooth transportation/travel to and from work everyday, PGH CAREpool #BayanihanNa is a Facebook group for both PGH healthcare workers and anyone willing to give them a ride.
What they need: Volunteer carpool drivers
#RockEdCarpool is also a Facebook group that aims to move our healthcare workers safely via volunteer carpool drivers. If you're driving by somewhere, let the Facebook group know so that frontliners can contact you.
What they need: Volunteer carpool drivers
For frontliners who need transportation going to and from work, simply use the hashtag, #INeedARide on Twitter. And if you're a private citizen with a car willing to drop them off, check the hashtag to see if you can accommodate someone!
What they need: Volunteer carpool drivers
For COVID-19 Testing
Let's support the fight against the ongoing public health crisis in the country!
UP scientists have developed a detection kit for COVID-19 projected to be cheaper in price and faster in testing. Now, there is a need to procure PPE for patient care and for the conduct of the test to prevent any or further infection of our frontliners.
What they need: Cash donations; medical supplies namely surgical masks, N95 masks, surgical gloves, disposable lab gowns, shoe covers, and infrared non-contact thermometers.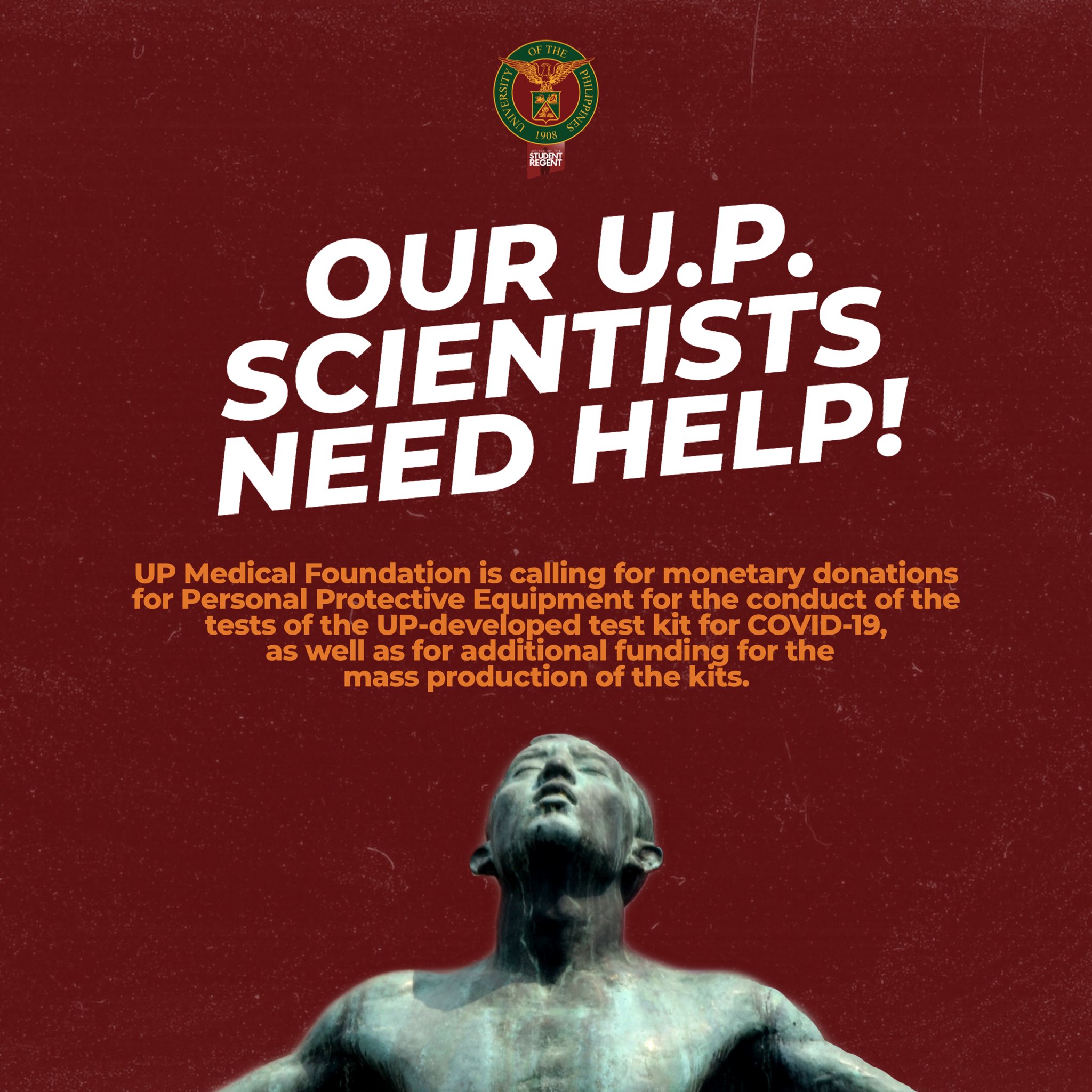 For Low-Income Communities
With the COVID-19 pandemic, the poor and the elderly are the most vulnerable. Here are some organizations that will provide them nourishment, vitamins, disinfectant supplies, and more.
Caritas Manila is calling for cash donations to provide Caritas LIGTAS COVID-19 kits and Caritas Manna bags to 6,000 poor communities and families in Metro Manila. These kits will include 70% ethyl alcohol, washable face masks, liquid soap, 100 tables of vitamin C, rice sacks, assorted canned goods, etc.
What they need: Cash donations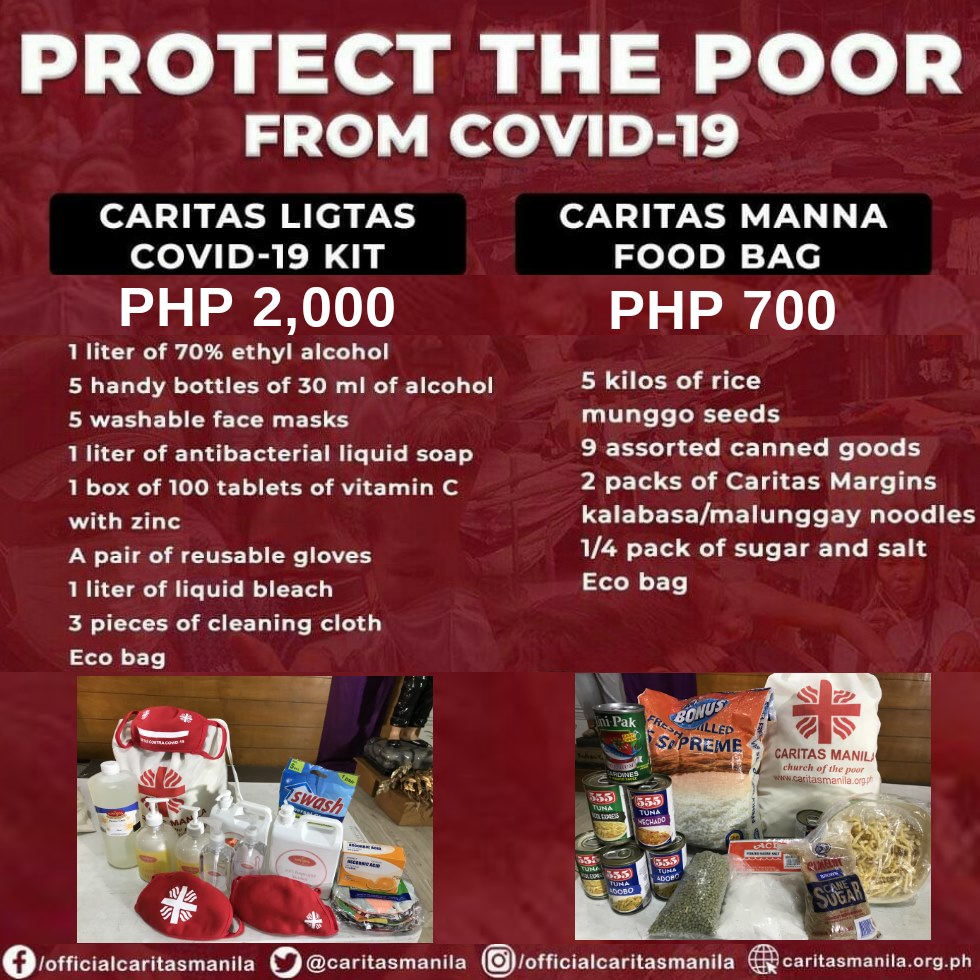 Project PEARLS is asking for support to continue its daily feeding for hundreds of hungry children in Tondo whose families don't have the means to stock up on food with or without a lockdown. Project Pearls' stock is running low, so they need extra hands to continue to provide these children at least one healthy meal a day.
What they need: Cash donations; Non-perishable food, toothbrush, soap, toothpaste, first aid kits, school supplies, art and crafts supplies, and preloved children's and infant clothes.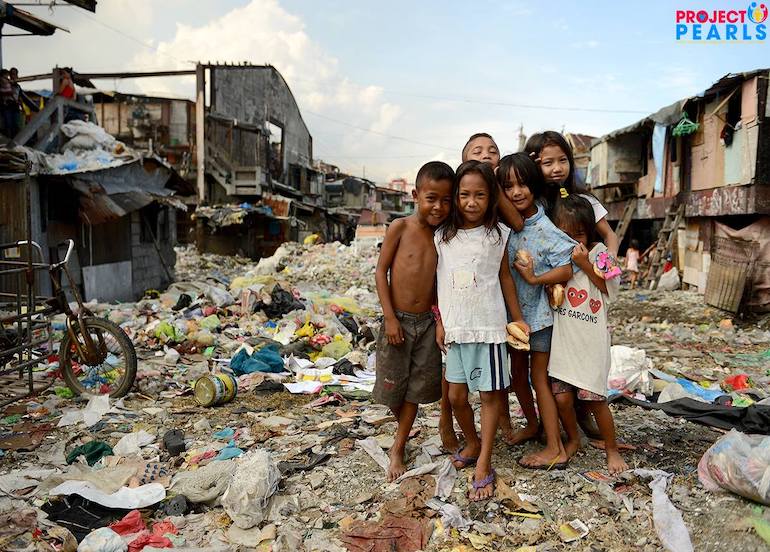 Donate here
View their Facebook page
(0906) 416-6991
Ateneo de Manila University is asking the community for cash donations to support the frontliners fighting against COVID-19 as well as to provide food and hygiene items for LGUs and poor communities. If you have Filipino friends and family abroad, Ateneo accepts foreign bank deposits.
What they need: Cash donations.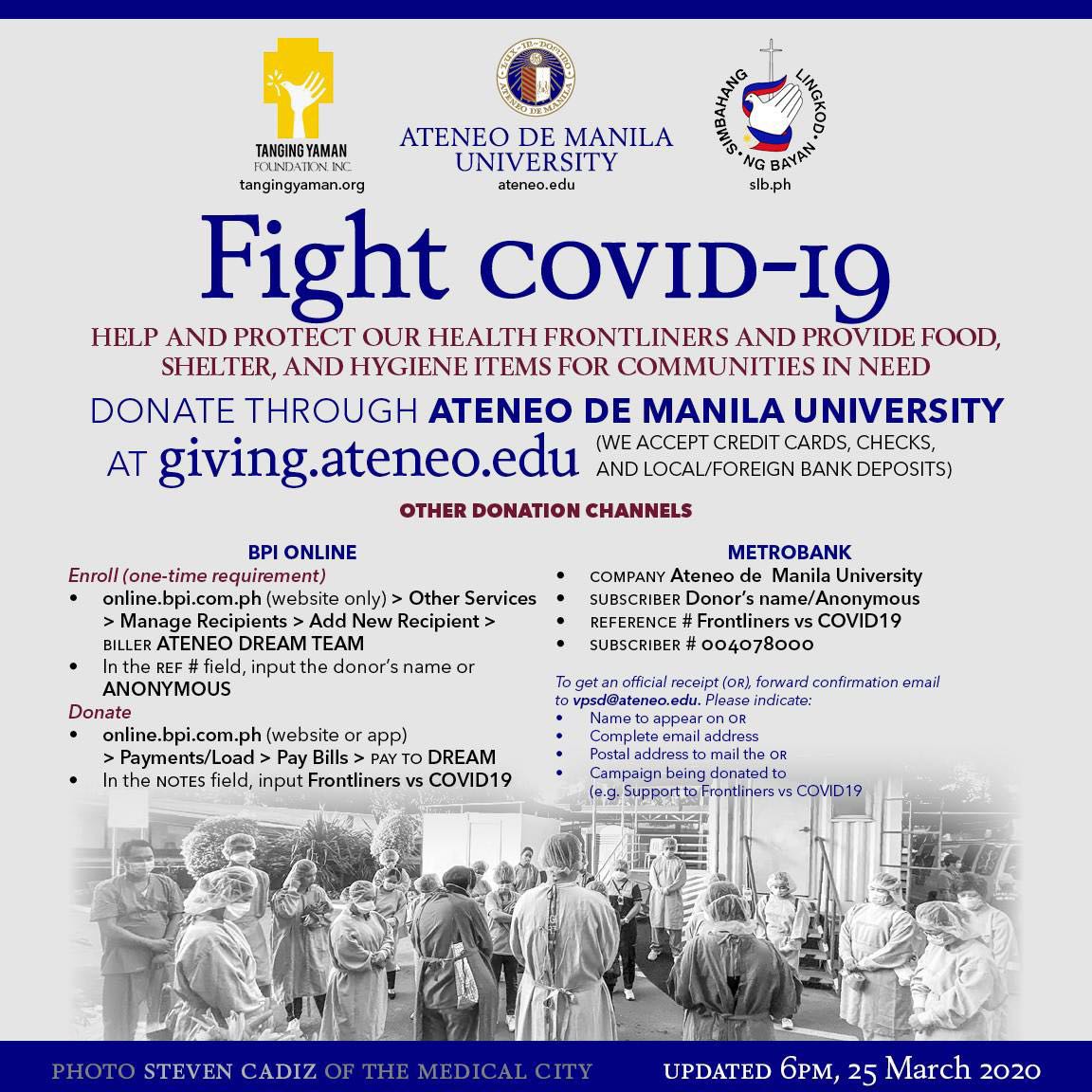 Donate here
View their Facebook page
vpsd@ateneo.edu
(02) 8709-5406
For PUV Drivers and Vendors
Let's show support for our daily wage earners who are trying to make a living despite the pandemic.
An initiative started on Twitter, #MayTwentyAko aims to raise funds to purchase soap and hand sanitizer for families at greater risk of COVID-19. These include PUV drivers, vendors, the homeless, etc.
What they need: ₱20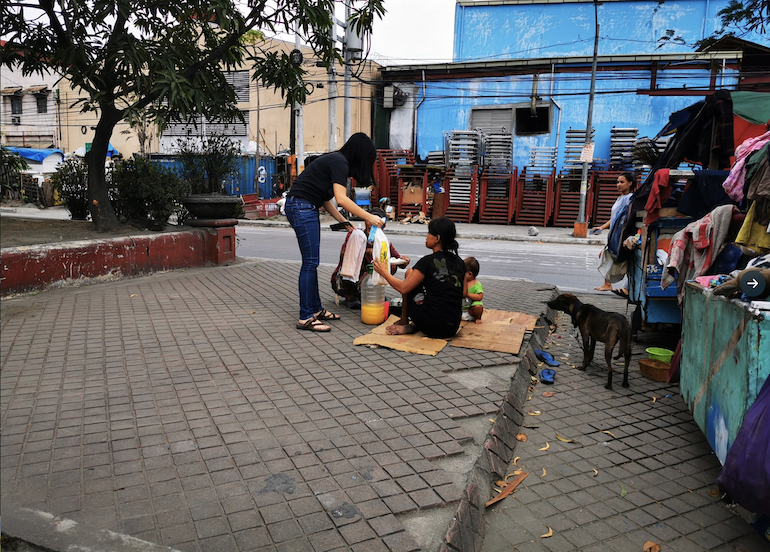 View full details here
(0956) 543-2127
(0908) 371-2162
The #TaraTulongTayo initiative aims to help our daily wage workers through donations. In three days, #TaraTulongTayo has managed to help 140 daily wage workers including disers, drivers, shop staff, nail technicians, food stall staff, massage therapists, and construction workers.
If you're out of the country, you can also send your donations through their PayPal account.
What they need: Cash donations (*no minimum amount required).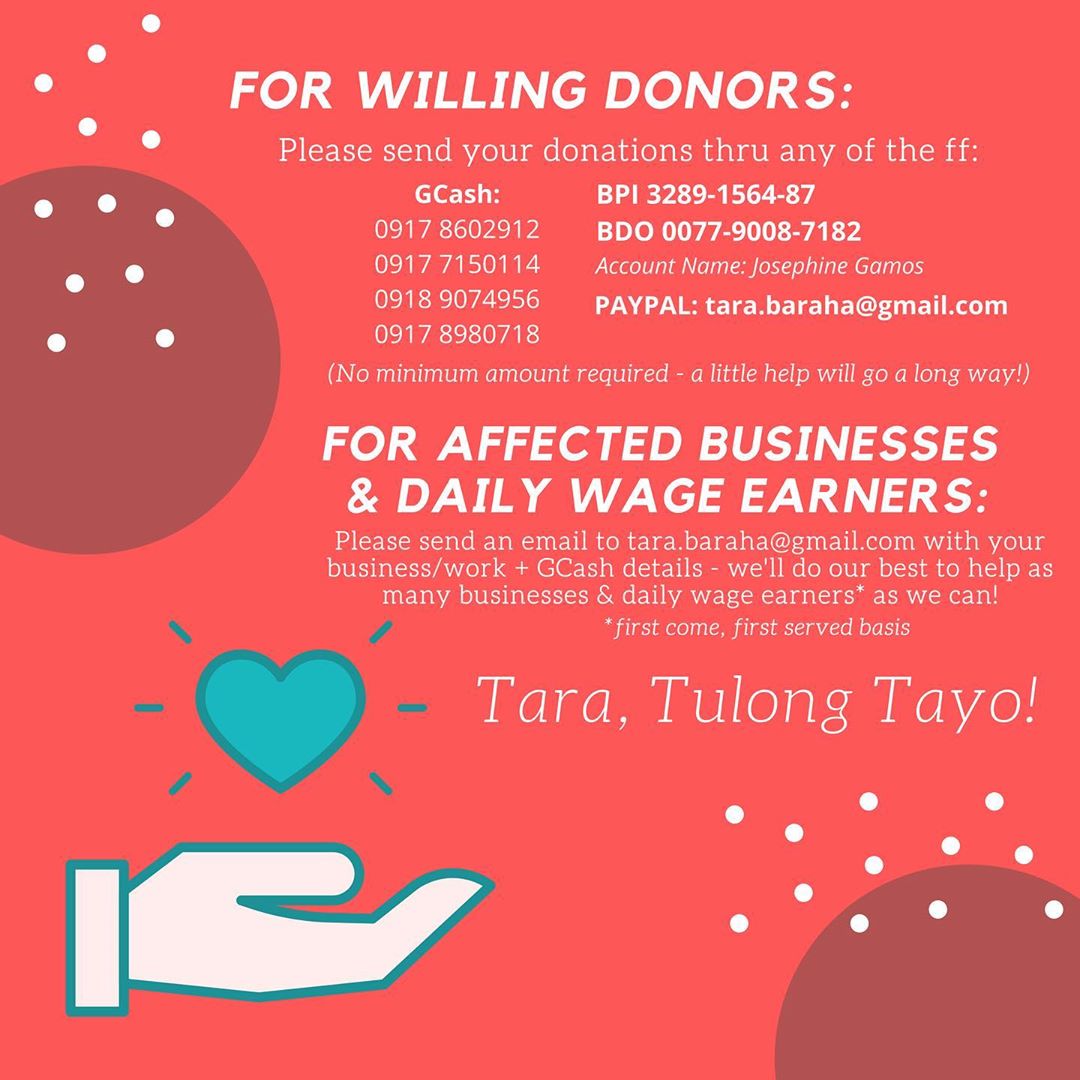 View full details
View their Instagram account
tara.baraha@gmail.com
Know some more initiatives and projects you can help our frontliners out? DM us on Instagram at @bookyapp for your suggestions. Let's make sure to keep each other safe despite these trying times. Take care always! – The Booky Team