The return of the comeback!
With the many simple dessert recipes online, many of us have been experimenting at home so we can satisfy our sweet cravings. We recently found this recipe and this is definitely not a stranger to us – Dalgona Coffee! But this time, in an ice cream cake form!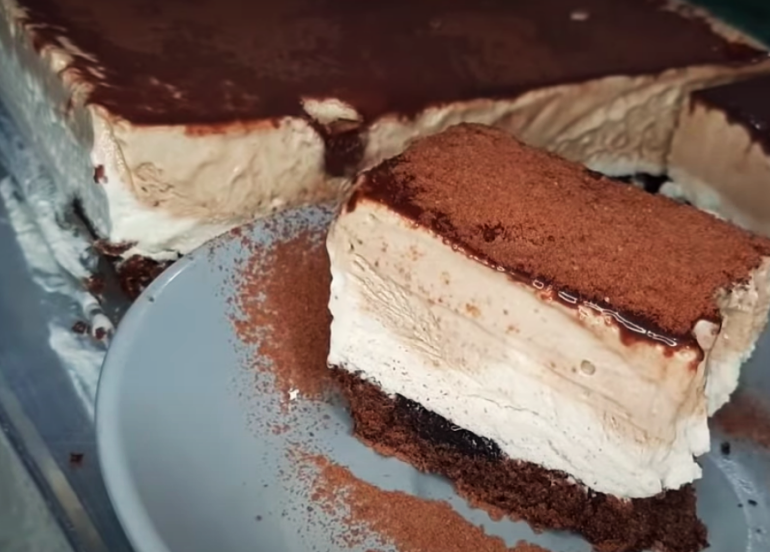 A perfect combination of the bittersweet taste of coffee and cream, this dessert is definitely a winner!
What you need:
1 pack grahams
1/2 cup melted butter
1 can whipped cream or full cream
1 pack all purpose cream
1 tsp vanilla extract
1 tsp salt
3 tbsp instant coffee
3 tbsp sugar
3 tbsp hot water
Procedure
Start with your crust:
Crush graham crackers with a rolling pin or food processor until broken into fine crumbs. Pour 2 cups of crushed graham into a bowl. Set aside the rest for garnish.
Into your bowl with the crushed graham, add melted butter. Mix until well-combined.
Once well-combined, press the mixture into a glass baking dish or any container you have. Make sure to flatten it evenly with a spatula.
Place it in a freezer and you can start with the filling
Time to make your filling:
Add full cream or whipped cream into a bowl. With a hand mixer, whisk it until it doubles in size. 
Add all purpose cream, condensed milk, salt and vanilla extract. Whisk them for a few minutes and set it aside. 
In a separate bowl, add instant coffee, sugar and hot water. Whisk with a hand mixer for around 2 to 3 minutes or until it fluffs up. 
Add the cream filling to your crust and spread it evenly with a spatula. 
Add the dalgona coffee filling on top of the cream. 
Sprinkle cocoa powder, crushed graham or any sweets that you're craving for. You can be creative!
Once you're done, cover your container with cling wrap and place it in the freezer for about 4 to 6 hours or overnight to set completely. 
Slice and serve!
Recipe by Bisaya in Holland
Follow Booky on Twitter (@bookymanila) and Instagram (@bookyapp) to stay on top of foodie news! You can download the app for FREE on iPhone or Android and discover over 1000 of the top restaurants in Metro Manila and just watch!