Think you know Jollibee? Think again.
Everyone loves Jollibee. Decades since it opened, it remains reminiscent of many childhood memories for us Filipinos–1st birthday, pasalubong, 7th birthday, merienda, 12th birthday, you know the rest. But how well do you REALLY know this fast food giant?
We dug up excerpts from Jollibee's coffee table book, 'A 25-Year Love Story with the Pinoy' a.k.a. the JolliBIBLE. Here's what we found out.
It started out in 1975 as an ice cream parlor.
Back in 1975, owner Tony Tan Caktiong opened a Magnolia Ice Cream franchise in Cubao. This was later known as the first ever Jollibee.
Chickenjoy was only introduced after 5 long years.
Yes, there was a time when Chickenjoy didn't exist. Can you imagine Jollibee without chicken?
Fun Fact: Ice cream came first, burgers next, spaghetti afterwards, and finally--Chickenjoy in 1980.
There was a Jollibee Sausage Muffin with Egg… in Hong Kong.
Jollibee in the Philippines had the sausage and egg pandesal–and it was introduced in 1985! Although in HK, they got the muffin version. This may have already been phased out there too.
You can only find Jollibee Halo-Halo abroad.
Jollibee here in the PH recently released their halo-halo sundae, but in countries like the States, they've got the real deal. Maybe they didn't want this halo-halo to compete with Chowking's, since the Jollibee Food Corporation owns it too.
There was a Jollibee TV show.
It was called 'Jollitown'. Here, they staged their first ever holiday musical special for children dubbed "A Magical Christmas at Jollitown".
In 2012, Jollibee appeared on Marvel comics.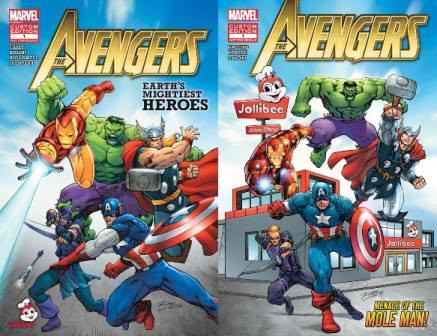 Marvel came out with a collectible 8-page comic entitled 'Avengers: Menance of the Mole Man". Mole Man brings doom to Manila, conspiring to bring an earthquake right in front of a Jollibee store.
There are 3 discontinued Jollibee mascots.
…out of this bunch.
Of course we know Jollibee, Mr. Yum, Hetty, Twirlie, Champ, and Popo–but there used to be Mico, Chickee, and Lady Moo too.
Jollibee wasn't even the first mascot.
Although the big red and yellow bee is now the face of the brand, it was Mr. Yum who first debuted as a live mascot. Mr. Yum was made to represent their first flagship product, the Yum Burger.
…and he used to be color green.
He used to be much more slender, and slightly less jolly too. It was only after catching and observing live bees himself that artist Willie Villano brought red and yellow bee to life.
In fact, here's how their old logo looked like.
Changes later came when they decided to drop the "Yumburger" as part of the logo, and went for the rounder font we see today.
How many of these fun facts did you know? Sound off in the comments below! Plus, here's an insider tip: If you ever find yourself lost in Manila, without internet + missing Jollibee, just search "NEARBY JOLLIBEE" in the Booky app to see a quick list! #BookySavesTheDay
Bookings for events accepted
View all branches
View their Instagram account
8-7000 (for Delivery)

No, Jollibee, thank YOU.